The best smart coffee makers will help you start your day with a freshly brewed cup of coffee. These coffee makers can connect to Bluetooth or Wi-Fi and fit into any modern home decor like a glove. In addition, this new-age coffee maker can brew coffee at any temperature for a limited time while controlling milk and portion size. If you are not sure about buying a coffee maker, we have got you covered. Check out the curated list to help you choose one.
Top Products From Our List
7 Best Smart Coffee Makers
Nespresso coffee and espresso machine can effectively brew coffee in a single cup of various sizes and provide freshly brewed coffee and authentic, cafe-style espresso in the comfort of your own home. It has a one-button mechanism and is designed to be used with the Nespresso Vertuo capsules. It has a large water tank that can hold 54 ounces of water and a capsule container with a capacity of 17 counts.
Pros:
Easy and convenient to use
Has a heat-up time of 15 seconds
Energy-efficient design
Adapts to brewing parameters automatically
Makes mild to dark coffees
Comes with fully recyclable capsules
Cons:
The temperature of coffee may be on the cooler side
Hamilton makes brewing coffee a bit easier with the Alexa feature so that you can turn the coffee maker on or off and even change the brew strength from anywhere in the house. This is a convenient choice for families equipped with smartphones and the best coffee machine for using voice commands. It can brew up to 12 cups of coffee at a time, which makes brewing coffee faster and easier.
Pros:
Comes with easy app control
Has an auto shut off and on feature
Doesn't require downloading additional apps
Tinker-free and struggle-free
Cons:
The Capresso coffee machine uses automatic technology and has a stainless steel design with a ten-cup capacity and a 6-ounce coffee bean container. It comes with a built-in burr grinder with five grind settings from ultra-fine to coarse, which can grind coffee beans to perfect consistency. The smart coffee maker also has an easy-to-clean gold-tone filter, eliminating the need for paper filters.
Pros:
Compact design
Dishwasher-safe
Can be easily programmed
Grinds uniformly
Easy to use and clean
Cons:
Proctor smart coffee machines can be easily connected to a smart plug for easy coffee preparation. This is the best smart coffee maker compatible with Google Home and Alexa. It has automatic pause and serve functions, and the brewing cycle can be paused when the carafe is taken out. Designed for durable and affordable performance, it makes a quality construction.
Pros:
Compact and space-saving design
Easy to clean
Has dishwasher safe accessories
Comes with an easy on and off toggle switch
Cons:
The Mixpresso drip coffee machine has a removable 45-ounce water tank with a reusable filter. With the push of a button, you can make the best single-serve coffee or espresso coffee in the well-known K-cup pod format. It has a 1200-watt heating element that can quickly brew your favorite K cup pods or coffee powder in a preheating time of 30 seconds. If it is not used for more than two hours, it will automatically shut down, thus saving power.
Pros:
Designed to fit different sizes of mugs
Cleans all the drips
Energy-efficient design
Convenient to clean
Portable design
Has a large water reservoir
Cons:
This smart coffee machine with Atomi Wi-Fi function is designed for easy and fast brewing and is equipped with an LED display. You can use the free Atomi Smart app on your smart device to brew coffee. You can also use voice commands through Amazon Alexa or Google Assistant or control it directly from the coffee machine. The 12-glass carafe ensures that you have enough coffee to taste.
Pros:
Easy to set up and use
Allows creating daily as well as weekly schedules
Made of premium stainless steel
Eco-friendly design
Convenient to wash
Cons:
May have problems connecting with Alexa
The drip coffee maker with a double shot feature is carefully designed to help you make impeccable coffee. It has a stainless steel burr grinder with 13 adjustable settings for the whole coffee beans, and the second grinding chamber is used for pre-ground coffee. It has a 60-ounce water tank with a filter system and a water level indicator.
Pros:
Easy to clean
Has twin brewing cycle
Creates rich foam
Offers consistent brew
Has a one-touch intuitive display
Cons:
Bean hopper may need regular fussing
What To Look For In A Smart Coffee Maker?
We have summarized the essential features that you must look for in a smart coffee maker to get your money's worth:
Ease of use: Always look for coffee makers that are easy to use and install. Do not use appliances that are complicated to install or use, as they will spoil the experience.
Compatibility: Bluetooth and Wi-Fi enabled coffee makers are compatible with Alexa and Google Assistant. You can choose from different options according to your convenience.
Capacity: Some coffee makers are specially designed for a single serving, and some are used for multiple cups.
Other features: Look for various other functions, such as temperature settings, coffee varieties, etc., for a better coffee brewing experience.
If you are a coffee lover, then a smart coffee maker will make an excellent investment, as they are designed for convenience. With the list of best smart coffee makers shared in this post, you can find a device that can provide delicious coffee without the need for you to spend a lot of time and effort.

Recommended Articles:
The following two tabs change content below.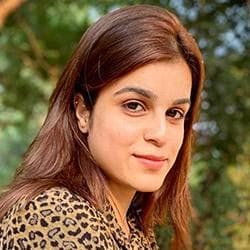 Sakshi John
Sakshi did her graduation in Journalism from the Madras Christian College, Chennai, before starting her career as a freelance writer. She is into blog writing and for MomJunction, she covers various topics, including products to buy for your kitchen, furniture, and other home requirements. Previously, she interned as a content writer in a cyber security firm. As a content writer, Sakshi...
more