A smartwatch is a must-have in this new technological era. It is a smart gadget with wearable technology that works like an extended version of your phone. You can pair your phone with the smart device and stay connected to emails, messages, and GPS navigation, among other things, with just a tap of a finger. It helps you stay fit and healthy with various sports modes and sleep and heart rate monitors. Some are also equipped with a "relax" feature that helps your mental well-being.
You may consider investing in a smartwatch because of the range of services and benefits it offers. Take a look at our list of the 15 best smartwatches in India to make a suitable buying choice.
15 Best Smartwatches In India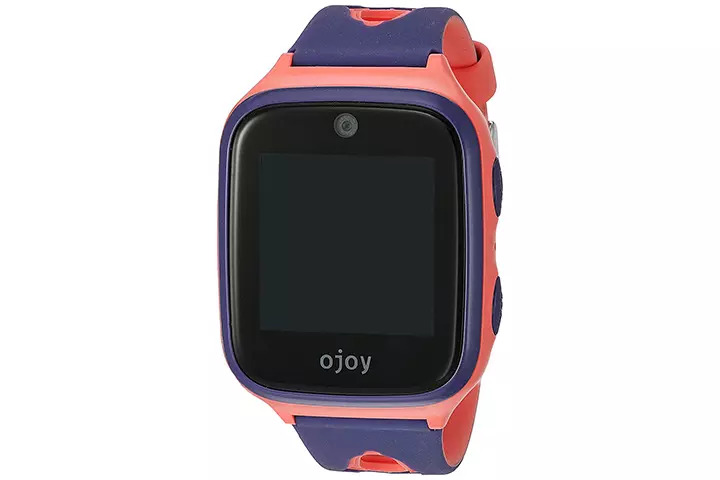 Gift your child this smartwatch powered by the Kido operating system. Designed with animations and an attractive interface, your children will find it fun to play with. You can set up a calendar in the app to help you create schedules for school and after-school activities for your child. The device can track your child's steps throughout the day and rank their performance amongst other children. Your children can jump into the pool for a swim or wash their hands without removing the smartwatch as it is water-resistant.
Pros
Dust-proof
2-way calling
Has parental control
Gives weather forecasts and alerts
Has alarm and stopwatch features
Assign tasks and give rewards stickers to children
Cons
The SOS button may not give an alert immediately.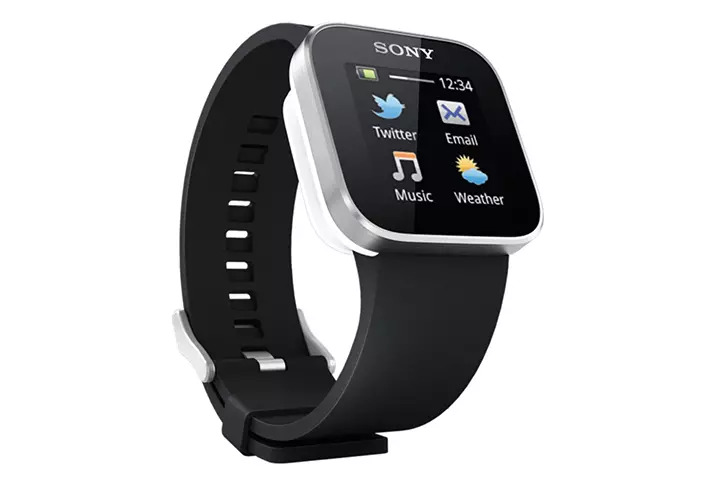 This Android smartwatch works both as a watch and a phone. It features a scratch, dust, and splash-proof 1.3-inch OLED multi-touch display. The user-friendly device can be synced with your phone via Bluetooth within the range of 10 metres so that you can check your emails and messages without any hassles. You can also check Facebook and Twitter for the latest updates.  If you install remote camera apps on your phone, you can easily click photos and record videos from your smartwatch. The device can be used to jot down some important notes and to accept and reject phone calls. You can also personalize the watch with your choice of any 20 mm wristband.
Pros
Convenient app tray
Can be used to play games
GPS locator
Can control music player of the phone
Can identify the caller and reject or accept the call
Cons
May not have impressive battery life.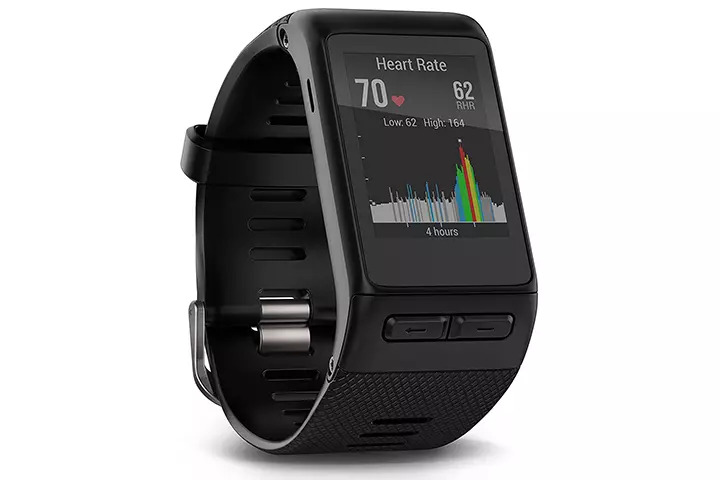 Wear your personality on your sleeve with this smartwatch with GPS. The watch comes with built-in apps for running, biking, swimming, and measures your heart rate. It continues to track your activity by counting the number of steps and floors climbed and shares information about calories burnt. It also has an in-built accelerometer and other training features for your indoor and outdoor activities. You can set up alerts for your heart rate and receive alerts when it goes beyond the normal levels. You can use the watch to monitor your sleep cycle and calculate the intensity of your sleep. When paired with your phone, you can receive smart notifications. It has a better battery life of up to 8 days.
Pros
Customizable
Sunlight-readable
Virtual coaching on fitness
Battery life of up to 13 hours while using GPS
Cons
May require regular software upgrades which restores your data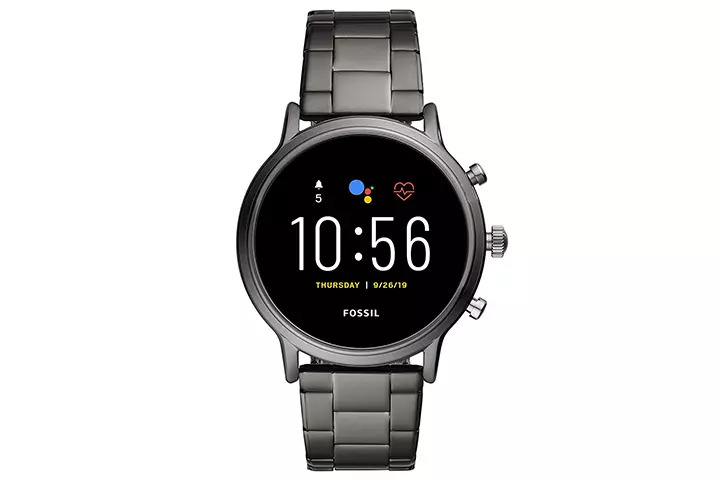 Stay connected with notifications for calls and messages with this device. This smartwatch for men has several apps from fitness, payments, music, social media to games and news. The waterproof device can automatically track all your activities and gives responses via Google Assistant. Store all your data in it without worrying about space and slowing down the device as it has 8GB storage and 1GB RAM. The device can be connected via Wi-Fi or Bluetooth and has other features like a gyroscope, heart rate monitor, accelerometer, altimeter, ambient light and compass.
Pros
Smartwatch with speaker
Charges fully in less than an hour
Built-in GPS
Extended battery life
Cons
Google Pay may only work in a few countries.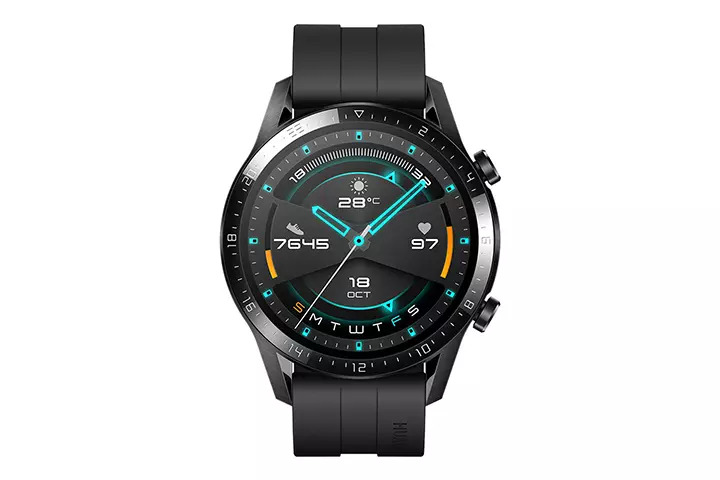 The display of this smartwatch for sports supports both slide and touch gestures. The nominal battery capacity of this device is 14 days and consumes less power. It automatically goes into power saving mode for longer battery life. Featuring a minimalistic design with 3D display and 9.4 mm body, the watch comes with several customisable faces. It can be paired with both Android phones and iPhones via Bluetooth. This smartwatch can be your fitness buddy as it tracks all your workouts, calculates the calories burnt, and monitors your heart rate, even when you are asleep. Although it is water-resistant to a certain extent, it is advisable to take it off while indulging in high-velocity water activities such as scuba diving and waterskiing.
Pros
Continuous heart rate monitoring
Can detect oxygen level in your body
Tracks and monitors your daily activities
Enters power-saving mode when not worn
Comes with professional running guidance
Dust-proof
Cons
It may not support 3rd party apps.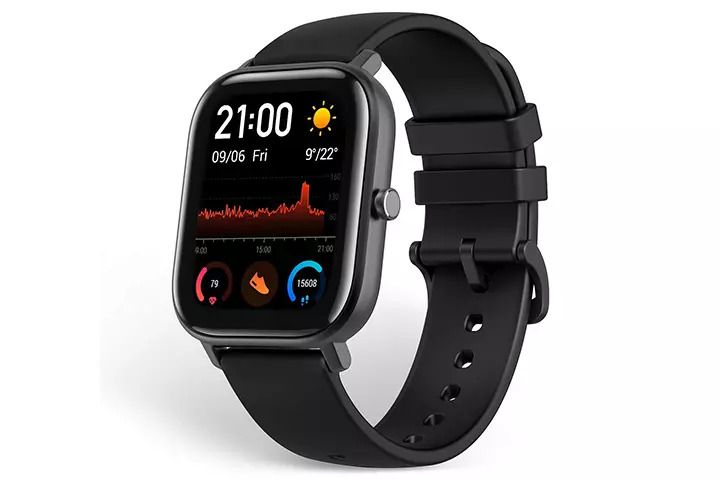 Get this new stylish smartwatch and work towards a new and healthier you. With 12 sports modes, it can detect activities such as running, walking, cycling, trekking, swimming, skiing, and workout sessions in the gym. It can automatically detect your heart rate and warn you if it's increasing beyond the standard level while you exercise. It has a 1.4-inch circular 2.5 D curved glass screen and bright 341 PPI high-resolution display designed on an ultra-thin and lightweight aluminum alloy body that provides a comfortable view and use. It is waterproof up to 50 meters deep and has a battery life of 14 days.
Pros
Customizable
Rapid charging
14-day battery life
Multiple swimming modes
Cons
Does not have mic and speaker
Does not have in-built storage space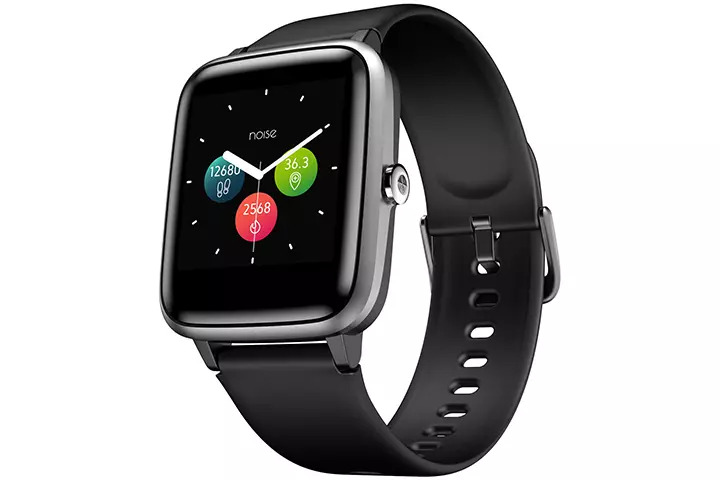 Wear the future with this second-generation smartwatch. Call, text, and get social media updates with this device. The control over the music playback on your phone adds to the exciting experience of a 'smart' life. It offers complete health and activity tracking with 9 sports modes and a 24/7 heart-rate monitor. Apart from tracking your steps and calories burnt, it also monitors your sleep. It also features a Breathe Mode that guides you with mindfulness and helps you relieve stress. You can also choose from over cloud-based 100 watch faces every day depending on your mood and pair them with a customizable strap. The certified water-resistant device is easy to use in bright daylight as it offers better visibility with the 1.3-inch color display.
Pros
Lightweight
Swappable watch straps
Impact-resistant polycarbonate watch case
10-day battery
IP68 waterproof
Multi-sports mode
Cons
May not support OnePlus phones
The Bluetooth range is not impressive.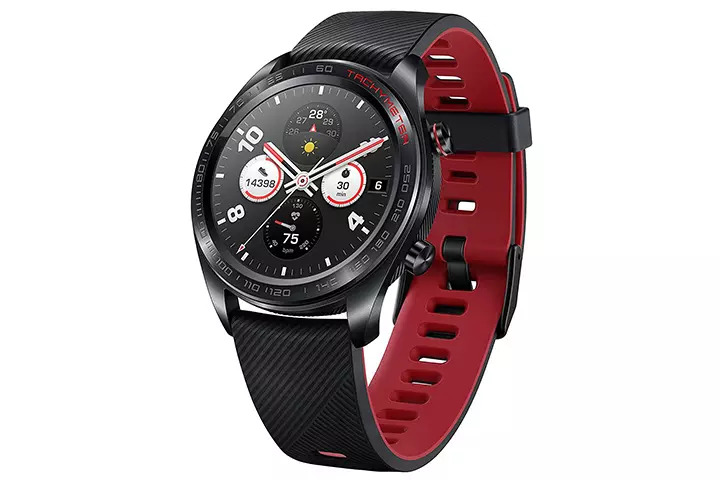 One of the slimmest smartwatches available in the market, this device is lightweight and comfortable. It works with the latest laser technology and CNC machining to boost its durability. The shell of the watch is made with biodegradable nylon plastic. With a 1.2-inch touchscreen display and a 326 PPI resolution, it offers an incredible visual experience. It provides precise information about your location with its in-built GPS. It also has a real-time fitness and heart rate monitoring system. It comes in 2 colors and with a double-sided textured strap designed with silicone rubber on the back and Italian cowhide on the front.
Pros
Sweat-proof strap
Powered by a dual chipset
7-day battery life
AMOLED touchscreen
24/7 heart rate monitor
Sleep pattern insights with TruSleep
Measures altitude and pressure
Cons
No mic or speaker
No internal memory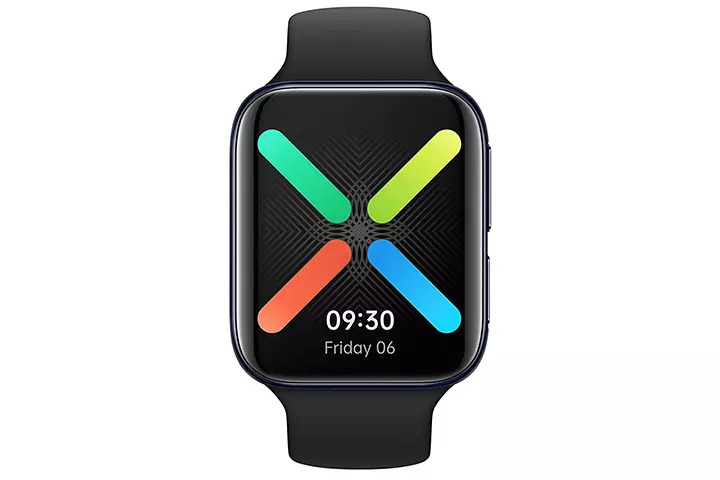 With a dual-curved flexible 1.91 inch AMOLED screen, this smartwatch will impress you to no end. The 3D curved back design makes the watch look stylish from all angles. You can also add a wallpaper on the home screen as per your choice. Created with a smart info management tool, the device can track your health and fitness in real time, create calendar schedules, send quick replies, check the weather and notify you of text messages and pay your bills, helping you manage your time better. With flash charging of just 15 minutes, you can use your watch for a whole day.
Pros
Monitors sleep
Has 'Find my Phone' feature
Offers guided breathing exercises
Gives 5-minute workout sessions
Up to 50 meters of water resistance
Cons
Some may find the battery life unimpressive.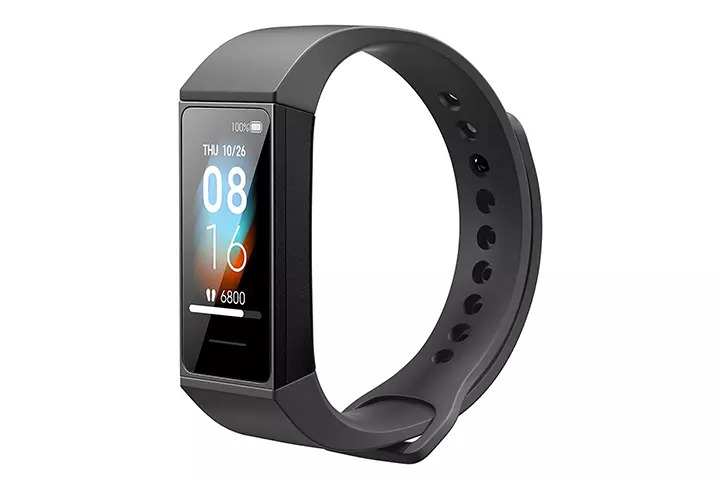 The Redmi Smart Band has an in-built release USB that helps you charge the smartwatch from a USB port in 2 hours. It's high-resolution 2.4 cm large LCD color touch screen offers great visibility, even in bright sunlight. You can control the music player on your device at the touch of the screen and track your heart rate while exercising. It is said to have a non-intrusive and high precision sensor that helps provide accurate heart rate details. It tracks your activities and pushes you to perform better by setting goals. It vibrates and gives you a gentle reminder to walk or move around a bit if you have been idle for a while.
Pros
5 professional sports mode
Waterproof up to 50 meters
Variety of personalized watch faces
Gives alerts and day-to-day notifications
Data on sleep pattern is easily accessible
14-day battery life
Cons
The step counter may not track the steps accurately.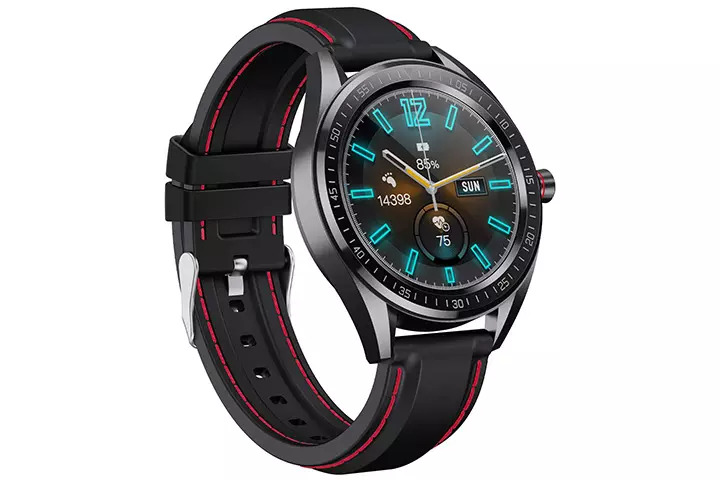 The 1.2 inch HD display with a resolution of 240×240 pixels in the watch notifies you of any calls, texts, or updates on your social media apps. The GPS-enabled device for men is compatible with Android and iPhones. It has a pedometer, heart rate monitor, calorie counter, and a sleep monitor along with quick health essentials such as BP monitor and oxygen saturation meter. Now, you do not have to depend on your lab technician or any other device to check your blood pressure and oxygen levels in your hemoglobin. It is ergonomically designed with a zinc magnesium alloy body with 9H mineral tempered glass, matt bezel, and faux leather finish strap.
Pros
Waterproof
Elegant and stylish
Has 10 sports modes
Easy to read metrics
Smart Bluetooth music control
Cons
Some may find the strap uncomfortable.
The battery may drain faster than expected.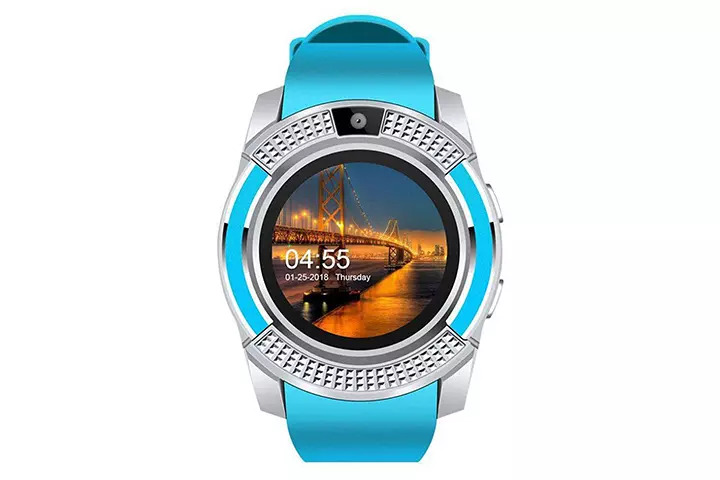 Turn your watch into a phone with this smartwatch with a camera. The device designed with a 1.54-inch screen provides a high-resolution display of 240×240 pixels, is Bluetooth-enabled, and supports a micro sim card. You can make or receive phone calls and read and reply to your text messages via Bluetooth or the sim network through this device if you do not have your phone around you. It also has a pedometer, sleep monitor, sedentary reminder. It is compatible with all Android and IOS phones.
Pros
Water-resistant
Quick-charging
In-built mic and speaker
Contains social media apps
Anti-lost function
Cons
The battery may drain sooner than expected.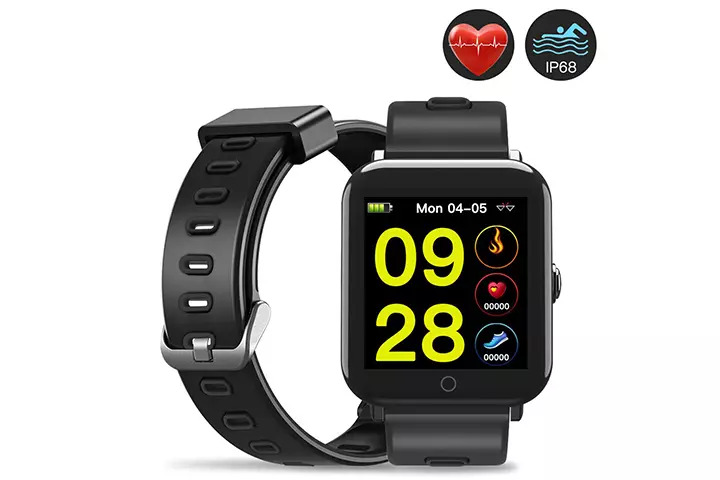 This smartwatch has a 1.5-inch HD color screen and attractive 3D icons. It has skin-friendly and stylish straps. With this smartwatch for men and women, you do not have to worry about the battery life. It offers a good battery backup of 15 days and 40 days while in standby. It is compatible with all phones with IOS 9.0 or Android 4.4 and above. It has an alarm clock, sedentary reminder, music player, and calculator among other things. Stay in touch with your family and friends anywhere and anytime as this device also enables you to make and receive phone calls. It is waterproof and hence, fit to use while swimming. However, you should not use it while taking a hot water bath as the product may get damaged.
Pros
Lifetime warranty
Has multi-sport mode
Has all-day activity tracker
Monitors sleep, heart rate, and calories burnt
Cons
It may take a long time to charge.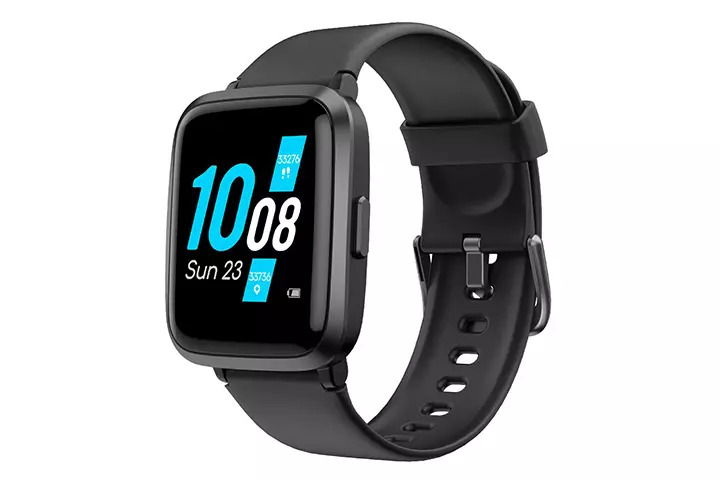 If you are looking to buy a smartwatch mainly for your health concerns, you may choose to buy this device. This smartwatch for men and women can act as a health assistant by tracking your heart rate, blood pressure, and blood oxygen. It also automatically keeps a check on your sleep time and quality. It can give you a wake-up call with its vibrating alarm clock. It supports several sports modes like walking, running, hiking, cycling, treadmill, fitness, mountaineering, spinning, yoga. You can also check the data for the time spent working out, calories burnt, and your heart rate. This smartwatch also has a "relax" feature, which guides you to take a few deep breaths to calm yourself when under stress.
Pros
Waterproof
Magnetic charging
Gives calendar alerts
Controls music player
Battery life of 10 days
Supports stopwatch and timer
Notifies you of emails, calls, and messages
Cons
Some may find the instructions challenging to follow.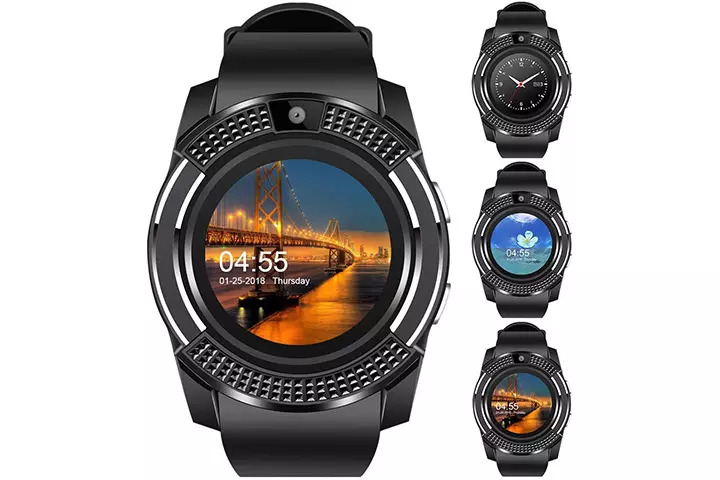 You do not have to pick up your phone to make a call again. This smartwatch can do it for you. It supports phone calls via Bluetooth and sim card and shows call logs and records. It comes with a camera that allows you to click your favorite moments. Apart from providing notifications for text messages, calls, and other apps, this device also has a sedentary reminder, pedometer, and sleep monitor wristband for both iOS 8.0 and Android phones 4.0 versions. You can also play music from your playlist and calculate your budget on this device.
Pros
Has memory card slot
Quick charging
Helps find your phone if lost
Good battery life of up to 14 days
Has round dial and HD touchscreen
Has 0.3 MP camera on the top front of the device
Cons
Some may find it too bulky.
An important thing to remember while purchasing a smartwatch is that they are similar to smartphones. Even if you have done a lot of research and decided which brand to buy, there are many factors that you need to take into consideration. Here's a guide to help you understand them.
How To Choose The Right Smartwatch In India?
1. Notifications
Smartwatches can display a variety of notifications like incoming calls, missed calls, text messages, emails, social media posts, appointment reminders, alarms and alerts. Some also allow you to make and receive phone calls directly through your device via Bluetooth or a sim card, just like your smartphone.
2. Health and fitness trackers
Achieve your fitness goals with smartwatches. They come with fitness and health trackers that record your steps, calories burnt, heart rate, and sleep cycle and provide personalized professional guidance to help you achieve your goals. They feature several sports modes and guide you through breathing exercises to relieve you from stress and anxiety.
3. Display
The display of some smartwatches are brighter while some are paler, towards black and white. But many come with LED and OLED screens that keep the focus sharp and allow you to read the screen easily, even in sunlight. Look for a quality display screen, and brighter pictures and texts.
4. Battery life
A smartwatch can last for half a day to about 14 days, depending on the usage and battery capacity. Keep these 2 factors in mind while investing in a smartwatch.
5. Interface
Choose one with interactive interfaces as it can help you to easily access the apps and also use functions like navigation and text messages.
You can now stay up-to-date with all your important records, calls, messages, and your physical and mental health with just a tap of your finger on your wrist. No matter which smartwatch you choose, ensure its good care and maintenance. Keep it clean and dry. Soaps, cleaning products, abrasive materials, compressed air, ultrasonic cleaning, and external heat sources can cause damage to your smartwatch. Also, use only the charger included in the package. It is advised not to use a USB hub, USB splitter, USB y-cable, battery pack, or other peripheral devices to charge as it may damage the product. The smartwatch should be placed more than 20 cm away from any implanted medical devices to minimize any chance for radio-frequency interference.