The best smoke detectors save you from unforeseen fire accidents, and therefore, you must invest in a good one. You also need a good fire escape plan to escape a dangerous fire as fires can be fatal —they spread quickly and emit toxic gases.
A smoke detector can prevent you from such an unfortunate incident. It detects a fire before it's too late and warns you to take the necessary precautions. It also gives you time to evacuate the building, prevent property damage, and protect yourself and your loved ones.
While choosing a smoke detector, keep in mind that you need one with photoelectric and electrochemical sensors, as these prevent false alarms. Here is a list of some of the most helpful smoke detectors you should get your hands on.
Types Of Smoke Detectors
There are three types of smoke detectors: ionization, photoelectric and dual-sensor models, based on the technique they use to detect a fire.
Ionization smoke detectors: Most effective against fast-burning flames, these detectors contain a chamber full of tiny particles called ions held in place by electrical charges. The chamber also includes a sensor with an ion count. When smoke enters the chamber and discharges some ions, the sensor will activate to sound an alarm.
Photoelectric smoke detectors: These smoke detectors are most suitable for detecting fires with no visible flames but produce a lot of smoke. The chamber contains an LED light and a sensor. After the air is cleared, the sensor will not perceive the LED light, but when smoke enters the chamber, and the light is reflected from the particles, the sensor will detect the beam to activate an alarm.
Dual-sensor smoke detectors: Dual-sensor smoke detectors contain both ionization and photoelectric smoke sensors. The combination of two sensors can provide a faster response rate for the alarm, making it difficult for any fire to thrive, be it fast-burning or slow smoldering.
15 Best Smoke Detectors To Buy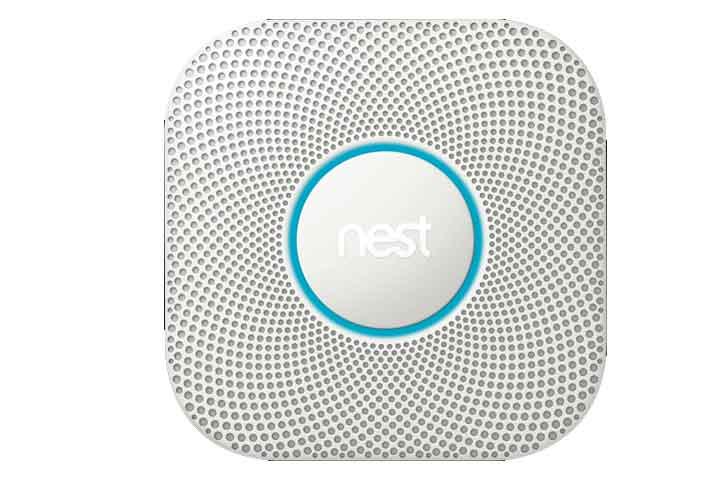 The Google Nest smoke alarm and carbon monoxide (CO) detector are battery-powered devices that send you a phone alert in case of a fire threat. This machine has a split spectrum sensor that can detect smoldering and fast-burning fires. The batteries last for up to ten years, and you get notified when the battery power is low.
The CO detector will tell you where the carbon monoxide is leaking. With the safety check function, you can check the report on smoke and carbon monoxide levels in one click.
Features
Human voice alert to give an early warning sign
Alarm can be turned off using the app
Sends message alerts in case of fire
Blue light glows when connected and active
Works even when Wi-Fi is unplugged
First Alert ZCombo smoke and carbon monoxide detectors are combined sensor constructed with wireless Z-wave technology to send mobile alerts if the alarm sounds. It is battery powered (two AA batteries are provided) and can be synchronized with smart home security systems. The device has a dual-sensor programming function.
The photoelectric smoke sensor minimizes false alarms caused by cooking, while the electrochemical carbon monoxide sensor can be used for advanced CO detection. The equipment includes a horn, a silence or test button, and pins for installing an alarm.
Features
Battery-operated
Mobile phone notifications
Z-wave technology
Photoelectric smoke sensor
85dB horn
Tamper-resistant battery door
The Vitowell three-piece combo pack is a battery-powered portable fire and carbon monoxide alarm. The device's electrochemical sensor will warn you of the danger of carbon monoxide leaks, and the photoelectric sensor will give smoke alerts. It has a button to check the alarm and mute it. When the battery is low, the device will alert you with a quiet signal for about eight hours.
Features
Dual sensors guard against the danger
Battery-operated
Varying frequency is ideal for hearing impaired
Easy to install 
Kidde combination alarm is a smoke and carbon monoxide alarm system that will emit loud sound warnings. It even announces the type of hazard, reducing the correction speed time. A single unit with two functions can reduce installation time and save space. The device has a test/reset button and an LED display for normal and emergency situations. When activated via voice prompts, the silence function temporarily shuts off unwanted alarms.
Features
Voice announcements
Provides protection even during power cuts
85dB at ten feet audio alarm
Single unit for smoke and CO alarms
10-95% relative humidity non-condensing
The X-Sense smoke detector is equipped to detect carbon monoxide accumulation and comes with a ten-year-old lithium battery. The device is environmentally friendly and energy-efficient. The LCD shows the real-time CO level of the surrounding air, battery status, and alarm working status.
This high-sensitivity alarm is equipped with electrochemical and photoelectric sensors, which is the best protection against fire and CO leakage. With the test/mute button, you can mute in the event of a false warning and conduct an alarm test every week. In an emergency, an 85dB alarm will sound throughout the house.
Features
Two-in-one protection
10-year battery
Combination alarm
LED indicator
Three modes
Photoelectric smoke sensor
Electrochemical CO sensor
If you are looking for a smart smoke alarm, the Lecoolife sensor device is a convenient battery-powered alarm system to consider. It is equipped with a photoelectric smoke alarm sensing technology to minimize false alarms. The LED flash system, 85dB sound, and the microprocessor-enabled MCUs intelligent design can provide automatic adjustment and compensation.
The equipment is made of ABS material, which is resistant to heat and high temperatures. It is environment-friendly and does not contain any radioactive materials. Lecoolife alarm system is easy to install anywhere in the house or garage.
Features
Photoelectric smoke alarm
Battery-powered
Environment-friendly
LED display
Automatic adjustment
Loud 85dB alarm
Wide range of applications
Dasinko battery smoke detector is a fire alarm system with two photoelectric sensors. It uses a 9V battery for the power supply and has a service life of 10 years. The device is sensitive to slow smoldering fire and light smoke and detects combustion particles and dense smoke, minimizing false alarms.
The red light in the LED display flashes quickly, and the alarm sounds until the air is cleared. It also has a test button to mute the alarm. The main body of ABS material is resistant to high temperature. The LED also indicates when the battery is low.
Features
Photoelectric technology
Loud 85dB horn
Multiple floor plan
Two-pack with accessories
Widely applicable
Heat resistant
Low power consumption
Easy installation
The Sobrovo fire alarm system is powered by a 9V battery and uses photoelectric technology, enabling the device to light smoke and slow smoldering flames. A red light flashes, and an alarm sounds when combustion particles are detected. These signals continue until the air is cleared or the test button is released to mute it. The device does not contain any radioactive materials and is easy to install anywhere.
Features
Passed Ul217 certification
Test/silence button
85dB at three meters
Led flash display
Low battery warning
The Elvicto fire alarm system provides dual functions for smoke and carbon monoxide detection. The device, powered by a lithium battery that lasts for ten years, is portable and easy to carry. It has a digital display system, an electrochemical sensor for detecting CO, and a photoelectric sensor for detecting smoke.
It can sense a large amount of smoke and dust caused by smoldering fire, thus reducing false alarms. When CO and flue gas levels start to rise, an 85dB alarm will be triggered. The unit alarm notifies you when the battery is low.
Features
Dual sensors guard against the danger
10-year battery life
Real-time CO concentration monitoring
Varying frequency is ideal for hearing impaired
Compact size
Includes test/silence button
Easy to install
Honeywell's 5808W3 is a photoelectric smoke and heat detector. It has a built-in wireless transmitter and is powered by a 3V lithium battery. The transmitter sends tamper, alarm, maintenance, and battery status notifications to the receiver. It helps to simplify the algorithms and reduce unnecessary alarms. The device also has a built-in fixed thermal detector that can detect whether the temperature is below 41°f. The alarm system is easy to install and has a robust RF field strength. 
Features
Smart check
Removable detector cover and chamber top
Additional LED status indicators
Easy-to-install mounting base
85 dB at ten feet
Built-in wireless transmitter
Temporal code three sounder
The JNHCD smoke and carbon monoxide detector is an alarm system that can detect two deadly threats. It is powered by a battery and can typically work even during power outages. High sensitivity photoelectric and electrochemical sensors can trigger alarms, speeding up the response time, and minimizing false alarms.
It has an automatic check and LCD function, displaying the real-time carbon monoxide concentration level of its surrounding environment. The scientific design uses a 360° air ring to ensure accurate and complete detection without blind spots.
Features
Dual sensors
LCD monitor
Two-pack combo
Two-in-one protection
Auto check
The LShome smoke alarm system is a 9V battery-powered device that can give a low-pitched warning if there is a danger of smoke or fire. It has photoelectric alarm technology, which can optimize the detection of a slow smoldering fire, reducing heat and light smoke. These types of small fires burn quickly. The device's sensor detects smoke and combustion particles in the air and sends out an alarm below 85dB within three meters. It also flashes a red LED light to notify danger.
The alarm will continue until the air is cleared or the test button is released. This eco-friendly fire alarm system does not contain any radioactive materials and can be installed in schools, homes, or workplaces.
Features
Ten-year warranty
Easy installation
Fire-retardant ABS material
Battery-operated
Suitable for multiple places
The Arikon alarm system detects the surrounding smoke and carbon monoxide. A battery and works power it during power outages. The dual alarm sensor is equipped with an LED display. If the device fails, it displays a green power indicator, a red alarm indicator, and a yellow indicator.
The device also displays the CO concentration level on the screen. It has a 360° sensor without any dead angles. It has a mute button to turn off the alarm when a false alarm occurs or the problem is resolved. 
Features
Concentration display
Early fire warning
LED light indication
Intelligent detection
Simple installation
The wired smoke alarm with battery backup is suitable for all households because it can work during power outages, and even when the battery is exhausted. First Alert Hardwired smoke detectors are equipped with ionization censoring that can detect smoke from fast-burning fires. The alarm sounds at 85dB and has a quick response time.
You can connect the device to other devices to ensure that all alarms are triggered when smoke is detected in an area. The test/silence button can turn off the alarm. The device has a tamper-proof, universal locking bracket and mounting bracket, making installation a breeze.
Features
Ionization sensor
Compatible with other BRK or First Alert devices
Side-loading battery compartment
Emits T3 pattern
Pack of six
The battery-powered alarm system ensures your safety even during power outages and has smoke and carbon monoxide detection functions. It has a highly reliable and accurate alarm system equipped with an electrochemical CO sensor and a photoelectric smoke sensor.
These sensors work independently to detect fast and slow-burning fires and notify immediately when smoke or carbon monoxide concentration is detected. The system also has the least false alarms. The LCD will display real-time CO level as well as working status and remaining battery life. The device can be easily mounted on the wall and installed anywhere in the house.
Features
Battery-operated
Sleek and low profile
Easy to install
LCD screen
Test/silence button
Loud 85dB alarm
How To Choose The Right Smoke Detectors?
Here are a few things to consider when buying a smoke detector.
Alarm type: According to the location and your requirements, choose between ionization, photoelectric, or a combination of both. All of these have their advantages and suitable for different types of situations.
Power type: You can choose battery-powered or hardwired type up or a combination of both. The hardwired detector can save you the trouble of checking the battery, but if the power is cut off, it will not work unless there is a battery backup. The combination of two power sources is the most reliable.
Smart detectors: Although the classic detectors are convenient and easy to use, the smart detectors are equipped with the latest technology to offer better safety. They can send alerts to your mobile phone through apps and notify you instantly in case of danger.
Wireless interconnectivity: Certain alarms can be connected throughout the house from one room to another. These are ideal for large homes spread over more than one floor. These are ideal for large houses spread over one floor. A mute button, digital display, and flashing lights (for the hearing impaired) are other features you may want to consider.
Tips For Maintaining Smoke Detectors
Ideally, you should have smoke detectors in the kitchen, basement, every bedroom, and common corridors. After installing them, you need to remember the following tips to keep them in top working condition.
Press the "TEST" button at least once a month to test all alarms to check if they are working correctly.
Use a vacuum cleaner to clean the dust regularly to avoid false alarms.
Install the detectors away from doors, windows, and air vents. Air drafts can disrupt smoke detector functions and cause false alarms.
Replace the batteries once a year.
Replace your alarms every ten years. 
Even if we take the best safety measures at home, offices, garages, schools, or workplaces, some mishaps can lead to significant losses when not detected early on. To prevent that, it is essential to get fire alarms installed alongside your security system, to protect lives and property in case of an unfortunate incident. Do check the options you have and pick the right one with the help of our buying guide to stay safe.
Why Trust MomJunction?
This carefully prepared list of the best smoke detectors you can install in your home comprises good-quality, durable products. These alarms are ergonomically designed and have been chosen based on numerous user reviews and data from product forums. We have also included some pointers regarding the features to look for in an alarm to help you narrow down on the right option.
Recommended Articles: