If you want to make delicious smoked meat and vegetables, you need the right smoker. A smoker cooks the food in smoke and indirect heat for several hours at temperatures between 200° and 220°F, giving it a unique flavor and aroma. The food in a smoker also undergoes the Maillard reaction, the browning of the food to perfection.
A smoker also allows you to smoke sugar, oil, spices, and fruits. Modern smokers come in various versions depending on their fuel source. This post lists the types, some of the best smokers for beginners, and tips to help you select the right one.
Types of Smokers For Beginners
Charcoal: They use wood or charcoal and ensure ease of use. The smoked meat is of top quality, having a smoke ring, and adding different wood chips to the charcoal as a seasoning provides a unique flavor.
Electric smokers: They can be set and left for long durations to smoke meat, without the need to check the temperature frequently. A tray for wood chips gives the meat a rich flavor, and the smoker is easy to clean and maintain.
Offset smokers: The firebox is positioned on the left side and not below the chamber to smoke the meat. These heavy-duty smokers are ideal for smoking large quantities and are versatile tools for grilling.
Pellet smokers: They combine charcoal and electric smokers by working on electricity to heat the wood pellets in controlled temperatures. The smoked meat has a smoke ring and is full of flavor.
Propane smokers: Propane-fueled smokers require less experience to operate and maintain. It does not leave the meat coated with ash, but you will still give it a smokey flavor.
13 Best Smokers For Beginners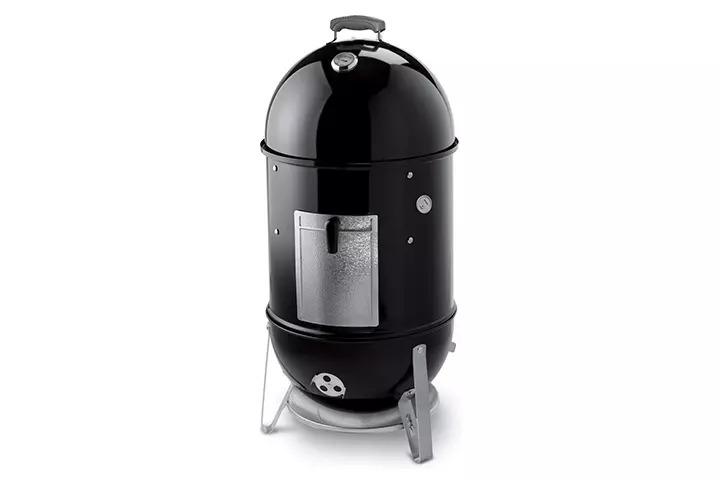 Manufactured by Weber, this smokey cooker can smoke a turkey, ham, and various meat cuts. It has sufficient space to fit an entire ham or turkey with ease on the two nickel-plated cooking grates. The body is made from porcelain-enameled steel that is long-lasting. The sturdy legs allow the cooker to stand in a stable position, preventing accidents.
Pros
Rust-resistant metal legs
18½-inch wide cooking grates
Includes water pan
Heat-resistant nylon handle
Built-in thermometer in the lid
Cons
Gap in the door allows smoke and heat to escape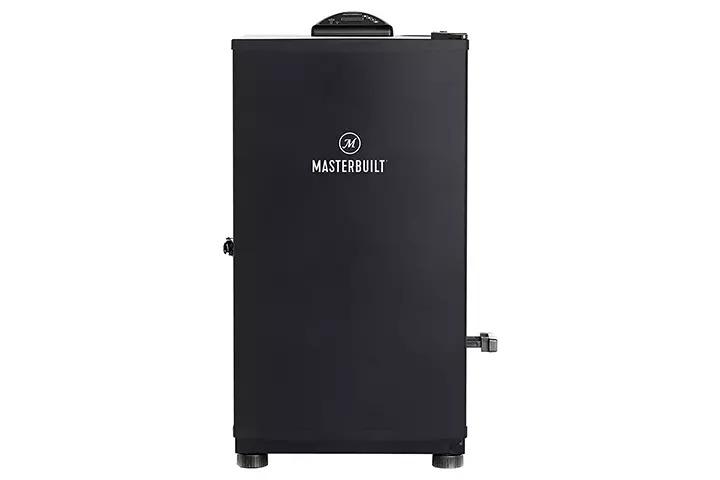 Considered one of the best electric smokers for beginners, it has a digital control panel to turn it on and off. It comes with an option to add wood chips to give the food a smokey flavor. The smoker can also be used with a generator, sold separately, to cold smoke cheese. There are four chrome-plated racks and a thermostat-temperature control for consistent and efficient smoking of meat. It has a water bowl that keeps the moisture level high.
Pros
Patented wood chip loading system
Air damper controls smoke
Good insulation all over the body
Fits up to six chickens
Thermostat allows easy temperature control
Cons
Insulation might burn
Thermometer may not be accurate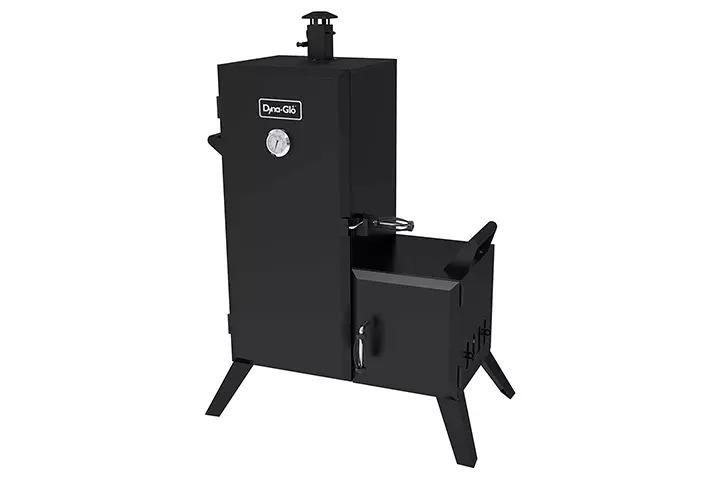 The Dyna-Glo Offset Charcoal Smoker is designed to let heat and smoke to rise vertically. It has 784in2 smoking space, with each grate capable of holding up to 25-pounds. The porcelain-enameled-steel charcoal chamber is designed to keep the briquettes for efficient burning. The smoker ideal for those who want to learn tocook on a grill.
Pros
Removable and sliding ash pan
Wood can be added as and when required
Height-adjustable grates
Keeps food away from direct heat
Thermometer with smoke-zone indicator
1176in2 total cooking space to smoke various foods
Produces a smoke ring on the meat
Cons
No user manual is provided
Door latches may not be easy to operate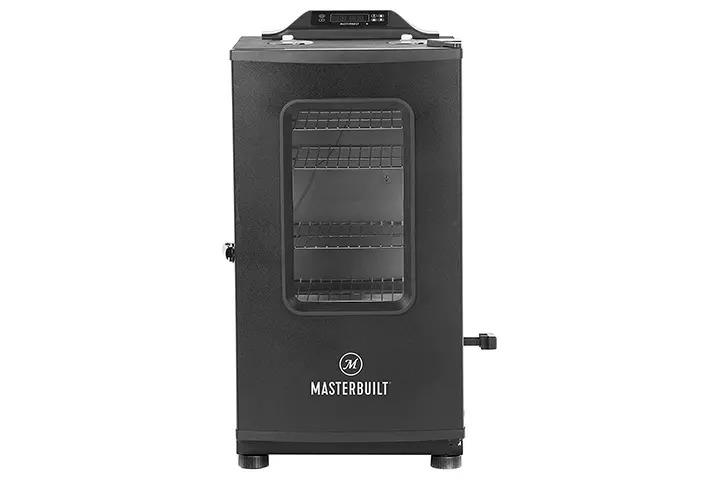 This impressive option from Masterbuilt is a sophisticated smoker with digital control. It features Bluetooth technology that allows smart operation of temperature, lighting, and switching on/off the power. It comes with four chrome-plated racks and a patented system for loading wood chips. It also has a built-in thermometer for probing and finding the temperature of the meat.
Pros
Patented-side wood chip loading system
Thermostat allows easy temperature control
Digital control panel
Top element for grilling and broiling
Fits up to six chickens or two turkeys
Cons
Customer support is poor
Temperature probe may not be durable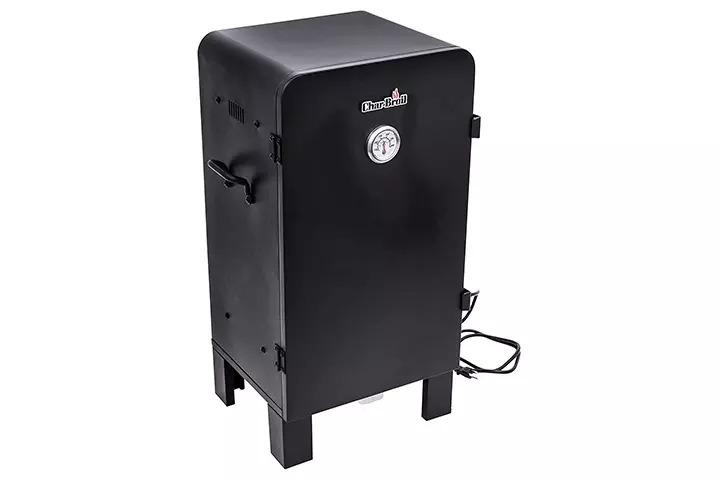 It is simple to operate and is powered by a 1200-watt heating element. There is 544in2 of space for smoking meat and vegetables and dual exhaust ports that allow smoke and air to pass through quickly. It has double-wall insulated construction and a large-capacity wood chip box.
Pros
Includes water pan and drip tray
Gauge for monitoring the temperature
Three chrome-plated grates
Portable with carrying handles on the sides
Dual latches keep the door secure
Cons
Heating element may not last long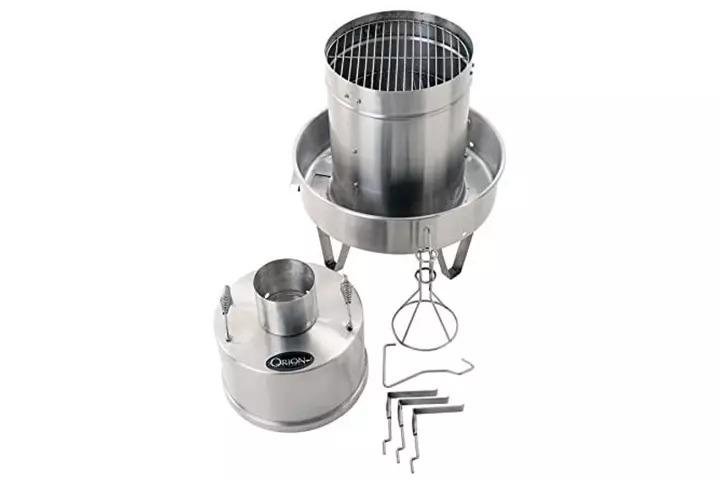 Made of a 100% durable steel frame, it uses charcoal to create heat and is ideal for using outdoors. It allows smoke, convection heat, and steam simultaneously to cook a whole turkey weighing 12lbs within one and a half hours. The smoked meat is flavorful, moist, and the cooking process is swift and hassle-free.
Pros
Poultry stand for turkey or chicken
Three cooking grates and three rib hangers
Quickly cooks the food
Low maintenance and easy cleanup
Good 360in2 cooking surface
Cons
Does not produce a good crust
May form rust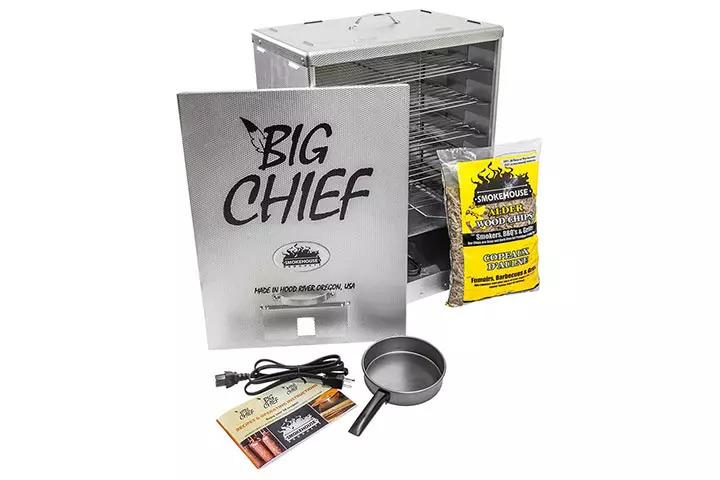 Powered by electricity, this smoker has a good capacity and is ideal for smoking up to 50 pounds of meat. Its ignition system includes a heating element operating at 165°F, the perfect temperature for smoking meat. A premium smoke vent ensures a rich, smoked aroma and flavor to the meat and vegetables. The grills are designed for front-loading and slide in easily.
Pros
Includes 1.75lbs bag of wood chips
Wide and deep fuel pan
Dishwasher-safe drip pan
Long-lasting aluminum build
Low-moisture smoke
Cons
Grill racks are not straight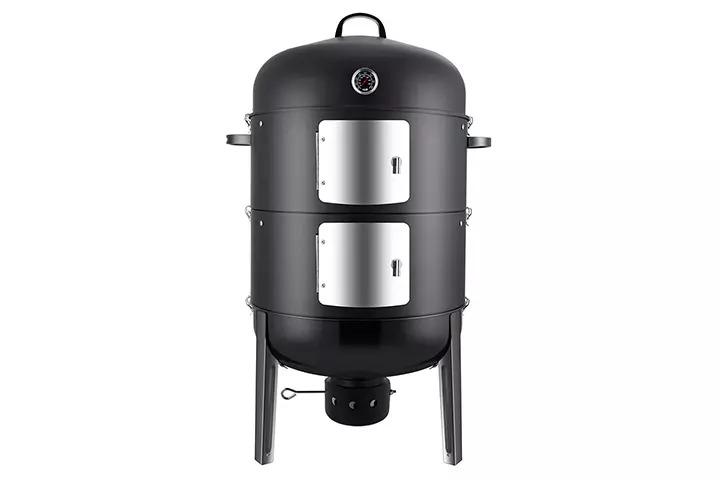 The BBQ smoker for beginners has a vertical design and can be used to smoke, grill, BBQ, braise, bake, and even roast. It has a latch locking system and can even be used as a fire pit for cold weather. It has a thermometer, a bottom vent, and an ash collector. It features 636in2 smoking space and comes with two racks.
Pros
Easy to assemble and disassemble
Fits a large turkey
Hangers for food present inside of the lid
Built-in thermometer monitors the inner temperature
Water pan creates a balance between smoke and moisture
Heat-resistant handle for easy transportation
Ideal for hot and cold smoking
Cons
Steel frame is not thick
Temperature may be difficult to control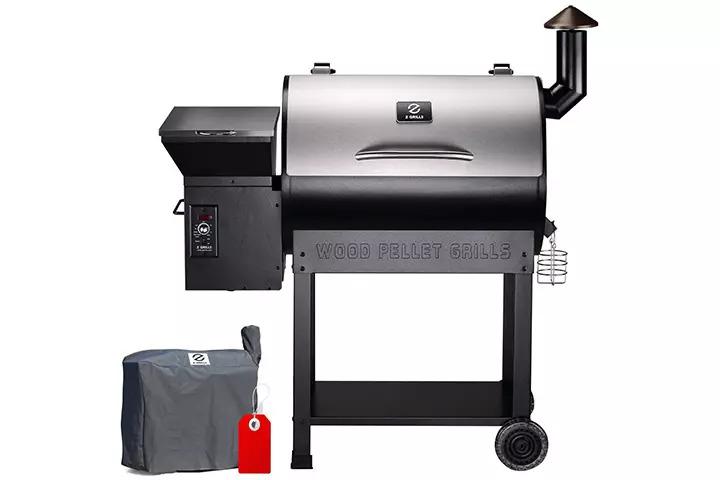 The Z Grills is a wood pellet smoker with good fuel efficiency. It is an eight-in-one cooking smoker used for smoking, grilling, searing, roasting, baking, and braising. Its quick ignition system works with the press of one button. The wood pellets ensure the temperature stays within the user's range, irrespective of the weather condition when cooking.
Pros
Cooking temperature is between 160° and 450°F
Takes 20 hours for cooking 20lbs pellets
Requires no fluid for ignition
Automated electric feed allows consistent heat
Easy to clean and maintain
Collector for grease and waste oil
Wheels allow portability
504in2 grill area and 190in2 smoking area
Cons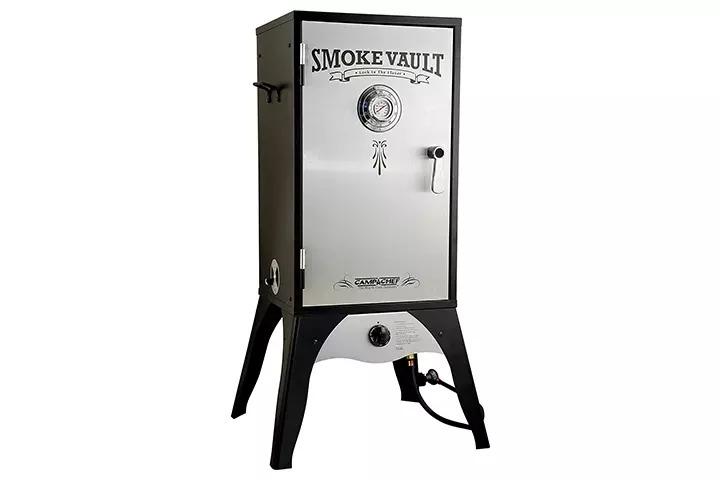 Ideal for outdoors, this propane smoker is considered one of the best smokers for beginners. It has good control systems, including three adjustable damper valves, a built-in thermometer, and a temperature display reading from 50° to 550°F. It has an easy-to-use quick ignition system and a removable porcelain base for easy clean up after cooking.
Pros
Two adjustable racks
Water pan and steel tray for wood chips
Drum for better heat control
Includes recipes and tips booklet
Cons
May not cook and smoke meat properly
Water in the pan evaporates quickly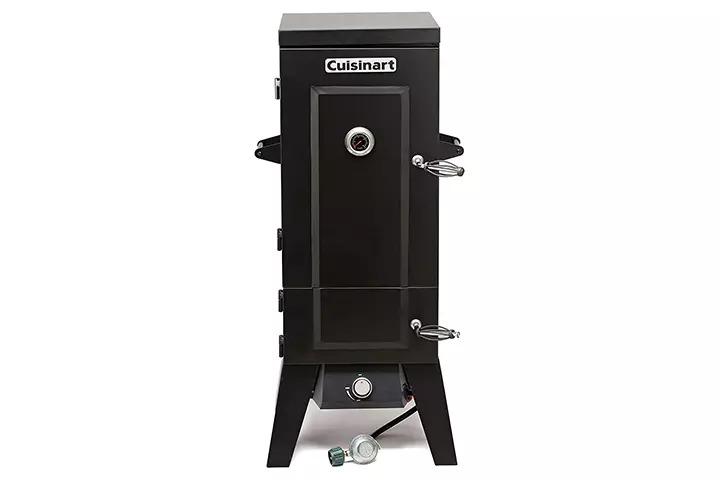 The Cuisinart propane-fueled smoker can create delicious smoked meat even when outdoors. It has four removable steel racks to smoke a large turkey or cuts of meat and provides 5.45ft2 cooking space. The gas supply can be adjusted to ensure the temperature remains optimum for smoking. There is also a large porcelain-enameled tray for the wood chips and water.
Pros
Easy-to-read, built-in thermometer
Control systems for smoke and heat
Dishwasher-safe racks for easy cleanup
14×14-inch removable steel racks
Twist-lock handle seals the door tightly
Cons
Some parts may be missing
Difficult to assemble and setup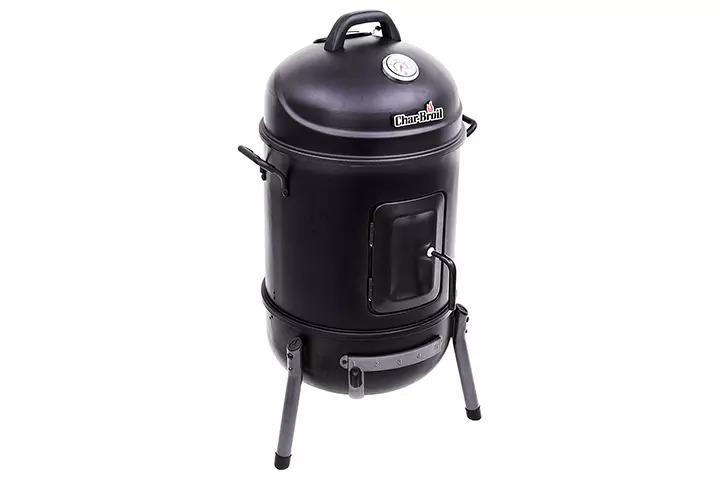 This is a compact, bullet-shaped charcoal smoker with 370in2 cooking space and two grates. Its innovative circulation system for heat ensures the cooking temperature is maintained at the right level, and meat gets a smoke ring. The porcelain-coated steel frame is durable and resistant to rust. It features a removable ash pan and two chamber-lift handles for easy portability.
Pros
Easy to clean
Easy-to-read gauge for temperature control
Provides consistent heat
Adjustable vent
Includes water pan
Cons
Water pan is slightly small
Smoker might get damaged easily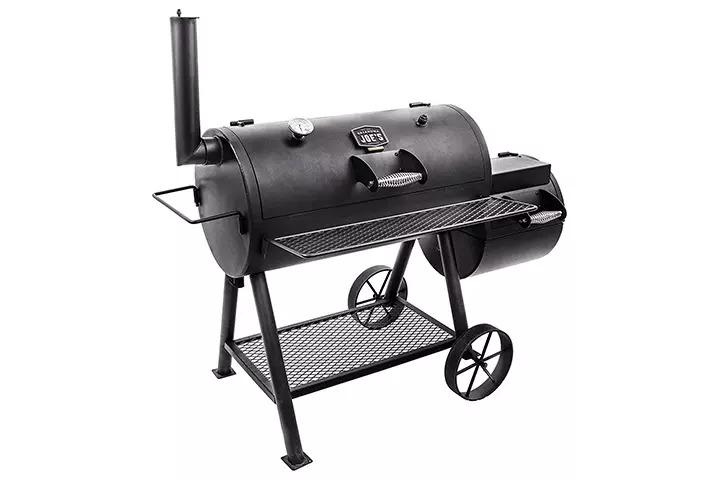 You can easily make smoked meat and vegetables for special occasions with this Oklahoma Joe's Offset Smoker. It has a big main chamber and a 619in2 smoking space that can fit large cuts of meat. There are adjustable dampers to control heat and smoke with ease, and a firebox side door allows you to stoke the fire without opening its lid. The porcelain-coated grates are durable and easy to clean.
Pros
Rust-resistant grates
281in2 secondary cooking space
Temperature control gauge on the lid
Cool-touch handles to protect your hands from heat
Front and bottom shelves for accessories
Large wheels make them portable
Warming section within the firebox
Cons
Paint on firebox tends to peel
Poor customer service
How To Choose the Right Smoker For Beginners?
Here are some aspects to consider while purchasing a smoker for beginners.
Type of smoker: Consider the area you live in and if it is easy to get charcoal and wood pellets. If you do not have access to good quality charcoal briquettes or the right wood pellets, opt for an electric or propane version.
Indoor or outdoor use: Electric meat smokers are ideal if you want to use it indoors in safety, while charcoal and wood-fueled versions are ideal for outdoor use.
Cost: The electric smokers are costlier compared to charcoal and wood smokers that have conventional mechanisms.
Space: If you have less room for installing and using the smoker, then get a smaller option, while wood pellet smokers are better if you have a bigger area.
Quantity of smoked meat: If you plan to make a large amount of smoked meat, check if the smoking surface is sufficient for your needs.
Quality of smoked meat: When you want your smoked meat with many flavors and a smoke ring, getting a charcoal smoker is a better option. Some also consider the interaction between the amino acid and sugar, resulting in the Maillard reaction, which offers the distinct flavor of browned meat.
Versatility: Meat smokers are often versatile and can also be used for grilling, baking, and barbecuing. Look for a smoker that can be used for all these purposes.
Frequently Asked Questions
1. Do all smokers need to be airtight?
No, a smoker does not have to be airtight and requires some ventilation to function properly. However, doors should be airtight and sealed for the smoke should not escape through them.
2. Does the shape of the smoker matter?
Smokers come in several sizes and shapes. If you want a compact version, go for a bullet-shaped model.
Adding smoked meat to your table, whether beef brisket, pork shoulder, or ham, can be a great way to impress your guests. Getting one that is best for your needs will help you create a delicious meal with various smoked meat delicacies. The above list and the buying guide should make the selection process less taxing.
Recommended Articles: