When winter arrives, children are fond of playing in the snow. Winter activities in the snow are thrilling and bring great fun and pleasure for your children, whether it's making an igloo or a snowman or strolling down a snowy hill with a sled. Some of the best snow toys for kids can add to the fun. While constructing snow angels does not necessitate using a specific snow toy, other entertaining activities such as shoveling snow, racing over snow-covered mountains or clearing out your driveway necessitate the use of snow toys that will make winter a fun time for your children.
The following post comprises some adorable snow toys for kids that combine the joy of play and learning while also encouraging your children to participate in outdoor winter activities.
17 Best Snow Toys For Kids
A combination of a pup and a vehicle that saves the day during a snowy time, the Paw Patrol Everest Rescue Snowmobile plows her way through the dangerous snow-filled adventure. With real working threads, pushing through the snow is not a problem for the super pup. Let your child's imagination run wild and free with this pup-inspired rescue toy and treat your kids and their friends with loads of fun and adventurous play.
One of the best snow toys for kids, Reeves International's The Big Dig Sandbox Digger not only excavates snow but also sand and dirt. It is suitable for any season and encourages your kids to go out and play. With a realistic look and feel, the sandbox digging toy features a crane arm that swivels 360 degrees to help with the digging and dumping action. This awesome multi-season toy is recommended for kids above the age of 3.
For sledding down a snowy mountain, this easily inflatable starry tube is your favorite snow toy. It is made with environmentally-friendly materials and contains a cold-resistant layer of K80 PVC+PVC that helps you slide down faster. It is leak-proof, tear-proof, and has a weight capacity of up to 500 pounds. This snow tube is easy to inflate and it is made with ultra-thick material, making it anti-scratch and wearproof on the snow. The design includes sturdy handles to protect you from falling while skiing, making it suitable for adults and children.
Your kids will love this snow toy that allows them to create houses, fences, igloos, forts, and more with snow. It is designed to make rectangular bricks out of snow that can be used to construct snow buildings and models. Made with durable plastic, the snow brick maker is recommended for children above the age of 5 and comes in different assorted colors.
This is undoubtedly a one of a kind slow sled that lets you have the most exhilarating downhill experiences of all time. It is designed with a unique rugged plastic and has a distinctive lever that allows stability and turning while sledding on the snow. The awesome snow toy has an anti-skid vinyl seat and a rail design on the underbelly of the sled making it highly maneuverable. Zipfy is suitable for kids above the age of six and can be used by adults as well. It is lightweight and designed to have a weight capacity of 250 lbs.
Plow snow and clear out the driveway with this realistic snow plow truck. Your kids will love to maneuver slowly and dig out the dirt with this friction-powered snow toy. With realistic and interactive functions like lifting beds to swiveling snow, these snow toys for kids help improve their imagination and motor skills. The truck is made with high-quality BPA-free plastic material and works by the virtue of a powerful propulsive force. It requires no batteries and is great for kids above the age of three.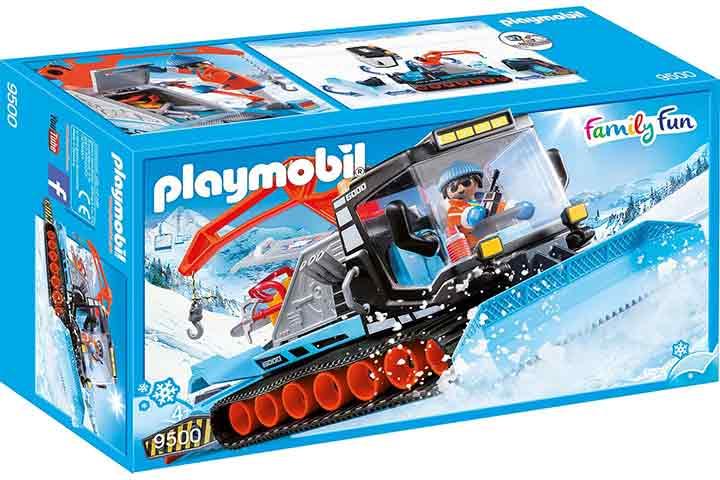 This super cool plow truck helps clean out roads for safe passage and prepares slopes for winter sports. The Playmobil Snow Plow is made with tracks that prevent the plow from getting stuck in the ice or slush. It also has rotating cranes that help move other vehicles that are stuck. Your kids will enjoy spending hours playing with this realistic toy, using its snow blade and plow rear roller to clear out the snow. The toy set also has a removable cab which makes it easy to access the interior. Not suitable for children below the age of 3 as it has tiny objects that could be choking hazards.
One of the most interesting snow toys for kids, the Flexible Flyer Snow Slider is a great toy that encourages imagination and exercise in your children. It is one of the best alternatives for a traditional toy for kids and is made with smooth birch wood covered with powder-coated steel runners. It offers maximum steering control when you directly lie down with your hands or when you use a rope attached to the steering bar. This durable sled is suitable for kids above 5 years and can be maneuvered to fly downhill.
Perfect for your kids to use during winter in the neighborhood, on sidewalks covered in snow or even snow-covered hills and mountains. Your kids can enjoy hours of snowboarding fun with this awesome snow toy that lets you zigzag and cruise down a sledding hill. Push one leg off the ground and ride it like a scooter even on grass or sand dunes. It includes one LED light at the top of the handle for maximum visibility. It has five colors with 3 modes— flash, strobe, and fade. The ski scooter is made with a strong polyurethane material that ensures a smooth ride. The handle can be folded down for convenient transportation and storage.
This super fun snow sled is flexible and designed to handle any terrain. It is built with a high flex ratio that prevents it from breaking. The Slippery Racer Downhill Sprinter Snow Sled is coated with its proprietary IceVex cold-resistant treatment to withstand the coldest of temperatures. It comes with a built-in rope that makes it easy to ride the sled and bring it back up the hill. With high performance and durability, this snow toy for kids is available in different colors and includes a one year warranty.
We've all had a beach kit that was used to make sandcastles and included sand mold structures as kids. Imagine having the same molds to play with snow! Kids will love it and so will you. The Slinky Sno-Buddy Penguin is one of the snow mold toys that let your kids build penguins in seconds. All they have to do is pack each half of the mold with snow and snap them together. In less than a minute, there are ice penguins that are created to fill your backyard or driveway. This snow toy includes a two-piece mold and is recommended for kids above 5 years.
Every kid loves sledding around in the snow and the Flexible Flyer Baby Pull Sled is just what they need to do so. This exciting wooden baby sleigh comes as a fully assembled snow toy that can be used by kids to enjoy their time during winter while staying safe. It is designed with a high backrest which gives your kids extra seated support and its elevated position keeps your child dry for a safe ride. Combine the joy of fun and exercise with this baby pull sled.
To play with a LEGO set is every child's dream and you can now fulfill that for your kid with the LEGO City Snowmobile Toy And Rescue Game. One of the best snow toys for kids, it features a hook, platform, trailer and a crane with a poseable arm. The LEGO set also includes a mobile vehicle with a rotating blade, a large ice fossil, and a snow bike. It follows an arctic expedition theme which lets your child explore the wild winterland and includes a prehistoric mammoth. It's great for an imaginative play and can be combined with other toys to boost creativity.
A cool toy for a cool kid, the Bruder Granite Dump Truck With Snow Blade is engaging and educative for every kid who loves the mechanics of a vehicle. Its realistic functions like the plow blade make snow-covered landscapes. The driver's cabin can be opened, the rear-view mirrors are foldable and the back of the truck can be tilted back when the tailgate is open. There are also flags attached to the left and right side of the plow making it look realistic and exciting. The snow blade truck includes sounds and lights that add an element of fun to the kids' snow toys.
One of the fastest wheels and coolest toys, the Fly Wheels Launcher All Terrain Action flies at the speed of 200 scale MPH and jumps up to 30 feet high. Your kids will love this monster truck and spend hours playing with it. Suitable for all terrains, be in mud, sand, dirt, water, or snow, this super cool toy performs different stunts and jumps at different speeds. It has the ability to jump over a car, truck, bus, or airplane. Each tire has a unique tread pattern and design that helps its performance on and off-road. Get one for your kids today and watch them get filled with excitement and enthusiasm!
The only thing that everyone likes to do when it's snowing is to make snowballs. With the D-Fantix Snowball Maker, you and your kids can make piles of snowballs quickly and easily. The snowball maker comes in a pack of 3 colors— green, red, and blue. It is made with durable plastic and has hollow, circular molds at the base of the clamp. The device is 14 inches long and made with an ergonomic anti-slip handle for a comfortable grip. Apart from making snowballs, this multi-purpose scooper can also be used to play on the beach with sand or even clear your pet's poop.
Perfect for kids above the age of six and adults who like to sleigh, the Team Magnus Tundra Wolf Race Sled is designed to suit different conditions of snow including hard frost to fresh snow. The race sled includes twin brakes, an assembling tool kit, side runners as footrests, and a steering column stopper to prevent oversteering. Built with these safety features, this fun sled ensures control and protection even on steep, snow-covered downhills. Its metal frame is all steel and coated with powder, and the seat is designed to evenly disperse weight to prevent cracks or damages. The snow sled has a weight capacity of up to 220 lbs and can accommodate up to two people.
How To Choose The Right Snow Toys For Kids?
Age – While choosing snow toys for your kids, ensure that they are suitable for your kid's age. Some toys mention the age limit and some of these toys are even suitable for adults. It is important to consider age as a factor before making a choice.
Safety – Safety of your kids is of utmost importance. Therefore, ensure that the toys you choose are not dangerous and are made following stringent safety measures.
Application – if you're living in a place that has hills and snow-capped mountains, toys like sleds and snowboards will make great toys. However, if all you have is a driveway or a backyard, toys which build, create, retract, and excavate will have more use. Therefore, keep in mind the usability of the toy depending on where you live before making the purchase.
Tips To Engage In Safe Snow Play
While it is no doubt that playing in the snow during winter is a whole lot of fun, here are a few things to keep in mind before stepping out into the harsh winter cold.
Layer Up – It is vital that your kids are wearing layers to keep them warm and safe from the cold winter. The last thing you want is for your kids to get frostbite or fall sick because of playing in the snow. Wearing layers of clothing like jackets, sweaters, thermals, gloves, hats, scarfs, socks, and boots are essential when they step out into the cold.
Sunscreen – Some of you might not be aware of this but sunscreen is important even in winter. It is not just meant for summer but for the winter sun too. To protect your kids from the UV rays of the sun, ensure that they have sunscreen on before they step out in the cold. Wearing protective glasses can also keep their eyes safe.
Safe Sledding – Sledding is a lot of fun for kids as well as adults but it is important to keep safe while enjoying the experience. Make sure your kids are wearing protective gear and helmets so that they don't injure themselves. Steer clear of crowded sledding hills as this can cause a lot of accidents when you're sledding down a hill. Another thing to look out for is if the hills are free of rocks, stones, shrubs, and small trees to make sure your child does not bump into them and hurt themselves.
Frostnip and Frostbite – Even with layers of clothing that protect kids from the cold, many a time frostbites and frost nips can occur. They usually affect the chin, cheeks, nose, ears, fingers, and toes. Hence, it is important to make sure your kids take regular breaks from the cold and are layered up well before stepping out.
Let's be honest, kids love to play in the snow and it is one of the best ways to keep them engaged during winter breaks while they also get their daily dose of exercise. We hope our list of snow toys for kids will help you make the right choice for your children so that both of you can enjoy the snow. Comment below and let us know which is your favorite snow toy from our list.
Recommended Articles: