Snowboarding is a recreational winter activity and a Winter Olympic sport. If you enjoy snowboarding or hone your skills in it, you need the right type of snowboarding gloves besides other sporting equipment.
Gloves play an important role in keeping the hands warm and protecting them during a fall on snow. Before buying the best gloves, you need to check several aspects, such as the quality, size, style, materials used, functions, and the grip of the gloves.
Read on for a list featuring the best gloves for snowboarding and choose the right ones, depending on your requirements.
15 Best Gloves for Snowboarding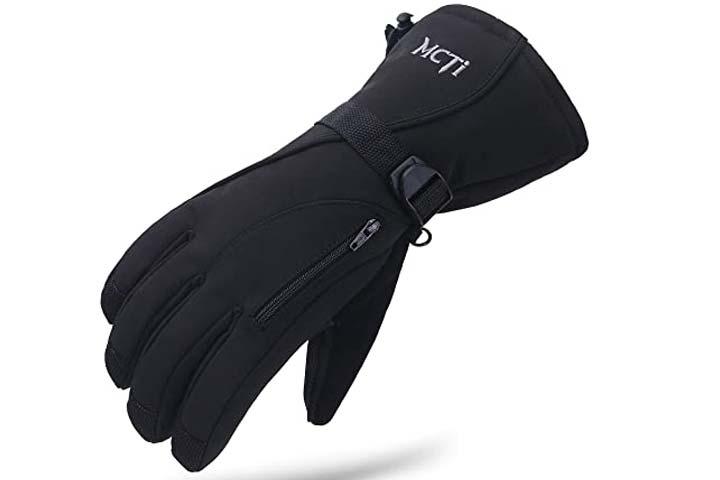 The MCTI gloves have 3mm padding in the palm and a Fan-tex TPU membrane that keeps the moisture out and reduces hand fatigue to a great extent. These gloves are insulated with 40 grams 3M Thinsulate material and 140 grams of warm cotton, which keeps the hands warm, even in extreme weather conditions. They come in different sizes, different color options, and also has an anti-lost connection buckle.
Pros
Windproof and waterproof function
Multifunctional with a nose wipe fabric on thumb, flexible hand grip, and ultra-soft PU palm
Zipper pocket to carry ID cards, keys
Buckle wrist strap and adjustable string closure for protection in cold weather
The lining is very comfortable and soft to touch
Easy single-pull closure
Connecting clips to keep both the gloves safely
Cons
The gloves may retain moisture in extreme conditions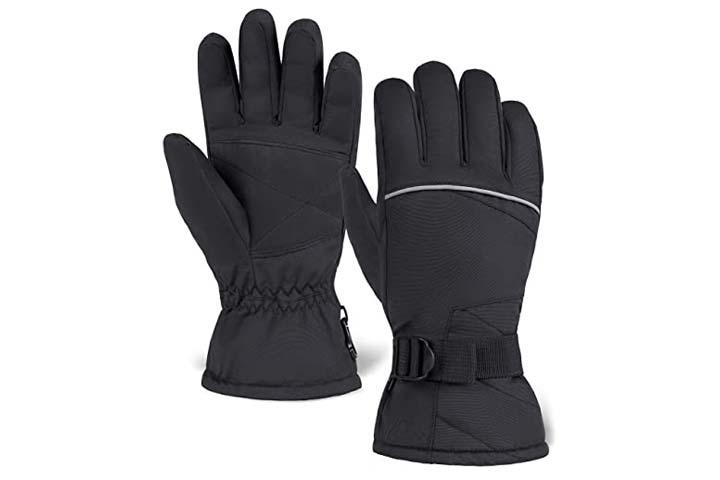 These waterproof ski gloves are made of a three-layer nylon outer shell and synthetic leather in the palm area. The TPU membrane helps in moisture absorption for keeping your hands dry, and thermal insulation in the gloves provides warmth. They are available in different sizes from small to extra-large.
Pros
Adjustable wrist buckle for a perfect fit
Protection against bruises and abrasions
Easy to connect anti-loss closure
Breathable gloves
Cons
The fabric lining might be a bit tight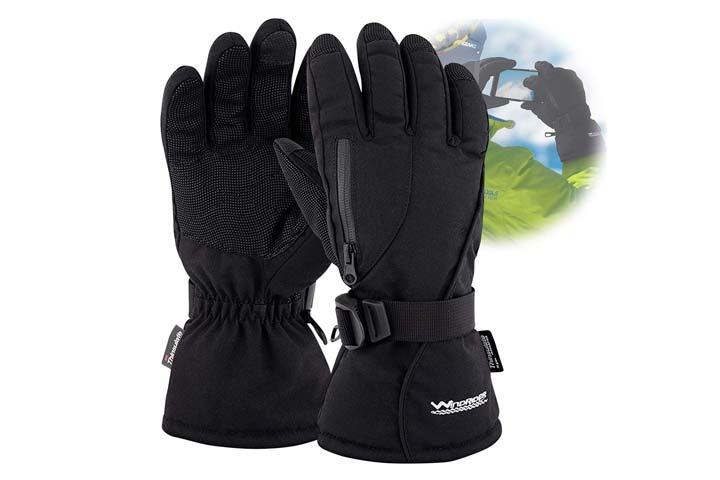 If you want a pair of gloves with a rugged look, then go for these by WindRider. These are multi-purpose gloves used for skiing, snow blowing, ice fishing, and snowboarding. The five-layered gloves also have a water-resistant coating and a thick Cordura nylon covering. They have Thinsulate insulation and a Hipora liner that acts as a barrier to prevent the entry of water. The gloves are available in a range of sizes from small to XXL.
Pros
Touchscreen fingertips to answer calls
Waterproof
Pockets on the back for storage of cards and keys
Soft fleece lining for that extra warmth
Nose wipe strip
Wrist tensioner
Cons
Water does not penetrate, but the glove might get wet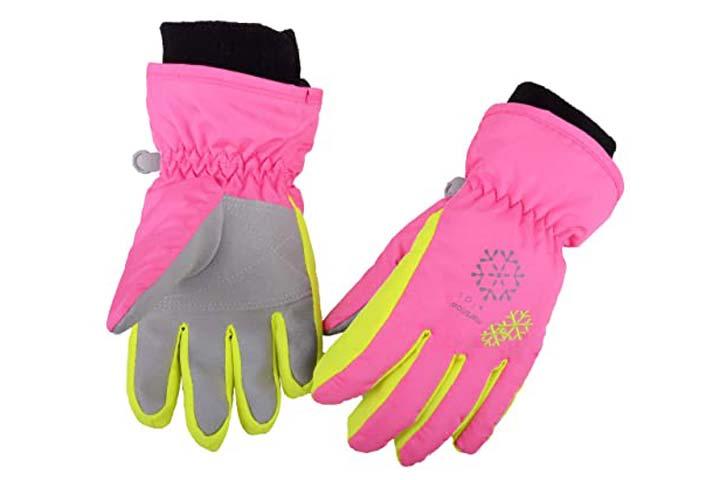 These polyester and fleece gloves provide the right level of grip and dexterity. The thick, soft fleece present inside and at the cuffs keeps hands warm. They have a moisture-wicking property that keeps the hands dry and comfortable. These gloves are available in various sizes for your little one.
Pros
Gloves have an elastic wrist band for easy wear
Anti-slip soft PU for skid resistance
Windproof, soft, ultralight, and breathable
Comes with a 20-month seller guarantee for quality issues
Stitches placed to prevent abrasions and excellent grip
Eye-catching and bright colors
3D snowflake pattern
Cons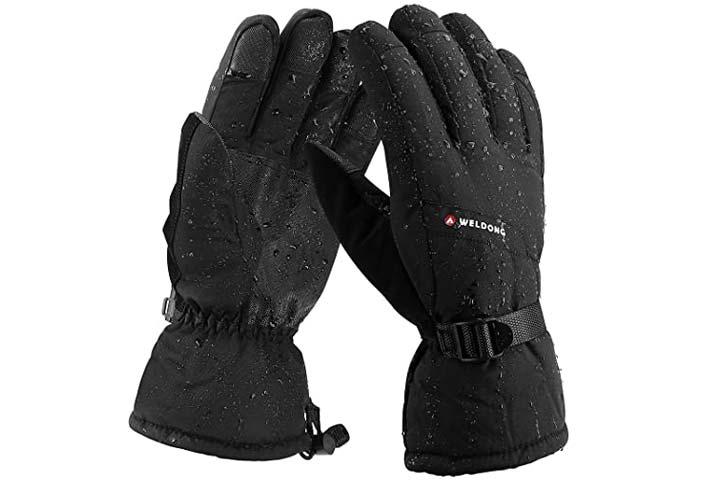 Keegud ski gloves are made of warm thick cotton with spandex and Thinsulate. They keep your hands warm even at -30℉ and can be used for snowboarding as well as other sports like hiking, climbing, and skiing. The outer layer is made of 150D polyester material that is both windproof and waterproof.
Pros
Wrist strap can be adjusted to avoid cold and give you a snug fit
Breathable gloves with a soft fleece layer
Premium PU leather for anti-slip function
The knitted cuff helps in easy wear and take off
Anti-loss buckle in the wrist strap makes the glove fit better and safe
Touchscreen-friendly material on the index finger for calling and texting
Cons
The gloves may get wet due to snow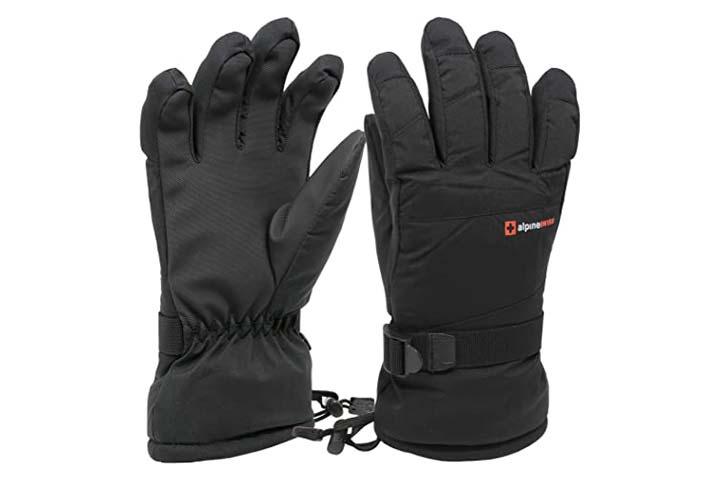 Alpine Swiss Men's gloves are made of 3M Thinsulate material and are thick enough to trap the heat. This keeps your hands warm and comfortable even in extremely cold weather. These gloves come in handy for all winter sports activities, as the outer layer is made of polyester material that is both windproof and waterproof. These gloves come in many colors to match with your winter outfit.
Pros
The long cuffs with drawstring closure can be tightened against the cold weather
The palms are made of TPU material for good grip
The fleece lining adds extra comfort and warmth
Elastic straps on the wrists keep your gloves secure
Available in a wide range of colors
Cons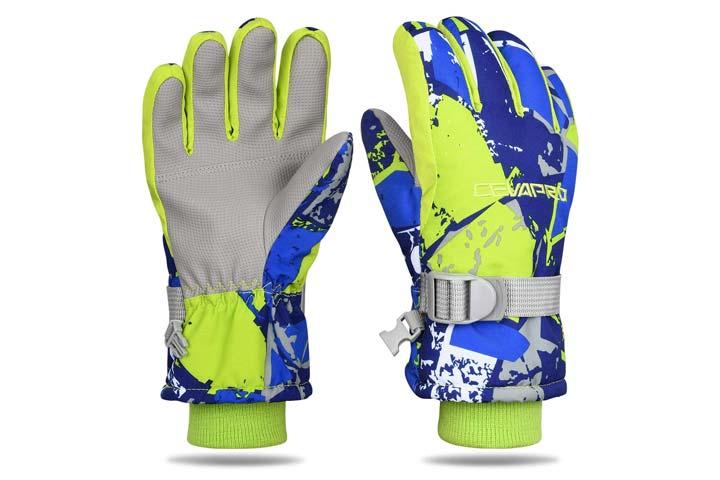 These Yobenki Ski gloves are built with high-quality cotton insulation inside to keep the hands warm and comfortable. They offer the right grip and dexterity and have double lock thermal insulators. The best thing about these gloves is that they are available for men, women, and even kids.
Pros
Made of thick, soft fleece to protect from frostbite
Anti-slip leather palm
The material is snow and wind-resistant
Cons
Water might seep inside the gloves

These specially designed winter gloves claim to keep your hands warm even in extreme weather conditions from -22°F TO -4°F. The three-layer material made of polyester and cotton provides thermal insulation. These water-resistant gloves are available in a range of sizes and are designed to protect your hands from the snow.
Pros
The wrist button helps in giving you the perfect fit
Extremely breathable and durable
Sizes suitable for men, women, and children
Cons
Hands might get wet when exposed to snow for long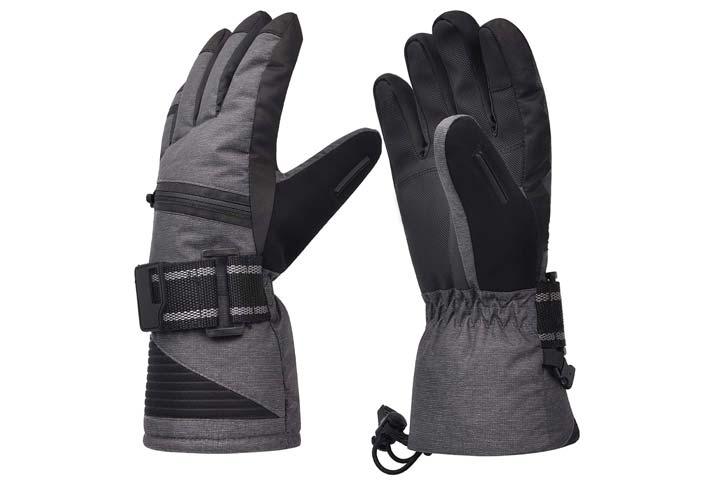 These are among the best gloves for snowboarding, as they are layered with polyester fabric and a TPU waterproof layer. The middle layer is made of 3M Thinsulate to support the heating system. You get these gloves in a variety of sizes from small to extra-large.
Pros
They have rubber snow wipers
Protects hands from frostbite
Zippered pocket for carrying cash and keys
Single pull closure
Cons
Stitches between the fingers might cause irritation
The waterproof layer may fail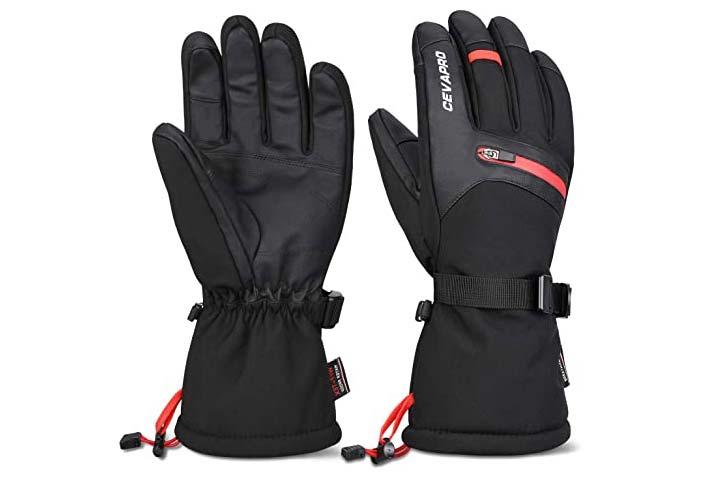 These are perhaps the warmest gloves for snowboarding as they are insulated with 3M Thinsulate cotton and polar fleece. The waterproof layer keeps the hands dry, while the doubled elastic wristband locks the water, snow, and wind. PU palm of the snow gloves prevents abrasions.
The mobile phone friendly gloves are layered with a conductive fabric that allows photography, texting, and calling. They are very comfortable and found in a range of sizes from medium to extra-large.
Pros
Designed for skaters of all skill levels
Highly flexible as every movement is natural
Water-resistant and windproof
Moisture absorbing properties
3D fingers offer proper grip and dexterity
Cons
May not be durable
It might not keep the hands warm in extreme weather conditions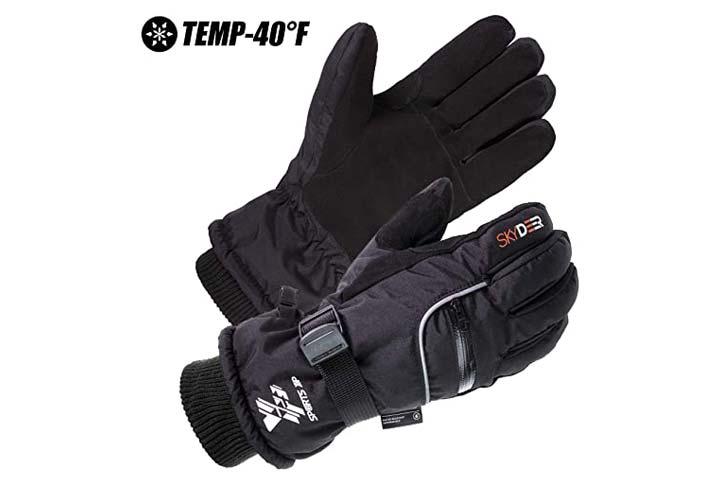 Skydeer ski gloves are among the warmest gloves for snowboarding. The palm is naturally flexible and soft, made of 3M Scotchgard waterproof deerskin leather. The back is made of nylon material and provides comfort and dexterity. They have a Thinsulate lining that protects your hands on cold winter days. They have sizes from small to extra-large.
Pros
Knitted inner cuff and adjustable strap for the perfect fit
The deerskin suede makes it more flexible and provides a good stretch
Plastic buckle and zipper
Breathable and skin-friendly socked lining
Keeps the hand sweat-free and dry
Cons
The seams might get loose over extended use
May not keep your hands warm in extremely cold weather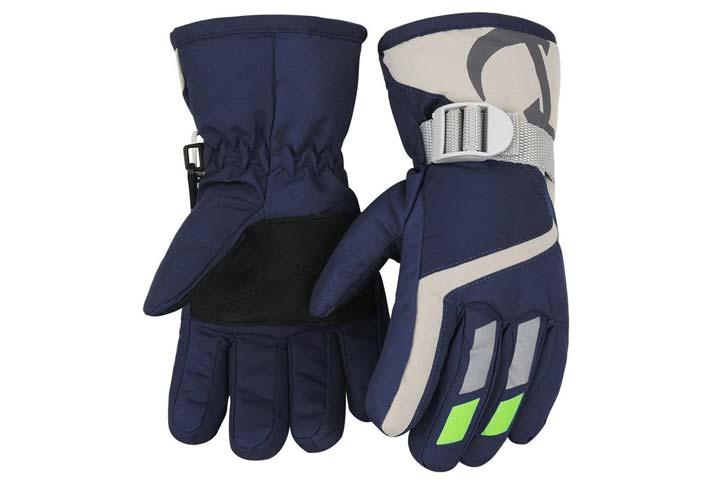 The 7-Mi kids' gloves are made of waterproof fabric on the top and the TPU layer within to prevent soaking by absorbing the excess moisture. The grip is excellent as it is layered with an anti-skid feature at the palm. This keeps your children safe while doing outdoor activities. The gloves are of free size for kids in the age group of three to five years.
Pros
The wrist strap can be adjusted for easy wear and removal
It locks the heat to keep the hand warm
Several color options
A 16-month full refund warranty for customer satisfaction
Easy to wash in a single spin
Thick and soft fleece lining to keep the hands warm
Cons
May not be as durable
The stitches might get ripped soon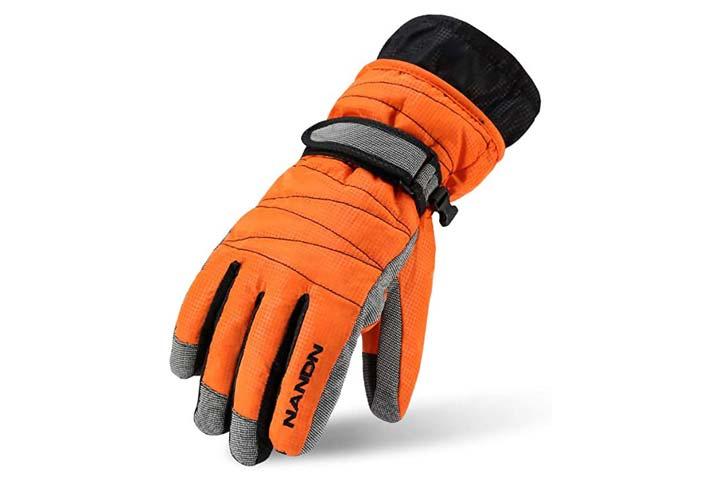 This could be one of the best heated gloves for snowboarding at an affordable price point. They are made of superior quality cotton for that extra warmth. The cuff length is extended and adjustable to avoid cold fingers and hands. The polyester surface lets the snow and rainwater roll down and keeps the hands dry. The cotton-soft lining makes it light and gives a second-skin feel. They are available in a range of sizes.
Pros
The Velcro strap ensures a perfect fit
Polyurethane layer protects hands from abrasions and gives a good grip
Can be washed in the machine
Comfortable and warm
Cons
Touchscreen incompatible
The seams might wear off
Water absorption may be poor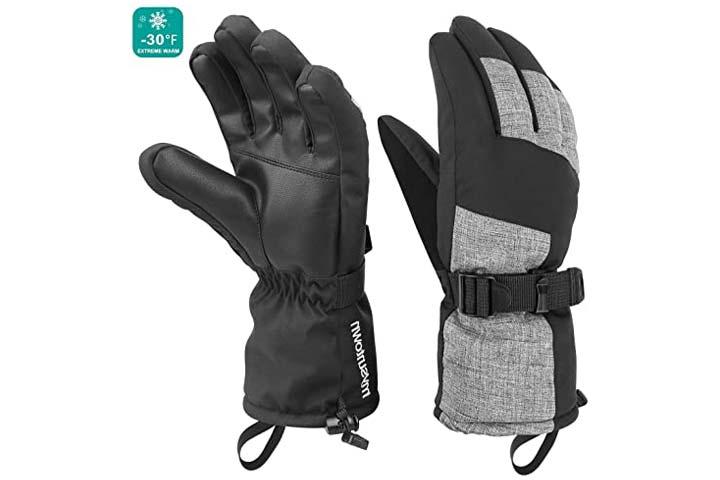 Mysuntown is known for its best waterproof gloves for snowboarding. The outer layer is of waterproof material, which prevents water retention and keeps the hand dry. There is a coating of cotton, which is light in weight and helps in keeping the hands warm. It is available for both men and women, in medium, large, and extra-large sizes.
Pros
The stretchable wrist strap is used to tighten the wristband for warmth
Adjustable telescopic buckle
One pull closure
Durable genuine leather palm
Sturdy grip that increases the performance metric
Cons
May not absorb water properly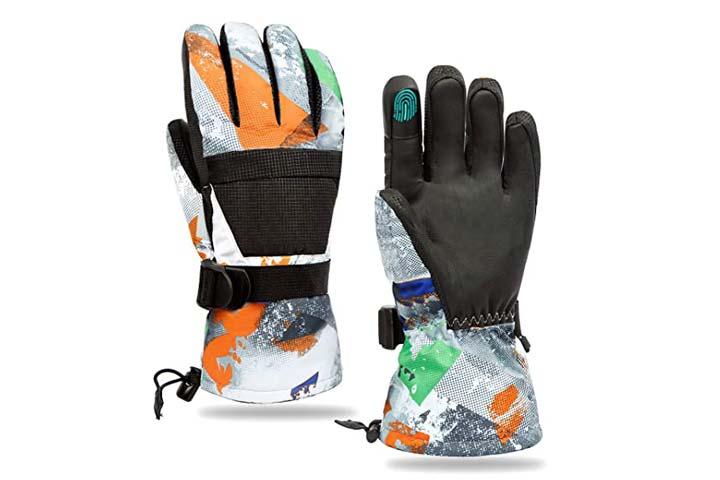 Minsky is known to offer quality gear, and these wrist guard gloves are no exception. They are layered with the superior quality acrylic fiber cotton fleece inside and are quite thick to keep your hands warm. The TPU layer does block water by keeping your hands dry. These gloves must be air-dried, so you need not dip them in water for washing always. These gloves come in two sizes – large and extra-large.
Pros
These gloves have an index finger touch technology, which can be used for answering calls or texting
These snowboard gloves have a zip pocket where you can store keys or your cards
Drawstring closure for preventing cold air from entering inside the gloves
Cons
How To Choose The Best Gloves For Snowboarding?
Here are a few factors you need to consider for picking the best waterproof gloves for snowboarding.
Insulation: The material used for thermal insulation must be warm material, like synthetic wool. Gloves with fleece tend to keep the hands warm without affecting the hand's dexterity.
Fitting: This is one of the most important features as fitting will aid in breathability and prevent discomfort for your fingers and hands.
Waterproof: Snowboarding mittens or gloves must be water repellent. Waterproof fabric is used to layer the gloves to prevent water retention, while the gloves' moisture-wicking ability keeps the hands warm and dry.
Wrist closure: Consider gloves with an adjustable wrist strap as it lets you customize them for the best possible fit.
Size: The correct size facilitates a good grip that helps in boosting your performance while snowboarding. Before you make a purchase, check the size chart for the perfect fit.
Frequently Asked Questions
Do I need padded/armored gloves?
It depends on the purpose of using gloves. If you are into racing, then you can use padded gloves. But if it's just for snowboarding at leisure, then it is not required. However, armored gloves do look good.
Should I use waterproof or regular gloves?
The use of waterproof snowboard gloves is very much important because the snow on the hands can make them wet and cold. So, the solution is to wear water-resistant or waterproof mittens.
How to wash snowboarding gloves?
If the material is cotton, then you can give a mild spin in the machine, or else air drying can also be done. It is always better to air dry the mittens or wash them if they are soiled as wet gloves can breed fungus.
Snowboarding gloves are worth every penny that you invest because they provide comfort, protection, and warmth to your tender hands. With so many choices, all you can do is compare the features and the price point and buy the best gloves for snowboarding for a safe and comfortable experience.