Have you noticed your child expressing interest in soccer? Then it's time to enroll them in a good program. Besides boosting fitness, soccer can promote a child's motor skills and heighten cognitive abilities. That said, it's tough to play soccer without the right gear, and no soccer uniform is complete without soccer cleats. Hence, we present to you the best soccer cleats for children.
Without the right pair of soccer cleats/shoes, the risk of slipping on soft surfaces is higher, and running on grassy or muddy grounds can get difficult. That's why your child needs soccer cleats that provide additional traction, incredible control, and excellent foot protection. With a myriad of options to choose from, it can be hard to pick the right one. Fret not! We have made it easy for you by compiling a list of the 15 best soccer cleats for kids.
15 Best Soccer Cleats For Kids In 2021
Your child is sure to turn heads at soccer practice in these pink-black Vizari Infinity FG Soccer Cleats. These soccer cleats are made from durable synthetic leather and feature a slightly textured upper for maximum ball control. They come with rugged studs that provide great traction, a well-padded ankle collar, and soft footbed that will keep your kid's feet comfortable throughout the game. For added durability and sturdiness, these cleats feature anti-stretch lining and fine stitching from the front to the upper.
Pros
Ideal for turf and outdoor fields
Features flexible rubber outsoles
Adjustable laces
Water-resistant
Available in nine other two-tone color combinations.
Cons
The color tends to fade after a few uses.
One of the sports brands, adidas brings you Goletto VI J Firm Ground Soccer Cleats specially designed for kids between 4 and 8 years. As the name suggests, these juniors' soccer cleats are great for use on firm ground (FG) such as dry, natural grass surfaces. These classic-looking cleats feature lightweight and durable 100% synthetic leather upper and sturdy studs that provide stability.
Pros
Rubber outsole
Includes removable insole
Provides comfort
They aid in enhancing your child's speed.
Cons
Although these Under Armour kids' cleats are primarily used for baseball, they also work excellently well for soccer. They are made of 100% synthetic leather and are lightweight and durable. The leather upper features perforations in the toe box for ventilation and the flexible rubber sole makes these cleats ideal for playing on all field surfaces. Plus, the toe cap comes with an overlay for added protection, which is required if your child is playing as a defender.
Pros
Padded heel and collar offer comfort fit
Full-length EVA midsole provides extra support
Available in five colors
Rubber-molded studs deliver a good amount of traction
The insole cushioning distributes cleat pressure evenly under the foot.
Cons
The shoelaces may untie easily.
Looking for the best cleats for your budding soccer champion? These DREAM PAIRS High-Top Sock Soccer Cleats are a great pick. Your kid will love the bright color and stylish design of these shoes and they come in 16 options. Aside from that, these cleats feature a synthetic, textured upper that enhances your child's control of the ball. Meanwhile, the anti-slip, rubber-molded conical studs provide stability during turns and sharp cuts. The best thing about these kids' soccer cleats is the high-top elastic socks that protect your child's ankles without restricting their movement. They are suitable for use on natural and artificial pitches.
Pros
Lightweight, breathable, and durable
Cushioned insole provides extra protection
Features soft textile linings
The cleats come with Rotational Traction configuration.
The adjustable lace-up closure keeps your kid's feet in place.
Cons
Might be a little difficult to put on initially
If your little one has just begun to play soccer, these snazzy soccer shoes are the right choice for them. This is one of the best soccer cleats for toddlers, and rightly so because they provide the stability that a newbie needs, thanks to the extra-wide studs on the bottom. It also includes 14 studs for added traction and to reduce pressure points on your toddler's feet. They are made of soft polyurethane and are designed with extra padding on the upper for protection. Plus, the insole features cotton padding for cushioning and EVA foam to absorb heavy impact shock.
Pros
Features brushed nylon ankle collar
Available in four other colors
Includes molded rubber sole
These soccer cleats are also available for bigger kids.
Studs are uniformly spaced out in the heel area for maintaining balance.
Cons
When it comes to buying soccer cleats for kids, flexibility and comfort are the key factors to consider. And BomKinta Kids FG Soccer Shoes delivers all that and more. These soccer cleats are made of synthetic leather and feature a padded tongue and toe box that prevents chafing and shoe bites, while also absorbing impact shocks exceptionally well. Meanwhile, the padding around the collar and in the footbed ensure comfort, making these shoes suitable for long hours of practice session or game. These cleats also come with a sturdy and durable rubber-molded outsole that provides excellent traction on any firm ground or natural grass pitch.
Pros
Synthetic upper is stretch-resistant
Available in 13 colors
Lightweight shoes
Features TPU-injected mold
The upper part of the shoes features an ultra-thin film that helps keep water and debris out.
Cons
These shoes may be narrow.
If optimum control and speed are what your child wants more than anything else while playing, Littleplum Fly-Knit High-Top Sock Soccer Cleats are your best bet. Featuring synthetic sole and rubber cleats, these shoes will give your kid sure footing on any pitch, including hard turf land, natural grass pitch, and firm ground. All while helping your child run faster and improving traction during quick cuts and rapid changes in direction. The upper is made of synthetic leather, which is further laid with an ultra-thin film that prevents water from penetrating the shoes and keeps debris out. These shoes also feature All Conditions Control (ACC) technology that helps with better ball handling in wet and dry conditions.
Pros
Lightweight and durable upper design
Features soft and breathable textile linings
Adjustable lace-up closure
Shock-absorbing rubber midsole
The high-top sock is made of stretchy and soft fly-knit mesh that offers a snug fit.
Cons
May not have enough cushioning
Incredibly lightweight, great durability, and comfortable to wear — adidas Kids' X 18.3 FG Soccer Shoe is an excellent firm ground cleats for young players. The dual-layer mesh upper flexes with your feet and gives superior control during swift movements, while the low-cut Clawcollar offers a supportive fit and locks your kid's feet in place throughout the game.
Pros
Ideal to use on firm ground
Features TPU outsole
Comes in three colors
The shoes include two different stud shapes – arrowhead forefoot and round heel studs.
Cons
The tongue of the shoe may not be adjustable.
WETIKE Kids Soccer Cleats make for great soccer cleats, mainly because of its high-top design and unique fly-knit mesh material that wraps your child's ankle for a comfortable fit. But that's not all! These soccer cleats feature a soft-knit upper with a 3D speed rib design that improves ball control. The mesh upper and soles together provide seamless and snug fit by molding to the feet. Suitable for use on artificial grass, they feature AG-pro outsole and hollow spikes that offer good grip and stability. Plus, the fly-knit mesh features an antimicrobial lining that prevents the growth of odor-causing bacteria.
Pros
Lightweight build
Tear-resistant and durable lining
Available in four colors
Pressure-dividing liner evenly distributes cleat pressure
Comes with a padded heel for enhanced support
ACC technology offers optimum control in outdoor conditions.
Cons
Might be a little wide at the toe
ROONASN Kids' Soccer Shoes is designed for use on all surfaces, both indoor and outdoor. These yellow-black shoes are made of high-quality leather, making them comfortable to wear. They feature a dimpled-surface upper design that offers consistent ball control in both wet and dry conditions. Equipped with Rotational Traction configuration and rubber-molded studs (in varied sizes), these cleats allow your child to make swift movements without worrying about slipping or falling. These soccer shoes also have a high-top collar that delivers a supportive fit to keep your child's feet snug and in place during the game.
Pros
Soft and flexible bottom
Lightweight feel
High-performance molded design
Features cushioned insole for added comfort.
Cons
JABASIC Kids Soccer Cleats are made for novice young players to help them improve their form and performance. These soccer cleats feature synthetic upper with a textured surface that lends excellent ball control. They are equipped with a central lacing system with an adjustable lace-up design for a secure fit. They also feature TPU-injected outsoles and cleats with Rotational Traction configuration. These properties provide stability while running on firm ground and reduces friction between the shoes and the field surface. They are available in five attractive colors for your child to choose from.
Pros
Lightweight and durable
Flexible
Help keep water and debris out
Round-toe design provides enough moving space
Padded tongue and toe box reduce the impact of ball hits.
These shoes feature soft, breathable inner lining for extra support.
Cons
Nike Superfly 6 Academy Kid's FG/MG Soccer Cleats makes its way into our list of the best soccer cleats for kids for more reasons than one. Firstly, the upper is made of synthetic leather that wraps around your foot like a glove while the micro-textured surface makes it easy to control the ball no matter what speed or force it comes in. These cleats come with a Dynamic Fit collar that lends a sock-like secure fit around the ankles and allows free ankle movement. They are also super light and perfect for young kids who dislike heavy and bulky shoes.
Pros
Includes two types of studs – chevron and hollow-point
Equipped with a two-part podular plate system
Features a sculpted arch that provides responsive support
Suitable for any pitch, including natural and artificial grass
Cons
The sock-like top may not have enough elasticity.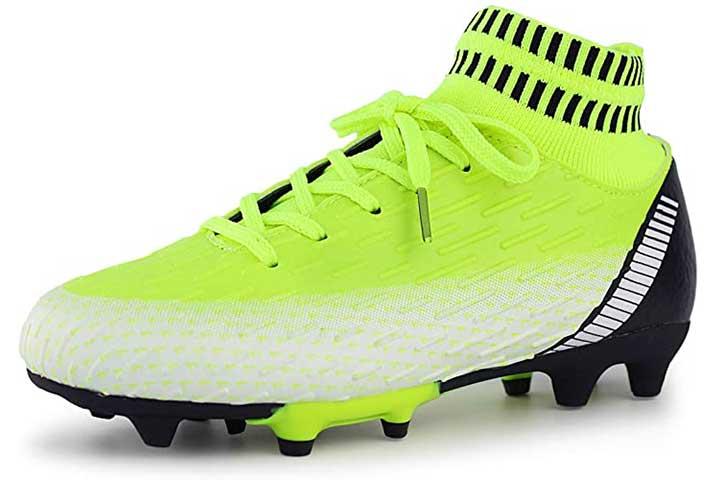 Let your child have an enjoyable and comfortable experience playing soccer with the help of these kids' soccer cleats by Hawkwell. These true-to-size soccer cleats will lock your little one's feet into place with ease, thanks to the slip-on design and lace-up closure. Meanwhile, the knit cuff offers a cozy fit, making these shoes comfortable to wear for long. These soccer cleats are perfect for dry natural grass as the sturdy rubber outsole and cleats dig deep to provide traction, which minimizes the risk of falls and injury. They also feature a micro-textured upper for excellent ball control.
Pros
Available in three colors
Lightweight and breathable
It is made using a combination of textile and synthetic materials.
Sock-like collar wraps the ankle for a secure fit without restricting movement.
Cons
PUMA Evospeed 5 FG Soccer Cleat is an excellent choice for the new generation of soccer players who are looking for cleats designed for speed. They are super light, which makes these the best soccer shoes for small kids as these shoes won't weigh them down. Plus, they provide an anatomic fit for a comfortable playing experience. Suitable for use on firm, natural surfaces, these shoes are equipped with the combination of conical and bladed studs to boost acceleration and quick turns.
Pros
100% synthetic leather upper
Durable
Features a central lacing system
The outsole is composed of injected TPU.
Cons
Nike Youth Phantom Venom Academy Soccer Cleats give young players superior control and a high level of precision to achieve powerful strikes. These synthetic soccer cleats feature mesh upper with an overlay of NIKESKIN that conforms to the natural curve of your kid's feet and lends a comfortable fit. They have a micro-textured surface that enables advanced ball control. In addition to that, the asymmetrical lacing system and the stretchy mesh covering the lower half of the laces expands the striking area.
Pros
Features instep ridges
Soleplate provides secure traction
Suitable for use on firm-ground pitches
Includes a contoured sockliner that offers added cushioning.
Cons
May be difficult to wear due to the narrow fit
Given below are certain features you need to consider when choosing a pair of cleats for your child.
How To Choose The Best Soccer Cleats For Kids
Material: While choosing a pair of soccer cleats, look for super light, yet sturdy and durable cleats. The most commonly used materials for the upper part of the soccer cleats are leather, synthetic leather, mesh, and knit. While synthetic cleats are lightweight, the leather ones are more durable. If your kid wants cleats to protect their feet during hot and humid conditions, mesh or knit are ideal options.
Field type: Not all soccer cleats are suitable for all pitch types and conditions. Soccer shoes vary depending on the surface of the ground. Before you buy a pair, find out where your child is playing, whether on hard ground, muddy surface, artificial turf, or indoor area.
Player position: Your child's position on the field and playing style also determines the types of cleats they require. Forwards need cleats that are lightweight and provide great agility and ball control, while goalkeepers may benefit from cleats that offer excellent traction.
Comfort: Last but not least, ensure that the boots your child wears are the right fit. As much as it's essential to choose cleats that are high on performance and offer fantastic support, they also need to be comfortable to wear and play in.
Frequently Answered Questions
1. Why do kids need soccer cleats?
Soccer cleats are one of the most important components of your child's soccer gear. In general, soccer cleats provide good grip and traction and protect their feet while playing. Depending on the surface your child plays in, they may require a specific type of cleats.
2. At what age can kids start wearing soccer cleats?
It is said that children below five years of age do not require soccer cleats; a good pair of regular sneakers should be good for them. While soccer cleats can help your child achieve proper form when introduced at an early age, it is essential that they first learn to balance themselves when walking or running. However, as a parent, you know your child well. So, if you think your child is ready, go ahead and give them a pair of soccer shoes.
Soccer is one of the world's most popular sports, with approximately 265 million people being actively involved in the game. Most commonly known as football in many countries, this sport is not only meant to develop physical fitness but also helps improve mental agility, making it a perfect game for kids. That said, no soccer practice or game is complete without soccer cleats. Therefore, kids need to be given the right soccer cleats. We searched high and low to put together this list of the 15 best soccer cleats for your child. Has your child tried any of these soccer shoes? Which one do they love the most? Do let us know in the comments below!
Recommended Articles:  
The following two tabs change content below.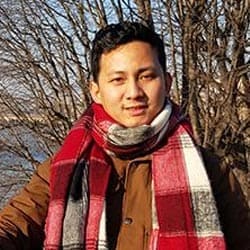 Tikendrajit Pegu
Tikendrajit Pegu is a content contributor at MomJunction. An engineering graduate, he also holds a postgraduate degree in management. He gravitates towards writing articles related to parenting and health, and also has a good understanding of topics related to finance and economics.  Tikendrajit has over five years of corporate experience working on digital projects. Currently, he is based in Guwahati,...
more