If you're big on fizzy drinks and make it a point to grab a few bottles of sparkling water and carbonated drinks every day, you'd be taken aback by how much money you could save if you invest in a durable soda maker. Soda makers are a great addition to your kitchen countertop if you prefer your water to be spritzed and your drinks to have some extra bubbles. However, before you buy yourself the best soda maker, you've got to know a thing or two about them to put your money in the right place.
Don't worry! We've done our due diligence in researching and finding the top picks for you. We hope our list gives you the right number of options to weigh the pros and cons, and our buying guide adds more insight to your research to help you settle for the best soda maker.
Benefits Of A Soda Maker Machine
If you're hosting a party or a get-together at home, you can carbonate water and drinks for a large number of guests and not run short of your favorite fizzy drinks.
They help save costs.
You get a daily dose of health benefits like staying hydrated, avoiding constipation, and remedying an upset stomach.
You don't have to run frequent errands to restock bottles of sparkling water or carbonated drinks. Instead, you get to enjoy flavorful bubbled drinks within several seconds.
13 Best Soda Makers To Buy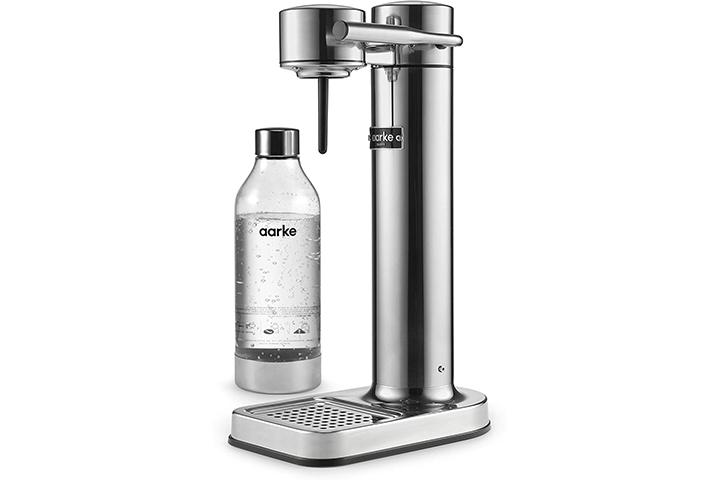 The Aarke Carbonator II is an upgrade from the first-generation model, powered by a CO2 cylinder. It boasts a super compact design that makes this soda machine an ideal countertop model. It features a sturdy, stainless steel body that's made to last. It fits a 1-liter bottle and carbonates about 60 bottles of water with 1 CO2 cylinder. All you have to do is screw the bottle, press the lever down, and enjoy a bottle of sparkling water in seconds.
Pros
Compact
Easy to use
Made from stainless steel
Energy-efficient
Cons
Gas cylinder not included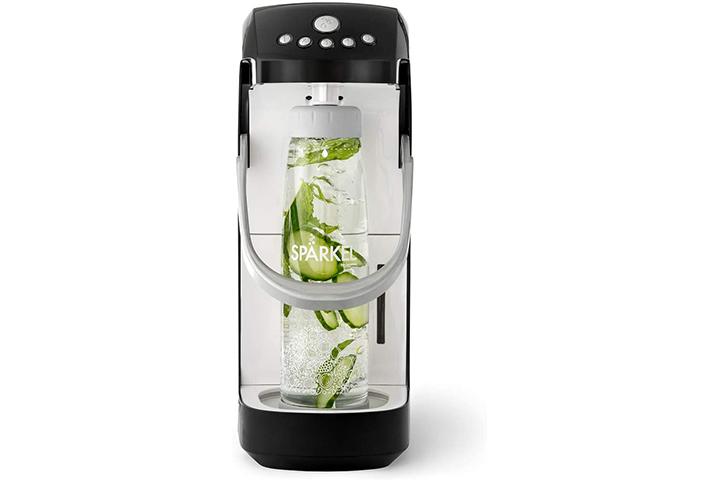 This unique soda making machinery is different from regular soda water machines in that it doesn't require a CO2 cylinder or electricity. It instead utilizes carbonator packs. You can spritz almost any kind of beverage from water to tea and wine, and add fresh ingredients like lemon, cucumber, pomegranate, etc. instead of syrups, if you're a fan of natural flavors. The soda maker machine features 5 levels of carbonation so you can control how bubble-infused you want your drink to be. Extra supplies include 10 packs of carbonators and a 750 ml reusable bottle.
Pros
Sparkles all kinds of beverages
5 levels of carbonation
Compact design
Easy to use
Cons
Carbonates only 750 ml at one go.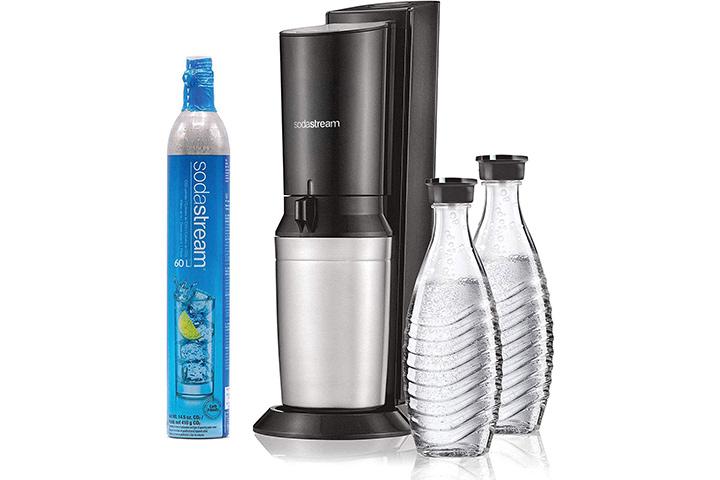 This impressive countertop black Soda Stream Aqua Fizz kit has a beautiful design. It comes with 2 glass carafes that stand at 620 ml each and a CO2 canister — everything you need to add bubbles to your drink. It features a click-open glass holder, and you can place the Soda Stream bottle in the holder effortlessly. Give it a couple of presses after securing the soda water bottle in the machine, and the outcome is bubbles that please your taste buds.
Pros
Easy to insert bottle connection
Includes CO2 canister
Ideal for countertop placement
Dishwasher-safe
Cons
Some may find the glass carafes slightly small.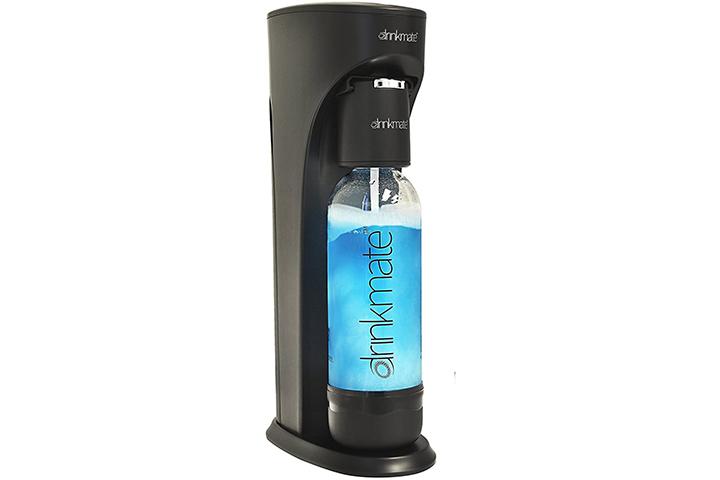 If you like to match your kitchen accessories to create an aesthetically-pleasing theme, get ready to carbonate your water in style with this matte black home soda maker from Drink Mate. This soda maker features an elegant design and comes in handy for carbonating just about any beverage. It includes a 1-liter BPA-free bottle that's easy to screw. Thanks to its patented fizz infuse, you can carbonate beverages at a push of a button.
Pros
Carbonates all types of beverages
Easy to operate
Compact
Available in 3 colors
Cons
CO2 cylinder not included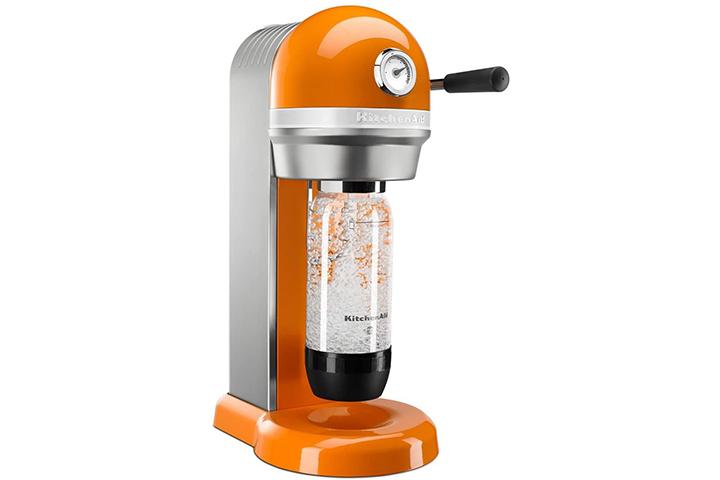 If you're looking for a durable soda machine for home with a strong build, the KitchenAid sparkling beverage maker is an excellent investment. You'll find some of the cutest colors like this one in Tangerine that can add some color to your kitchen space. It operates on a level mechanism, so when you twist the bottle to fit it to the machine, you have to press the lever to carbonate your water. It is compatible with over 60 flavors, so you'll never get bored when you want to add a dash of flavor to your water.
Pros
Soft grip lever handle
Compatible with Soda Stream products
Lightweight
Available in 8 colors
Cons
Includes only a sample carbonator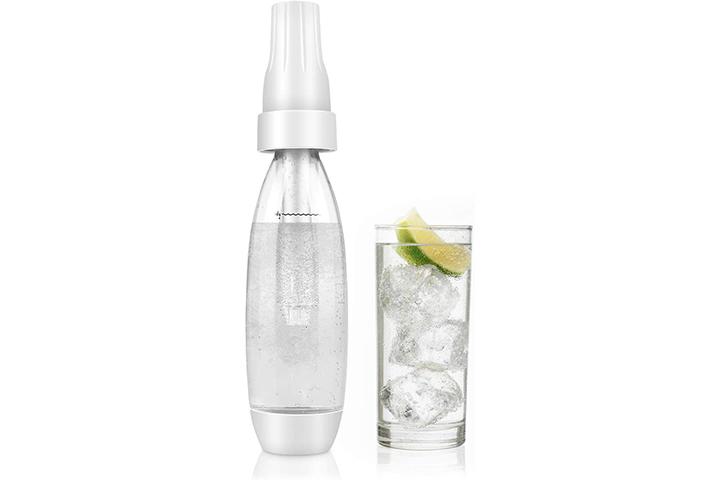 This handy soda maker from Fomagas is a great way to add quick fizz to your water in a matter of 30 seconds. It has a 1-liter capacity, ideal for a bottle of carbonated water that lasts you almost half a day. It deploys reusable CO2 cartridges of 8 grams each so that you can expect strong fizz at the click of a button. It can turn your cocktails, juices, and wine into sparkling drinks while also amping up the bubbles in beer if it runs flat.
Pros
Travel-friendly
Easy to use
Carbonates all beverages
Quick fizz mechanism
Cons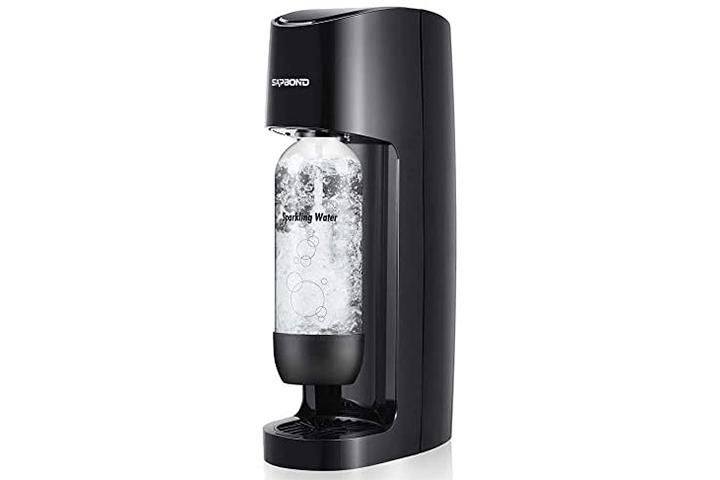 The sturdy yet portable Sapbond sparkling water machine is one of the best soda makers in the market. It includes a non-toxic, PET plastic bottle that is reusable. When buying a CO2 canister, you can shop with total confidence as this soda maker is compatible with almost any canister manufactured in the USA. Each canister will last you for a long time as it fizzes around 60 liters of water. It doesn't require electricity, batteries, or recharging and allows you a hassle-free carbonating experience with a few presses.
Pros
Compatible with all CO2 canisters in the USA
Energy-efficient
BPA-free carbonating bottle
Portable
Cons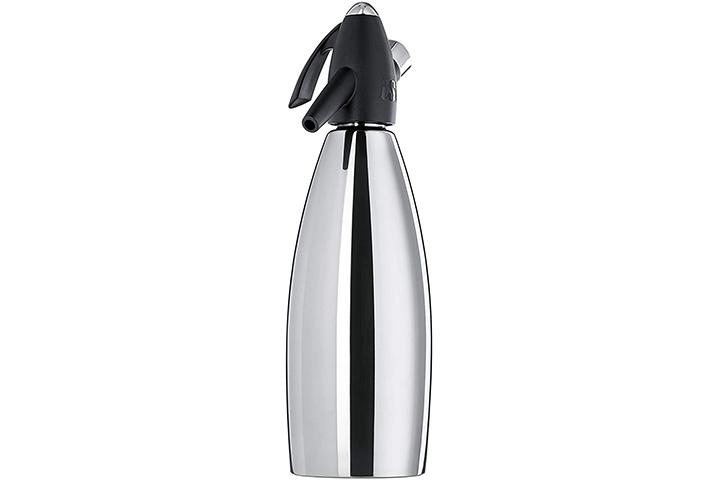 The iSi soda siphon is a marvelous addition to your kitchen if you prefer stainless steel appliances for their durability and unbreakable attribute. This soda siphon features a high- impact plastic head and includes a charger holder, removal key, and measuring tube to fully equip you with accessories needed to make your drinks fizzy. Each spritz requires 1 CO2 charger. Give the instructions manual a careful read and look for directions for care and use, and you're good to go.
Pros
Travel-friendly
Durable
CO2 charger mechanism
Spritzes 1-liter water
Cons
Some may find the opening slightly small.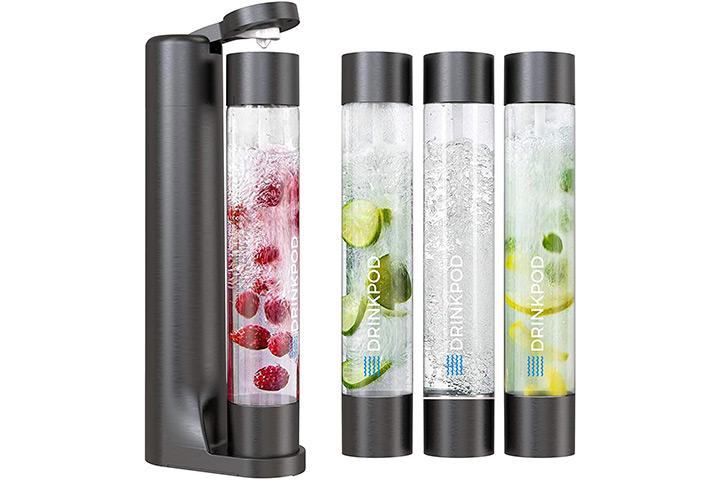 If you're looking for a mini soda machine that saves space, you can count on the Drinkpod FIZZpod soda maker. It requires a 60-liter CO2 cylinder to add bubbles to drinks. It can add sparkle to any beverage to satiate your cravings owing to its 2-step gas relief and split injection technology. It features 3 1-liter PET bottles, 3 caps, a carbonator, and a manual that'll help you understand how to operate the soda making machine.
Pros
3 caps and PET bottles included
Can be used for any beverage
Lightweight
Portable
Cons
CO2 cylinder not included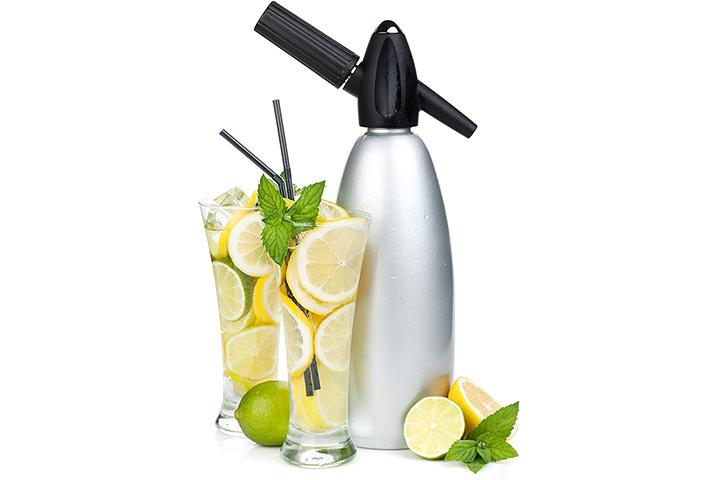 Making soda at home becomes a cinch when you buy a sturdy, excellent quality Seltzer water maker like this one. This 1-liter soda siphon from Impeccable Culinary Objects is made from aluminum and can be carried to barbeque parties so you never run out of soda. It features a pressure regulator and a lid with a drip guard. All you need is 1 CO2 cartridge to have a bottle of fizzy water. If you like to add flavor to your water, all you have to do is add a slice of fruit to the soda water once you've carbonated it.
Pros
Sleek, attractive design
Compact
Easy to use
Durable
Dishwasher-safe
Carbonates 1 L water with 8 grams cartridge
Cons
CO2 cartridges have to be bought separately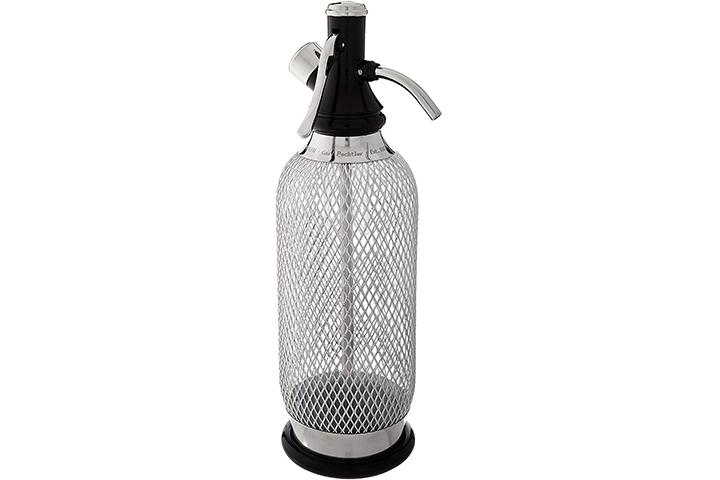 This elegantly designed mesh soda maker from iSi helps you save the money you would have otherwise spent on expensive bottles of soda. Since it is both durable and sturdy, it is a one-time investment that lets you carbonate an unlimited number of bottles of water, wine, or juice of your choice for several years. The soda maker features a BPA-free plastic bottle that's coated with a beautiful criss-cross patterned stainless steel. You just need to stock up on iSi chargers to add fizz to your drink.
Pros
Features drip-less pouring spout
Made from stainless steel
Durable
Energy-efficient
Cons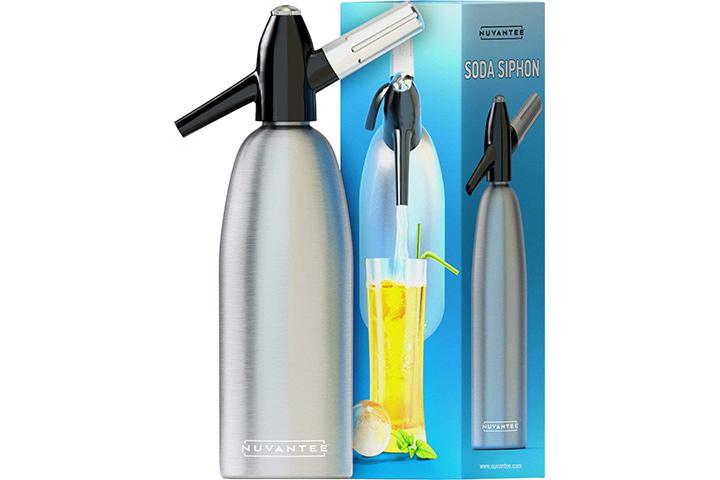 Among one of the best soda makers on our list, this soda siphon from Nuvantee stands at 1 liter and is powered by 8-gram cartridges. It is made from aluminum and is sturdy and long-lasting. The lid comes with secure threading so that your drink doesn't drip when the carbonator exerts pressure on the water. It is equipped with multiple O-rings that are inserted inside the soda siphon, and a black fork key that helps remove the inner tube of the soda siphon with ease.
Pros
Made from aluminum
Durable
Extra O-rings
Extra charger holder
No-drip cap
Dishwasher-safe
Cons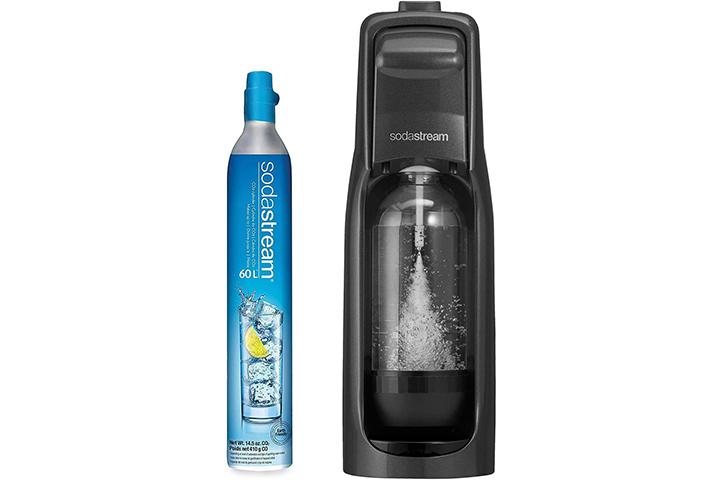 This easy-to-use sparkling water maker from Soda Stream functions without electricity, making it an ideal option to save on power costs. It comes with a BPA-free 1-liter carbonation bottle. Since it operates manually, you have to place the bottle and twist-lock it, and pump it 4 to 5 times for that bubbly fizz. If you're looking for color options, you'll find this soda water maker in black and white variants.
Pros
60 L CO2 cylinder included
BPA-free bottle
Energy-efficient
Carbonates up to 60 liters of water
Cons
Soda makers are such a boon that help save major bucks that you'd otherwise spend on countless bottles of carbonated beverages. If you've shortlisted a few of the best soda makers from our list, it is time for you to check out our mini buying guide as to how you can choose the right soda maker.
How To Choose The Right Soda Maker Machine?
The most common capacity for bottles that are used for soda maker machines is 1 liter. However, depending on how frequently you have carbonated drinks in a day, you can settle for a lesser capacity from 600 ml to 750 ml.
When we talk about the CO2 cylinder capacity, the standard one is 60 liters, and it carbonates 60 liters of water. However, there are a few soda making machines that require cartridges to carbonate the drinks. While larger cylinders are recommended if you use your soda making machine regularly, it is better to opt for one that utilizes 8-gram cartridges if you don't spritz your drinks every day.
You'll find 3 types of soda makers based on how they're powered — electricity, gas-powered, and battery-powered. If you're trying to save your electricity costs, opt for a CO2 or battery-powered soda maker. The latter two options are suitable for people who need a portable soda maker. If you don't want to make rounds to the store to refill your cylinder with gas, you can choose a battery-powered soda maker.
When you set out to buy a soda maker machine, it is best to get one that comes with all the accessories that you'd need for carbonating your drink rather than buying them at different places separately. This saves you a lot of time, costs, and the hassle of researching.
When you get a soda maker with a few carbonation levels, you can choose the level as per your preference. However, you can also look for a machine that operates manually to control the amount of fizz in your drink. Manually operated soda makers require you to press the button to fizz your water, so you can give several presses for more gasification.
If you prefer to wash your dishes in the dishwasher and rather toss your soda maker in it, you should check if the soda maker is dishwasher-safe. You might have to wash the bottles and the soda maker with warm water and a mild soap if not.
If you use a soda making machine daily, you should buy a machine that is easy to operate. When you shortlist soda makers, check for the mechanism of operation, if the bottle can be twist-locked, and how easy it is to fit the cylinder. This will save you a lot of time on a day to day basis.
Frequently Asked Questions
1. How should I clean a soda maker?
Most soda makers can be cleaned using a mild dishwashing soap and warm water. However, if your soda making machine is dishwasher-safe, you wash it in your dishwasher.
2. Can I carbonate drinks other than water?
This depends on the soda maker that you buy. While some of the soda makers allow you to add natural ingredients or even carbonate beverages like tea, beer, wine, and juice, some only allow you to carbonate your water or add flavor syrups.
3. Can I recarbonate a drink that has gone flat?
If your soda making machine can carbonate beverages other than water, you can recarbonate drinks that have gone flat.
When you invest in the best soda maker as per your requirements, it can be a game changing experience and can help you save a lot of money in the long run. Since this appliance will sit on top of your kitchen counter for several years, it is almost imperative to do your own research before you settle for a soda making machine.