The adult-sized sofas in your home might not be completely child-proof, which makes it uncomfortable and unsafe for your child to use every day. The easiest solution for this is to enhance their room with the best sofa for kids—one that is not only child-safe but also super easy to clean.
With a kid-friendly sofa in your house, your little one can freely make a mess without ruining it, and you won't have to worry about security because these sofas are durable and stain-repellant. Here are the top kid-friendly sofas. Check them out and take your pick.
11 Best Sofas For Kids In 2021
The 2-in-1 kids fold out sofa by Marshmallow has a fun and versatile design. With a colorful Disney ToyStory character print, this sofa looks stylish in your kids' playroom, living room, or bedroom and can be easily cleaned by removing its polyester slipcover. The convertible design makes it perfect for sleepovers—the sofa can double as a bed by simply unfolding the seat. The comfy sofa is filled with foam on the inside and is extremely lightweight, enabling your kid to position it anywhere without your help.
This modern leather reclining sofa is kid- and pet-friendly. It comes with a cup holder, oversized headrest, and footrest to let your kids relax like grown-ups. The furniture is built with a solid hardwood frame and can hold weight up to 90oz. The raised plastic feet absorb vibrations and stay firm even when your kid bounces on it. With a protectedLeatherSoft upholstery, this sofa for kids is easy to clean and adds a classic, stylish touch to your living room.
Ideal for play and relaxation, this toddler flip sofa by Fun Furnishings is a perfect addition to the playroom. Available in six colors, you can choose the one your kid fancies. With its unfolding mechanism, this kids' fold-out sofa is a safe purchase for playtime and sleepovers. Its removable upholstery fabric is resistant to stains and can be easily cleaned with mild soap and water. This kid- and pet-friendly furniture is lightweight and can also be moved around easily.
Designed as an upholstered sofa with sturdy wood construction, this kid-friendly furniture by Costzon is made of breathable PU and is easy to clean. The two-seat furniture comes with a footstool and coral velvet texture to mimic a standard sofa. Perfectly sized, this lightweight sofa is ideal for kids' rooms and small spaces. With its 1.5in leg lift to absorb vibrations, anti-slip pads, thick resilient cushion, high back, and contoured armrests, this kids' sofa is a safe and a great addition to living rooms, daycares, and playrooms. Besides, the sofa is ASTM- and CPSIA-certified.
A replica of the adult standard sofas, this reclining sofa by AmazonBasics is one your little ones can call their own. It is available in four colors and has a unique armrest that can also be used as a storage unit for books, video game controllers, remotes, etc. Built for children aged five years and above, this solid, wood-framed kids' sofa has raised plastic feet for sturdiness and can hold weight up to 90oz. Its smooth upholstery fabric is durable, comfortable on your kids' skin, and can be easily cleaned with a damp cloth. Filled with CA117 fire-retardant foam, this protected leather furniture is extremely safe and comfy.
Surprise your kids with this stylish and comfortable sofa by Keet. Featuring sturdy wooden legs and frame, this rocking sofa has a holding capacity of 75oz and comes with three comfy accent pillows to uplift their mood on any stressful day. Covered with handmade microsuede fabric, this kids' sofa is padded with high-density foam and is safe for children aged two to five years. Any stained spots can be removed from its polyester fabric using mild dish soap and warm water. Available in different colors, this sofa for kids is a great addition to living rooms and nurseries.
Gift your kids this futon with modern design and slanted legs by DHP. The convertible bed cum sofa is perfect for sleepovers, and its back can be easily altered to sitting, lounging, or sleeping positions. The sofa/futon is a perfect fit for kids' rooms and other small spaces. As it is available in pink, teal, black, dark blue, and lilac colors, you can surprise your kids with their favoritecolor. With a sturdy frame and easy-to-clean fabric, this sleeper sofa for kids is an ideal piece of furniture for mischievous kids.
The Jaxxkids' fold-out sofa has a casual style and comes with loveseats and matching ottomans that can be positioned in any way you like. The lightweight ottomans can be stacked as a table, converted into a lounging platform, or completely removed. Filled with polyurethane foam inside, this sofa is extremely comfy and safe and comes with a childproof zipper. The protective microsuede covers can be removed for an easy wash. This product also comes with a one-year warranty.
Ergonomically designed for the safety of children, this two-seat kids' sofa by Koopo is ideal for tiny tots aged one to five years. Its modern, stylish design can enhance the look of your living room, bedroom, or playroom. This sofa can hold weight up to 99oz and features a sturdy solid wood and P2 plywood frame, high-density foam, and high-quality plastic feet. The upholstered sofa with no sharp ends is designed keeping your child's safety in mind. It is available in both single and two-seater variants and in four colors to suit your kid's taste.
Let your child be the proud owner of this miniaturized sofa by Melissa & Doug. Made with durable, artificial leather, this stylish kids' sofa fits into any room and uplifts your home decor. Although it requires prior assembly, a well-illustrated manual guides you through the process effortlessly. Its fun and functional design makes it a perfect spot for your toddlers to curl up. Built with high-quality materials, this kid- and pet-friendly furniture can hold weight up to 100oz and is a great addition to your living room.
This 2-in-1 kids sofa chair by Baby can be flipped into a naptime or playtime furniture for kids aged up to five years. Its beautiful, vibrant, and non-fading, spaced-themed print makes it an ideal pick for your kid's room. Reasonable height for kids, upholstery fabric, easy assembly, and convertibility make this sofa suitable for multiple activities. Its compact size and lightweight features make carrying and storing it a breeze. You need not worry about your child spilling juice over as its outer fabric is odor-free and stain-resistant and can be cleaned with mild soap and water.
How To Choose The Best Sofa For Kids?
Here are a few factors you need to consider while choosing the best sofa for kids.
Fabric: Most of the sofas for kids are made of high-quality polyester material and artificial or natural leather. These materials are soft and safe for your child's skin. You can also choose a fabric design that complements the interior decor of the room. Upholstered fabrics are padded and are safe for kids and pets.
Room: You may want to place a kids' sofa in your living room or playroom. You may select a futon, recliner, or fold-out variant based on the size of your room.
Construction:Kids' sofas have a strong build. Most of the sofas have a durable wooden framework that offers sturdiness and ensures the safety of kids.
Fillings: High-density foam is typically used to fill the seats. It is lightweight and comfortable. Feather and fiber cushions require high maintenance.
Height: While purchasing a kids' sofa, it is important to take the height into consideration. A sofa with a high backrest keeps your kids safe even when they're bouncing on it.
Seating space:Kids' sofas are available in both single- and two-seat variants. If you regularly have kids' play dates at your home, make sure to purchase a sofa that can accommodate them.
Frequently Asked Questions
1. Are leather couches kid-friendly?
Yes, they are kid-friendly and are generally made of skin-friendly and scratch- and stain-resistant material.
2. What is the most durable fabric for a sofa?
Sofas for everyday use require durable fabrics. Linen, leather, and synthetic microfibers are durable and easy to clean. But as sofas made of natural leather can be expensive, you can opt for one made of artificial leather.
3. What is the easiest sofa fabric to clean?
Linen, velvet, leather, and microfiber fabrics are water-resistant fabrics. They have smooth finishes and can be wiped easily.
It is important to choose a sofa wisely as it is a long-term investment. A piece of furniture should be functional and durable. With our list of the best sofa for kids, we hope you can find one that is comfy and safe for your child. 
Recommended Articles:  
The following two tabs change content below.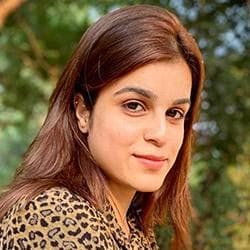 Sakshi John
Sakshi did her graduation in Journalism from the Madras Christian College, Chennai, before starting her career as a freelance writer. She is into blog writing and for MomJunction, she covers various topics, including products to buy for your kitchen, furniture, and other home requirements. Previously, she interned as a content writer in a cyber security firm. As a content writer, Sakshi...
more