Solar string lights are decorative, energy-efficient, eco-friendly, affordable, and long-lasting. Unlike regular fairy-lights that use electricity to function, these bulbs capture the sunlight through solar panels during the day and use this renewable energy to light up at night. As they neither need an electrical outlet nor an extension cord, they are convenient for indoor and outdoor purposes.
If you want to improve the ambiance of your house or office with clean energy, here is a list of the best solar string lights.

Top Products From Our List
13 Best Solar String Lights
These beautiful warm white lights fixed on high-quality copper wire of 72ft provide a 360° viewing angle and are ideal for decorating your room, garden, patio, or porch. These lights automatically turn on in dark surroundings and work up to 14 hours on an eight-hour charge. The excellent absorption panel lets you charge these solar powered string lights on cloudy days too.
Features
200 LED bulbs
Comes with eight lighting modes, including fireflies flashing, waves, fading, chasing/flashing, fading slowly, and twinkle/flashing
Doesn't need battery replacement
IP65 Waterproof
Define the atmosphere of your house with these retro-themed light bulbs. The bistro bulbs last five to six hours on a full charge and are shatterproof and weatherproof. You can create a straight-line or scalloped look with the strings using the ring over each bulb. The bulbs measure 27ft and can be charged under direct or indirect sunlight.
Features
Heat-resistant up to 122°F
Can withstand winds up to 50mph
Includes 15 bulbs with a 20-inch gap between each bulb
No outlet needed
3000K soft white lights
Easy-to-install panel
Comes with a three-year warranty
The Joomer's solar energy powered bulbs come with an automatic light sensor and need no electricity to function. The set comes with two switches, eight different light modes, and a memory chip that saves the last mode's setting. You can decorate your home or garden with these 30 LED solar string lights that automatically turn off at dawn and turn on at dusk.
Features
Easy to install
Waterproof and weatherproof
Comes with a rechargeable 600mAh Nickel-metal hydride battery
Works for eight to ten hours on a six-hour charge
Has a length of 20ft
These energy-saving, eco-friendly solar string lights are perfect for decorating your home, garden, or patio. The solar panels convert sunlight into renewable energy during the day and store it in the Ni-MH battery. These lights automatically turn on in a dark environment and can work in eight different modes for 14 hours when fully charged.
Features
Contains 50 LED lights
Has a 17% conversion rate
Solar panel can be adjusted up to 150°
Flashing mode working time of up to 14 hours
Has a length of 24ft
IP65 waterproof
Comes with a one-year warranty
Illuminate your garden, porch, and balcony with these bright, waterproof fairy lights. They come in eight modes, which can be altered as per your mood. The lights feature a 360° illumination, working time of eight to ten hours, and a length of 33ft. These solar string lights are just what you need to decorate any room or outdoor area without the need for an extension cord.
Features
Includes two sets with 100 LED bulbs in each
Comes with a 120° adjustable Mono-crystalline silicon solar panel
Charging time of eight hours
Contains an 800mAh rechargeable battery
Has automatic on and off feature
Comes with a one-year warranty
IP65 waterproof
Available in seven colors
The fairy lights by Joomer are perfect for decorating Christmas trees or porches and can be used both indoors and outdoors. Once arranged, these lights automatically turn on, and you can choose from eight different modes as per your need. The solar panel can be adjusted to 90° for optimal solar energy absorption.
Features
Includes 200 LED lights
Waterproof and weatherproof
Built-in memory chip to save the previous mode
Measures 72ft long
Includes a 1,200mAh battery
Distance between two bulbs is 3.9in
Comes in five color options
Easy-to-install panel
These decorative honey bee simulation lights are adorable and make a perfect gift for anyone. You can place these on outdoor or indoor plants and flowers for a natural firefly effect during the night. The lights take eight hours to charge and can do so during the day and automatically turn on at night. Made of durable waterproof plastic, these attractive bee-lights can resist both high and low temperatures.
Features
Includes 20 LEDs and one ground spike
Comes with a one-year warranty
Rotatable wings for easy placement
Working time of six to eight hours
Suitable for decorating your porch, garden, balcony, or bistro, these vintage incandescent light styled solar bulbs do not require any electrical outlets. They contain heavy-duty rubber wires for safe and convenient use. These bulbs charge during the day and use the automatic sensor to turn on at night.
Features
Contains 16 S14 LED bulbs (one spare)
Has a service life of three years
Auto charging and working time of six hours
Comes with 15 hanging sockets
Measures 48ft in length
Distance between each bulb is 3.2ft
Built-in 3000mAh lithium solar battery
These corded electric lights serve as the perfect items for decorating your home, backyard, or garden for celebrations and gatherings. The plug and the connector can be used to connect up to seven strands for a wholesome decoration. They can be dimmed to set the ambiance as per your preference. The parallel circuit mechanism enables easy replacement of any bulb without hindering the function of the others.
Features
Contains 51 bulbs (one spare)
C7/E12 candelabra socket base
Shatterproof, waterproof, and weatherproof
Built-in spare fuse
Cool to touch even after use
Measures 50ft in length
Amplify the festive mood with the decorative solar string lights by Supsoo. As these lights are waterproof, they need not be removed during rains. The flexible long string allows you to place them anywhere outdoors. Once the solar panel is turned on, the bulbs automatically get charged.
Features
Includes 40 LED lights
Contains a power on or off button
Has eight flashing modes
Working time of eight to ten hours
Requires ten hours of charging time on first-time use
Available in five color variants
These Italian-style bistro lights are suitable for use during weddings, parties, and other occasions. They work on both solar energy and battery power, and thus, can be used on cloudy days as well. It's detachable socket aids in the easy replacement of any bulb.
Features
Comes with a 45-day money-back guarantee and a two-year replacement guarantee
Hooks on socket for hanging
Charging time of six hours
Working time of 12 hours
Contains ten bulbs with each bulb measuring seven inches
String measures 25ft
Shatterproof and waterproof
These lights by SunnyOn are great for festive occasions as they work for long hours—eight hours in 100% brightness and 40 hours in 25% brightness. You can adjust the brightness level and set the lighting patterns or off timer using the remote control that comes with the set.
Features
Uses a 1,200mAh lithium battery
Convenient and easy to install
The solar panel can be installed on the wall, ground, or grass
IP65 waterproof and heat-resistant
Various options ranging from 200 to 1000 bulbs
Automatic lights that turn on at nightfall and turn off at daybreak
Eight lighting modes
Comes with a one-year warranty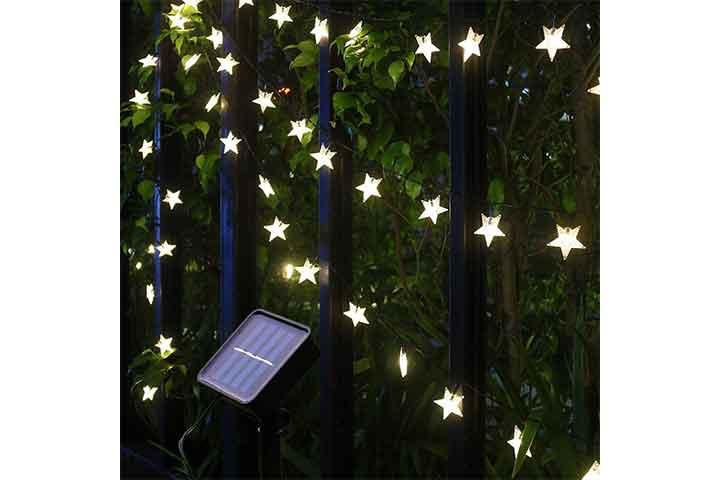 The Xingpold solar powered string lights are star-shaped and perfect for decorating trees, flowers, walls, or window sills. Its eight lighting modes enable you to set the ambiance of the room as per your mood and preference.
Features
Waterproof and weatherproof
Working time of 12 hours
Wire made of plastic
Includes 50 LEDs
Measures 23ft in length
How To Choose The Right Solar String Lights?
Here are a few tips for choosing the best solar string light for your place.
Place of usage: If you want solar strings for an outdoor purpose, go for IP65-rated waterproof bulbs. Also, ensure the bulbs are able to withstand strong winds and snow.
Color quality: White and multicolored lights are suitable for decorating trees, while warm white lights are soothing during off-seasons. A few manufacturers mention the color on the Kelvin scale. You can always check the description of the product to choose the color as per your preference.
Solar panel specifications: These are critical for the functioning of these lights. An adjustable panel and a long ground spike ensure optimum solar energy absorption.
String configuration: The distance between each bulb determines the area that it can cover and the intensity of light. Based on these, you can decide to purchase the number of string sets required for your place.
You don't have to run for those extension cords with these solar string lights. These lights are durable, energy-efficient, eco-friendly, and easy to install. So, brighten your homes or offices with these lights and take your parties to the next level.