A home without wooden furniture feels incomplete. Wood is durable, aesthetically pleasing, and has a classic appeal. So, bring home the best solid wood TV stand to add one more attractive wooden piece to your furniture collection.
Whether you have a huge flat-screen television with a home theater system or something more humble, a well-made stand will always draw attention and tie your whole room together. Every space is unique in design and theme, which is why we have a variety of wooden TV stands for you to pick from. Keep scrolling and pick your favorite.
Top Products From Our List
11 Best Solid Wood TV Stands
The Ameriwood Solid Wood TV Stand features an elegant design and can elevate your entertainment space. It has a two-tone cherry and black finish with silver metal accents, giving it a unique look. Designed to accommodate TVs with up to 70-inch flat-screens, it also has a space for a home theater system. The side cabinets can store the accessories, gadgets, and other items. This TV stand requires assembly and has a one-year warranty. For clean and care, you can dust and wipe it with a dry cloth.
Give your living room a charming country look with this reclaimed barn wood TV stand. The two barndoor-style cabinet front gives it a versatile design and has additional space for décor items and electronics. The adjustable shelving and cable management make it easy for you to store your electronics and set up a home theatre. The media console features a high-grade MDF material, making it durable in the long term. It can accommodate a 64-inch or smaller TVs on this.
Next in the list of the best solid wood TV stands is the Vasagle Retro TV Stand. It features a charming and retro-inspired design that will look great with modern décor. The stand can accommodate TVs with up to a 43-inch screen. The two shelving areas and large tabletop offer plenty of room to store cable boxes and other accessories. There is a smart push-to-open cabinet door for additional storage. The canted legs are made of solid rubberwood material and supported by screws and wooden pegs for extra security. You will also find bottom pads for legs to prevent floor scratches.
The Simpli Home Stand is one of the best solid wood TV stands, handcrafted using the finest quality pine wood. It has a white painted finish and NC lacquer protective coating. There are two bottom drawers, two side- storage cabinets, and two adjustable shelves for better space management. You can also use this multipurpose cabinet as a storage space or a buffet sideboard. It is ideal for the living room, dining room, and also bedroom.
Give a refreshing look to your home décor with this modern solid wood TV stand. It is built from solid pine and birch veneer, which is easy to maintain and durable. The middle shelf offers ample space for storing the cable box or game consoles. Its two-door cabinet allows you to keep all your gadgets and collectibles handy. The cabinet doors have smooth knobs, giving it an elegant design. There are two cable management holes for arranging the cables seamlessly. It can withstand a maximum capacity of up to 100lb.
The pinewood construction gives this TV stand an elegant look. It has a Russet Brown stained and glazed finish, with NC lacquer protective coating. It not only makes this solid hardwood TV stand durable but also accentuates its beauty. You can use it for TV sets with up to 80in of screen size, and it looks great in your living room or bedroom. There are two drawers, two tempered glass frame doors, two side storage cabinets, an adjustable shelf, and a centrally located open area.
The Leick Black Hardwood TV Stand is made from solid hardwood and wood veneers with a black padded hand finish. It can accommodate up to 60-inch TVs. The center adjustable shelf can hold your electronics, while the storage shelf is ideal for storing gadgets and game consoles. It has a perforated back for better cable management, and installation is easy as it comes with a simple unfolding assembly.
From the house of Hodedah, this solid wood TV stand could be a perfect addition to your living room décor. It has a sixty's inspired design and can accommodate up to a 60-inch screen. There are two cabinets and one open shelf for storing electronics and other items. It features retro-style wooden splayed legs that add durability to the stand.
The Phoenix Solid Wood TV Stand crafted from birch wood gives a contemporary feel to your living space. Made of MDF veneer, it has an NC lacquer finish for added protection. There is ample storage space, including a wide-open shelf on top, two adjustable center shelves, and two cabinets with doors. The cord management holes prevent the cabinet from looking messy with wires. It can accommodate 60-inch or smaller TVs.
The Fitueyes Wood Floor TV Stand can accommodate flat TV sets and curved screens of up to 70in. This furniture piece has superior construction, excellent swivel, and height adjustment feature to watch the TV from any corner of the room. There is a board for a TV stand, storage shelves, and a cable management system.
The middle and side wooden shelves are adjustable and also removable. They provide extra storage space and accommodate cable TV boxes, DVD players, HR recorders, audiovisual equipment, etc. The installation is easy, as it includes a manual with the necessary tools and hardware.
The high-quality wooden TV stand with a stylish two-tone design will perfectly complement the living room décor. It has two open shelves for storing media players, gaming devices, cable boxes, sound systems, movie collections, etc. Made of Solid American Cherry hardwood, it is durable and lasts long. It can easily accommodate up to a 62-inch size TV. The installation is simple and easy, as it comes with the necessary hardware.
Types Of Wooden TV Stands
Given below are the different models of TV stands found in the market. You can choose them depending on your home decor and purpose.
Entertainment unit: It is best suited for gamers and movie lovers, as it accommodates a sound system, multimedia storage unit, and digital players. They are larger compared to other TV stands and utilize an entire wall. The TV is at the center with cabinets and drawers below it.
Console: It has a contemporary design and has low-line elongated units. They have legs and adequate storage space on top and shelves.
TV armoire: If you do not want to disturb your home's overall aesthetics, you can opt for this model. It has a traditional design and offers excellent storage space for electronic devices.
Floating stands: Here, the TV sets on wall-mounted, and they have open shelves made from lightweight materials.
Corner stand: The corner design stands fit well into any corner of the room and are suitable for compact living spaces.
How To Choose The Right Solid Wood TV Stand?
Here are some features to consider while buying a solid wood TV stand.
Size: Consider the room's size and space where you would like to install the TV. You can do this with the help of a measuring tape. Be mindful of the beam or doorways, which could limit the space. After measuring the area, compare it with the dimensions of your desired TV stands and then buy accordingly.
Type: The size of the stand should always be wider than your TV. The wider stands have side shelves for storage and be aesthetically pleasing too.
Style: You may need some storage space for electronic devices and other necessary items. However, storage should not be your prime consideration as it can make the unit bulky and messy. Select a TV stand that offers better cable management and simple shelves. You can opt for stands with closed cabinets if dust is a concern.
A solid wood TV stand can accommodate your TV, improve your room's aesthetics, and give you additional storage space. They come in various shapes and designs. Identify your requirements by considering the features, reviews, and buy the best solid wood TV stand.
The following two tabs change content below.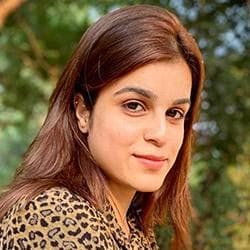 Sakshi John
Sakshi did her graduation in Journalism from the Madras Christian College, Chennai, before starting her career as a freelance writer. She is into blog writing and for MomJunction, she covers various topics, including products to buy for your kitchen, furniture, and other home requirements. Previously, she interned as a content writer in a cyber security firm. As a content writer, Sakshi...
more