Movie buffs would love setting up a home theater at home, with a big flat screen TV and a great sounding audio source. As TVs are getting slimmer with time, they leave lesser space for built-in speakers. That's when you need external audio sources like the soundbars, which can be a great match to your large TV screen and do justice to your home theater system.
A soundbar is a type of loudspeaker that projects sound in an enclosed space. In this system, few speakers are fitted in the form of a cabinet to create a stereo or a surround sound effect. Traditional home theatre speakers generally take up more space and are often complex to set up than the soundbar.
Soundbar speakers also radically improve the audio experience, whether you plug it into your TV or directly stream music from your smartphones.Keep reading for a list of the best soundbar speakers that are sure to leave you impressed with their audio quality.
13 Best Soundbar Speakers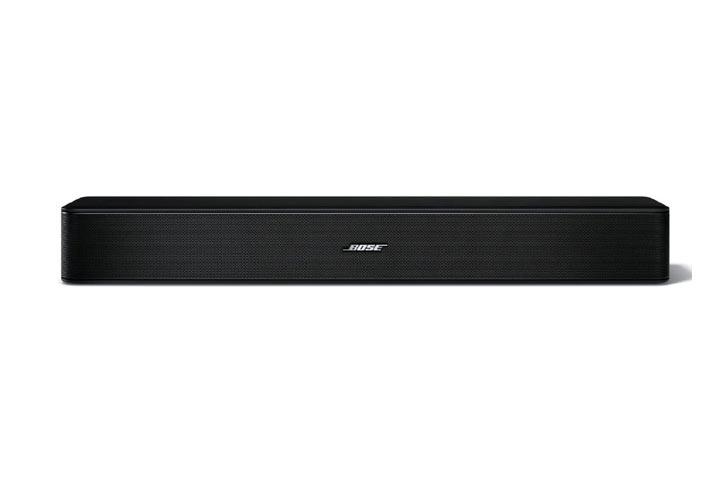 The Bose 5 TV soundbar delivers impressive audio quality and clarity to dialogues in a movie or a TV show. It is so versatile that you can practically set it up anywhere. You can also stream music from your phone wirelessly through the speaker and enjoy your favorite songs with amazing bass.
Pros
Easy to set upand connect to the TV
Compact and sleek
Supports Bluetooth connectivity
Universal remote to control the system and most video sources
Can increase or decrease the bass
Auto-wake function detecting a sound source
Cons
Doesn't have a wall-mount kit
Poor connectivity options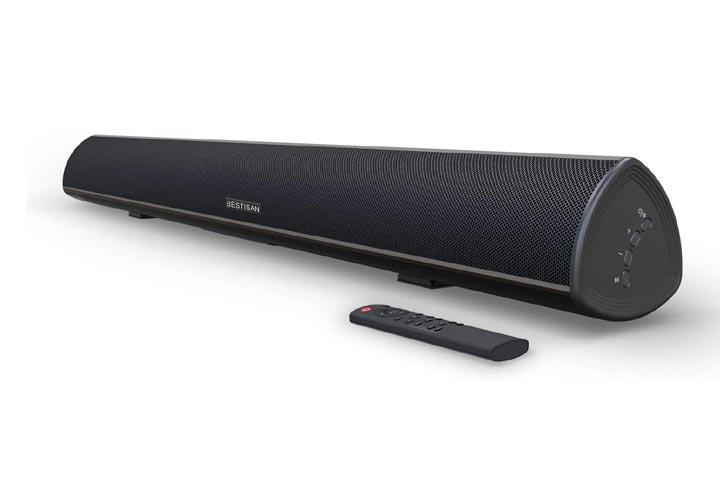 The 40-inch Bestisan soundbar from Megacra offers an incredible 100w deep bass sound. The sleek design ensures that it fits in beautifully with any interior or setup. It is sleek and small to fit under the TV and can also beeasily mounted on the wall.
Pros
Stable Bluetooth connectivity
Connectivity options include connections via an audio cable or even a USB
Lifetime technical support
Comes with customized acoustics
Cons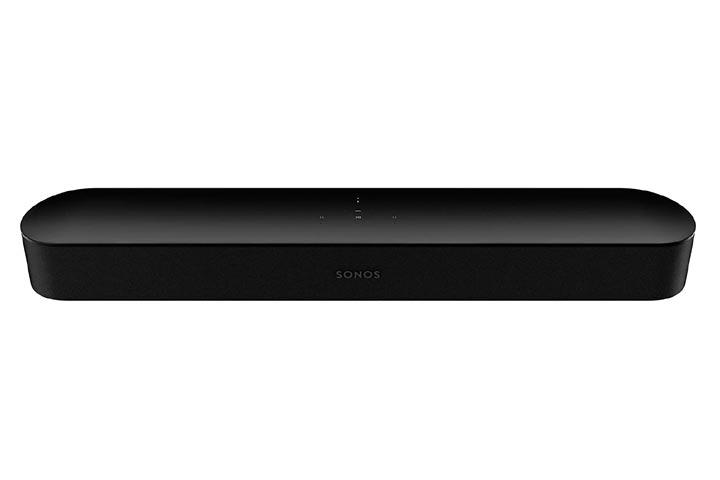 The Sonos Beam is a compact and smart soundbar that can give you an amazing audio experience when watching videos or listening to music. It is a stylish device with smooth edges and a glossy appearance designed to add a classy look to the room. You can enjoy a one-of-a-kind listening experience with this soundbar.
Pros
Amazon Alexa support
Easy control with an app, remote, and voice
Automatic remote detection
Night sound feature to enjoy late-night TV
Cons
Alexa commands only work for TVs with HDMI-ARC port
Doesn't have anauxiliary input

The TaoTronics PC soundbar offers a dynamic audio experience with finely tuned dual 7wdrivers. It is sleek and compact in design, easy to set up, and can be connected to almost every modern TV.
Pros
Vibrant RGB lights to elevate gaming performance
Modern design to keep desk clutter-free
Bluetooth or AUX connectivity
360 surround sound
Cons
Could make a loud noise when switching it on/off
Heats up when used for some time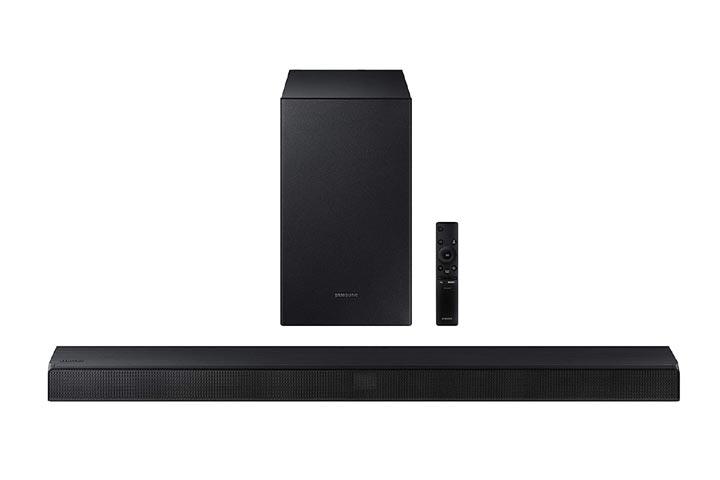 The Samsung soundbar offers an optimized audio experience with powerful wireless bass and 3D surround sound for an immersive TV viewing experience. It sets an example of quality and advancement, fitting in the reputation of the globally-recognized brand. The sound bardeliversan unadulterated sound that is essential when watching movies or sports.
Pros
Bluetooth connectivity
Automatically optimizes sound setting
Control soundbar functions with your Samsung TV remote
Ideal for a home theatre
Cons
Doesn't have anapp
Doesn't have support for Atmos content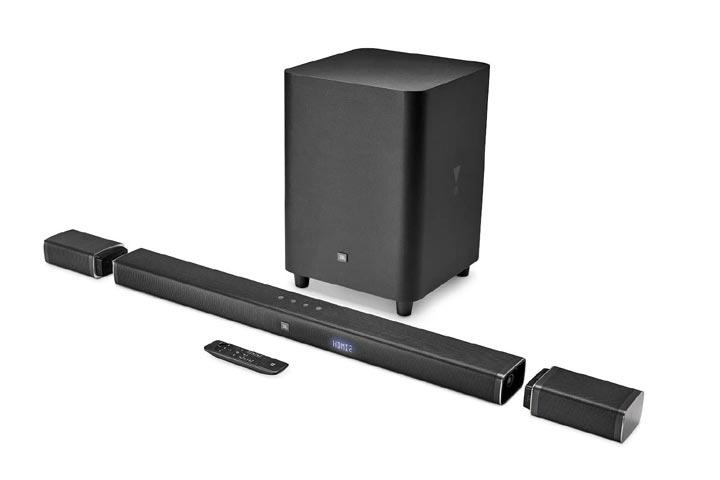 The JBL soundbar system sports a unique design and transforms into a wireless home theatre system for a good audio experience. It is a complete package with some exclusive features, including a JBL sound shift, detachable speakers, and a wireless woofer.
Pros
Easy to setup
Up to 10 hours of playtime
Premium 4K connectivity
Works with the TV remote
Cons
Speakers require charging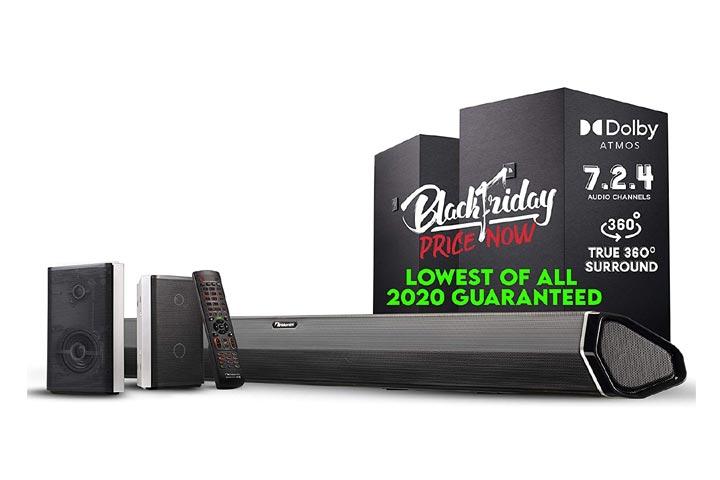 Nakamichi's soundbar is ideal for those who desire to transform their living room into a premium cinema within minutes. It makes everyone feel right in the center of the action, with its dual subwoofer delivering smooth, balanced bass across the entire space.
Pros
Excellent body
Exclusive spatial surround elevation SSE technology
Bluetooth connectivity with AptX support
Wider soundstage area
Cons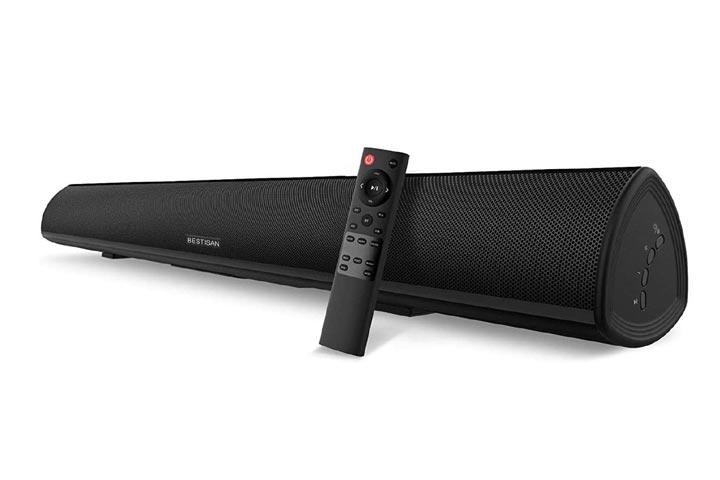 The BYL soundbar offers rock-solid sound via six professionally tuned drivers. It plays exceptional sound with clarity and zero distraction. The speaker is meticulously designed to fit perfectly with your smart TV and interiors.
Pros:
Built-in digital signal processor for unique sound experience in three modes
Compatible with echo-enabled devices
Bluetooth connectivity with DPS technology
Functions with a remote
Cons: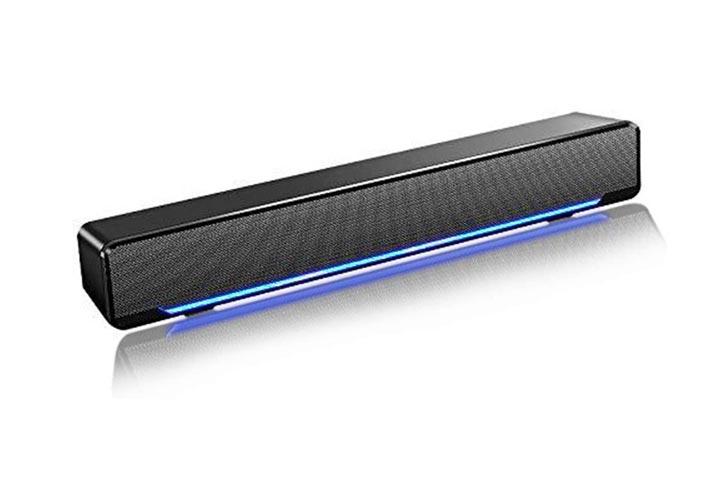 The Marboo soundbar will make your desktop look classy. It is powered by a USB and connects easily with laptops, desktops, MP2, or other gadgets. The speaker is one of the best laptop soundbar speakers that looks sleek and stylish and gives you an enjoyable experience.
Pros
Good sound level and clarity
Easy to setup
Unique and modern design
Compatible with most of the smart devices
Cons
May not have alow-end bass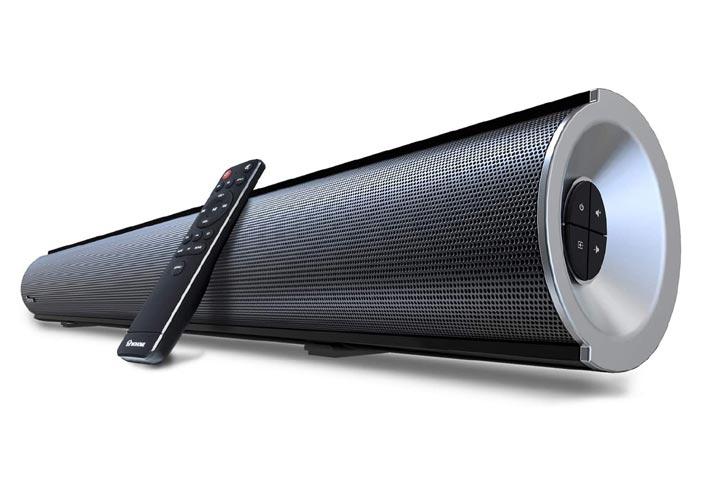 Enjoy powerful bass music and clear sound at home with the six drivers filling even a big room. The sound is enough to fill up even a large space. It can be set up easily and connected to any of the smart devices.
Pros
DSP technology with foursound modes
Amazon Echo music compatibility
Multiple connectivity options like USB, optical, and AUX input
Cons
Doesn't have HDMI or HDMI Arc compatibility
Lacks smart home connectivity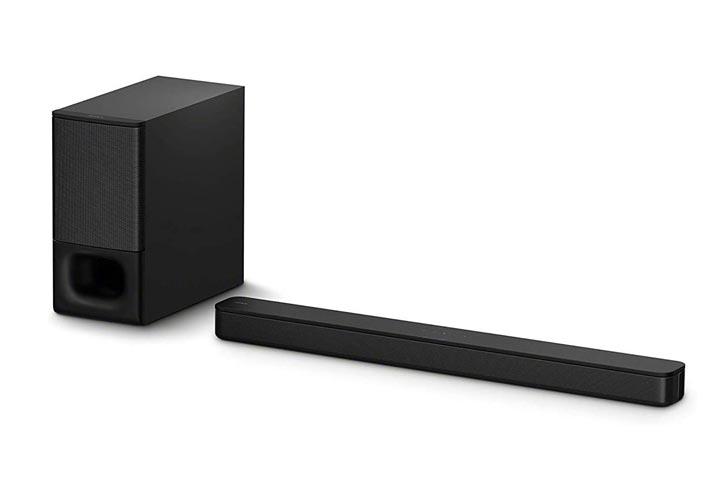 The Sony soundbar is the ultimate home theatre upgrade for your home as it comes with seven sound modes. Its supreme quality portrays everything that the brand stands for. The flexible setup is an added advantage and can give you a great experience within the comfort of your home.
Pros
Powerful subwoofers with 6.16-gallon volume for richer bass
Voice enhancement feature
Wireless subwoofers
HDMI ARC connectivity support
Cons
Doesn't have a stereo jack or other connectivity options for older TVs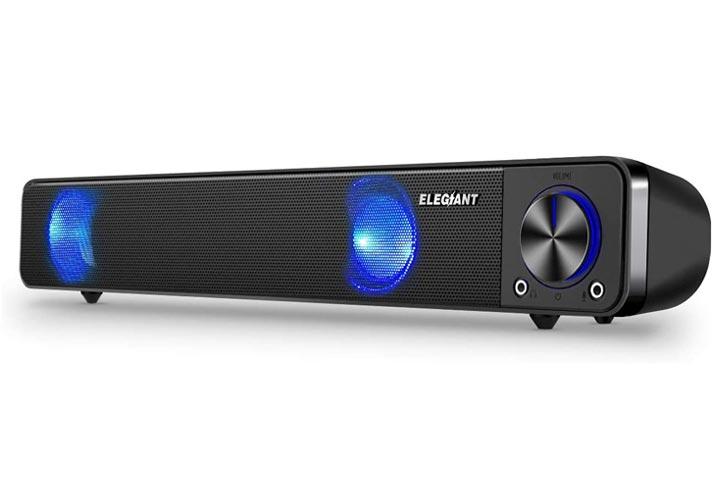 The Elegiant soundbar can produce superior sound and give a unique experience,turning your PC or TV into a private theater. The elegant design adds a touch of class to your home.It is designed for computers, making it suitable for your desktops and laptops.
Pros
Compatible with most devices with 3.5mm jack
Funky LED lights that can be switched on or off as desired
Powered by battery and corded electricity
Unique and sleek design
Easy to use and maintain
Cons
May have low sound volume and quality
USB is only for power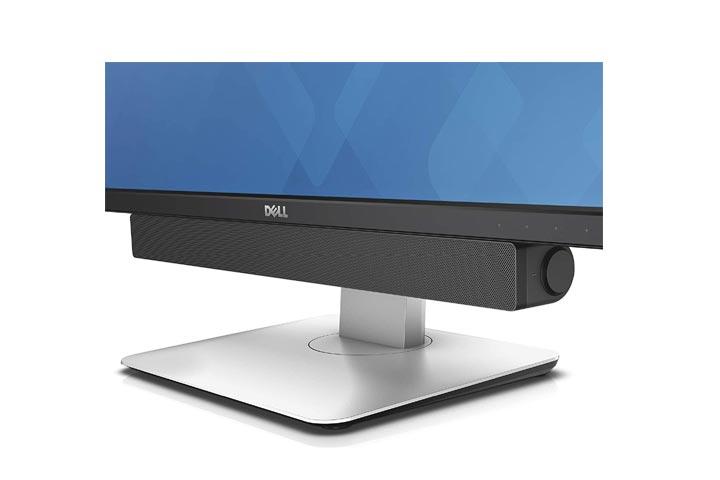 The Dell soundbar gives you a good sound experience without big speakers and messy cables. It serves as an excellent upgrade for your built-in speakers. The stylish and sleek design improves the aesthetics and makes your home theatre look classy.
Pros
Easy USB connectivity
Space-saving design
Quick to attach
Rich stereo sound
Cons
Echo-y sound quality
AUX cable not included in the box
Factors To Consider When Choosing Soundbar Speakers
Choose a soundbar with at least three speakers or channels – one on both sides and one in the center. You may even choose to splurge on soundbars with five to seven channels.
A Dolby Atmos soundbar gives an edge over the five and seven-channel soundbars. The upwards-firing speakers reflect sound above you for a three-dimensional soundstage. These soundbars will bounce the audio off your ceiling to give a surround sound experience.
Connectivity is another important factor when buying a soundbar. Look for a soundbar with standard connectivity options like Bluetooth, HDMI ARC, audio jack, and USB.
Soundbars come in two varieties, active and passive. Active soundbars come with built-in amplifiers. For passive soundbars, you would need to get a separate receiver. So, choosing an active model will give you a two-for-one solution and also save space.
Ideally, a soundbar should not be wider than your TV. Decide where you would place the soundbar before buying, as it can be placed beneath the TV or hung on a wall. Some soundbars come with a wall mounting kit.
A table filled with remotes can get messier and complicated when you need to control the sound immediately. Choose a soundbar that comes with a universal remote control. You may also find a soundbar that can be programmed with your TV remote.
You can add extra subwoofers if you are looking for a more immersive audio experience. A few soundbars include the subwoofers in the package.
Ensure you are buying the soundbars with a manufacturer's warranty. That way, you will get additional support from the manufacturer if something goes wrong with your purchase.
Choosing a soundbar with Google Assistant or Alexa support would be a plus.
A soundbar is an affordable option to amplify your TV sound. It is also comparatively easy to set up. Most of the soundbar soffer easy connectivity to your TVs, laptops, desktops, or even your smartphones, allowing you to stream music wirelessly. We hope you find the best soundbar speaker for your TV from our list of the best soundbars.
Recommended Articles: