Do you use soup bowls? Are you looking to buy the best soup bowls? Are you tired of using ordinary bowls for soup? Look at our list of the 15 best soup bowls.
Soup, a liquid that finds itself glorified and at the top of the appetizer menu, is more important than you ever considered it to be. The creamy richness of a pumpkin soup or a French onion soup could work wonders for your palate and prepare it for the delightful main course. Did you know that having soup in a bowl specially designed for it could make a huge difference?
Apart from the fact that it heightens the experience, a soup bowl has rounded and smooth edges to prevent spillage. In addition to this, it is also the perfect width and depth for a single serving. Have you been waiting for too long to purchase a set of soup bowls for your house? Perhaps it's time you took that leap of faith and had soup the way it's meant to be had. If you're looking to buy the perfect soup bowl, you've come to the right place. Have a look at our extensive list of the 15 best soup bowls.
15 Best Soup Bowls Of 2021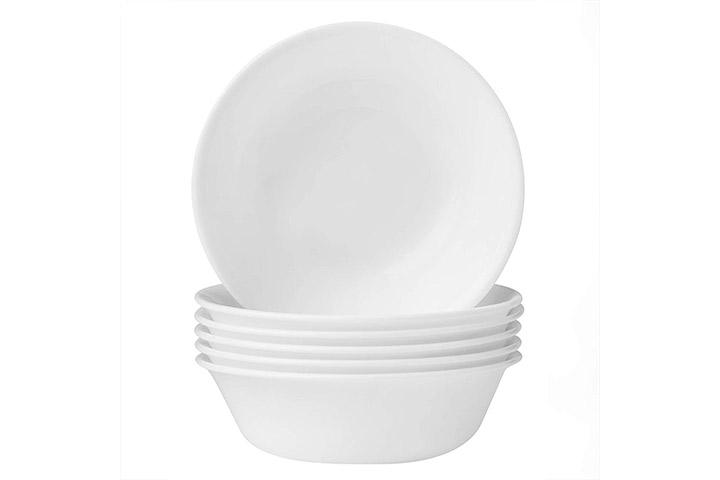 These bowls by Corelle ensure the perfect depth to double as both soup and cereal bowls. The winter frost white appearance reeks of class and elegance. The company's triple-layer glass bowls are crafted to ensure durability while also being crack and chip-resistant. The lightweight and space-saving design of these bowls make it easy to store and carry from one place to another. These bowls are easy to clean and are microwave, oven, and dishwasher-friendly. They are available in a set of six.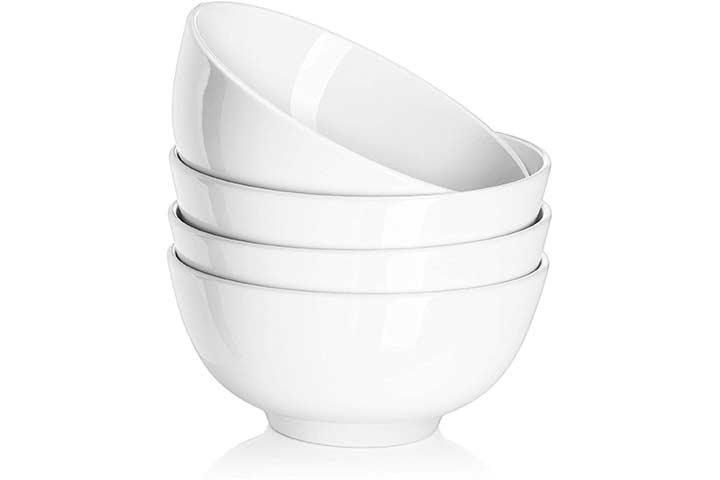 It only takes a glance to fall in love with this soup bowl set by DOWAN. Its rich white design and smooth edges account for its good looks. Much of its popularity arises from its versatility to be used as a bowl for not only soups and cereals but also for salad, fruits, rice, and noodles. This set of four ceramic bowls is made of ceramic and does not use harmful materials like plastic and lead. One of the highlights of this soup bowl set is the anti-scratch glazed interior. Apart from being durable, these bowls can be used in a dishwasher, microwave, and oven. To top it off, these bowls are available in three different sizes and a variety of different colors.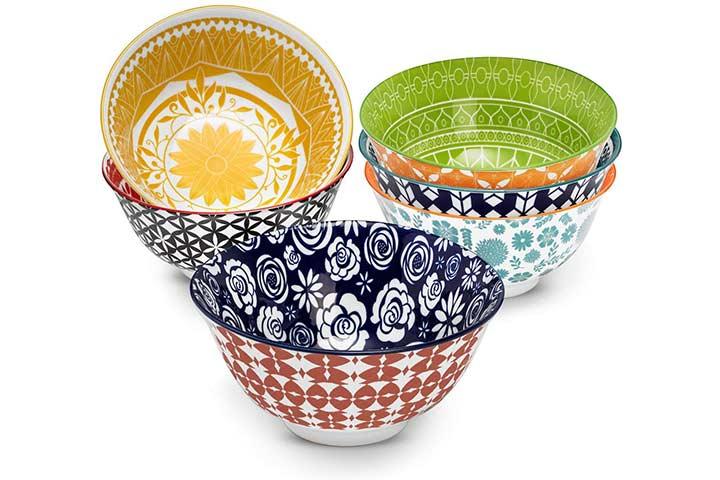 Add a splash of color to your life and meals with this set of six multicolored soup bowls by Annovero. The floral and abstract patterns are vibrant and fresh. The design allows for the bowls to be easily stacked and stored. Each bowl is carefully crafted with high-quality porcelain to ensure the absence of harmful chemicals. Each bowl is capable of withstanding temperatures of up to 482°F. Apart from being safe to use in an oven and microwave, they can also be kept in the freezer and washed in the dishwasher.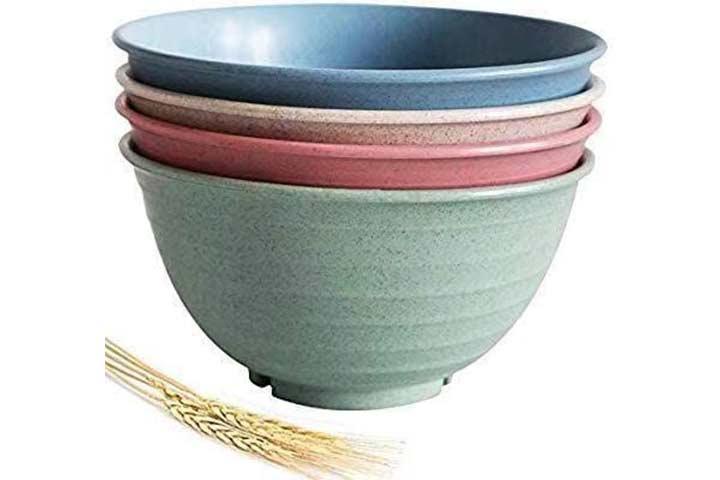 These DUOLUV bowls are sold as a set of four bowls that are made of eco-friendly wheat material. This makes them non-toxic and 100% BPA-free. This set of four bowls come in different colors that are sober and soothing to the eye. These bowls are quite deep with each bowl boasting of a maximum liquid capacity of up to 30 oz. These unbreakable bowls are lightweight and have smooth rounded edges. They not only serve well as soup bowls but also serve as ideal bowls for snacks, rice, and noodles. These bowls can be used in a microwave oven to reheat food and easily cleaned in a dishwasher.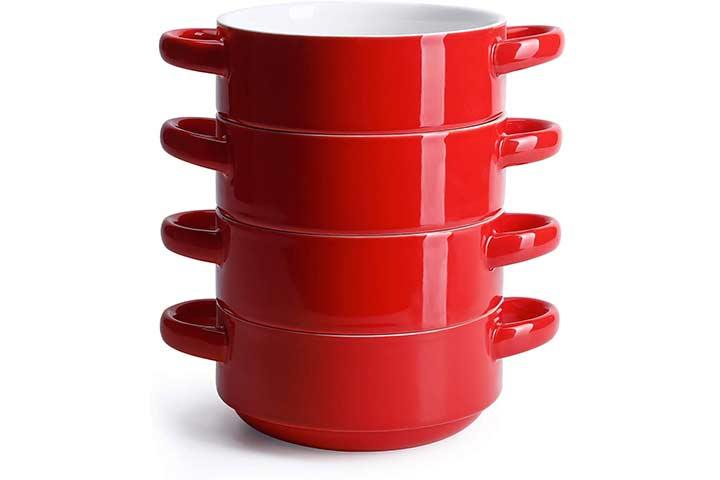 One look at this set of four soup bowls by Sweese, and it's clear that they don't look like ordinary soup bowls. Their standout feature happens to be the handles on either side of the bowl. This allows one to easily serve heavier soups like a French onion soup or stews and chili. These bowls are available in six different color variants and are capable of holding up to 20 oz. of food. Professional grade porcelain has been used to ensure a healthy and toxin-free eating experience. These bowls are durable and chip-resistant. Like most other top-quality soup bowls, these are also freezer, microwave, oven, and dishwasher-safe.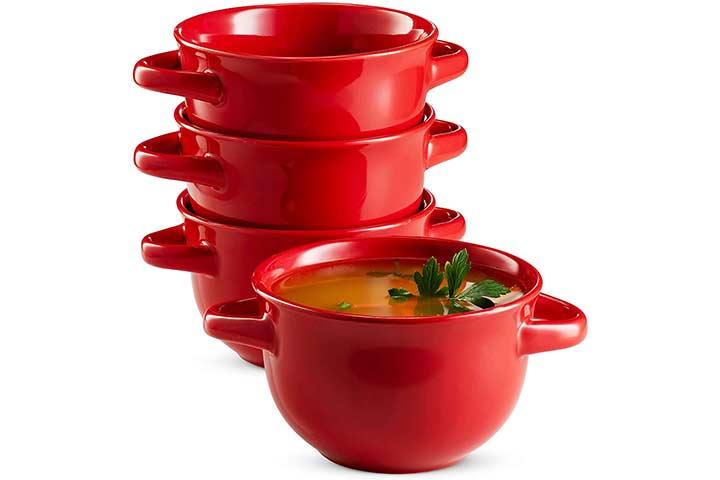 This set of four soup bowls has earned a position on our list of the best soup bowls for both its looks and quality. These bowls are available in four different solid colors. The relatively shallow design of these bowls make it perfect for soups, baked items, and even stews. The sturdy side handles allow for it to be easily carried even when hot. The rim of each soup bowl is rounded and wide to prevent spilling accidents. If durability is your concern, you have nothing to worry, as these soup bowls by KooK come with an anti-scratch coating. These ceramic bowls can be used in a microwave, freezer, and dishwasher.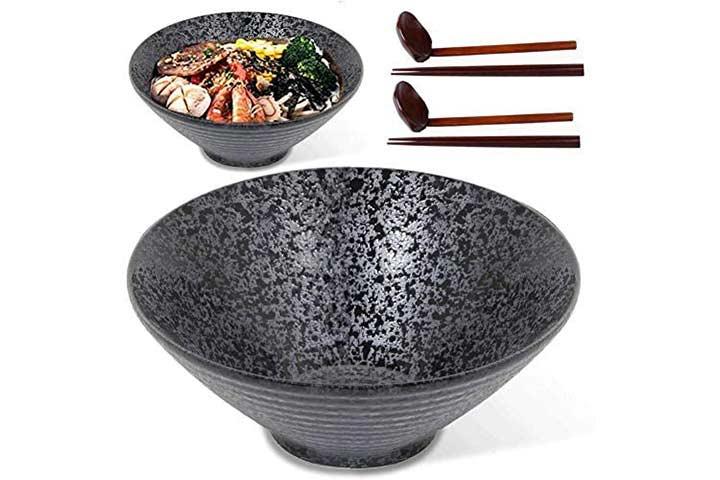 These conical-shaped bowls are available in a set of three. Their unique design allows for greater depth than other bowls with the ability to hold up to 60 oz. of fluid. Made of ceramic, these authentic Japanese bowls are handcrafted to the perfect size for eating Japanese style ramen. The interior of the bowls is coated with a thick glaze that is hard to scratch. The bottom is left unglazed, making it easy to grip and hold. Designed for daily use, these bowls by NJCharms are safe to use in a dishwasher. A spoon and chopsticks are also packaged with the bowls to enrich the experience.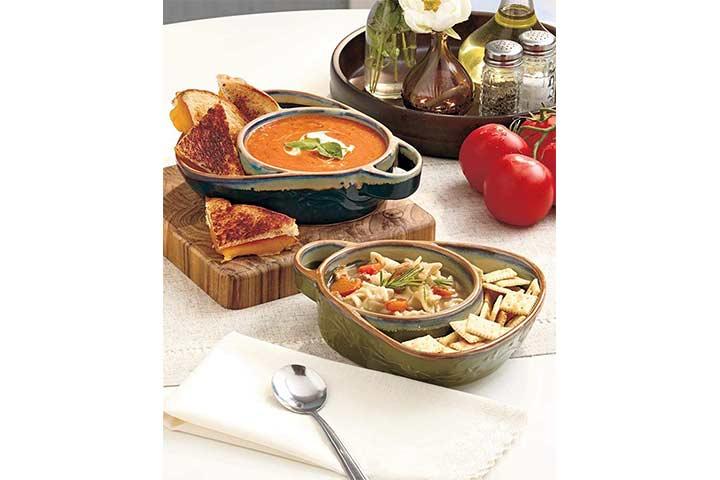 The ingenious design makes it possible for these bowls to be used for a variety of food items. Apart from being able to hold soup, they can even be used for snacks and dip. The rustic design and the single-sided handle make them look visually appealing while at the same time being convenient to hold. The entire dish is divided into two sections, making it convenient to hold soups, chips, and dips like salsa. The bowls are available in a set of two and with several color options to choose from. They are oven, microwave, and dishwasher-friendly.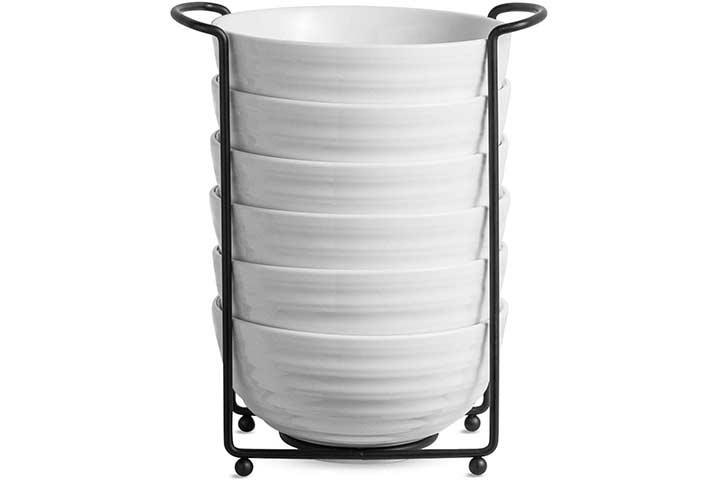 These bowls by LAUCHUH are available in a pack of six. Their stunning white finish and ribbed design bear a traditional yet stylish touch. Their minimalistic design is what makes them so attractive and worthy of a spot on our list of the best soup bowls. The cavity design that can hold up to 28 oz., makes these bowls ideal for soups, stews, noodles, and pasta. Made of durable and lead-free porcelain, these bowls are sturdy and non-toxic. The space-saving design makes these bowls easy to stack. They can also be conveniently cleaned in a dishwasher.
The width and depth of these soup bowls make them perfect for salads, side dishes, ramen, and fruits. The white-polished and shiny glaze finish makes these bowls stand out from the rest. Each bowl has been ingeniously crafted with porcelain to ensure durability and a toxic-free dish. The sheer brilliance of these bowls lie in their versatility and appearance. They can be easily paired with other white porcelain bowls placed on the dinner table. To ensure ease of use, these bowls are microwave and oven-safe. Courtesy of its durable structure, it is also safe to use these bowls in a dishwasher.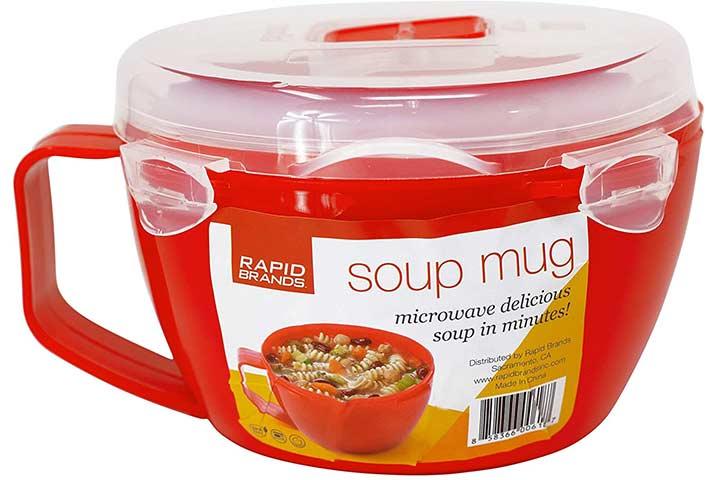 This soup bowl by Rapid has earned its popularity owing to its portability and ease of use. This soup mug can be used to make soup and noodles within minutes in a microwave oven. The entire bowl consists of two parts — the bowl itself and an attachable cover. The vent on the cover allows the food to cool down to the right temperature. The side handle is heat-resistant, and the durable design makes it reusable for up to five years. In tune with its name, this soup dish can cook food in a matter of minutes.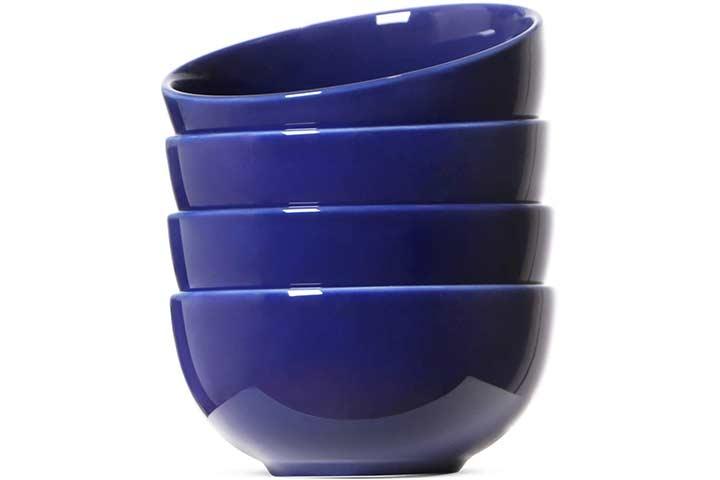 These multi-purpose bowls can house cereals, soups, rice, and fruits. This product by LE TAUCI is available as a set of four and in four different colors. However, out of all of them, the red ones truly stand out with their bold and glazed look. A blend of style, class, and simplicity is precisely what these bowls look like. They are made of ceramic and are chip and crack-resistant. Apart from this, they are also stackable. Needless to say, they are oven, microwave, and dishwasher-safe.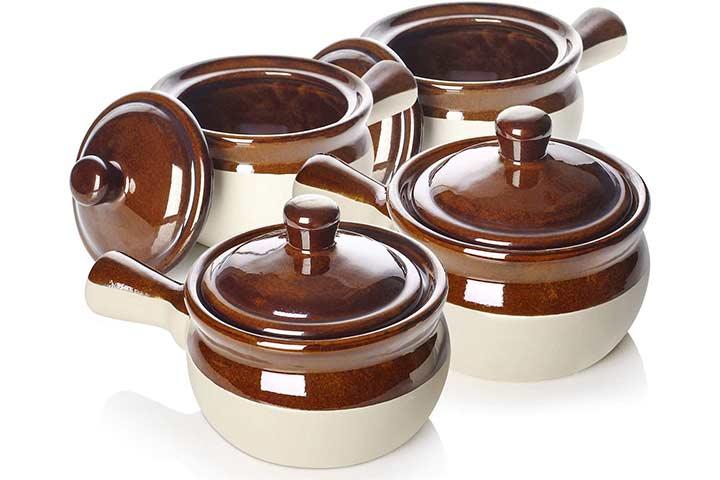 The dual color tone of these soup bowls will make you fall in love with them at first glance. This set of four ceramic bowls, with their glossy surface, can bring life to any dinner table. One of the noteworthy features of these bowls is that they are equipped with lids and an easy-to-hold handle. Apart from being the perfect soup bowl to serve French onion soup, they can also be used to serve multiple baked dishes and stews. If you're looking for classy and rich soup bowls, these bowls by LIFVER won't let you down.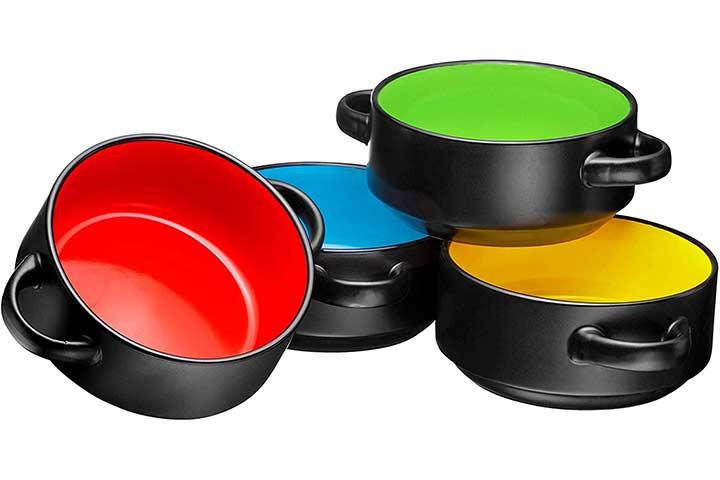 The matte black design with a colorful interior makes these bowls by Bruntmor flashy and classy. They will definitely add a spark to your kitchen and a new dimension to your dining table. These French onion soup bowls are equipped with two handles on either side. Made of the highest quality porcelain, these bowls are both durable and versatile. They can be used to serve soups, stews, and salads. These modern-looking bowls are microwave and dishwasher-friendly.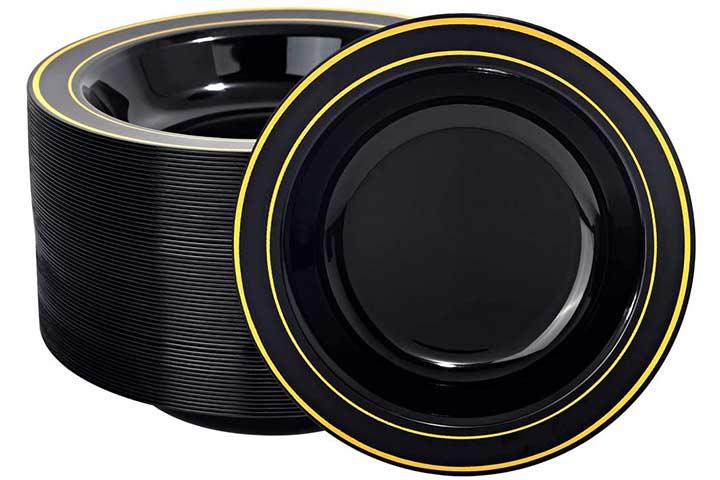 Last but far from being the least are these plastic bowls by BUCLA. These bowls are made of premium heavy-duty plastic, which make them heat-resistant. The plastic used is food-grade and is completely free of harmful chemicals. The shiny black color with the dual gold rim makes them look classy and royal. These are disposable bowls that come in a pack of 60. However, they are reusable a few times but can only be hand-washed.
Now that you've had a glimpse of the best soup bowls that money can buy, you need to know what to bear in mind to choose the right soup bowl. While it may seem like an easy affair, it's actually quite a tricky business. Here are some factors to bear in mind when purchasing soup bowls.
Things To Consider Before Buying Soup Bowls
Material
One of the major considerations when buying soup bowls is the material that they are made of. While most porcelain bowls are safe to use, some contain materials that release toxins when exposed to heat. While plastic is the cheapest option, it isn't the best in terms of durability. High-grade ceramic is what you should be looking for when purchasing soup bowls. 
Type
There are many types of soup bowls to choose from. This is precisely why it can become so complicated. However, did you know that different soups require different soup bowls? For soups that are light and clear, a small and deep soup bowl will be ideal. However, when it comes to noodles and soup, a bowl with great depth is required. For richer and heavier soups like a French onion soup or dishes like stews, a soup bowl with a handle is desirable.
Safety
It's important to make sure that you purchase soup bowls that are microwave, oven, freezer, and dishwasher-safe. This makes them convenient to use and easy to clean. The last thing you want to do is ruin your new soup bowls in a microwave or dishwasher.
Portability and storage
While most soup bowls are designed to be easily stacked and stored, not all soup bowls are the same. For the sake of convenience, it's best to choose bowls that can be stacked. The size and weight of the bowls will greatly affect the portability. Choosing lightweight bowls makes it easy to carry. While some have lids to keep the soup warm, others do not. It's best to choose one with a closable lid, especially when traveling.
Soup is best served in a dish that well compliments it. A soup bowl is more than just a vessel that holds soup. It gives your soup the character and charisma it needs to look appetizing and taste well. A hot bowl of soup could be a simple remedy to your cold or congestion. If you've been ignoring your desire to purchase soup bowls, you're steering in the wrong direction. Are you now convinced of the difference soup bowls could make? Are you tired of serving soup in bowls that don't even complement it? If so, make sure to revisit our list of the 15 best soup bowls to select the one you like the most.