Sous vide, meaning 'under vacuum' in French, is a process of precision cooking. The Sous vide machine maintains consistency and precision while you are cooking a meal. This type of cooking involves vacuum sealing your food in a bag and attaching it to the side of your cooker in a water bath equipped with a sous vide machine.
With this machine, you won't have to worry about an undercooked or overcooked dish. The cooker is affordable, easy-to-use, and allows you to serve the perfect dish every time. And purchasing the right sous vide machine requires research and careful consideration.
Go through our list of the best sous vide machines in the market to pick your choice.
Benefits Of Sous Vide Machines
Here are some benefits of using the sous vide cooking technique:
Taste: The sous vide cooks juicy, soft, tasty, and moist food.
Convenience: It allows you to cook precisely at the desired temperature without worrying about overcooking your meal.
Consistency: Since sous vide allows you to cook at a precise temperature for the exact amount of time, you can have the perfect dish consistently every time.
Reduced cooking time: The traditional cooking method takes much time than sous vide cooking to attain the desired temperature.
Uniform cooking: Sous vide uniform cooking and gives a perfect texture to your dish.
11 Best Sous Vide Machines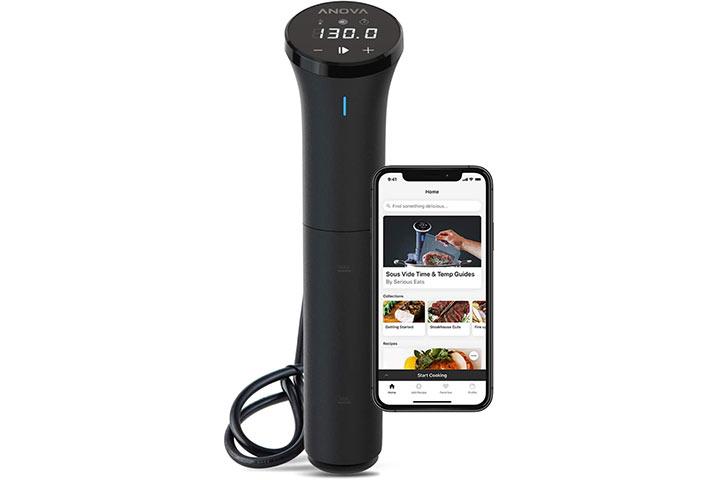 The Anova Cooker helps you prepare chef-style food at home. It heats and circulates the water at the desired temperature to achieve consistent results each time. The cooker can be monitored via Bluetooth of your phone. It is ideal for cooking chicken, eggs, beef, lamb, and more as it retains the moisture inside, providing you a perfectly cooked meal.
It is petite and easily attaches to any container with a fixed clamp. Made from durable plastic, it is easy to clean. Its cook time is up to 99 hours and works on 750W power. The nano cooker weighs 2.99lbs and measures 4.1×2.2×12.8in.
Pros
Sleek
Convenient to use
Well-designed
Easy to use 
Cons
Bluetooth feature may not be effective for long
May wear off easily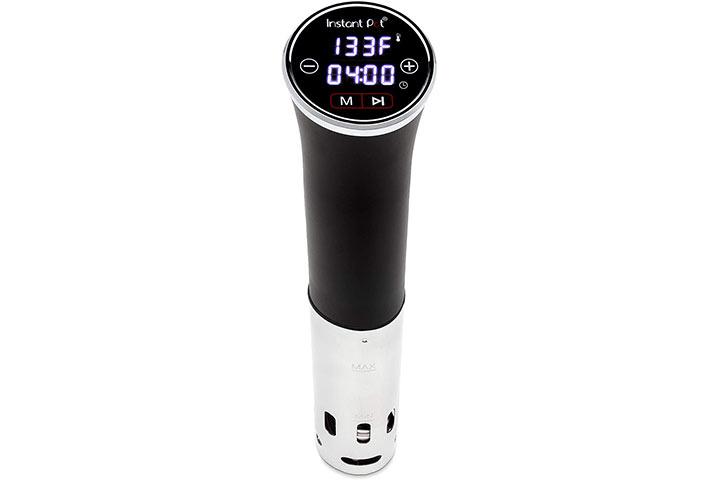 Instant Pot Sous Vide is engineered to help you prepare quality dishes consistently. It cooks food at accurate temperatures ranging from 104°F to 195°F for up to 72 hours. The circulator evenly distributes heat and cooks food uniformly.
A digital touchscreen display on the immersion circulator can help you cook vegetables, fruits, poultry, eggs, and seafood. Made from lightweight stainless steel and rubber-coated handle, the cooker is easy to use and clean. It weighs 1.65lbs and measures 2.55×4.6×12.9in.
Pros
Compact
Easy to use
Easy to clean
Precise and accurate controls
Cons
Cooking may take longer
Does not have a Bluetooth or WiFi connection feature
Power cord is short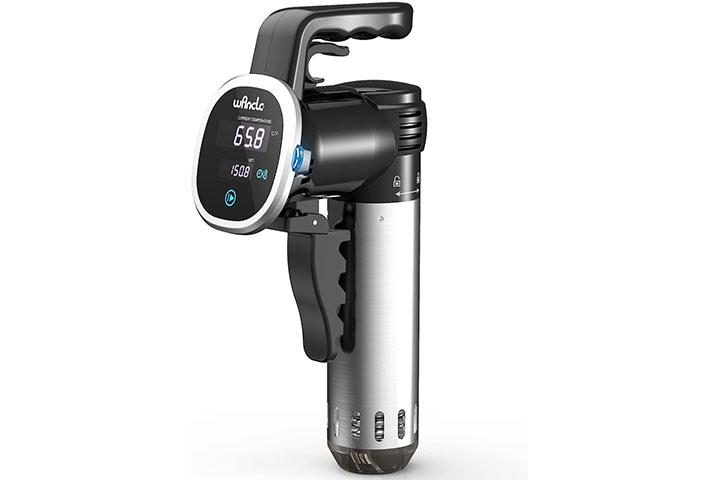 Wancle Sous Vide gives you the perfectly cooked dish at a precise temperature consistently. Equipped with a digital timer, it is an ultra-quiet device of 850W power. It is made from stainless steel and is accurate to 0.1°C.
The Wancle sous vide can attain 140°F in 15 minutes and achieves a wide range of temperatures from 77°F to 211.8°F. It has a Bluetooth feature for a carefree cooking experience and a smartly curved control panel that prevents the mist while cooking. The product comes with a 24-month warranty, weighs 3.49lbs, and measures 14.2×8.5×4.7in.
Pros
Easy to use
Well-designed
Operates quietly
Portable for one-hand operation
Accurate timer
Cons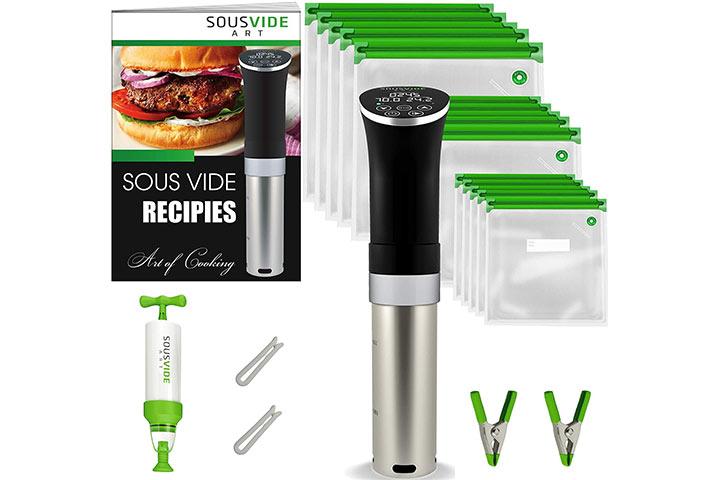 The sous vide kit comes with the sous vide cooker, 15 sous vide vacuum bags, pumps, clips, and a free cookbook. It works with 1000W power and is ideal for attaining precisely controlled low temperatures. It is equipped with an ergonomic rubberized grip and is made of durable and safe material. It weighs 4.29lbs and measures 16.42×7.4×4.02in.
Pros
Easy to use
Maintains accurate temperature
Excellent quality reusable bags
Operates quietly
Attaches to any pot or container
Cons
May shut off while working
Buttons may stop working eventually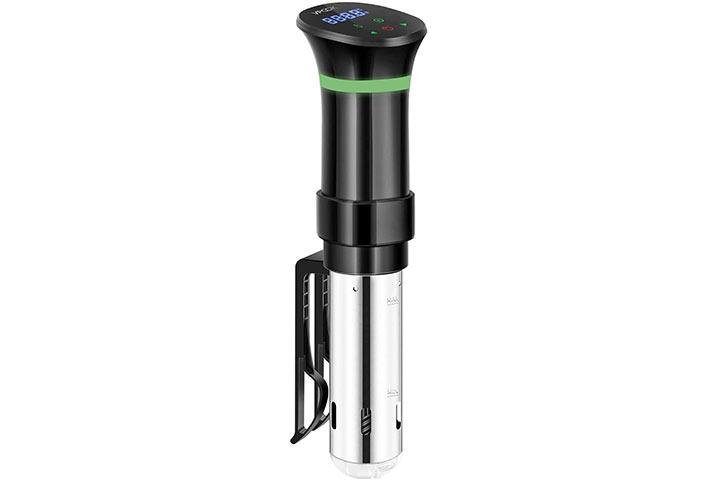 The VPCOK sous vide immersion cooker is accurate and retains the nutrients in all the ingredients. Powered with a 1000W motor, it helps maintain a constant water temperature with 360° circulation. It has a temperature range of 0-211.1°F and comes with a two-year manufacturer warranty. The cooker weighs 3.39lbs and measures 16.6x6x4.6in.
Pros
Bright display
Easy to use
Digital display
Maintains temperature well
Cons
May display incorrect temperature
May not last long
Temperature control may not work well after prolonged use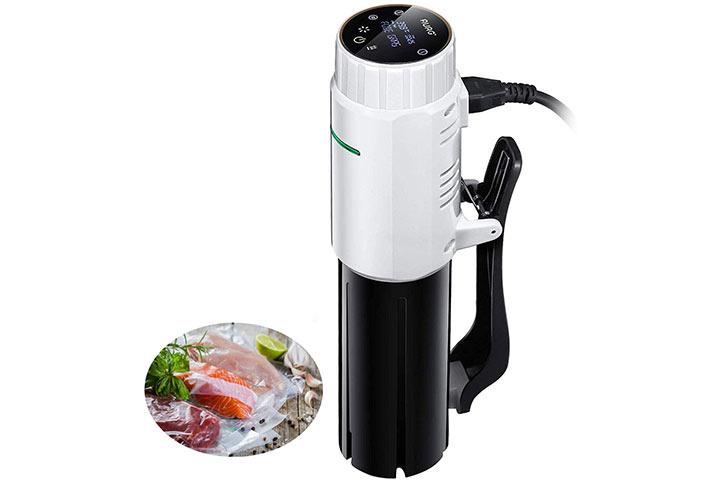 AuAg Sous Vide is designed with an LED touch panel and can work well for a temperature range of 33°-121°F. It works on 950W power and is equipped with a 44.3in removable cord that connects with an adapter. It works up to 99 hours and is extremely quiet, producing sounds lower than 60 decibels.
The circulation pump generates 360° water circulation and has a simple control panel for easy operation. The product comes with a three-year manufacturer warranty, weighs 3.13lbs, and measures 14.6×4.5×2.9in.
Pros
Easy to use
Operates quietly
Good for defrosting
Good quality build
Powerful
Cons
May be bulky
May be poor in execution
May break easily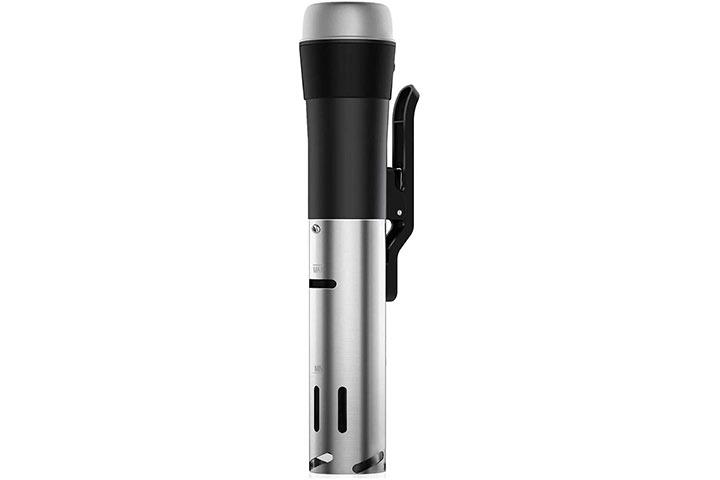 Joerid Sous Vide Cooker is a fully automatic device that attains the perfect temperature while retaining its flavor. Accurate to 1°F, the equipment has a wide temperature range of 32°F-194°F. The cook time ranges from 1 to 99 hours, and it is ultra-quiet while in use.
It works on 1000W power and is ideal for cooking a wide variety of dishes ranging from chocolates and pasta to poultry. The cooker is safe for longer operations due to its waterproof design and stainless steel tube. It weighs 2.14lbs and measures 5.2 x 3.5 x 13.5".
Pros
Easy-to-read instructions
Easy to use
Operates silently
Requires no supervision
Cons
Temperature control may not be effective in the long-term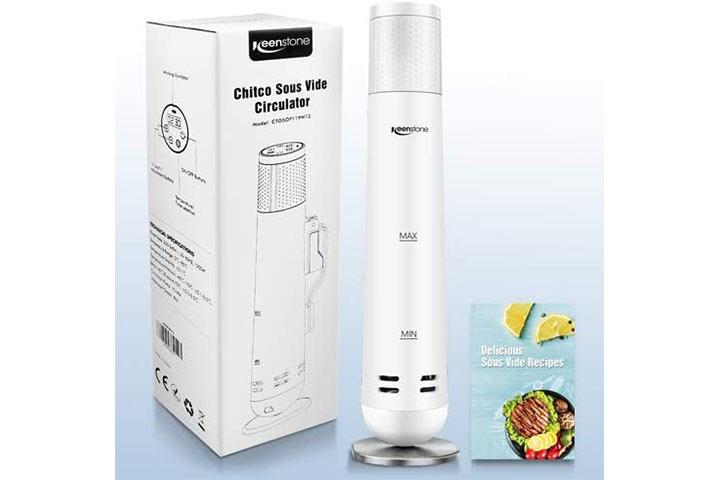 The ultra-quiet, stainless steel, and fully automatic Keenstone Sous Vide Cooker is designed with a digital touch screen and a timer adjustment. It has a wide range of temperatures from 77°F to 211.8°F with a control time of 99h 59mins. The digital control panel is accurate to 0.18°F, and the cooker is of 1200W power.
It features an adjustable clamp and a 360° directional circulator that takes only 15 minutes to heat 10L water at 140°F. The cooker comes with a free recipe book and a 24-month manufacturer warranty. It weighs 2.86lbs and measures 14.25×4.29×4.21in.
Pros
Easy to use
Cooks accurately
High-quality heating element
LED screen display
Cons
May break after prolonged use
May be difficult to set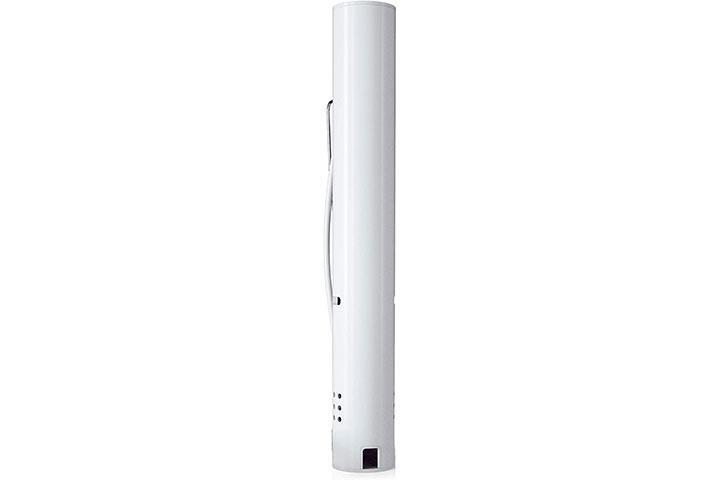 The Rodoni professional cooker is designed with a sleek and slim body made of stainless steel. Its digital control panel offers a temperature range of 32° to 203°F and time control of up to 99h 59mins. The temperature is accurate to 0.18°F and is of 1000W power. It measures 15.3×5.2×3.7in and weighs 2.29lbs.
Pros
Cooks accurately
Operates silently
Easy to operate
Easy to clean and dry
Cons
Does not come with instructions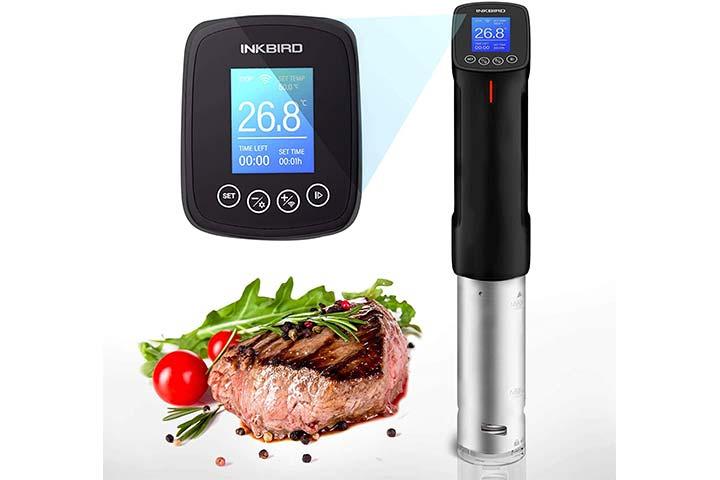 Inkbird's sleek cooker helps you attain perfection every time you cook. It is designed with a WiFi feature that operates it with ease from any corner of your house. It offers a precise temperature ranging from 77° to 210°F, accurate to 1°F. There is a directional pump that swirls the water 360° for uniform heating.
It works on 1000W power and is made from stainless steel for easy cleaning. It takes 99h59mins to cook and alerts when the water level reduces below the minimum. This makes it easy for you to maintain a consistent temperature by maintaining water levels. The sous vide cooker comes with a one-year warranty, weighs 3.32lbs, and measures 17.52×5.08×3.58in.
Pros
Set-up is easy
App is easy to use
Accurate
Operates silently
WiFi feature works well
Cons
Supports only 2.4GHz WiFi network
Not waterproof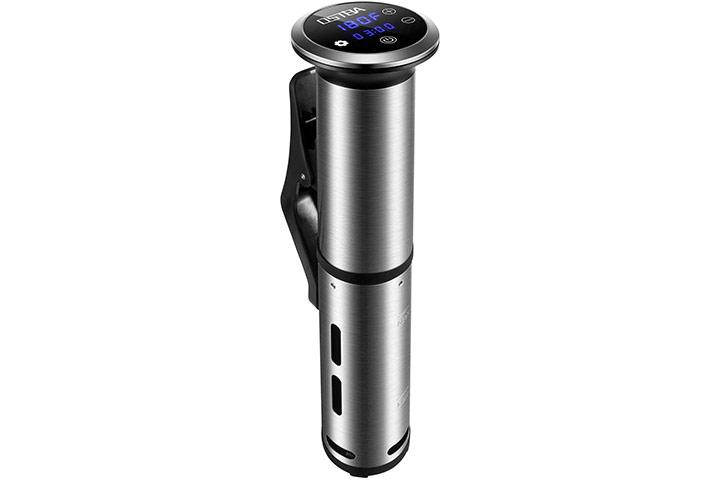 The Ostba Sous Vide Cooker is powered with 1000W power and is equipped with an LED digital display and timer control. The control panel can make the temperature accurate to 0.1°C with temperatures ranging from 32° to 194°F and time control of 99h 59mins. It is designed with an easy-to-clean stainless steel tube.
The cooker features a low water level protection and stops working automatically once the water goes below the minimum level. There is a feature of changing the temperature unit from Fahrenheit to Celsius as per your preference. It comes with a two-year quality warranty and a free recipe cookbook. The product measures 16.14×6.46×4.33in and weighs 3.3lbs.
Pros
Waterproof
Easy to use and attach
Easy to clean
Low maintenance
Cons
Clamp may be fragile
Does not have WiFi or Bluetooth functionality
Switching the temperature units may be a hassle
May be difficult to program
How To Choose The Right Sous Vide Machine?
Here are some factors to keep in mind while buying a sous vide machine. 
Type: Sous vide machines are available in two types:
Immersion circulator: A standalone device that has to be clamped to a pot and used.
Sous vide or water ovens: It is equipped with an inbuilt heater and a cooking container for slow cooking. 
Water capacity: The capacity of the cooking container should be around 20-22L. The more the capacity of the container, the better it is. 
Wattage: Higher wattage ensures quick and powerful heating in less time. Usually, a sous vide is equipped with 700W power. 
Temperature range and stability: The wider the temperature range, the more versatile the product is. Sous vide machines of up to 200°F temperature are available with a variance of 0.1-1°F. It is important to have a low variance of accuracy since delicate food items such as eggs are sensitive even to minor temperature fluctuation. 
Control board: Timer, digital LED display, touchpads, WiFi, and Bluetooth facility are some of the features in the control board of the cooker. Look for the control board with multiple features, a clear display, and simple features. 
Ease of use: Ease of use is an essential factor to consider before buying. A complicated device could be tedious and may lead to misleading instructions and cooking outcomes. 
Price: Have a pre-decided budget before you plan to explore the sous vide machine varieties. Finalize one based on your requirements and your budget.
Frequently Asked Questions
1. What foods can you cook in sous vide machines?
The sous vide machine allows you to cook poultry, eggs, seafood, beef, vegetables, and chocolate. It retains the juiciness, moisture, and tenderness in your food and can be used for slow cooking various dishes.
2. How big of a sous vide machine is needed?
Whether it is a water oven or immersion circulator, the size of the container is of prime importance, so check its features. The size of the sous vide machine itself should not be a concern. Check the water capacity, cooking temperature range, and ease of use of the container.
Sous vide machines can transform any amateur cook into a skilled chef by easing the process of precision slow cooking. They help maintain a consistent taste, retain all the minerals, vitamins, and juices of the food. The tenderness, uniform cooking, and temperature control features make it ideal kitchen equipment. We have carefully listed the best sous vide cookers with descriptive details and respective pros and cons. Go through our compilation to choose your favorite product.