Whether you like running, swimming, or cycling, sports watches can help you perform your daily activities effectively. By wearing a sports watch, you can look stylish and maintain a healthy and active lifestyle. You can use a high-tech sports watch that tracks your heart rate or makes calls, or you can choose an inexpensive watch that only times your laps.
If you aim for a healthy and active lifestyle, wearing a sports watch may be the right choice. Sports watches are available in different shapes and sizes. Browse our list of the best sports watches to get the best product available in the market.

Top Products From Our List
11 Best Sports Watches
Suunto's sports watch tracks both the weather and the sun for you. It comes with weather trend graphs and storm warnings. The sports watch can display sunrise/sunset times in more than 400 locations, making it easy for you to plan your activities. It comes with an altimeter that can display the current elevation, ascent, or descent. The watch also records sessions and has traditional watch functions such as dual time, date display, and an alarm.
Pros:
Inbuilt compass
Storm alarm
Inbuilt altimeter
Weather indicator
Cons:
With an acrylic screen and a high-grade rubber band, the Palada sports watch provides a comfortable fit for your wrists. You can use the watch for indoor and outdoor activities, including running, climbing, and fishing. It comes with a fashionable and sporty dial design, giving it a military-style appearance. The large digital display can help you see the time clearly during the day and night.
Pros:
Waterproof
Multifunctional
LED backlight
Easy to handle
Cons:
Offering style and performance, the Armitron sports watch ensures you stay at the top of your game. It has a built-in stopwatch and an alarm and can display dual time zones. It has a 9.0 GPI, which includes an LCD to show seconds, date, day, and accurate time. Armitron sports watch is an excellent option for keeping regular exercise records to maintain a healthy and active lifestyle.
Pros:
Waterproof
Durable
Dual time zones
Backlight
Cons:
May require a change of batteries frequently
MJSCPHBJK sports watch comes with a silicone rubber band and a large dial, making it comfortable to wear and extremely trendy. It has a dual dial system that supports two different time zones. The sports watch can display the date and day and also has a built-in alarm and stopwatch.
Pros:
Water-resistant
Shock resistant
LED Display
Dual time zone
Cons:
Casio sports watch combines sports design with earthy and neutral colors. It has a black nylon strap and buckle clasp for comfortable wearing. It is made of a solid resin case and a black stainless-steel bezel with brown screw details. The mineral crystal window protects the watch from scratches.
Pros:
Water-resistant up to 100m
Backlight with afterglow
Date display
Three-hand analog
Three-year battery life
Cons:
The CKE sports watch adopts a fashionable sporty design and is suitable for both indoors and outdoors. It has a large dial and numbers with built-in lights to display accurate time even in the dark. The sports watch is ideal for men engaged in sports. You can use the watch when running, climbing, fishing, or participating in other adventure sports. CKE sports watch also includes an LED backlight function, making it suitable for various sports activities and daily use.
Pros:
Water-resistant
Shock resistant
LED display
12/24H Time modes
Cons:
May not work in extremely hot or cold temperatures
With a high-quality battery, the Smael sports watch adopts Japanese double movement. This is a robust sports watch that can display precise and accurate time and is the perfect combination of beauty and function. The watch is waterproof up to 50m and can be used in cold water. It is suitable for both formal and casual wear and has multiple functions to make your daily activities easier.
Pros:
LED backlight
Hourly chime
Stopwatch
Waterproof
Cons:
Marathon sports watch has two-time zone settings, a 24-hour stopwatch, an Indiglo night light, and an option to set a daily alarm. The sporty design can withstand splashes without causing any damage. The sports watch is equipped with an adjustable 12mm resin strap that fits comfortably on the wrist.
Pros:
Five-year battery life
Durable acrylic lenses
Night light
Cons:
Water-resistant only up to 50m
LYMFHCH sports watch adopts a stylish dial design with a military-style appearance. It has a smooth band and is easy to use anywhere. The large dial and numbers of this watch have night lights, enabling you to see the time even in the dark. The outdoor sports watch is the right choice for all ages, especially men engaged in sports.
Pros:
EL light
Shows date
12/24H clock
Stopwatch
Transparent resin mirror
Shock-resistant
Cons:
Apart from being beautiful and minimalistic, the Wishfan sports watch for women is  also lightweight and multifunctional. Its high-grade plastic band gives you a comfortable wearing experience, and the large number display helps you read the time easily. The window is made of acrylic mirror and reinforced with stainless steel bottom, making the watch durable, while the Japanese quartz movement ensures precise timekeeping.
Pros:
Seven colors backlight
Chronograph
Week and date display
Lightweight
Waterproof up to 50m
Cons: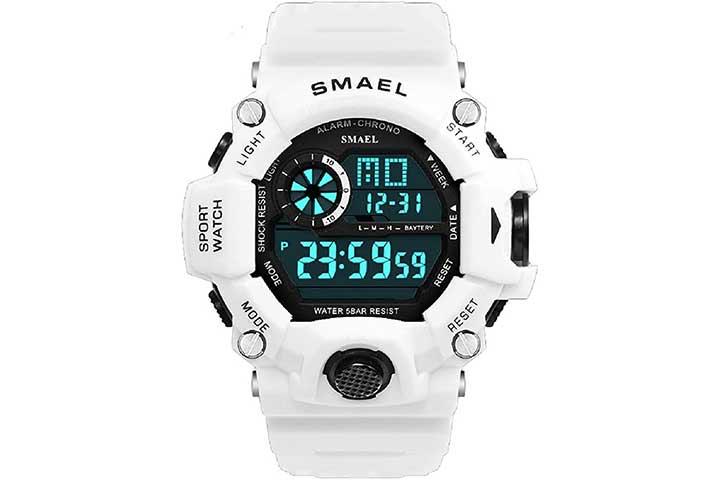 With its cool appearance, the KXaito sports watch is ideal for everyday wear. The sports watch has a high-quality watch band with a reinforced resin, making it ergonomic and comfortable to wear. The sports watch includes a high-hardness glass mirror that is scratch-resistant and waterproof. The analog and digital dual-time displays support two different time zones. The Japanese quartz movement ensures precise and accurate time-keeping.
Pros:
Durable
LED backlight
Casual watch design
Scratch-resistant
Military sport design
Cons:
May not be scratch-resistant
How To Choose The Right Sports Watches?
When looking for the best sports watch to buy, keep the following points in mind.
1. Accuracy
When buying a sports watch, never be satisfied if the watch displays incorrect data and does not show accurate time or other activity records.
2. Battery life
Some watches have excellent battery life, making them durable. It is always a good idea to buy a durable and robust sports watch with long battery life.
3. Additional features
Different brands offer different functions and smartwatch modes in their sports watches. Some sports watches have a built-in backlight, while others have a built-in chronograph. Choose a sports watch that offers the best functions.
4. Aesthetics
You can buy sports watches for their fitness benefits, but also to make a fashion statement. Sports watches are a great way to style yourself aesthetically and have a stylish appearance.
A sports watch is the best device to lead a healthy and active lifestyle. Wearing it can help you record your daily activities. Pick the best sports watch from our list and improve your fitness levels while sporting a stylish look.
The following two tabs change content below.