Everyone loves animals, many like keeping pets. But not many enjoy the cleaning process after their pets have created a mess. There is fur, dirt, germs, mud, and all other possible kinds of mess on the floor and hardly any time to clean. What adds to the issue is when you also have babies and kids in the house who are always having direct contact with the floor. In such cases, it may not be possible to manage everything at once.
But what if it was? What if you could take care of your child, look after your pet, clean the house, and go to work too? This is a dream come true for many. It is now possible with these 13 best steam mops that will help you save energy and time and ensure a spic and span space.
13 Best Steam Mops Of 2021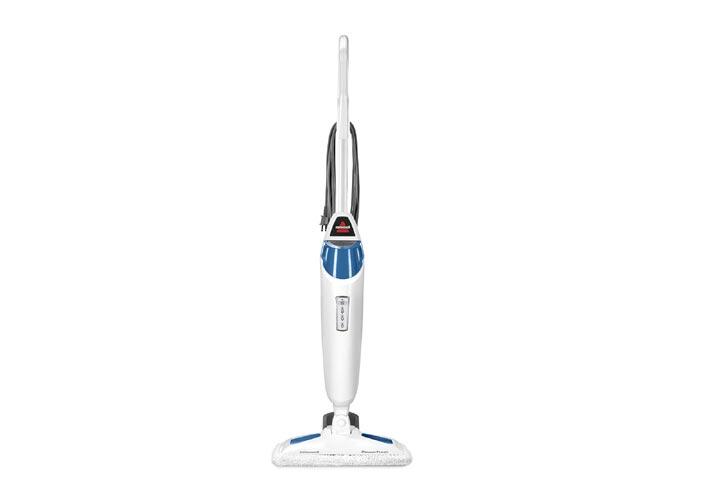 This Bissell PowerFresh Deluxe Steam Mop helps get rid of sticky mess and sanitizes the floor by killing 99.9% of germs. The product has received thousands of positive reviews and promises to offer the best. This mop is affordable and can be used on ceramic, hardwood, marble, linoleum, and granite floors. It features a fragrance disc that makes your house smell nice and fresh. It can clean tough mess easily no matter how dark or dirty it is.
Features:
3 levels of steam
Light and easy to steer
No harsh chemicals used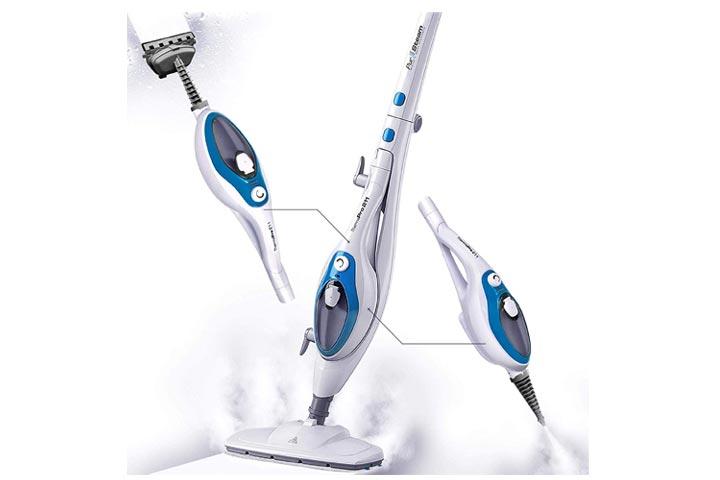 This premium quality PurSteam World's Best Steamers 10-in-1 steam mop cleaner is fast and highly effective. It never fails to leave single dirt; it can clean everything. This steam mop will help you clean your house more quickly and with more ease. It works as a carpet cleaner, steam mop, steam cleaner, and handheld garment steamer window. It can also clean mirrors, glasses, and much more. It is safe to use for houses with children and pets as it sanitizes without the use of harmful chemicals. It is so efficient that it can clean the floor, making it look as good as new. It can sweep hardwood floors, tiles, vinyl, marbles, porcelain, and ceramic tiles too. The best part is that it works well just with tap water, thus preventing the need for expensive detergents.
Features:
Kills 99.9% germs
Lightweight and maneuverable
2-year warranty
3 adjustable modes to cater steam level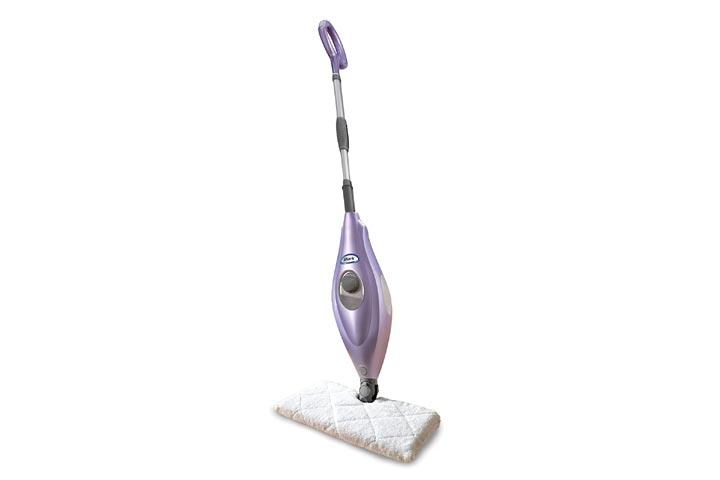 Transform water to super heated steam using this Shark Steam Pocket Mop that takes only seconds to remove dirt and sticky mess on hardwood floors. It comes with a mop head that can be used on both sides, making cleaning simpler and faster. It provides on-demand steam and 99.9% sanitization too. This product does not require any harsh chemicals to clean the floor. This mop comes with 2 washable and reusable pads that can easily be maintained.
Features:
Filling flask
Washable all-purpose pocket
Rectangular mop head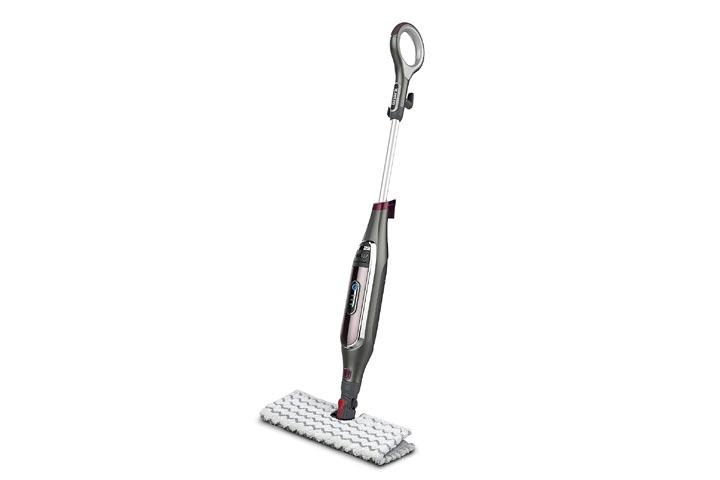 This Shark Genius Pocket Steam Mop allows you to clean your dirty floors touch-free! Get a fresh-looking clean floor without going through the trouble of handling damp and dirty pads. One of the best mops for cleaning hard floors, it features double-sided pads with high absorbent properties that can make the area spic and span. This mop is affordable and  can save your time and effort.
Features:
Washable pads
3 steam control settings
Steam blaster
Easy to use
Large water capacity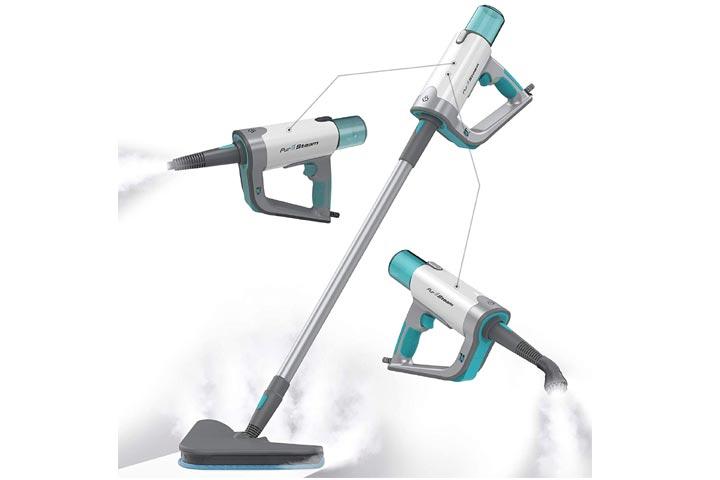 This PurSteam 12-in-1 Steam Mop Cleaner is a lightweight, affordable system with a ton of accessories and functions. With a capacity to hold 250 ml water in its water tank, it takes only about 15 minutes to clean and 30 minutes to get heated. This steamer comes with the carpet glider attachment installed on the mop. The convertible nature of this steamer allows it to tackle all kinds of mess — grout can be scrubbed, dusty windows can be cleaned, and kitchen and bathroom floors can be washed too. This steamer has a wide mop head that covers a huge area at once and a three-steam setting system that can be controlled based on the task that needs to be done. Some surfaces require more steam while others don't, and this can easily be controlled in this steamer.
Features:
Versatile
Kills 99.9% germs
2 years warranty
Comes with two reusable, washable mop pads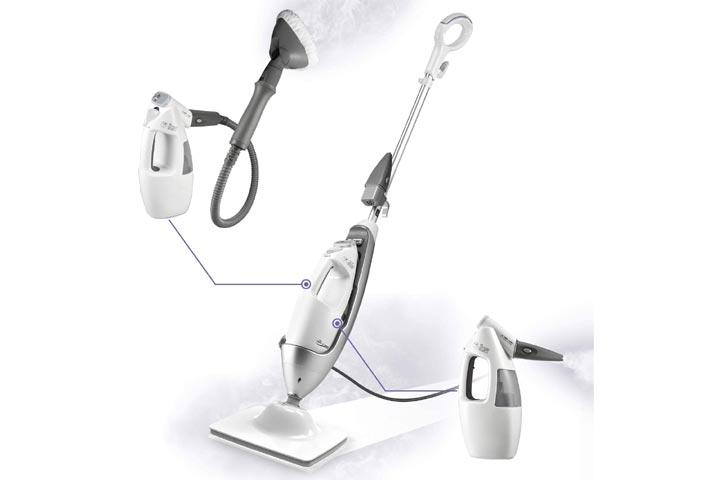 This LIGHT 'N' EASY steam mop has the ability to control the amount of steam released depending on the level of dirt and the surface to be cleaned. It works well on hard floors and releases powerful steam when kept slanted. It plays a multipurpose role by cleaning garment, removing the wrinkles on it, refreshing the upholstery, and deep cleaning washrooms and kitchens. It works well on marble, tile, ceramic, stone, laminate, vinyl, and wooden flooring. The mop operates at 212°F and can easily remove sticky mess and stains while drying faster. It works well with distilled and tap water hence making it safe to use in houses with pets and babies.
Features:
Smart switch
1-year warranty
Cleans efficiently and quickly
Does not require harsh chemicals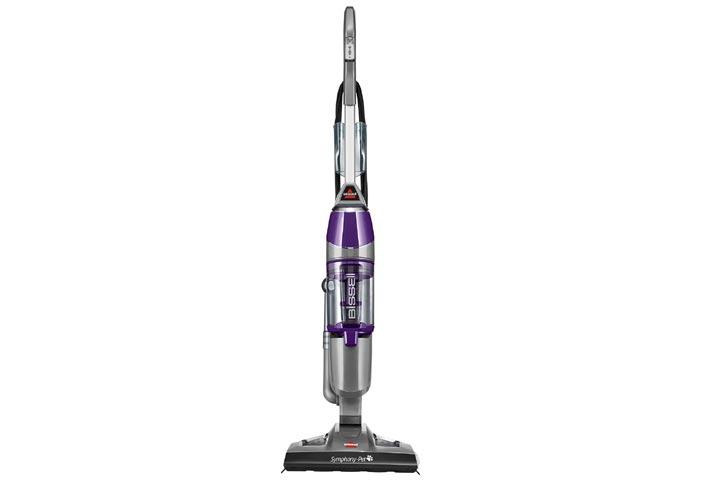 We introduce you to the perfect mess cleaner that will make life simpler even with pets around! This Bissell Symphony steam mop cleans urine stains, fur, and other possible dirt your pet can make. This cleaning machine vacuums and steams the floor at the same time, hence saving time and energy.
Features:
Detachable trays
Hands-free emptying system
Includes disposable pads
Picks clumps of fur on the floor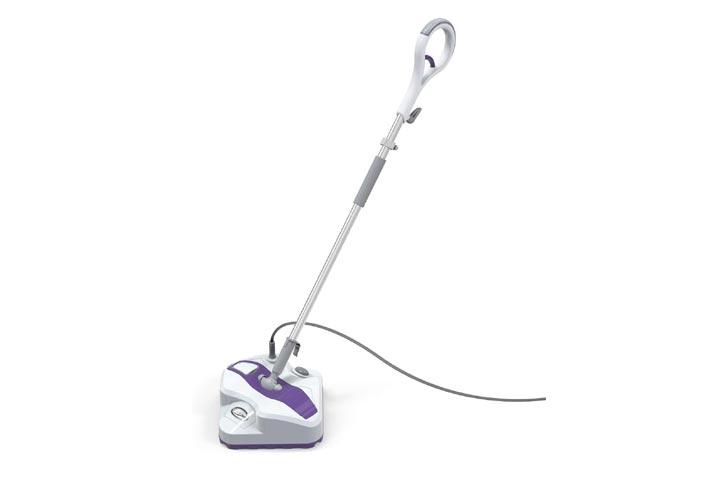 This LIGHT 'N' EASY Electronic  Floor Steamer has a unique square steam mop that can easily swivel and reach corners and edges for a quick cleanup. All it takes is a touch of a button for the steam to get released. This steamer is easy to operate and takes only 20 seconds to use it initially. With its high temperature, it will help remove dirt and sticky mess. It requires tap water for cleaning and is safe for children, pets, and yoga lovers. This steamer is fit for use on all types of floors like tiles, hardwood, laminate, carpet, and vinyl.
Features:
Quick-release cord
Intuitive Smart Switch
Adjustable steam settings
Large bottom tank helps steam penetrate better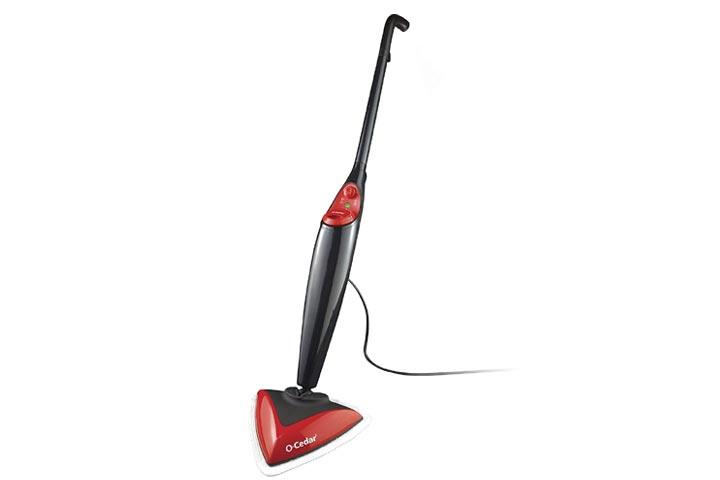 O-Cedar Microfiber Steam Mop can make your laminate floors look as good as new. Laminate floors can become sticky quickly, so using a steam mop is a great way to clean up the mess. This steam mop is an affordable cleaning tool and is easy to use as well. It takes only 20 seconds for the steamer to get heated. The microfiber pads can be reused up to 25 times while the adjustable steam level can kill 99.9% of bacteria. Now, get a streak-free floor in just a minute or even less!
Features:
1 extra refill
Lightweight
Snap-on glider
Washable pads
Adjustable steam levels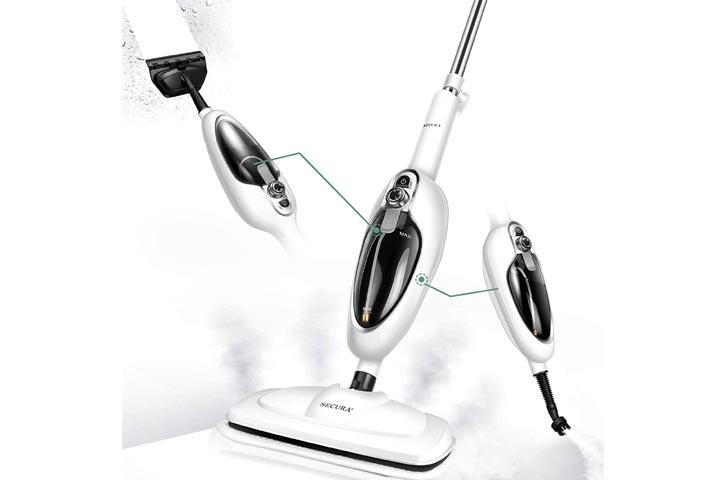 This Secura steam mop works at a high temperature and uses its hot steam to deep clean and eliminate 99.9% of bacteria and dust. It does not release any harsh chemicals and takes only 20-25 minutes to warm up. It has a high-capacity water tank and is pet and child-friendly as well. This floor steamer uses a microfiber pad to trap dust particles in it. It is suitable for different floors such as laminate, hardwood, tile, carpet, granite, and many more. This steamer comes with a carpet glider, flexible mop head, and an adjustable steam setting.
Features:
3 microfiber mop pads
2-year warranty
Functional accessories
Flexible angle design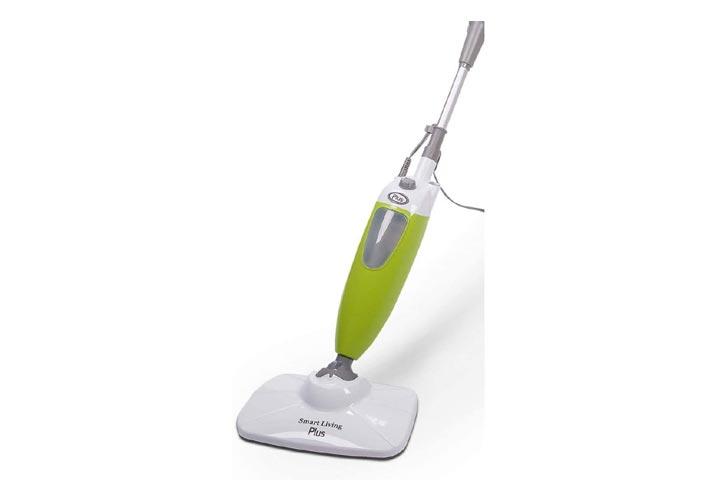 This Smart Living Steam Mop Plus can clean hard surfaces without releasing any toxic chemicals. This mop cleans at high temperature steam that reaches up to 110°C in no time. It not only cleans hard floors but tiles, vinyl, and wood laminate as well. All you have to do is attach a reusable microfiber pad and allow the steam function to clean any surface that needs sanitization.
Features:
Comes in a bright color
Microfiber pad
Uses distilled and filtered water
Mop head can be swivelled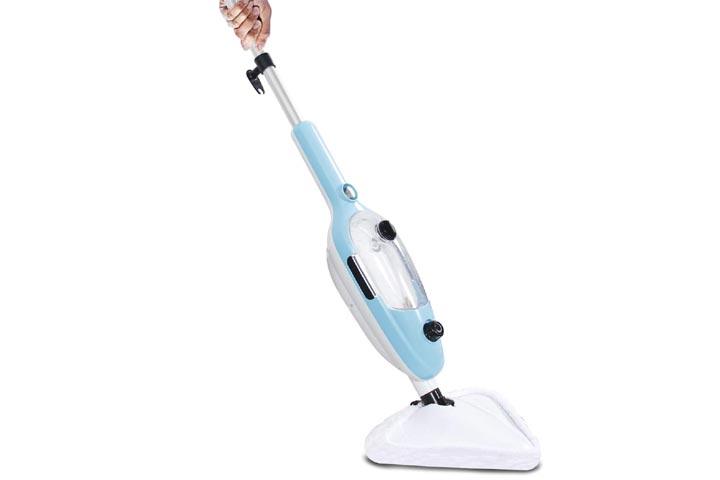 This LINLUX Powerfresh steam mop does natural deep cleaning without using any harsh chemicals. It easily dissolves stains and removes residues with just water. It also kills 99.9% of germs, making the floor clean and safe for babies and pets. It not just cleans floors but can be used as a garment steamer, steam cleaner, and carpet cleaner. The triangular head of the steamer allows it to reach the corners and areas where it is usually hard to clean. This mop works well on wood, laminate, and vinyl floors. It is user-friendly and is hence considered to be one of the best cleaning products.
Features:
Lightweight
Foldable handle
Water level indicator
180 degree swivel triangle head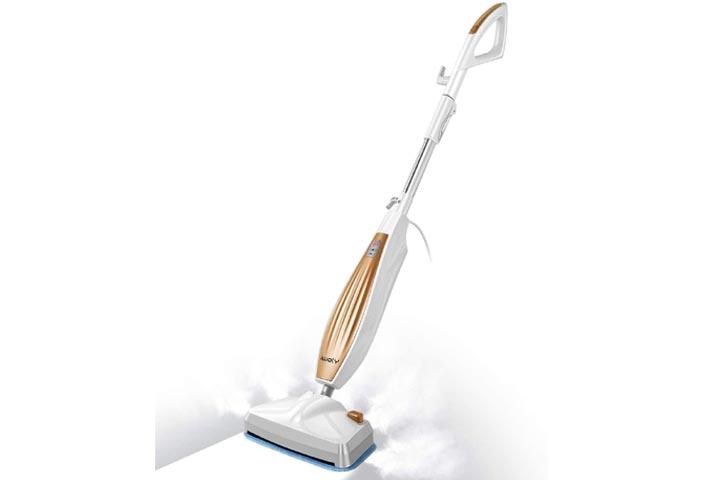 This iwoly steam mop works well on tiles and hardwood floors. With a high temperature range of up to 120°C, this powerful mop activates concentrated steam to remove stubborn stains and dirt using the steam blast. This floor steamer comes with a push-button present on the steam mopping head, which provides good steam control and optimizes the cleaning efficiency of the mop. It is user-friendly and safe for small kids, pets, and yoga lovers.
Features:
Eco-friendly
Standby mode
Convenient storage
Features a hook to wrap the power cord around
Here are a few things you need to consider when purchasing a steam mop.
How Do Steam Mops Work
A steam mop works by heating the water inside a chamber, which then gets dispensed as steam. It comes with a reusable microfiber pad or a disposable cloth attached to the head that helps to disperse the moisture across the floor. As the steam penetrates and softens the grime on the floor, the pad picks it up and traps it. The cloth can then be washed and reused.
It is an all-in-one system. The pad is the only part of the mop that needs to be changed occasionally. A steam mop is more comfortable to store as there is no water drippings, hence no dirt. The steam mop can sanitize a place within no time. The mop can reach high temperatures to kill the germs on hard surfaces. All you have to do is swipe the mop on the floor and let the steam do its work.
How To Choose The Right Steam Mops
You need to understand which steam mop will suit you the best. The points below will help you make a wise purchase.
Types: There are 2 main types of steam floor mops. One that produces steam on-demand, where you have to pull a trigger or press a button when you want the steam to release, and the other that releases steam continuously. Once it heats up, the steam keeps pumping out. The kind of steamer you choose is based on your choice. When it comes to stubborn spots that don't budge easily, steam on-demand mops are more convenient to use.
Level: Different models of mop steamers come with varying levels of steam. The level of steam varies and depends on the fabric used for cleaning. Some materials are delicate and need a low level of steam while others are extra durable and have high steam levels.
Features: One should look for easy-to-fill water tanks that are convenient to remove. The steam mop should have a chamber that can move quickly. The length of the cord should be long enough for you to reach the areas you want to clean. You also need to keep extra cleaning pads, as the same cannot be reused several times.
You no longer have to worry about the mess your child makes or the greasy stain you have been struggling to remove since the time it has been spilled. Getting a clean floor is only a steam away. Fill up your mop's water tanks, allow it to heat, and you are good to go. Eco-friendly and efficient, here are the best steam mops at your service to make your life simpler.