A stockpot or a soup pot is essential cookware used for making soups, broth, or stocks, for brewing, and cooking pasta in large batches. The pot is plain and wide with a flat bottom, and available in various capacities to hold plenty of food for a long time.
In this post, we share a list of the best stockpots, and a guide to help you pick one based on your needs and budget.

Top Products From Our List
15 Best Stock Pots
The Cook N Home Stainless Steel Stockpot is made of stainless steel and has a mirror-like finish. It features an aluminum bottom that distributes the heat evenly and also prevents hot spots. The tempered glass lid, the riveted handles on the lid and pot are the added features. This 12-quart stockpot works well on a variety of stovetops including electric, gas, halogen, ceramic, and induction. You can also use it for canning and jarring.
The eight-quart stainless steel stockpot from Farberware is known for its quality, durability, and traditional styling. The full cap base with a thick aluminum core surrounded by stainless steel offers even heating on a stovetop. Phenolic handles and the bell-shaped lid provide a good hold and give the pot a classy look. The easy-to-clean pot is dishwasher-safe and oven-safe up to 350°F and comes with a lifetime warranty.
This six-quart Avacraft stainless steel stockpot could be one of the best options out there. It has a matte finish interior that prevents scratches and a mirror finish exterior that gives it a shiny look. It also has easy measurement markings that eliminate the need to use measuring cups and spoons. The glass lid with straining holes makes it easy for pouring soups. It performs well on electric, gas, and ceramic cooktops, as well as induction stoves. Resistant to rust, stains, cracks, and corrosion, it is dishwasher-safe, and refrigerator-friendly too.
The Cuisinart six-quart stock pot comes with a tempered glass lid that fits tight to lock in moisture, nutrients, and the texture of the food. The PowerBond base heats the pot quickly and distributes the heat evenly while removing hot spots. The CoolGrip stick handles, made of cast stainless steel, give a good grip and stay cool even when the vessel is hot. The stockpot is oven-safe up to 500°F, while the lid can withstand heat up to 350°F. It is durable and also dishwasher-safe, freezer-friendly, induction-ready, and comes with a lifetime warranty.
Regarded as one of the highest-quality stockpots, this one is certified by the National Sanitation Foundation or NSF. This 12-quart pot has a stainless steel body, and a heavy-duty, three-ply base with two layers of stainless steel that surrounds the thick aluminum core. The pot absorbs heat rapidly and distributes it evenly for proper cooking. It is compatible with induction cookers.
If you want a large stockpot for outdoor cooking or camping, you may opt for this 62-quart Bayou Classic stockpot. It includes a basket to boil or steam vegetables, seafood, peanuts, and more. This can also be used for making stews, soup, cooking beans, and rice without a basket. Basket is set around 3.25 inches above the base for proper steaming. This is a stable and sturdy cooker that offers BTU power to heat the contents in it quickly.
The Tramontina Heavy-Gauge stockpot is part of a gourmet collection engineered and manufactured for quality, style, and beautiful design. The large pot is durable, well-built, and sturdy, and could be used to cook large family meals, soups, spaghetti, broth, and even cheese. The stainless steel riveted handle is ergonomically designed, and the glass lid is resistant to heat and shattering. It needs to be washed by hand only and comes with a lifetime warranty and NSF certification.
Manufactured in India, this Imusa stockpot is made of stainless steel and is known for its versatility. The large pot can be ideal for large families and is available in different sizes. Used as both a cooking and serving vessel, it features double-sided metal handles for an easy grip. The matching lid locks in moisture and flavor, and the pot is ideal for making soups, stews, lobsters, corn cob, and more.
These beautiful stockpots are available in pretty colors of Marine Blue, Red Gradient, and Orange Gradient. Each pot has a 12-quart capacity that could be used to prepare large family meals. Constructed from durable steel with enamel exterior, it adds a refreshing feel to the kitchen. Handles offer a confident grip while transferring the pot from one area to another, and a snugly fitting lid keeps in the moisture and heat. Easy to clean and resistant to stains, it is safe to use in the oven and on induction stoves.
The eight-quart stockpot from Cooks Standard is made of stainless steel and has an aluminum core at the base for proper heat distribution. The handles and the lid are riveted securely for a firm grip. It is a spacious, large pot that can be used for cooking in large batches and is ideal for canning, stewing, and jarring. The lightweight pot is compatible with any stovetop, including induction. It is both dishwasher-safe and oven-safe up to 500°F.
The Emeril Lagasse stockpot is ideal for cooking stocks and soups in large batches. It features measurement markings that make it easy to cook in the right proportions. It can be used on conventional stovetop, induction, and oven. The tempered glass lid view helps monitor cooking, and it also prevents moisture from evaporating. It has straining holes that make draining easy without having to remove the lid completely. The riveted stainless steel handles give a comfortable grip. The dishwasher-safe stockpot comes with a one-year warranty.
You can go beyond simple broths and soups to make flavor-filled delicacies with this ExcelSteel stockpot set. It includes three pots of 8QT, 12QT, and 16QT capacities, useful when cooking for groups. Constructed with lightweight yet sturdy stainless steel material, it is durable, easy to clean, and dishwasher-safe. The well-fitting lid locks in moisture and temperature and the riveted handles add to extra stability and safety.
With a sleek, curved design, this Calphalon Contemporary stockpot adds to your kitchen's stylish aesthetics. The pot is created for easy cooking, maximum performance, and easy cleanup. The aluminum core sandwiched between two layers of steel makes it highly durable. It offers high conductivity and even heating performance. The brushed stainless steel exterior makes it an ideal option for browning, sautéing, and searing foods. It can be used in the broiler and oven and is intended for a variety of stovetops.
This is another enamel-on-steel Paula Deen stockpot that adds a modern twist to the kitchenware. The speckled exterior gives a vintage appearance that works well with the other Paula Deen products. It is available in variants of red speckle, lavender speckle, and gulf blue speckle. The cream-colored interior is resistant to stains and easy to clean. Sturdy handles provide a firm grip, and the snug-fitting lid keeps the food moist and flavorful. It can be used on all cooktops and induction stoves too.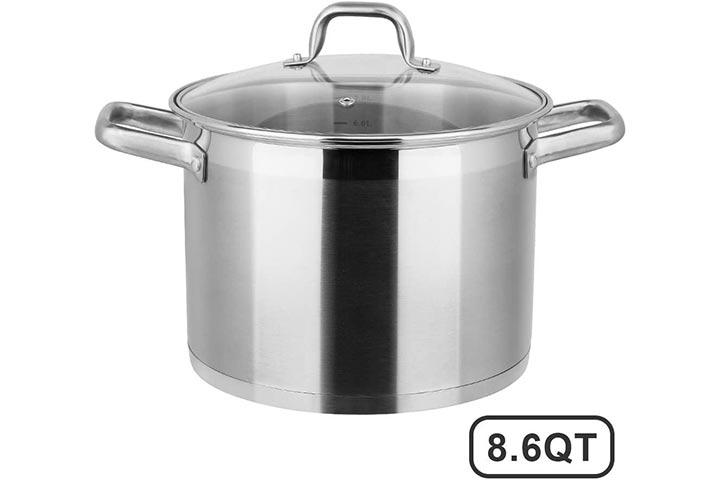 The Duxtop Professional stockpot is made of commercial-grade stainless steel and aluminum-encapsulated bottom that is built to last long. The handle is ergonomically shaped with an anti-slip finish and riveted to the pot for additional durability. This is suitable for various stovetops, including gas, electric, infrared, ceramic, and induction. It is oven-safe, freezer-safe, and dishwasher-safe.
How To Choose The Right Stock Pots?
Here are the basic features you should look for in a stockpot that suits your cooking needs.
Capacity: Stock posts are available in varied capacities ranging from below ten to over 100 quarts. Consider your family size and the need for it. Purchase a model that saves both time and money.
Surface: Consider those with three-ply stainless steel or aluminum core material, which heat up quickly and evenly. If you prefer cooking dishes, then consider those that have a nonstick surface and are easy to clean.
Design: Look for features such as tight-fitting lids that prevent evaporation of moisture and nutrients. Also, check if it is spacious and has secure handles that let you pick it up comfortably.
If you love cooking, a high-quality stock pot will be a good investment. A good pot can cook large meals thoroughly and efficiently. Go through the list, compare the features, and read the reviews to purchase the one that serves your cooking needs.
Recommended Articles: