Stress balls are specialized toys designed to let users squeeze and play with them. It is considered effective in stress relief for both adults and children. The best stress balls for kids could help them destress and regain their focus. Additionally, stress balls are also great at improving the strength of the fingers and arms.
Stress balls come in various options. In this post, let's find the best stress balls for your little one.
9 Best Stress Balls For Kids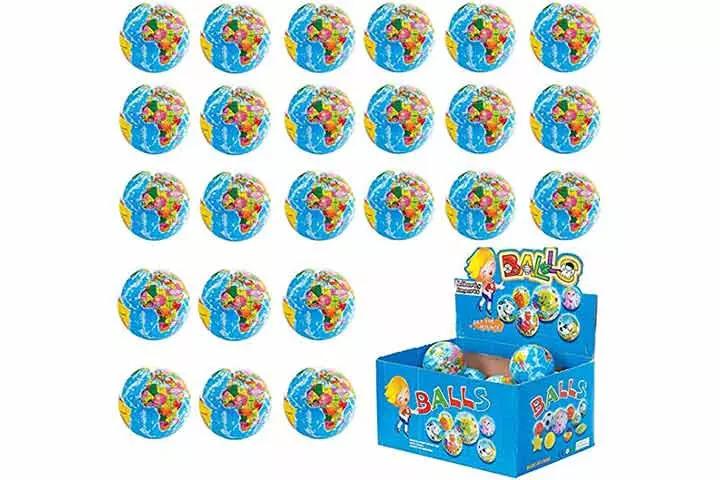 This is a set of 24 stress balls with the image of the globe printed on it.
Features:
The ball is 2.5 inches in diameter.
The globe image is attractive and a fun way to teach kids the world map.
Many countries and water bodies are labeled, which makes the stress ball interesting.
It is neither too soft nor too hard, just the perfect squeeze material.
It can help relieve stress and strengthen grip.
It can be used as party decoration, party gift, or even as a game prize.
Children who fidget a lot may find it easy to control their restlessness by squeezing this stress ball.
Features:
The oval shape could make it more ergonomic for some hands.
The vibrant colors make the set attractive for kids.
It is made of thermoplastic rubber (TRP) that is skin-safe.
It is tear-resistant and free of toxins.
Easy to clean with mild soap and water.
You can pick these stress balls in three sizes, namely extra small, small, and large.
It is suitable for kids above five years of age.
Cute smiley faces have the power to make little kids smile.
Features:
It is a pack of 12 bright-colored, smiley-faced stress balls.
Each ball has a diameter of 2.5 inches.
The squeezing action can release muscle tension and may help a child focus better.
These tiny translucent balls are squishy and easily fit in the palm.
Features:
The product comes in a set of three balls, each of a different color, to indicate the different levels of softness.
Blue ball is the softest. Yellow ball is slightly soft. Lavender ball in strong.
It can help relieve stress and muscle tension.
The colorful stress balls can grab the attention of the child and keep them occupied.
Regular play with stress balls may help strengthen grip.
Little kids love seeing smiley faces, and these smiley face stress balls can entice a child with its neon yellow color.
Features:
Each ball has a diameter of two inches.
These stress balls can be quite entertaining to play thanks to the smiley face and the bright color.
Squeezing a stress ball can help keep the child preoccupied.
It is suitable for kids aged three years and above.
Children love playing with glowing objects. This set of three LED stress balls is likely to make them quite excited.
Features:
These LED stress balls come in a pack of three balls, and each ball features a different color.
A mesh on the outside of the ball helps create a grapes-like look when the ball is pressed.
Tapping the stress ball or squeezing it tightly activates the LED light.
The LED light remains inside the ball, and keeps changing colors constantly.
What can be more exciting than smiley stress ball? It is a set of emoji stress balls. This set contains a dozen of stress balls with different expressions that little kids will love to play.
Features:
It is available in a pack set of 12 balls. Each ball is three inches in diameter.
The expressions look similar to chat emojis, and this is likely to make it more fun to play with these stress balls.
It is an ideal choice option for a giveaway, party gift, and so on.
All balls are child-safe and non-toxic.
No matter how much your child squishes or squeezes this ball, it will not break open.
Features:
These durable thermoplastic rubber balls come in a pack of three with different colors. Each ball is 2.25 inches in diameter.
It is safe for kids as they are free from phthalates, latex, and BPA. They are hypoallergenic and non-toxic.
It is tear-resistant, stretchable, and non-breakable.
It can help calm nerves and may improve concentration.
Kids love chocolate and candy assortments, so imagine how happy they will be on seeing an assortment of stress balls.
Features:
It is available in a set of 25 stress balls in varied shapes and colors.
Each ball is around two to three inches in diameter.
The shapes of the ball include a globe, starfish, and even a mini rugby ball.
It is suitable for kids aged three years and above.
Stress balls are fun-to-play toys for children and may offer some therapeutic benefits. It is ideal to pick stress balls that will keep your child engaged for a long time. Stress balls are toys worth considering due to the benefits you can derive from them.
So, which of these stress balls did you like? Do share your choice with us in the comments section below.
Why Trust MomJunction?
We have collated this list of the best kids' stress balls that help children destress and regain focus. They are also effective in strengthening a child's hand and finger muscles. Numerous users on various e-commerce sites have expressed that these balls are good quality and add the fun element with their features. We have also provided a brief description of each product, highlighting their features to help you make your pick easily.
Recommended Articles:  
The following two tabs change content below.

Lidiya
Lidiya holds a graduation degree in technology from the GITAM University and has over three years of experience in content writing. She uses her writing and strong research skills to bring out the most useful content to her readers. Her product articles on MomJunction reflect her knowledge in technology and present the information that the buyers need to make an...
more