Stress balls are specialized toys designed to let users squeeze and play with them. It is considered effective in stress relief for both adults and children. The best stress balls for kids could help them destress and regain their focus. Additionally, stress balls are also great at improving the strength of the fingers and arms.
Stress balls come in various options. In this post, let's find the best stress balls for your little one.
Who Needs These Stress Balls?
Any person feeling stress or anxiety can use these stress balls. Squeezing the stress balls with your palm helps relieve anxiety and decrease stress. A stress ball is also considered a therapeutic tool that helps people manage stress by following the physical act of rolling, squeezing, or tossing the ball. Many feel these stress balls help them stay calm and focused. These balls also help manage anger and frustration.
9 Best Stress Balls For Kids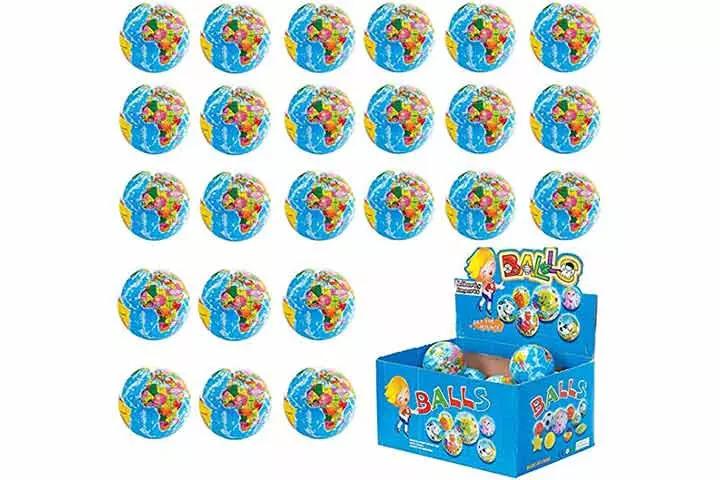 This is a set of 24 stress balls designed like a globe.
Pros
Measures 2.5 inches in diameter
Countries and water bodies are labeled
Not too hard or soft
Helps relieve stress and strengthen grip
Multipurpose
Attractive detailing
Cons
May have an unpleasant smell when new
May be slightly smaller than you expect
Children who fidget a lot may find it easy to control their restlessness by squeezing this stress ball.
Pros
Ergonomic oval design
Tear-resistant and toxin-free
Skin-safe thermoplastic rubber
Easy to clean
Vibrant colors
Available in three sizes
Suitable for children aged above five years
Cons
Might be sticky
May be slightly firm
Cute smiley faces have the power to make little children smile.
Pros
Measures 2.5 inches in diameter
Helps improve focus
Helps release muscle tension
Spongy and bouncy
Sufficient quantity
Cons
Might have an unpleasant odor when new
Coating may peel off
The bundle contains three stress balls of varying densities–soft, medium, and hard. The soft ball helps relax your muscles, while the others help strengthen and condition your finger grip, movement, and hand and finger muscles.
Pros
Tear-resistant gel core
Sleek, non-stick fabric
Helps alleviate symptoms of carpal tunnel, arthritis, and more
Hypoallergenic
Cons
May be bigger than expected
Stitching may be uneven
Little children love seeing smiley faces, and these smiley face stress balls can entice a child with their neon yellow color.
Pros
Measures two inches in diameter
Engaging for children
Helps relieve stress
Suitable for children aged three and above
Cons
May have an unpleasant odor when new
The set of ten stress balls is designed like the solar system and is suitable for fun learning and school projects. The balls are easy to use and can help calm your child down and reduce stress.
Pros
Flexible
Easy to clean
Easy to store
Suitable for adults as well
Cons
May be big for some
May not be bite-proof
What can be more exciting than a smiley stress ball? The set contains a dozen stress balls with different expressions that little children will love to play with.
Pros
Three inches in diameter
Attractive design
Child-safe and non-toxic
Multipurpose
Cons
May not be squeezable enough
May have an unpleasant smell when new
No matter how much your child squishes or squeezes this ball, it will not break open.
Pros
Measures 2.25 inches in diameter
Available in three colors
Helps improve concentration
Helps calm nerves
Tear-resistant and stretchable
Non-toxic and hypoallergenic
Cons
Might be sticky
May be scented
Children love chocolate and candy assortments, so imagine how happy they will be on seeing an assortment of stress balls.
Pros
Available in various shapes and colors
Measure two to three inches in diameter
Suitable for children aged above three years
Multipurpose
Cons
Sizing might be an issue
May not be very durable
How To Choose The Right Stress Balls For Kids?
Choosing the best stress ball for kids can be daunting, especially when many options are available. Consider the below crucial factors.
Material: Choose stress balls crafted from durable material that is soft for your child's hands. It should be smooth to ensure optimal comfort and fit in your little one's palm.
Resistance: Choose stress balls with good resistance, mainly if you focus on strengthening fingers, wrists, hands, and joints. A ball with adequate resistance can help strengthen the muscles, ease pain, and promote dexterity.
Sensory features: Consider a ball with appealing visuals and texture to stimulate sensory skills. It helps calm the nervous system, keeping your child relaxed and stress-free.
Benefits Of Stress Balls
Here are some of the benefits of using stress balls.
Help relax your muscles
Strengthen hand and wrist muscles(1)
Relieve arthritis pains in elders
Improve the sleep quality and pattern
Enhance concentration and creativity
Boost blood circulation
Why Trust MomJunction?
We have collated this list of the best kids' stress balls that help children destress and regain focus. They are also effective in strengthening a child's hand and finger muscles. Numerous users on various e-commerce sites have expressed that these balls are good quality and add the fun element with their features. We have also provided a brief description of each product, highlighting their features to help you make your pick easily.
References:
Recommended Articles: