You need the best stretch mark removal creams during and after pregnancy. Stretch marks generally appear during and after pregnancy owing to the contractions and expansions of your skin and the weight loss and weight gain you experience.
However, you can reduce them. One of the best ways is to use the best creams formulated to reduce stretch marks. Keep scrolling as we have compiled some of the best ones that are gentle on your skin and made of safe ingredients.
Top 13 Stretch Mark Removal Creams
Bio-Oil promises to diminish stretch marks, scars, aging skin, and dehydrated skin while improving uneven skin tone with its main ingredient, PurCellin oil. It is a light formulation that is non-greasy and gets easily absorbed into the skin. Here's a video to help you know more about this product's features and benefits.
Pros
Suitable for all skin types, including sensitive skin
Moisturizes dry skin, but does not make it oily
Evens out the appearance of scars and blemishes
Decreases wrinkles by enhancing elastin and collagen
Fades away the pregnancy stretch marks
Just a little oil is enough for each application
Available in a sturdy and travel-friendly pack
Cons
Not suitable for super-oily skin types
Liquid paraffin could cause breakouts in some people who have a history of severe acne
Botanical extracts might lead to skin irritation
Rating: 4.1
Specially blended belly butter that soothes your skin as your tummy stretches through pregnancy and after delivery. It is formulated with Shea butter, vitamin E, cocoa and jojoba butter, all of which pamper the skin. Learn more about this product by watching this video.
Pros
Free from parabens, phthalates, petrolatum or SLS, and will not irritate your skin
Safely moisturizes the belly stretch
Offers comfort and relief to the stretched skin
99% natural and fragrance-free formula
Cons
Useful only for normal skin types
Rating: 4.1
The formulation helps nurture the skin during pregnancy. It is made of sweet almond oil, wheat germ oil and arnica extract that work to diminish the stretch marks. The soothing oils of neroli, rose, frankincense and myrhh give it an outstanding aroma.
Pros
Dermatologically tested and is NATRUE certified.
Lessens the appearance of stretch marks on the tummy, breasts, thighs, and bottom.
Improves skin's elasticity and smoothness
Leaves skin smooth and flexible, while keeping it moisturized
Free from synthetic preservatives, colorants, artificial fragrances, and mineral oils
Cons
Rating: 4.5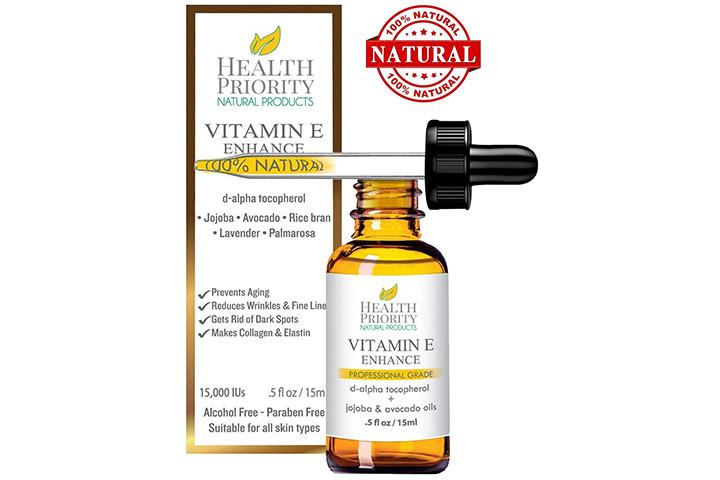 This is one of the best vitamin E oils that are essential for moisturizing, prevent aging of, and brightening the skin. It is an excellent combination of vitamin E oil, coconut oil, and aloe that offer positive benefits for the skin. This video will provide you with added insights about the product.
Pros
Lessens stretch marks, and also heals acne related scars
Improves skin tone and texture
Suitable for all skin types
Free from fragrances, alcohol, and parabens
Cruelty-free organic oil
Cons
Rating: 4.4
Rich, moisturizing belly butter that contains organic herbs and oils to diminish the stretch marks. This lotion improves skin elasticity, and you can continue to use it as a part of your daily skin regimen.
Pros
Eases appearance of emerging stretch marks
Calms the stretching belly, breast, and thighs
Light and natural fragrance which will not stimulate morning sickness
Free from parabens, mineral oil, petroleum, and natural fragrances
Dermatologically and clinically tested for irritation
Cruelty-free and certified organic product
Cons
Rating: 4.3
This is an advanced multi-purpose skin product that you can use all over the body and face. It is a unique blend of botanical oils such as rosehip, canola, and sesame oils along with vitamin E and cocoa butter.
Pros
Improves the appearance of stretch marks, scars, uneven skin, wrinkles, fine lines, dry and damaged skin.
Free from parabens, phthalates, and mineral oil
Suitable for all skin types, including sensitive skin
Non-greasy and non-staining property
Dermatologically tested product
Can also be used as a bath oil for deep moisturization
Cons
Fragrance might pose a risk of skin irritation
Rating: 4.3
This is an all-over body massage cream specifically designed for pregnancy stretch marks. It is a blend of pure cocoa butter, shea butter, collagen, natural oils, elastin, and lutein that work great on the stretched areas of tummy, breast, hips, and thighs.
Pros
Clinically and dermatologically tested
Free from parabens, mineral oils, and phthalates
Improves skin elasticity and makes it supple
Convenient packaging
Works for reducing stretch marks associated with weight fluctuations
Suitable for all types of skin
Cons
Might cause skin irritation or rash if you have heightened skin sensitivity
Rating: 4.0
This is a revolutionary skin cream that lightens stretch marks, scars, blotches, age spots, and discoloration. Blended with vitamin E, jojoba oils, cocoa, shea, and mango butter, it leaves the skin smooth and supple.
Pros
Clinically proven and dermatologically tested
Reduces the appearance and depth of stretch marks
Retinol-free that makes it safe even for sensitive skin
Tones and tightens the belly and other stretched skin
Safe for all skin types
Cons
Rating: 4.2
This is one of the authentic and highly reliable anti-stretch creams from Botanic Tree. The blend of cocoa and shea butter, Moringa, Asiatica, and Centella enhance the worth of the cream. It is perfect to use every day to treat stretch marks and aging signs.
Pros
Made of natural and chemically safe ingredients
Hydrates the skin, thus making it smooth and supple
Suitable for all skin types
Can be used before, during and, after pregnancy
Gives results after two months of regular usage
Cons
Might cause allergies to highly sensitive skin
Not available in local stores
Rating: 4.0
This is a rich butter blended with Gotu Kola, Shea, and Jojoba butter in milk and honey that repairs and prevents stretch marks. It strengthens connective tissue and therefore leaves the skin smooth, soft and nourished.
Pros
Targets stretch mark prone areas on belly, breast, backside, and hips
Gotu Kola is clinically proven to build collagen and elastin fibers
Free from parabens, mineral oil, colorants, and sulfates
Treats itching, dry, and aging skin
Non-greasy and fast absorbing
The natural milk and honey aroma is very addictive
Tested for zero allergies and sensitivity
Cons
Highly expensive
Not vegan
Rating: 4.3
Organics belly butter is a safe solution and an effective skin conditioning treatment that promotes skin elasticity. Made of shea, cocoa butter, macadamia nut, grapeseed, and sweet almond oil, it soothes the stretched pregnancy skin.
Pros
100% organic, vegan, and gluten-free butter
Unscented and good for those who have smell aversions
Prevents stretch marks and relieves skin itch
Free from parabens, synthetics, dyes, phthalates, sulfates, and artificial fragrances
Cruelty-free butter
Cons
It is thick, giving a hard feel on application
Slightly expensive
Rating: 4.1
Derived from 15 botanical oils and extracts, and enriched with essential fatty acids and antioxidants, this anti-stretch cream is worth a try. The sweet extracts of mango, orange, vanilla, and sugarcane will delight your senses.
Pros
Improves skin resilience and elasticity
Soothes, protects, nourishes, and hydrates the skin
Free from parabens
Safe for all skin types
Hypoallergenic and pH balanced 6.0 formula
Non-greasy and non-staining cream
Cons
Rating: 4.2
A nourishing skin formula made of botanical ingredients that help prevent pregnancy stretch marks and improve skin moisture content. It can be used from the second or third trimester of pregnancy or after delivery.
Pros
Perfect for all skin types, and specifically for itchy and dry skin
Prevents skin discoloration
Fast-action formula
Safe for use during breastfeeding
Free from parabens
Cons
Strong fragrance that might cause discomfort if you have smell sensitivities.
Rating: 3.4
These are just a few good anti-stretch creams and oils you might want to try to get rid of the stretch marks.
Next, a few common queries answered for your better understanding of stretch marks.
How To Choose The Right Stretch Marks Removal Creams And Oils?
Choosing a stretch mark cream or oil can be tricky. So, consider these factors when making a pick.
Type: If your stretch marks are a result of weight lifting, bodybuilding, and weight loss, you need creams and oils that help maintain the skin's elasticity. Pregnant women and breastfeeding moms may use creams and oils that keep the skin hydrated and are hypoallergenic.
Ingredients: Ingredients such as shea butter, coconut oil, and hyaluronic acid can improve the texture of the skin and keep the skin hydrated. Retinoids help in fading the stretch mark. However, breastfeeding moms or pregnant women should avoid products with retinoids.
Skin type: Although most stretch mark creams or oils are suitable for all skin types, certain creams may not work well for sensitive skin or your skin type. Some specially formulated creams can boost skin texture, while certain ingredients can alter the effect on your skin. So pick the one that matches your skin type.
Why Trust MomJunction?
Poulami Nag writes on diverse topics, from skincare to fashion. She ensures that the details listed in this article, right from the best stretch marks removal creams and oils to their benefits and uses, help the readers choose the best ones available. This article is guaranteed to help the readers enjoy a hassle-free shopping experience.
References:
Recommended Articles