If you experience eye strain and frequent headaches from your late-night study or work routine, it is about time that you got yourself a study lamp to fix this problem. Study lamps are so much more than just an alternative when there's a power cut. They give you the liberty to adjust the angle and brightness of light, such that your eyesight isn't impacted over time. When you invest in the right study table lamp, you can focus better and expect enhanced learning outcomes.
Choosing the best study table lamps in India from different brands can be overwhelming, so we're here to tell you that you shouldn't worry about it. We've compiled a list of the 11 top study lamps and their pros and cons to help you make an informed decision. So, what are you waiting for? Read on and find the right study lamp that lights up your table the way you'd like it to.
11 Best Study Table Lamps In India
This thoughtfully-designed, sleek LED table lamp from Wipro emits glare-free light. It features 3 dimming controls and 3 color change options, which helps optimize brightness as per personal preferences. Since it is a feather-touch innovative design, you can turn the light on, off, or adjust the brightness conveniently. It offers cool day light, neutral white, and warm white to minimize the strain on your eyes. The lamp also includes an adapter to enable charging, a flexible gooseneck, and a durable exterior, making it a great purchase.
Pros
Glare-free light
Color-changing
Easy touch control
Adjustable design
Energy-efficient
Cons
Philips is known for its innovative electronic appliances, and this study lamp is among the best. This powerful desk lamp has 20 LEDs, and it emits cool day light— ideal for reading or studying. Since the design is minimalistic, it complements all kinds of interiors without looking out of place. When you're not using it, you can keep it tucked away as the neck of the lamp bends down to 180° to make it compact and space-saving.
Pros
Emits ample light
Does not strain the eyes
Foldable
Lightweight
Cons
This touch-sensitive table lamp is among the best of LED study lamps for easy handling. It offers 3 levels of brightness adjustment, which serves different purposes like reading, working, camping, or even an emergency bedside lamp. It operates on 5 watts and 400 lumens to emit a bright, flicker-free, bright LED glow with no dark areas. This LED table lamp is energy-saving and eye-caring— reasons enough to have you invest in this useful appliance.
Pros
Dimmable
Rechargeable
Battery-powered
360° flexibility
Can be charged in multiple ways
Cons
Some may find the battery backup unimpressive.
This bright red table lamp for study with a retro design can be a colorful addition to your desk to eliminate the monotony of a boring study table. It comes with a convenient switch on the front to turn it on and off and features a 100 cm long cord. The flexible gooseneck allows you to adjust the angle according to your preference. This B22 holder study lamp also features a pen holder and some extra space for sticky notes or smaller supplies so that you can save some space on your desk.
Pros
Attractive color
Lightweight
Compact
Easy to use
Cons
If you're strictly on the lookout for a rechargeable table lamp, the Opple LED table lamp is worth considering. With a touch switch and 3 adjustable brightness levels, you can use it as a night lamp at the lowest setting. The 360° rotating, flexible design and anti-slip silicone pad make it even more of a lucrative option. It has a built-in 500 mAh rechargeable battery and a USB interface design. It also features a clip base, so you can fix it to the edge of your desk to avoid clutter.
Pros
Touch sensor switch
Flicker-free
Wide clip-on jaw
Space-saving design
Cons
Lasts only 5 hours on a full charge.
This chrome-finish desk lamp is suitable for home or a professional space. The neck of the lamp rotates up to 360° and is height-adjustable for optimal light distribution. Since it is made from steel and synthetic and features an aluminum reflector, it is quite durable and sturdy. It has a B22 bulb base, so you can opt for incandescent bulbs to fit the lamp. Powered with light-style, this study lamp minimizes the harmful effects of light on your eyes.
Pros
Lightweight yet sturdy
Convenient On/Off switch
Designed with eye-care technology
Gooseneck arm
Cons
The surface may heat up after a few hours of use.
This stylish cordless table study lamp offers 3 brightness levels and light modes. It is lightweight and fully touch-controlled for easy operation. The neck is 360° adjustable, so you can fold it or twist it in any direction. It emits natural, flicker-free light that spreads uniformly. The lamp also features a built-in rechargeable battery, so you can charge it throughout the day and use it at night even when there's no electricity.
Pros
Energy-saving
Touch-sensor switch
USB charging port
Non-flickering light
Gentle on the eyes
Cons
It may take a long time to charge.
If you're looking for a night study lamp that suits your minimalistic study table, this is one of the best study table lamps in India worth considering. It is made from durable plastic and operates on a touch mechanism to dim or brighten the light. A USB charger powers it, so you can use your laptop or a power bank to charge it. It features an indicator when it is being charged as a reminder to switch off the lamp while it charges.
Pros
Touch-sensor panel
Offers eye protection
Efficient heat dissipation
Energy-efficient
Long runtime
Cons
The base may not be sturdy enough for some.
This sturdy yet lightweight study lamp features a touch sensor switch that allows 3 levels of brightness adjustment. You can set the brightness, keeping in mind the amount of light that your eyes can take. From a 360° free-twisted tube to a strong base for support— this study lamp has it all.
Pros
Dimmable
Energy-saving
Features a touch switch
Lightweight
Cons
It takes a long time to be fully charged.
This adorable dog-shaped table lamp is a must-have if you're trying to make your child's study routine a fun one. The lamp can be adjusted to different poses to change the angle. While the head rotates 180° up and down, the body can be rotated 360°. It features a chord that enables charging. While it primarily serves the purpose of lighting up your table to allow reading or studying, it also makes your study space look aesthetically pleasing.
Pros
Doubles as a decorative piece
Adjustable lamp body
Sturdy
Wooden lamp
Gentle on the eyes
Cons
Does not have an on/off switch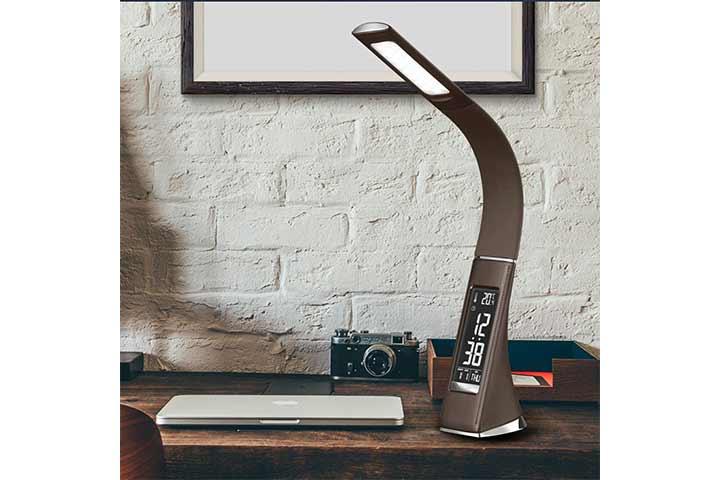 What makes our last lamp one of the best study table lamps in India is its modern design that makes it the right choice for a professional setting. It features 3 adjustable brightness levels, and the light does not strain the eyes. It is equipped with a clock, calendar, and also an indoor temperature measuring mechanism. The display screen is backlit, and the clock can also be used for setting an alarm. The neck moves up, down, and to the sides so that you have great control over the angle of lighting.
Pros
Adjustable design
Multifunctional
Emits light at multiple angles
Can be used with a power bank
Flexible
Cons
Before you decide to invest in one of the best study table lamps in India, it is crucial to know what type of study lamps are out there and what features would be useful to you. On that note, let's move to our next section that's about the types of study lamps you can choose out of.
Types Of Study Lamps
This type of lamp generally features a moveable neck that might allow you to adjust the height, angle, or both.
A study table lamp with a swing arm gives you the liberty to adjust the angle of light by swinging the arm around. This kind of lamp is an ideal choice if you work on drafts or drawings that require constant shifts in the angle of lighting.
A clip-on desk lamp features a clip-base that can be attached to the edge of the desk. This type comes in handy when you have limited space on your desk or when you only use your study lamp occasionally. When not in use or when you want to spread all your materials on the desk, you can clamp it to the edge of the table.
Many desk lamps feature a pen stand, space for notepads, and even technological features like a calendar and a clock to help you be more organized. These lamps are a preferred choice if you want the lamp to solve the clutter problem on your desk besides illuminating it.
Gooseneck study lamps have a flexible metal coil. The neck connects the head and base of the lamp. However, the key function of the gooseneck is to allow adjustment in the angle. Aesthetically, it gives the lamp a retro look.
Rustic-style lamps are a preferred choice if your interiors are rustic or country style. They mostly come in muted color options to suit a majority of rustic-themed houses.
We hope that our list of the types of study lamps gives you the right insight into what type suits your requirements. Our next segment on how you can choose the best table lamp for the study will further help you make the right choice.
How To Choose The Best Table Lamp For Study?
Battery-powered vs. chargeable
While some table lamps need to be plugged into a power outlet to operate, some are powered by an in-built battery, USB, or require batteries to switch on. Based on how they're powered, it is a matter of your personal preference as to which one you opt for.
Wattage is worth considering from a safety point of view. While different table lamps have different wattages, what matters most is that you check the wattage of your table lamp and only fix a bulb or light that has wattage compatibility to avoid any accidents, over-heating, and other mishaps. LED lights have a lower wattage as compared to tungsten filament bulbs.
You'll find a variety of lamps based on the type of light they emit. While cool or white light is a preferred choice for optimal learning outcomes, warm or yellow light is more relaxing. Another criterion to check for is whether the lamp features LED lights or houses an incandescent bulb. LED lights consume less energy as opposed to incandescent bulbs.
It is best to look for study lamps that allow you to adjust the angle up to 360°. You can also look for additional adjustment features like the ability to adjust the height or bend it 180° downwards when not in use.
When a study lamp offers certain levels of brightness adjustment, you can use the lamp for varied purposes based on how much brightness would be needed. This definitely broadens the application of the study lamp. Therefore, you can invest in a study lamp that comes with at least 2 levels of brightness adjustment or dimming.
Frequently Asked Questions
1. How many watts should a desk lamp be?
While 5 to 6 watts is ideal for LED study lamps, those that require a tungsten filament bulb should be 40 watts.
2. Is white or yellow light better for reading and studying?
White light is believed to be better for reading and studying as it helps one stay focused and leads to optimal learning conditions.
3. Is warm or cool white/yellow light better for eyes?
Yellow or warm light is thought to be relaxing for the eyes. However, if you want the light to enable a better studying experience, white light is highly recommended.
No matter how bright the light in your study room, it's better to have a dedicated and focused table lamp that allows complete control over the intensity, angle, and brightness around the table. A good study lamp will reduce eye strain and help you concentrate better. The options listed here for the best study table lamps in India come with multiple dimming controls, energy-efficient designs, and glare-free lighting, so you can work or study without distractions. You can pick from simple, minimalistic lamps or opt for something more creative and unique, depending on your personal preferences, but consider the lamp's wattage, adjustability, and power source to make the right choice for your needs.
Recommended Articles
The following two tabs change content below.

Sakshi did her graduation in Journalism from the Madras Christian College, Chennai, before starting her career as a freelance writer. She is into blog writing and for MomJunction, she covers various topics, including products to buy for your kitchen, furniture, and other home requirements. Previously, she interned as a content writer in a cyber security firm. As a content writer, Sakshi...
more