Hot summer days automatically mean investing in a few essentials like breezy cotton clothes, a sun hat, SPF lotion that offers the best protection, and a trusty water bottle. For days when you are hiking or engaging in other outdoor activities like fishing, cycling, or kayaking, our needs include a few other things. What we tend to forget to include is a good pair of sun protection gloves.
Let's face it; reapplying sunscreen on our hands every few hours can be a little boring, if not annoying. It also loses its effectiveness through perspiration. That is why sun protection gloves can come in handy. Harmful UV rays can cause sunburn and affect the topmost layer of the skin, which sometimes could lead to skin cancer. We don't want that happening only because we forgot to take a few precautions, do we? Check out the 11 best sun protection gloves here.

Top Products From Our List
11 Best Sun Protection Gloves In 2021
These fingerless gloves feature a pattern that mirrors and blends with the outdoors. It provides SPF 50 protection and a comfortable, snug fit to the wearer. Designed by a team of professional anglers, and crafted with breathable poly-Spandex fabrics, these gloves keep your hands cool and prevent sunburns. It also comes with a touch synthetic leather palm for extra padding and easy gripping of items like fishing rods without hurting your palms.
Pros
¾ fingerless gloves
4-way stretch
Integrated pull tabs on the wrist and middle finger
Lightweight
Machine-washable
Extended cuff
Available in other nature-inspired colors
Cons
It may take a long time to dry.
Although these are fingerless gloves, the ¾ finger-length design of it provides maximum sun protection. It offers certified UPF 50+ and SPF protection that is incorporated into the stitching, which means that even when the gloves are wet, the UV protection element doesn't wear off. It comes with an open-palm design to prevent excessive sweat buildup and the MythAirflow technology transfers moisture and sweat to dry areas of the glove. The index and middle fingers are reinforced with synthetic leather for a better grip.
Pros
Dries quickly
Stretchable material
Long cuff for added protection
Wrist and finger pull tabs
Machine-washable
Available in many colors
Cons
Some may find the gloves thinner than expected.
Suitable for both men and women who care about their skin but also like to look stylish while doing so, these fingerless gloves are made of 85% Lycra and 15% synthetic leather. The leather accents and patches, which are sewn into the palm area, add a chic edge to the gloves while providing a comfortable, non-slip grip.
Pros
UPF 50+ sun protection
Quick-drying
Form-fitting
Breathable materials and design
Lightweight
Cons
It doesn't feature adjustable wrist straps.
Although these gloves are lightweight, they provide maximum protection from the harsh rays of the sun. Made of a high-quality polyester and spandex blend, these gloves block out up to 98% of UV radiation. Ideal for a midday stroll around the park or taking your pet out for a walk, these gloves feature a "CoolTect" technology, which keeps your skin cool and comfortable.
Pros
Silicone print on the palm
Stretchable mesh construction
Form-fitted
Machine washable
Available in different colors and floral patterns
Cons
It may not be suitable for outdoor activities like fishing and kayaking.
Tiny white polka dots make everything instantly cuter, don't they? These fingerless gloves designed for women are ideal for sun protection for lighter activities like taking a walk, skipping rope, and driving. Each finger has small holes integrated on either side to allow better ventilation and maximum breathability.
Pros
Non-slip silicone pattern on the palm
Soft and light fabric
Made of cotton
Stretchable material
Long cuffs
Available in pink, grey, beige, and black
Cons
Although it claims to be a "one size fits all" glove, it may be loose for women with petite hands and slender fingers.
One of the easiest ways to protect our hands from the sun's harmful rays, heat, and other such environmental pollutants is by covering them up with a high-quality yet comfortable pair of gloves. Made of stretchable and thin fabric, these gloves provide UPF 50 protection to reduce skin damage. It is also moisture-wicking, which means that your hands will stay dry the whole time you have the gloves on.
Pros
Sweat-absorbent
Calms your palms cool
Mesh fabric and holes on each finger
Silicone print for better grip
Available in other colors
Suitable for driving
Cons
Some may feel that the seams are a little bulky.
If your work requires you to put in hours of manual labor under the sun, these gloves will be the perfect fit for you. It covers your palms and the back of your hand from the sweltering heat while leaving your fingers exposed for better dexterity. The thumb hole is ergonomically placed and won't interfere with your day-to-day activities.
Pros
Made of modal cotton
Stretchable and light
Machine-washable
Extra-long cuff
Pack of 4 gloves
Cons
It may not offer a good fit for men.
Finding a great pair of sun protection gloves for the outdoors can be challenging. Some may offer SPF protection but make your palms sweat while others may make your hands feel stuffy and itchy. But with these lightweight cooling sun gloves, all your outdoor adventures will be extra comfortable. These fingerless gloves provide SPF 50+ protection and the Activeice technology featuring xylitol crystals keeps your hands cool and dry.
Pros
Machine-washable
Tapered cuff for a tight fit
Anti-slip palm
Made with recycled polyester
Available in neon blue and green
Cons
The seams on the cuff could use reinforced sewing.
Taking care of our skin doesn't begin and end with skincare products alone. A full-length pair of gloves that cover your entire arm is a great way to show some extra love to your skin. Made of skin-friendly materials, these arm sleeves provide excellent coverage and protection. It covers your palm and keeps your fingers open so that you can participate in many activities without your hands feeling constricted.
Pros
Dries quickly
Suitable for all seasons
No pilling
Superior elasticity
Pack of 10
Anti-slip
Unisex
Cons
Some may find the thumb hole slightly uncomfortable.
Go fishing or cycle around the city in style and comfort with a little help from this glove and neck gaiter set. Both the gloves and the gaiter shield you from the harsh rays and the unrelenting heat while giving you unparalleled comfort. The gloves are crafted with premium-grade lycra and spandex and feature synthetic leather pads on the outer corners of the palm area along with the index and middle finger for an excellent grip.
Pros
Fast-drying
Finger and cuff pull-out tabs
¾ finger design
Storage pouch
Available in 2 other styles and colors
Cons
The size may run a little large.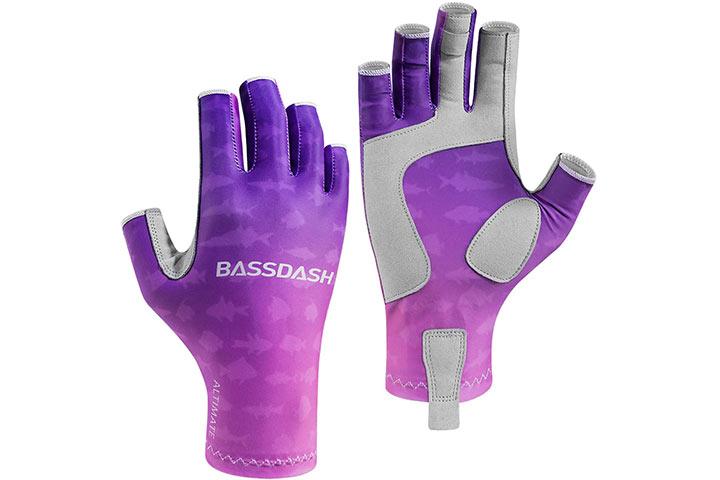 Perfect for those who love to spend their weekends fishing with their family and friends, these poly-spandex gloves are a good choice for UPF 50+ protection. It offers a snug yet relaxed fit as it is 4-way stretchable. Synthetic microfiber anti-slip leather patches sewn into the palm area and the index and middle finger, making it easy to grab and hold onto things.
Pros
¾ finger length
Easy pull off tabs
Lightweight fabric
Dries super fast
Long cuff
Cons
It doesn't feature adjustable wrist-straps.
Here are a few pointers, which may help you find a sun protection glove that's best for you.
How To Choose The Best Sun Protection Gloves
UPF 50+ Protection
If you want sun protection gloves for extremely hot conditions, you must look for gloves that provide UPF or SPF 50+ protection. This means that a rating as much as 50+ can block out up to 95% of the sun's rays. The higher the rating, the higher the protection. However, if you live in moderately warm climates and are looking for gloves for walks or driving cars, you can settle for gloves that offer SPF 15+ protection.
Material
As you will be wearing sun protection gloves for long hours, you should ideally look for breathable materials that don't make your palms sweaty or your fingers itchy. Synthetic materials like nylon and polyester are best known for their UV shielding properties. Although the most stretchable gloves provide the maximum level of comfort, keep in mind that they tend to thin out with extended use.
Color
Choose light colored gloves like beige and white as they are best at reflecting light away from your hands.
Design
There are mainly 3 types of sun protection gloves. If you are looking for full-coverage that extends beyond your wrists, look for an anti-slip arm sleeve that covers your entire arm all the way up your shoulders. Arm sleeves are also useful during winter as they keep you warm. For outdoor activities like hiking, kayaking, fishing, and the like, opt for a synthetic glove with a ¾ finger-length. Ensure that these gloves come with an anti-skip palm for better dexterity. If it features an adjustable Velcro wrist-cuff, it's a big win. For less strenuous activities like strolling around the park or driving, choose thin and stretchable cotton gloves.
Shielding your hands with gloves is a good way to keep them protected from the sun's harmful rays and annoying sunburns. Investing in a good pair of sun protection gloves is not just a smart choice for today, but also for the long run. When sunscreen lotions just don't seem to cut it, we must look for something extra, don't we? Fortunately, the solution is a comfortable pair of gloves. We hope that you found a pair that's best suited for you.
Recommended Articles: