Talcum powders are a godsend to people with oily skin. Not only do they absorb moisture to keep you dry and fresh, but they also ensure you smell great and boost your self-confidence. Oily skin is caused by an excess production of sebum in the pores, which can cause acne and breakouts to occur more frequently. They can benefit a lot from adding talcum powder to their after-shower regime, especially when expecting a long day in dusty, humid climates. They combat excessive moisture and, in some cases, are antiperspirant, making them ideal for those on the go.
Talcum powder is made from talc, a mineral, which reduces friction, preventing rashes and irritation. Most come with a refreshing, long-lasting fragrance, which will keep you feeling fresh without being overpowering. With the wide range of products available in the market, we've curated a list of the 7 best talcum powders for oily skin in India to help make the choice a bit easier for you.
7 Best Talcum Powders For Oily Skin In India
With the fresh, floral fragrance of pink lilies, this popular talcum powder offers a matte finish, making it ideal for oily skin. Suitable for use twice a day, this refreshing talc is best applied right after a shower to help prolong the feeling of freshness while keeping the skin feeling soft and smooth. This product is great for the sultry summer months as it absorbs sweat while fighting body odor and bacteria. Formulated with natural talc, this talcum powder has a soft, fine texture and can be used both on the face and the body.
Are you looking for a talcum powder that helps you feel confident while keeping you sweat-free? Your search ends here with this musky talcum powder that has a rich, strong scent with bursts of fresh citrus. Suitable for daily use, this talcum powder controls body odor while reducing dullness by absorbing excessive oil, keeping you feeling fresh and dry all day long. The long-lasting indulgent fragrance and antiperspirant properties make this product an all-time favorite.
Designed for the face, this compact powder helps keep shiny overtones at bay by providing a natural and radiant glow. Formulated with talc, this moisturizing formula is available in 3 shades to suit your skin tone. Designed for daily use, this product is safe for sensitive skin and comes with a travel-friendly mirror and applicator. The powdery texture ensures a matte finish without caking-up or drying out the skin, making it ideal for oily and acne-prone skin.
This soothing face powder has a refreshing, long-lasting fragrance and is ideal for keeping summer stickiness at bay. Suitable for all skin types, this powder for daily use offers a fresh, matte finish to reduce the appearance of oily patches on the skin. This powder can be used by both men and women and provides all-day protection against sweat and environmental stressors.
This therapeutic talcum powder formulated with pure sandalwood fights t pimples and acne while brightening skin complexion. Sandalwood is known to have several anti-aging benefits that reduce the appearance of fine lines, wrinkles, and age spots. Infused with essential oils, this multi-purpose powder absorbs sweat, fights body odor, and protects skin against sun damage. Suitable for daily use and safe for sensitive skin, this soothing talcum is best used after a shower for long-lasting freshness.
This talcum powder for oily skin has everything and more to combat excess sebum.  A must-have in every vanity kit, this one covers spots and blemishes while providing an instant, radiant glow. This specially formulated talc absorbs excess oil and sweat while providing ample coverage to reduce the appearance of dull and uneven patches on the skin. The result is soft and smooth skin, which has a natural matte finish. The long-lasting refreshing fragrance and soft texture make this face powder an instant favorite amongst many. Designed for daily use, this product is suitable for all skin types and is especially good for those struggling with oily skin.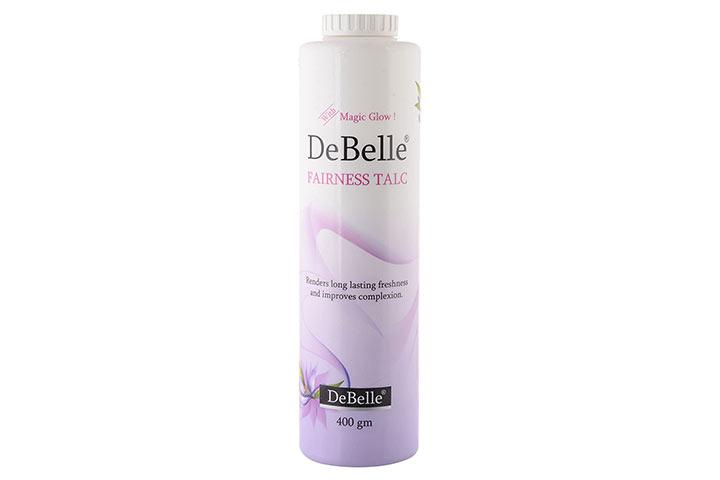 This luxurious talcum powder uses 100% natural ingredients, which brightens skin tone for a smooth and healthy-looking complexion. This product is enriched with pearl dust to soften the skin and reduce the appearance of dark spots. It also contains soothing methanol to calm the skin and turmeric oil to minimize pigmentation and fight acne. With a long-lasting fragrance, this powder is free of parabens and is vegan and cruelty-free.
Now that we've gone through our list of the 7 best talcum powders for oily skin in India, let us look at some things to consider when picking a product best suited to your requirements.
How To Choose The Best Talcum Powder For Oily Skin
Talcum powders not only help fight body odor and keep sweat patches at bay but also lend a refreshing, long-lasting fragrance. For daytime use, pick a talcum powder with a fresh, floral, or fruity fragrance that is refreshing and pleasant. A spicy, musky fragrance might be better suited for nighttime. A signature scent is a very personal choice, and it's best to pick a powder, which best matches your personality.
Have a close look at the ingredient list to determine the quality of the talcum powder you're picking. A talcum powder for oily skin should have non-comedogenic ingredients, which help absorb excess oil and moisture without clogging your pores. Natural ingredients are better for the skin, but they also prevent sensitive skin problems and have a mild, soothing scent that is not overpowering.
Choose a product based on where you plan on using it — face, body, or both. This decision will help you pick the suitable talcum powder for oily skin. Talcum powders designed for the body usually have antiperspirant properties and help ward off sweat and excess oil. Face powders are meant to blot out oily patches while ensuring the complexion is radiant and even-toned. Some talcum powders can be used on both the face and the body and are best suited for the minimalistic consumer.
Talcum powders are an easy and inexpensive solution to those looking for all-day freshness and freedom from sweat patches and oily skin. Step out of your shower and get enveloped in a cloud of long-lasting, refreshing fragrance, which will keep you feeling confident and pleasant throughout the day. Those struggling with oily and acne-prone skin will benefit from the moisture-absorbing properties of talcum powders. Our carefully curated list of the 7 best talcum powders for oily skin in India can be your starting guide to feeling clean, fresh, and radiant when you're on the go.
Recommended Articles
The following two tabs change content below.

Poulami Nag is a writer and associate editor at MomJunction. She did her MA in English from Miranda House, University of Delhi and has qualified UGC-NET. Her journey as a content writer began in 2017 and since then she has garnered diverse interests along the way. Her knowledge of literature and language has given her an eye for detail and...
more