Cycling is an enjoyable activity that can improve both physical and mental health. Tandem bicycles are double the fun as they are designed for two people. Ideal for long-distance cycling, they divide the burden of pedaling between two people, and foster relationships between spouses, friends, or family. They also help teach beginner riders how to balance and turn and are easily accessible for people of different abilities.
Here is a list of the best tandem bikes in the market that can offer the ultimate biking experience.

Top Products From Our List
10 Best Tandem Bikes
The Kent Northwoods dual drive tandem bike features a cruiser body with fully adjustable options. It is built to last with a sturdy and heavy frame measuring 29in at the front and 20in at the back. You will find it easy to ride with its soft gel saddles and extra-wide, bump-gobbling 1.95-inch tires. The alloy V-brakes help you stop the bike in no time. Each feature is designed in a unique way that makes the ride comfortable.
Features
Easily accessible standover height
Heavy-duty tires and comfortable saddles
21-speed Shimano Tourney and Revo twist shifters
Powerful brakes, and a heavy-duty kickstand
Two water bottle holders
Suits even small riders
Here is another choice of Kent International tandem bike with two different color options. It has thicker tires and is less prone to wear and tear because of its heavy-duty frame construction. The gear design helps you power up on steep terrains while the pull V-brakes ensure a safe and quick stop. It weighs around 65.8lb and is a solid and hefty bike.
Features
Rear-wheel comes installed
21-speed shifters for maximum handling
Wheel size is 26 inches with extra-wide 2.1-inch tires
Standover heights are 29in at the front and 20in at the rear
Gel-based spring saddles offer comfort when bumping over the rough terrains
Storage space for two bottles
This is a casual tandem bicycle for exploring multi-use paths and trails. The low step-through frame in the back allows the children to get over the bike easily. It has 21-speed shifters giving you plenty of gears for riding, and the mechanical disc brakes enable no-time stopping. This can accommodate riders of different sizes and builds. It is shipped ready for assembly.
Features
High-quality aluminum frame construction
Extra-low step-through rear bar to suit small riders
Suspension fork designed to provide complete control
Ergonomic grips
Plush fitness saddles
26-inch large wheels
Comes with a five-year limited warranty
The Giordano Viaggio tandem bike is comfortable and maneuvers easily on all terrains. It is made of a lightweight and robust aluminum frame that offers stability for all riders. The 20-inch front frame and the 16-inch back frame make a suitable combination for two riders. If you and your partner are cycling enthusiasts, this could be a perfect option for you.
Features
Shimano Total Integration (STI) shifters
Responsive alloy side pull brakes
Smooth-rolling tires for easy movement
Functional handlebars and brake
Smooth-riding 700×32 tires, and resin pedals
White pearl paint finishing
This cruiser style tandem bike offers an upright and relaxed riding position. It can accommodate riders of heights from 5.4" to 6.2" and rolls smoothly over multiple terrains. The Hi-Ten steel construction offers stability and sturdiness to the bike and comfortably supports the riders. You will get this Kulana Lua cruiser in two color options of yellow and orange.
Features
26-inch wheels
Ergonomic easy-reach handlebars
Quality fenders for convenient riding in all weather conditions
Oversized front fork for extra stability and performance
Foot brakes
Single-speed bike
The Pacific Dualie tandem bike is suitable for riding around the neighborhood, bike trail, and anywhere you want. It is constructed with a steel mountain-style frame and alloy wheels. This is a lightweight tandem bike, weighing around 59lb. The complete set-up is easy to assemble and use.
Features
Highly durable steel tandem frame
Driven by 21-speed twist shifter and Shimano 21-speed derailleur
Linear pull-brakes with high stopping power
26-inch wheels
Two spring saddles
Ergonomically designed handlebars
Alloy crank for the wide gear system
Mongoose Wanderer's specialized tandem bike could be a great choice for casual riders in the city. It has impressive paint quality and frame construction. The linear-pull braking system allows you to stop when needed quickly, and the narrow handlebars give good turning stability. It weighs about 57lb.
Features
Oversized 7005 aluminum frame
SRAM 4.0 21-speed shifters and SRAM rear derailleur
Alloy pull brakes
Rigid suspension fork
36 strong rims and Mega Range freewheel
Comes with a one-year warranty
You may love riding this powerful Shimano 18-speed tandem bike on your adventure trips to the woods or cycling trails. It is built with comfortable nylon pedals for easy cycling. The durable bike has a sturdy MTB hybrid frame and steel suspension fork. The soft padded saddles make riding this tandem bike highly comfortable.
Features
Ergonomic handlebars
26 x 2.125in whitewall tires
Front disc brakes and V-brake rear brakes
Three-piece and comfort Nylon platform pedals
Aluminum quick-release seat post clamp and
Plenty of gear options for a safe ride
This could be one of the best tandem bikes in a beach cruiser style for comfort. It is a stylish and fully functional bike with wide and comfortable seats, moon-shaped handlebars, and 26-inch tires. This Micargi island tandem bicycle is easy to handle, fun to ride and can accommodate a wide range of riders.
Features
Hi-tensile steel frame and fork
Shimano shifters and derailleur
Alloy crankset and Shimano freewheel
Heavy-duty alloy brakes for safe stopping
18 different speed levels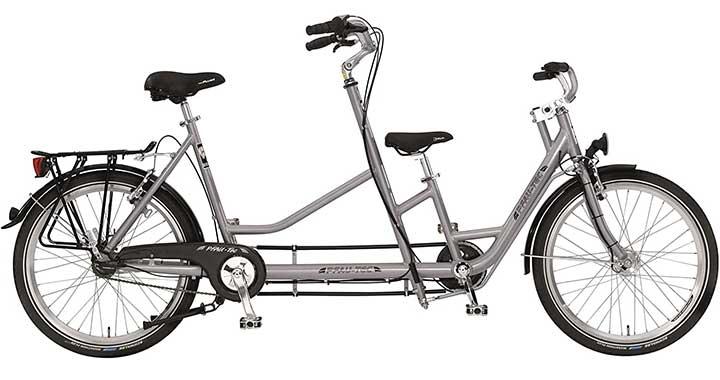 PFIFF tandem bicycle is a good fit for those who love cycling long distances with less effort. Equipped with a sturdy frame, it is rear-passenger controlled so that your child can enjoy the view from the front. It offers an enjoyable riding experience by providing a smooth ride even on rocky and uneven surfaces. The fenders allow you to cruise under all weather conditions comfortably.
Features
Aluminum frame and fork construction
Schwalbe Marathon Plus reflective tires and aluminum double-wall rims
Shimano 7-speeders with coaster brake
Alloy handlebars and seat post
Includes rear rack, front light, fenders, and freewheel in the front
Audible bell for giving safety alerts
How To Choose The Right Tandem Bike?
Here are a few important things to look for to find the best bike tandem bike.
Frame: Frames are made of different materials, including steel, aluminum, or iron. Steel or iron is relatively durable but makes the bike heavy. Aluminum is usually durable, strong, and lightweight. Consider buying a bike that suits yours and your riding partner's
Speed levels: Depending on the brand, there are different speed levels, ranging from single speed to 21-speeds. Higher the number of speed levels, the better is the control you can have over the bike. Find a bike with a sufficient number of speed levels to match your riding style.
Saddles: Comfort when riding the bike depends on the design and type of saddles. Understand the specifications and read the reviews to choose the right one.
Rims and wheel sizes: There are different sizes of rims and tires in tandem bikes. For a long-lasting bike, find the one with a double rim. Also, you can consider tires of up to 26in in size. For kids, you can go for a bike with 19.5-inch or 20-inch tires.
Brakes: The types of brakes commonly used on tandem bikes are V-brakes and disc brakes. Disc brakes offer great stopping power while V-brakes are easy to maintain. Pick a brake type depending on your preference and riding style.
Seat: Consider a seat that is comfortable even for long-distance traveling. Check the features and read the reviews to have a better idea about it.
Frequently Asked Questions
1. Are tandem bikes faster than solo (or normal) bikes?
Tandem bikes are faster and efficient than solo bikes. A tandem bike ridden by two riders has twice the pedaling power at relatively less weight, but equal wind resistance. Therefore, it doubles the advantage while riding downhill, into a headwind, or through a flat area.
2. How much weight can a tandem bike hold?
A tandem bike may hold more than 450lb, and some models likely hold up to 600lb.
Whether it is for exercising or just fun rides with your partner, the above list of tandem bikes could feature the right one for you. You can also use our tips and look for more options online. Go through the specifications, keep the buying guide in mind, and purchase the best tandem bike for an enjoyable time.
The following two tabs change content below.