Looking for a water heater that can be used to take a hot shower anywhere or even wash your car? Then the economical tankless water heater is the perfect device for you – it heats water at home and can be easily carried on your trips to let you enjoy a hot shower just anywhere!
Tankless water heaters are cost-effective, portable, and energy-efficient than most conventional water heaters. They are most viable in winters, as water in these heaters will continue to heat up as it passes through the equipment. We have rounded the 11 best tankless water heaters for you to choose from. Scroll through the details below and make your pick.

Top Products From Our List
11 Best Tankless Water Heater
The Ecosmart electric tankless water heater will never let you run out of hot water when used correctly. It has a stylish appearance and does not take up much space, and can be mounted on the wall. The unit weighs 14 pounds and measures 3.63x14x17 inches. Compared to traditional tanks, it is 90% smaller and has highly advanced self-modulating technology. It uses energy to heat the water only when needed, and thus can save time and 50% of the hot water bill. 
Pros
Field replaceable elements
Lifetime warranty for residential use
Simple operation
Highly durable 
Cons
May not have remote temperature control 
The Camplux tankless water heater has an oxygen-depletion sensor protection function and energy-saving technology, making it suitable for use in a well-ventilated room. It has a compact structure and a foldable handle, so it can be used outdoors too.
The maximum power output is 28,000 Btu/hour, the propane gas pressure is 0.4psi, and offers an output of 1.32 gallons/minute of hot water. The device weighs 14.08lb and measures 11.42×4.33×14.8 inches.
Pros
Anti-freezing protection
Energy saving
Easy to use
Simple installation
Approved by CSA 
Cons
May overheat, causing a fire
The Rinnai tankless water heater with ThermaCirc360 technology recirculates water through your pipeline to quickly deliver hot water. The heater is designed to optimize energy usage and conserve water, playing a significant role in the sustainable reliability mechanism. The average service life of Rinnai tankless water heater is 20 years. It weighs 45.6 pounds, and the overall dimensions are 14.04×9.27×26.9 inches. 
Pros
Saves valuable space
Easy to install
Perfect for indoors
Saves money 
Cons
May require a venting system 
Stiebel Eltron tankless electric water heater has advanced flow control German patented technology, preventing water temperature fluctuations and bringing endless comfort. Compared to traditional water heaters, it saves up to 20% of electricity. It also has a digital display to provide an accurate temperature reading and is known for its highest standards and reliability. 
Pros
Small and compact
Silent operation
Easy to install
Endless hot water 
Cons
May not have an installation kit
The Ecotouch tankless electric water heater has a self-adjusting control function, which can maintain a stable temperature outlet, ensuring the best energy efficiency of about 98%. The electric heater also has a digital display and touch control panel to make temperature setting easy.
You don't need to wait for the water to heat because it can continuously provide hot water of 110°F or higher within a few seconds. For safety, the internal water line and electricity line have been kept separate, thus preventing leakage or accumulation risk.
Pros
Easy to install
Simple operation
Over high temp protection
Electric leakage protection 
Cons
Connection quality not up to the mark
Rheem tankless water heaters have an eternal digital thermostatic control with an LED display. This water heating unit also offers self-modulation technology to align hot water requirements with power output. The flow rate is around 4.4GPM to deliver hot water round the clock. The unit weighs 14.8lb, and the dimensions of this device are 18.25×3.5×14.5 inches.
Pros
Silent operation
Easy to install
Digital temperature display
Replacement model 
Cons
May not be energy efficient
Do you experience frequent power outages in your area? The Marey tankless water heater is the right choice because it works on propane gas and not electricity. Just adjust the size according to your requirements, and you will never run out of hot water. Also known as an on-demand water heater, it can save up to 87% of energy and save electricity bills. The Marey water heater weighs 21lb and measures 6.9×13.6×23.6 inches. It can work on a 2D battery, and you can start the device with power ignition. 
Pros
Simple installation
Five years warranty
Hardware included
Compact saves space 
Cons
The Gasland tankless water heater weighs 14.65 pounds and measures 11.8×6.1×17.3 inches. It is small in size, easy to carry on vacations, and can save up to 11.5% of energy. The device has passed the CSA certification and has an anti-freeze protection drain plug that can drain the remaining water to prevent freezing when not in use or cold areas.
Protection from overheating at temperatures exceeding 167°F can ensure home safety. It is ideal for outdoor use, but you can use it indoors if you install a ventilation duct or a flue pipe.
Pros
Easy installation
Excellent customer service
Compact and lightweight
Battery-powered
Easy to use 
Cons
May not be suitable for high altitude areas above 3300ft
The Eemax electric tankless water heater can provide hot water quickly and continuously. It is equipped with advanced self-adjusting technology, indicating that the device can automatically adjust the required energy according to the hot water demand.
Make sure you purchase the size according to the hot water requirements and check it carefully before installation. The device weighs 8.08lb pounds and measures 11.5x 8×3.75 inches. The compact size of the heating device saves on storage space.
Pros
Simple installation
Easy to program
Five years warranty for leaks and one year for parts
Great energy saver 
Cons
Suitable for sink and not shower
This electric tankless hot water heater is specially designed for bathing as it can maintain a constant water temperature. It has an in-built smart chip that calculates the required power base for the water flow without disturbing the water temperature, thus saving energy and your bill. You can use this hot water heater for the kitchen, bathrooms, school, hospital, and hair salon. Digital display allows you to see the water temperature, and the touch control panel enables easy adjustment of temperature. It measures 7.4×2.5×11.8 inches and weighs 5.13 lbs.
Pros
Compact design
Energy saving
Multiple safety functions
Instant heating
360 degrees installation
1-year warranty
Cons
Ineffective temperature control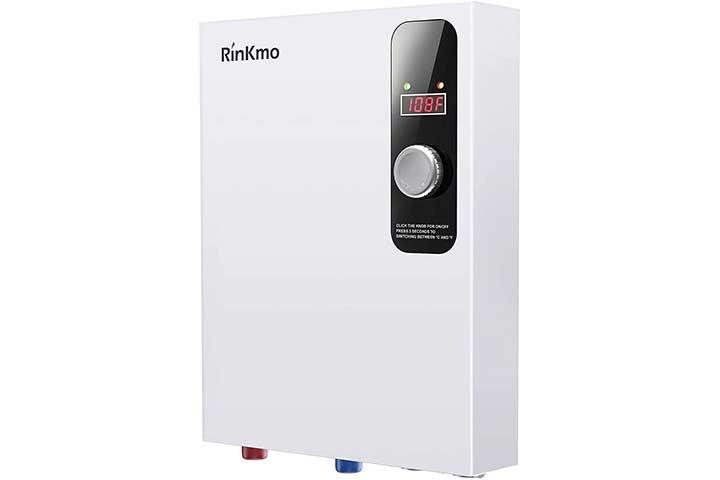 The Rinkmo electric tankless water heater is extremely safe because the hot water and the electric hose are separated to prevent rust and explosion. Using the Rinkmo heater, you can save on power bills. It also supports LED alarm, which reflects as LL or HH, when the inlet water temperature is lower than 37°F or higher than 167°F.
Silicone wire ensures heat resistance and durability. The machine weighs 11.2l pounds and measures 18x14x3.7 inches.
Pros
Saves maintenance cost
Saves energy
Compact design
State-of-the-art technology
Continuous supply of hot water 
Cons
May not be suitable for showers
How To Choose The Right Tankless Water Heaters?
Here are some factors that you should consider before buying a tankless water heater.
Flow rate: It depends on your hot water requirement and household size. Some heaters have multiple water outlets, while others provide only one tap. You can figure out the number of pipes that require access to hot running water to estimate the flow rate.
Power source: Gas-powered tankless water heaters heat water faster but may not be as convenient to carry as electric equipment. Gas requires a lot of space and proper installation of vents, so it is suitable for large houses. Regular post-installation maintenance is also essential. On the other hand, electric tankless water heaters are energy-efficient and provide lesser flow rates. They are stylish and require little space. The maintenance cost also is relatively less.
User friendly: Always buy a tankless water heater that is easy to use. Modern technology used in these heaters ensures ease of operation. Digital displays, auto adjustment mechanisms, and other functions are always selling points.
The tankless water heater is one of the great inventions of modern technology. There is no doubt that they indulge us and make our lives so comfortable We hope that the detailed specifications of the best tankless water heaters and the buying guide will help you purchase the best heating device for your needs.