Whether it's a call for adventure from the lush green valley or the lofty mountains, your experience can be enriched with the right camping accessories, such as a camping tarp.
The best tarps for camping are waterproof, strong, flexible, and versatile enough to protect you from extreme weather conditions. They have multiple functionalities and can be used as a tarp tent, ground cover, footprint, a shelter for the hammock, a canopy, hammock tarp, beach blanket, and a picnic mat.
Read on as we list some of the best tarps for camping that can be purchased online.
11 Best Tarps For Camping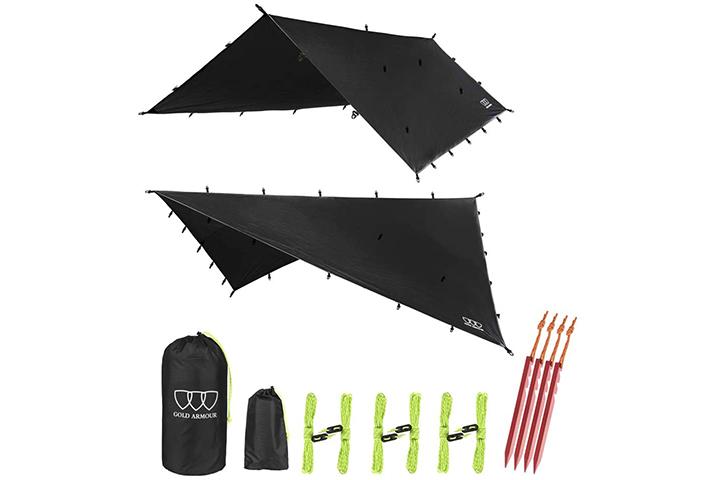 A great option for a solo hang or a double nest, this 12x10ft camping hammock tarp comes with 33 tie-down points. This square tarp is made up of superior ripstop material. It comes with six guy lines, six guy line tensioners, four aluminum tent stakes, one small accessory stuff-sack, and rain fly tent tarp stuff-sack.
The hammock tarp can also be used as a tent footprint, hammock shelter, picnic mat, or a beach blanket. It is ideal for backpacking, hiking, camping, trekking, bike packing, boating, or traveling in all weather conditions.
Pros
Large camping tarp with two long diagonal centerlines
Lightweight, durable, tear-resistant, and waterproof material
Does not stretch and sag
Withstands heavy rain and extreme winds
A reinforcing stitch to the tie-outs
Durable stakes
Cons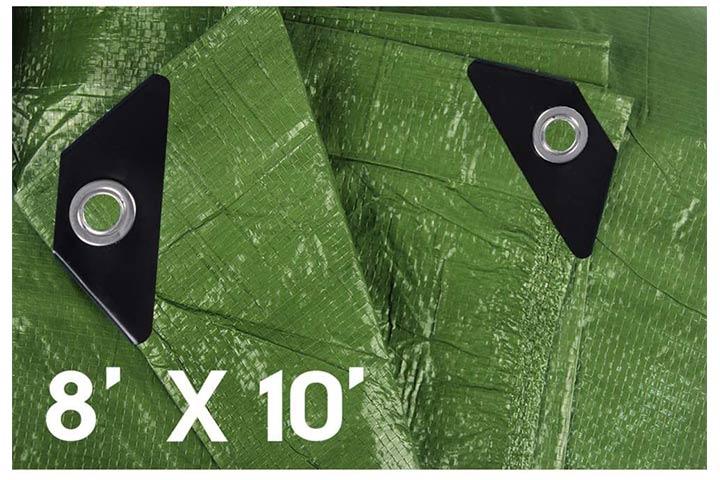 This 8×10 ft thick waterproof rain tarp for camping is made up from a strong polyethylene woven material. The edges of this tarp are strengthened with polyethylene rope. The tent is flexible, durable, and is resistant to damage from ultraviolet rays, rot, and rust. It protects the users from elements like the sun, the wind, and the rain.
This camping tarp can also be used as a roof patch material or as a cover for your vehicles. It also works as a drop sheet during any construction work.
Pros
Sturdy material
Sustains extreme sunlight and rainstorms
Dries faster after cleaning
The large size helps cover more surface area
Easy to clean
Easy to fold
Lightweight tarp
Cons
May not sustain heavy snow
Flammable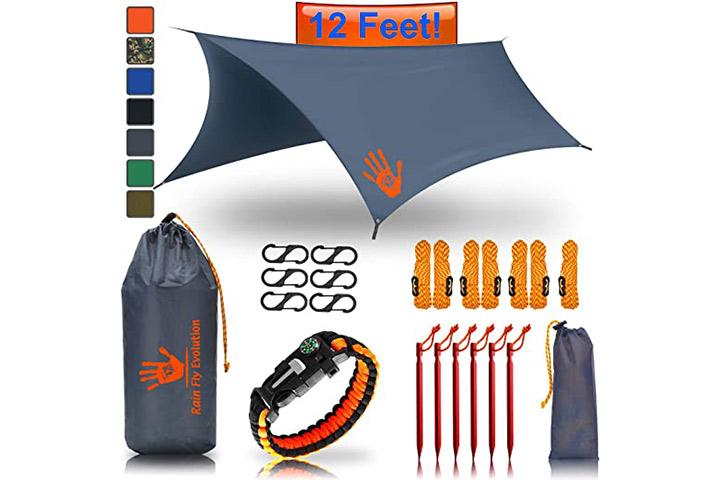 This heavy-duty rain fly camping tarp comes in two sizes of 12x10ft and 10x10ft. It is made of diamond ripstop real nylon fabric material with the water-resistance of 2000PU. The package also includes six lightweight aluminum stakes, six carabiners, seven adjustable guy lines, one stake bag for ropes and aluminum poles, one survival bracelet, and one all gear carrying pouch.
This kit's unique feature is the survival bracelet kit that includes a compass for navigation, a whistle, a flint as a fire starter, and a small scraper knife. Useful in multiple ways, from a hammock rainfly to the moisture-proof mat, it works as a barrier against the rain, thunderstorm, sun, and the snow. It is ideal for camping, hiking, and traveling.
Pros
Lightweight, ideal for backpacking
Covers a tall person when used as a tent
Heavy-duty secured stitching
Blocks most of the UV rays and keeps it cool
Quiet in strong winds
Provides good coverage
Reinforced corners and tie-outs
Good quality of stakes
Long cordages
Cons
Thin guy lines may get tangled easily
Improper grommet placement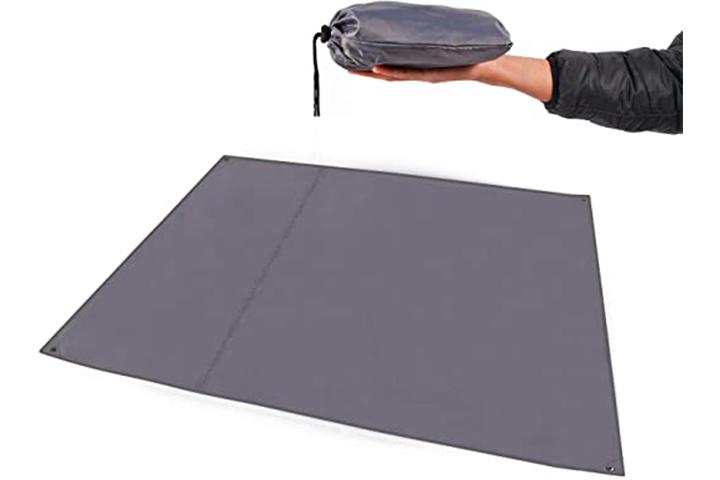 This tarp is made of 210D Oxford ripstop polyester and has water protection of PU1000MM. The camping tarp measures 17.5x7ft and can be used as a ground cloth for two to three people. The tarp can also be used as a beach mat, picnic mat, baby mat, and sun or rain canopy. The tent comes with a drawstring pouch that adds convenience in its compact packing.
Pros
Lightweight
Leakproof taped seams
Works as a groundsheet or a damp-proof footprint
Properly lined up grommets make it a perfect fit and prevent hanging
Thick, strong, well-built, and durable material
Compact packing saves space and time
Loops extended in corners allow convenient tie out
Provides good weather protection when used as a tarp shelter especially against the heavy torrential rain and snowfall
Cons
No grommets between the corners along the edges
Loose stitching
May not be able to bear wind tension when used as hammock or tent tarp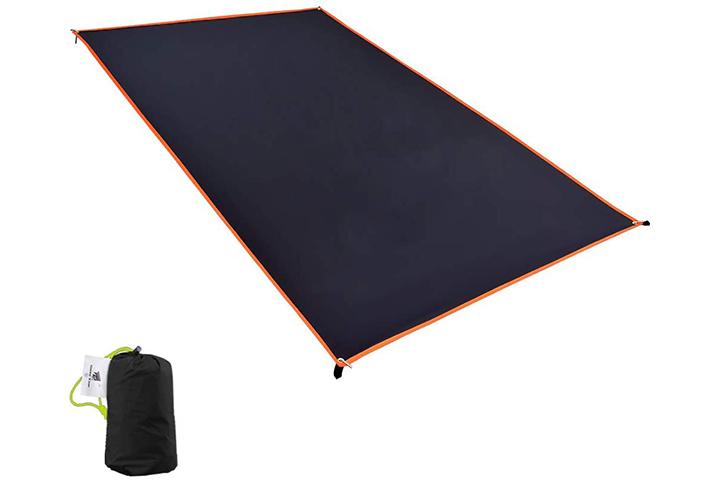 This 2.11×6.11ft tarp is made of 20D double-sized siliconized ripstop nylon fabric that makes it durable and tear-proof. The anti-moisture capability of the mat is due to its PU8000MM water-resistance level. You can pack this rupture-resistant ultralight camping tarp into a compact size drawstring pouch easily.
You can also use this rectangular tarp as a footprint, picnic mat, sun canopy, beach mat, hammock tarp, shade roof for a hammock, or a camping ground tarp.
Pros
Ultralightweight (160g) and compact packing for hiking, cycling, and backpacking
Thin yet sturdy, strong, supple, tough, and durable
Easy to clean and dries faster
Reinforced corners, edges, and grommets withhold tie-outs firmly
Cons
Size is smaller for a taller person when used as a tent tarp
Doesn't have an attachment in the middle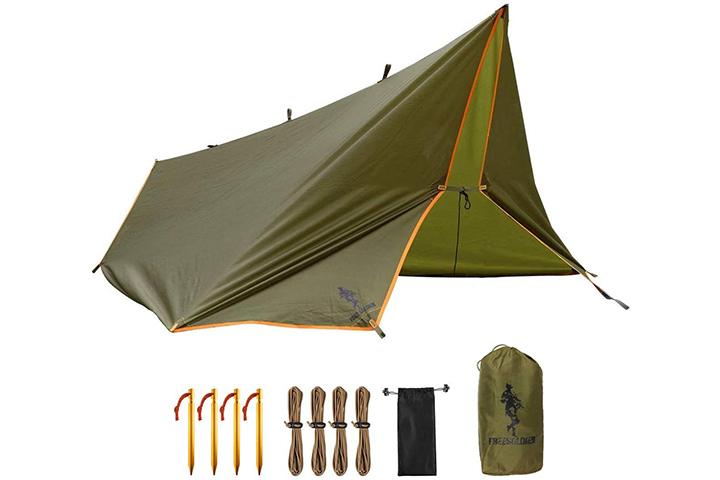 The Tarp package includes one hammock rain fly (9.8×10.5ft, 1200g), four nylon guy lines with tensioners, and one stuff-sack. It is made of 210T ripstop polyester material that has a 2500PU waterproof rating. This camping tarp shelter can be used as an awning as it is efficient in protecting from UV rays, rain, and the wind.
Its 19 guy points and five strengthening grommet points ensure proper coverage, making it useful for military, hunting, fishing, backpacking, hiking, camping, and other outdoor adventures.
Pros
Easy to fold
Durable, thick material
Wide cover area
PU-coated waterproof material and taped seams keep you warm and dry in the heavy rain and the high wind
Multiple tie-down straps allow versatility in the configuration of the tarp, and easy rigging all type of shelters
Quick to set up due to reinforced ridgeline seams
The edge loops are attached to reinforcing patches
Decent lines for suspension
Cons
Heavyweight
Weak stitching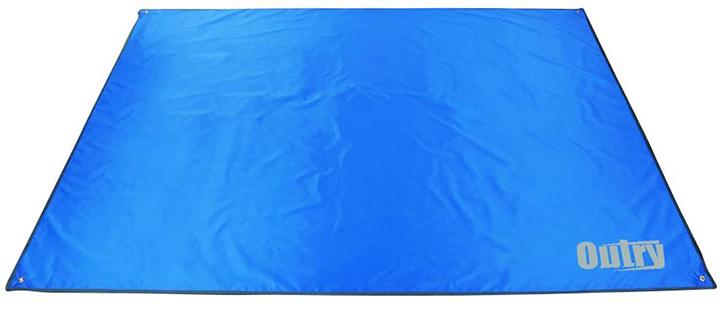 Composed of 210D Oxford ripstop fabric, this tarp comes in small (4.9×7.2ft, 360g), medium (5.9×7.2ft, 470g), and large (7.9×7.2ft, 566g) sizes. The package includes one tarp, four small stakes, and six medium and large stakes, and one stuff-sack. It is perfect for camping, hiking, backpacking, picnic on the beach, or other outdoor activities.
The multipurpose tarp can be used as a groundsheet, tent cover, hammock rain fly, outdoor kitchen cover, beach mat, instant shade or rain cover, and sun canopy.
Pros
Lightweight
Protects from snow
Easy to fold, pack, and carry
Thin yet durable
Double-seamed edges
Convenient placement of grommets (eight mm diameter) on each corner and a center grommet on two sides.
Easy to clean the snow or the dirt off the vertical or angled areas of the tarp
Dries faster
Metal rimmed eyelet holes around the edges make pinning down easy
Grommets are reinforced and tight
Cons
May not be suitable for use in rough or rocky terrain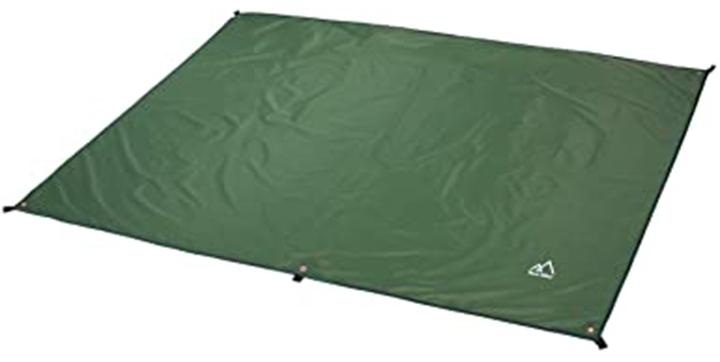 This camping tarp is made of 210D Oxford cloth material and comes in blue, green, and dark green colors, in three sizes of 5×7.1ft, 5.8×7.1ft, and 7.8×7.1ft. This camping ground tarp can be used as a tent footprint, sun canopy, picnic mat, beach blanket, cover for a vehicle, boat, or furniture.
Pros
Seamed edges
Cleans up easily
Easy to fold, pack, and carry
Lightweight and properly constructed
Good barrier against light rain, wind, and sunlight
Durable stitching
Works as a shelter over the tent, hammock, or campsite, and as a damp-proof ground mat
Quiet while folding and in the wind
Cons
Eyelets could tear from the fabric easily
Thin material doesn't cushion from rocks or sharp objects on the ground
May not withstand high wind, thunderstorms, and extreme heat
Easily flammable
Doesn't dry quickly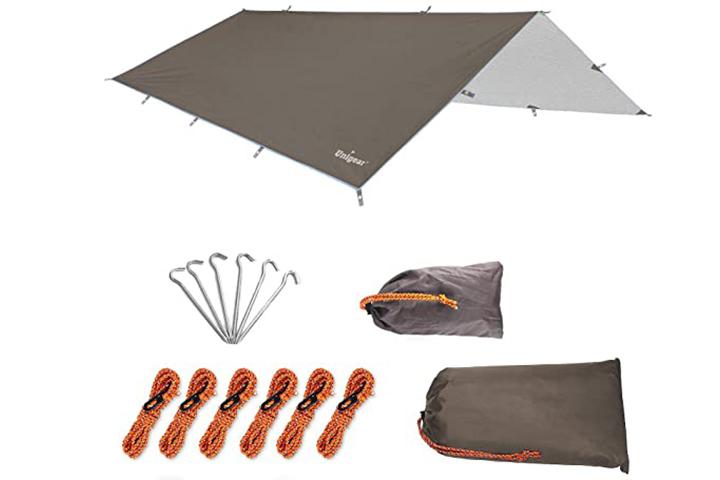 The Unigear waterproof tarp comes in three different sizes of 9.8×9.8ft, 9.8×13.12ft, and 9.8×16.4 ft. Made of strong 210D ripstop Oxford material, the tarp can protect your skin and eyes from the sunburn, keep you dry in the rain, sudden downpours, or snow. It works well for hammock camping, backpacking, hiking, or other adventurous outdoor activities.
The rain fly comes with six stakes, six ropes, eight tie-down fix points, and grommets, one on each corner and one in the middle of each side. It can be used as survival tarp, hammock shelter, outdoor kitchen cover, the desert beach, tent footprint, groundsheet, and instant shade.
Pros
Versatile and easy to set up
Inner reflective material protects against the harsh sun and can be used as a signal by rescue workers, owing to its high visibility
Long-lasting, anti-tear material prevents leaking and ripping
Double-stitched reinforced fixed points in the triangular dual layer
Double-stitched seams and corners with double-layer material
Water-resistant and dries fast
Quiet and easy to pack
Lightweight
Good lengths of paracord
Well-attached strong tabs and grommets
Cons
Stakes and ties may bend easily in gravelly or rocky areas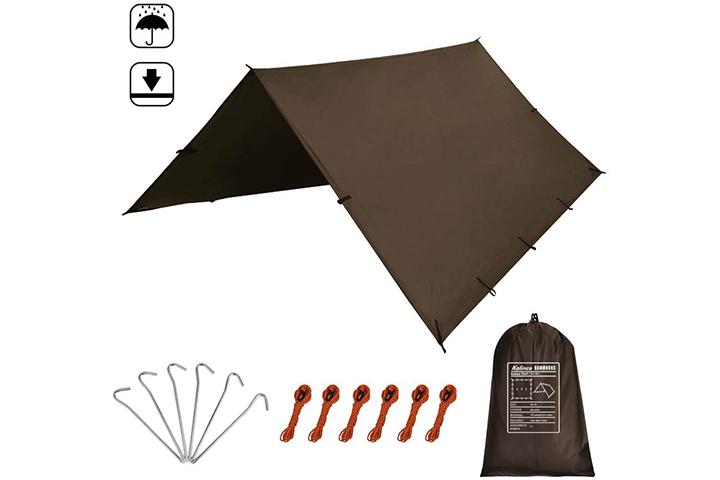 Whether you need a shade cover for your camp dining area or an awning shelter for an outdoor family party, this square tarp could come in handy. This 10x10ft square tent weighs around 1048gm. It is made of high-quality 190T Polyester with a hydrostatic column rating of PU3000mm. The tarp shelter comes with six metallic tent pegs, six tent ropes, and one waterproof stuff-sack.
Pros
Easy to set up with multiple versatile configurations
Taped central seam
High-quality, quick-drying fabric
Withstands high wind and heavy rain
Compact and foldable tarp design fits into a stuff-sack
Covers more area
Ultra-light and durable
Scratch-resistant, flexible, mild weather-resistant material
Reinforced corners and tie-out attachment points
Thin and silky, yet sturdy and durable
Blocks the sun completely to keep it cool
Ropes are long enough to string
Decent stitching
Cons
Thin pegs cannot be used in hard rocky ground
Tabs soak up water
Takes a long time to dry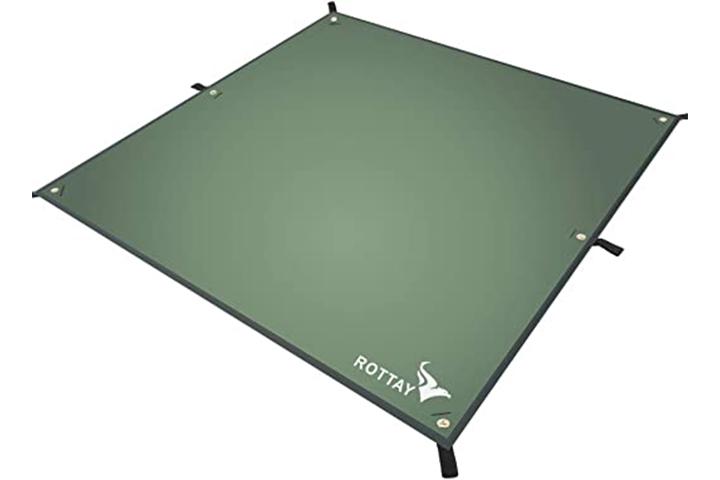 Whether you want to have a hammock rain fly or a cover for the back of the truck, this damp-proof tarp comes handy. High-density 210D Oxford fabric material is used in making this tarp available in medium (6×7.25ft) and large (7.8×7.25ft) sizes. A drawstring pouch is included in the package along with the tarp. The metal grommets along the sides and the tie-down loops will allow you to insert lightweight tent pegs.
Pros
Lightweight and easy to work with
Ideal as a ground tarp to prevent abrasions and punctures in the tent base
Protection against dampness when used as a ground cover
Flexible and quiet
Protection against heavy rain and wind
Easy to clean and consumes less space in your backpack
Dries quickly
Offers cool shade
Cons
Thin material doesn't withstand the stress of hanging
Inadequate numbers of loops and grommets
Doesn't withstand extreme weather conditions
How To Choose The Right Tarp For Camping?
Choosing the best tarp for camping depends upon the criteria listed below.
Quality: A tarp is designed for use as a protective covering layer while outdoors. Thus, knowing the thickness of the tarp will give you an idea about its quality and if it can withstand the extreme weather conditions.
Fabric: Tarp fabric can be heavy-duty or lightweight. Heavy-duty tarps are more durable and heavier and can withstand varying weather conditions. Lightweight tarps can be used as shelter, covers, and mats in mild weather conditions.
Size: Tarps that provide large coverage area are ideal for more people and can be packed into small stuff-sacks easily. Smaller tarps are much more compact and ideal for light or solo travelers.
Variety and ease of set up: If the tarps come with multiple reinforced attachment points and more places to latch, they are easier to set up and ensure a secure taut fit.
Color:  Colors of the tarps impact your outdoor experiences. Where heavy-duty silver tarps are very efficient in blocking sunlight, white tarp allows natural light to come through.
Investing in a good tarp can keep you comfortable outdoors, whether on a camping trip or a backyard family picnic. Ensure that you pick one based on where and how you want to use it, and how often you are likely to use it. Do keep a budget in mind, so you can invest in a quality camping tarp that is also inexpensive yet durable.