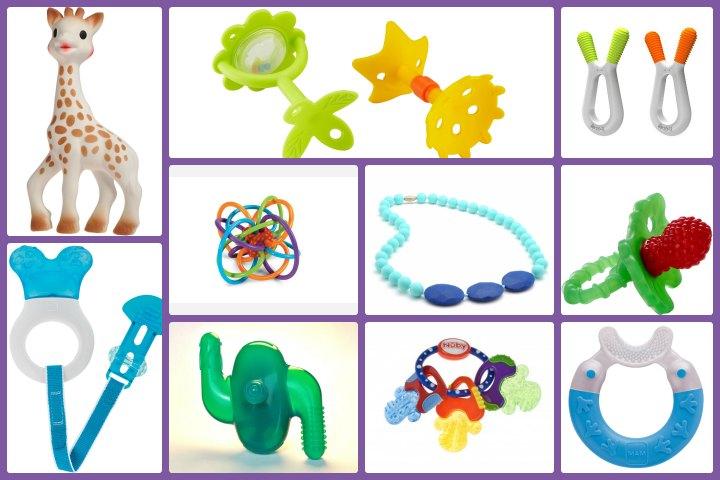 Once your baby starts teething, she'll need a lot of hugs, a little Tylenol, and a few teething toys. Chewing is one way to get relief from the irritation that comes with teething.
A baby's gums are sensitive, and hard surfaces can injure them. What you need are products especially created to soothe and massage your baby's painful gums. What you need are teething toys!
So, should you just buy teething toys at random? Are all teething toys the same? Nope! The wrong teething toy can do more harm than good. What you need are quality products that will make teething easier, for you and your baby.
There is something for everyone out there! You'll find best baby teething toys that fit right into your budget, or you'll discover amazing colors and designs sure to make your baby happy.
Top 10 Best Teething Toys for Babies
1. Zoli Bunny Baby Teether:

This cute little teether from Zoli comes with dual tips. Each tip softly massages your baby's sore gums. Its oval handle is easy to grasp. It is also BPA, PVS, and Phthalate free, making it completely safe your baby.
Price: $10
Website
[ Read: Baby Teething Age ]
2. Chewbeads Necklace:

Chewbeads necklace is a unique teething toy you must posses! Whoever designed it knew how babies love to chew on necklaces. Made of 100% silicone beads, the Chewbead is sure to attract a lot of attention. Easy to clean, and free of BPA, PVC, Phthalates – this one surely deserves a place in your baby shopping list!
Price: $36.50
Website
3. Vulli Sophie The Giraffe Teether:
This teething toy is sure to appeal to your baby's all round senses. Each piece is hand painted and unique. This giraffe shaped teether makes a great gift idea too. Completely safe and allergen free, these teethers from Vulli will make a great addition to your baby's ever-increasing pile of toys!
Price: $19.75
Website
[ Read: Baby Teething Symptoms ]
4. MAM Bite And Brush Teether:
Not much to look at but this is one teether that will serve more than one purpose. It comes with tiny little silicone bristles that gently brushes your baby's new teeth!
Price: $7.45
Website
5. Razbaby RaZberry Teether:

A teether that's shaped like a pacifier – now that's pure genius. This hands-free teether will massage your baby's gums even when she is playing. Its rough texture helps make the teething process a little easier. Made with 100% food-grade silicone, you can even freeze the Razbaby RaZberry Teether for added comfort. And it will fit your budget too.
Price: $3.50
Website
[ Read: Order Of Teething In Babies ]
6. Winkel by Manhattan Toy:

Winkle will surely blow your mind without burning a hole in your pocket. A rattle and teether rolled into one! This teether will promote your baby's fine motor skills and soothe her sore gums too! Value for money, you bet!
Price: $14.69
Website
7. Innobaby Teethin' SMART EZ Grip Teether:

If you are looking for value for money, check out the Innobaby Teethin' SMART EZ Grip Teether. It is a rattle and teether. Not just that! Its design promotes oral motor skills as well as hand-eye coordination! This teething toy is a winner all the way!
Price: $4.99
Website
[ Read: Toy Safety For Babies ]
8. Nuby IcyBite Key Teether:
Now this is how classic teethers looks like! And when it is from Nuby, you can trust it with your eyes closed. With colorful colors, this teether will appeal to your baby. And it's rough texture will help sooth her painful gums. You can freeze the teether too for added relief.
Price: $3.88
Website
9. MAM Mini Cooler Teether:
Tired of picking up the teethers your baby keeps dropping? Try this unique teething toy from MAM. It comes with a clip that allows you to attach it with your baby's clothes – no more dirty teethers! Perfect for when you are traveling. Its unique shape will reach even the back molars. Molars hurt the most, so this is a must buy for you!
Price: $7.47
Website
10. Nawgum:

Now you don't need to buy multiple teethers for your growing baby. This cactus shaped teething toy is suitable for babies and toddlers alike. Made with food grade silicon, Nawgum is dishwasher safe and easy to clean.
Price: $21.48
Website
If you are planning to buy a few baby teething toys, take your pick from this list. Each of these products comes with their unique properties and benefits. The varied price range gives you the option to buy within your budget. So, get a teether and hope for a smooth teething experience!
Do you think baby teether toys are a must buy? Which teether did you invest in? Share your review with us in the comments section below.
Recommended Articles:
The following two tabs change content below.
Latest posts by Chhandita Chakravarty (see all)