We can all relate to this. We're curled up on the couch on a rainy day and all we need to keep us cozy is a throw blanket. The best throw blankets can be used in any season, be it on a windy summer day, a rainy evening, or a cold winter noon. They are soft, comfortable, and keep us cozy and warm. You can use it with your pets, kids, or when you're huddled up as a family around a warm fire.
From fleece to polyester and knitted to plain, we've created a list of the 13 best throw blankets that are sure to keep you warm and comfortable.
13 Best Throw Blankets For All Seasons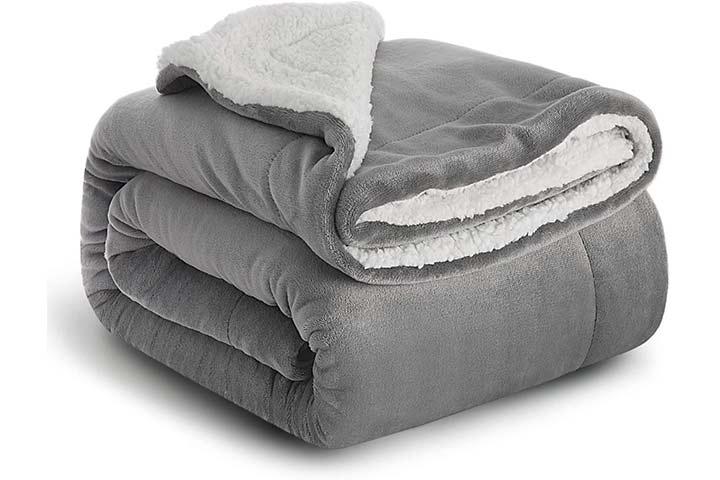 If you're looking for a throw blanket that gives you warmth, comfort, and luxurious fluff, the Bedsure Sherpa Fleece Blanket is what you need. It is designed for superior user experience to enhance your snuggle time and offer a super-soft hug for quality sleep and comfort. This plush throw blanket is made with superior microfiber and a double reversible design for an extra soft and warm curl up. Experience two different layers of soft with this wrinkle-free blanket with one side fluffy and the other side smooth and soft. Grab this fleece blanket and enjoy a comfortable, stress-free cuddle.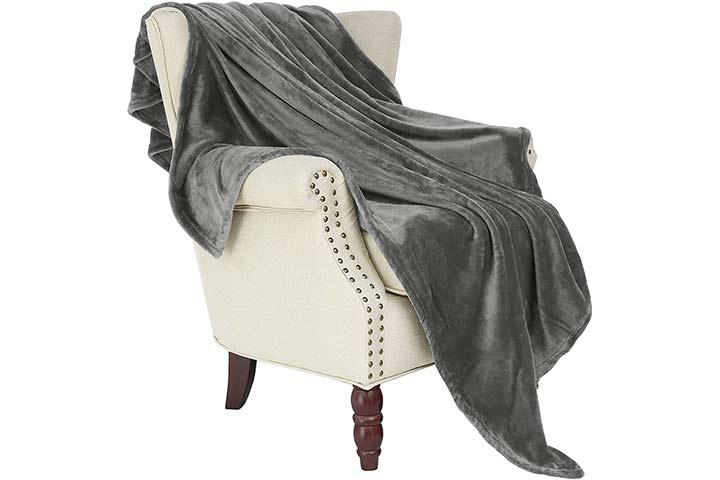 Warm enough to keep you comfortable, light enough to prevent you from sweating, the Exclusive Mezcla Large Flannel Fleece Throw Blanket is super soft, cozy, and decorative. This soft throw blanket is suitable for all seasons, be it a rainy day or a windy summer day. It is made with a double-sized flannel and has a rich, luxurious sheen that makes it an excellent addition to your room decor. It has an exquisite manufacturing process that prevents it free from wrinkling, shedding, or fading. This throw blanket is machine washable and dryable making it easy to clean.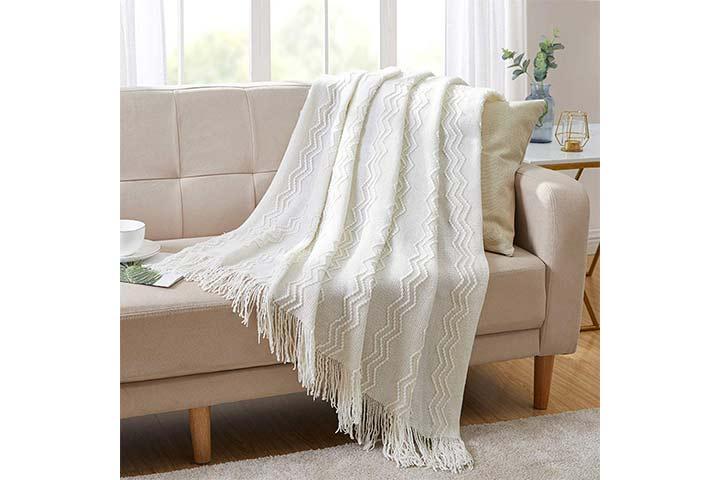 If you're not a fan of fleece blankets but you're looking for something more trendy and lightweight, this knitted classic blanket is just for you. The Bourina Throw Blanket is made with 100% acrylic material that is soft and breathable. It offers you a super soft cozy touch that is not only comfortable but also fashionable. It can be used on sofas, bedding sets, and for decorative purposes. These quilt throw blankets are carefully knitted and have a rolled, fringed edge to create a beautiful finish. Environmentally-friendly dyes are used for printing and this a dustproof and shed-free throw blanket.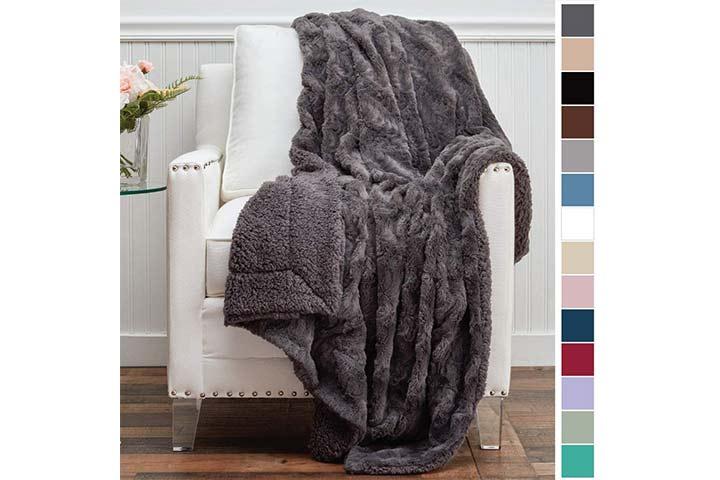 Committed to delivering high-quality and long-lasting luxury products to customers, the Connecticut Home Company brings to you one of the best faux fur throw blankets. It is carefully constructed with thick and soft faux fur that ensures comfort and ultra-soft coziness. They make great, sophisticated additions to your decor and enhance the quality of your room. These super soft throw blankets are designed to keep you warm during the day and at night. They are available in different colors, do not shed, are easy to clean, and also make the perfect gift for your loved ones.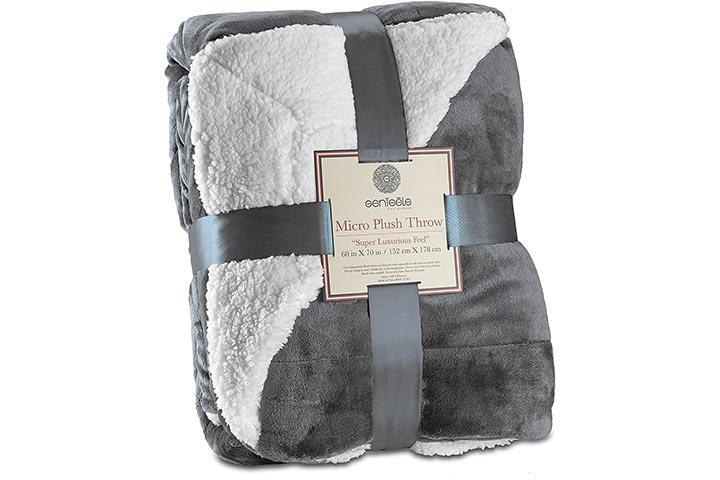 Warm, toasty, and presented as a beautiful gift, the Genteele Sherpa Throw Blanket comes in a ribbon-tied pack and is available in several soothing colors. It is created with high-quality material and expertly stitched to make it durable and fade resistant. This double-sided throw blanket is exceptionally soft and fine-brushed with sherpa wool. It's made with velvet cashmere micro mink and faux fur sheepskin wool to make it warm and breathable throughout the year. This velvet throw blanket is anti-pill, remains wrinkle-free and soft after washing. It adds a touch of elegance to your room and makes a great gift for your near and dear ones.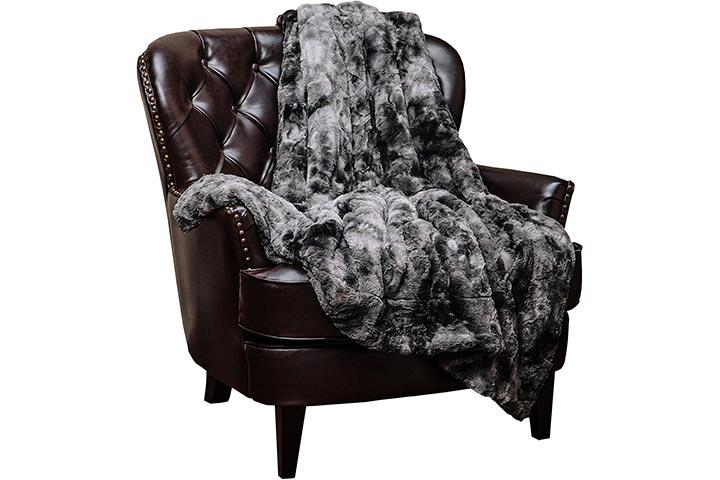 With high quality being the top priority, this Chanasya Blanket stands for comfort and luxury. It is designed with hand-picked fabric that is hypoallergenic, non-toxic, and anti-static. This plush blanket is perfect to get cozy with while snuggling on the sofa or bed, spending time in a cold home theater, or to just add to the decor in your room. It's simple, classy, and versatile to use outdoors as well as indoors. This lightweight blanket is cruelty-free, breathable, and can be machine washed and tumble dried.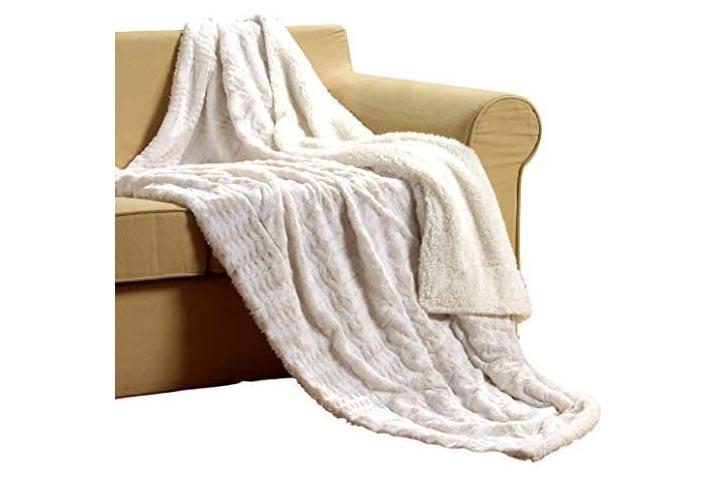 Sure to keep you warm on nights that are freezing, this faux fur throw blanket is made with a polyester blend. It is soft, warm, and elegant. This imported blanket adds elegance and sophistication to any room with its cream color and cozy texture. The Tache Home Fashion Throw Blanket is cruelty-free and great to use on the couch, bed or to cover up your lap. This weighted fluffy blanket can be washed in the machine and tumble dried.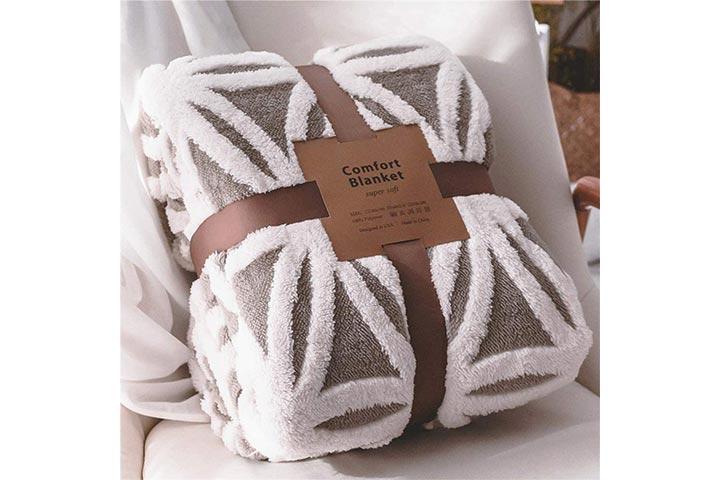 If you're tired of plain and boring blankets and you're looking for one to snazz up your bedroom with its wonderful patterns, the Lomoa Sherpa Fleece Blanket is just what you need. Its sturdy ring-spun yarn technology creates a high-density fiber that is super soft, lightweight, and extremely durable. This fleece blanket can be used on both sides for two different experiences. One side offers you a coral fleece jacquard texture while the other side is a sherpa fleece material. It can be used throughout the year and is suitable for all seasons. It also adds to the decor of your room to give it a touch of chic.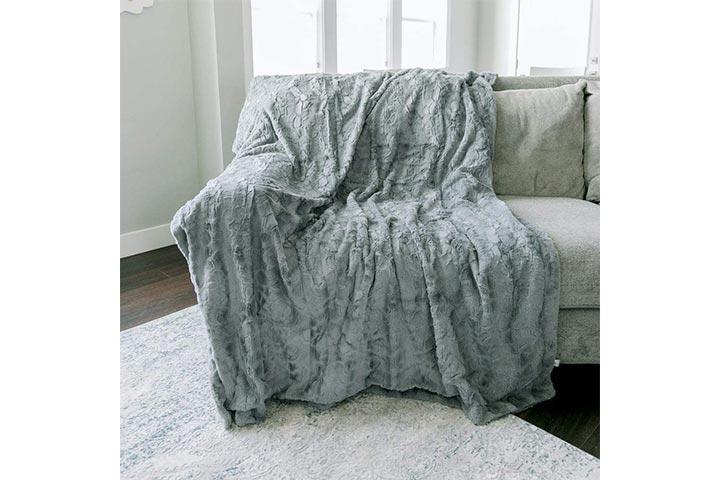 Wrap yourself in this luxuriously soft faux fur blanket and enjoy an unmatched level of comfort. Its extra-large size and double-sided softness are perfect to spend time with your kids all cuddled up on a cold night. The Graced Soft Luxuries Faux Fur Throw Blanket is made from the finest materials to offer you maximum comfort and highest quality. This throw blanket is large enough to cover a queen-sized bed and can also be used to decorate your couch, bed, or living room furniture.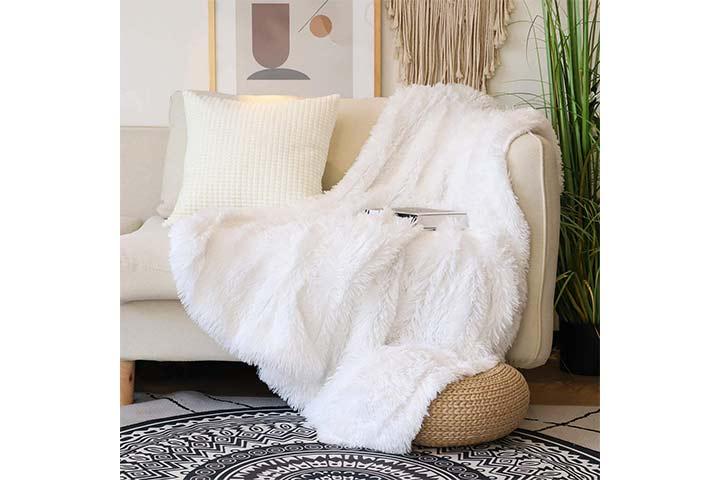 Extra fluffy and ultra-soft, this faux fur throw blanket adds to the decor of your homes. It's made with 100% microfiber polyester that has long, shaggy fabric on one side and warm, skin-friendly velvet on the other. It might be one of the most favorite throw blankets for you, your kids, or even your pets. The long plush faux fur material is fade-resistant making it safe for machine wash. It is classy, elegant, and suitable for all seasons.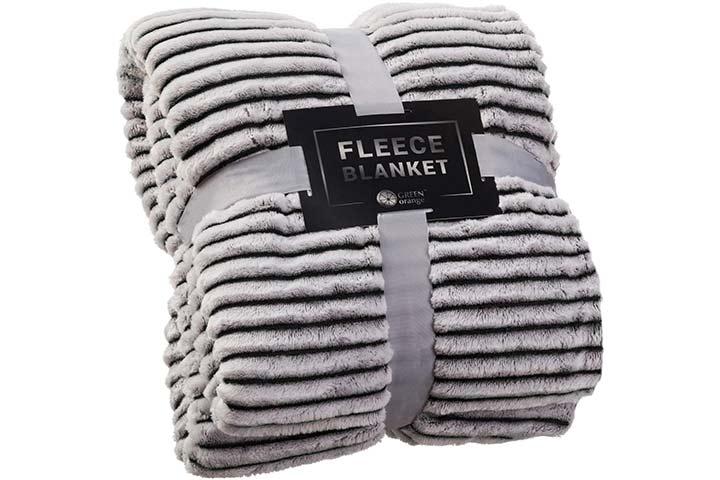 Green Orange prides itself on the genuineness of their quality. The premium fleece blanket is versatile in its usage. It's great for all your needs, right from setting up a couch to a queen-sized bed and even keeps you warm when you're snuggled up with your pet. This throw blanket is 100% hypoallergenic and fade-resistant. It offers ultra-comfort with its soft, warm, and wool-like texture that it even suits sensitive skin. Its unique combination of microfiber polyester and shedding technology makes it wrinkle-free and highly durable. Buy one of these to experience a premium fleece blanket and you will not regret it.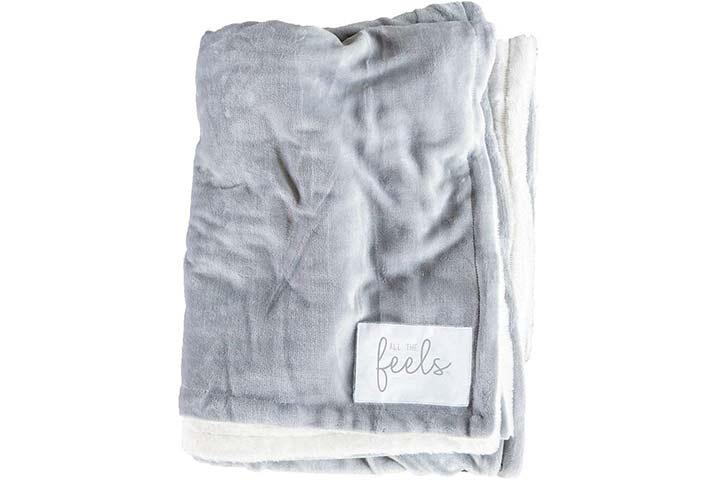 Made with 100% polyester that is designed to give you warmth and comfort, the All The Feels Premium Reversible Blanket is more than just a blanket. It has taken up the initiative to keep the less fortunate warm as well. With every blanket you purchase, All The Feels donates one blanket or the monetary equivalent to a non-profit organization to help people in need. This soft velvet throw blanket can be used on both sides for extra warmth. Buy this blanket for luxurious comfort and also to help someone in need.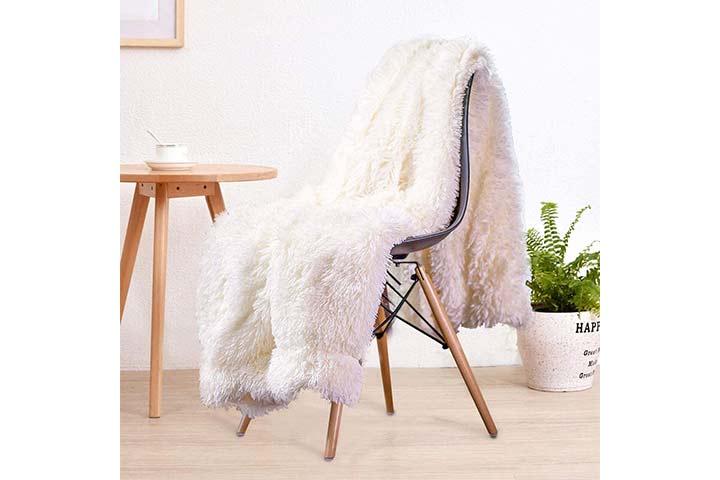 A plush throw blanket that makes a great gift for your loved ones, the Lachas Super Soft Faux Fur Blanket is crafted with an exclusive design and a double-thick layer. This reversible blanket can be used on both sides. One side of this blanket is soft velvet which adds a silky touch to keep you warm and the reverse side is a super cozy sherpa fabric that gives you comfort and extra warmth. Once you get used to the real silky feel of this faux fur blanket, there is no going back. It lasts longer when machine washed with cold water and air-dried.
Now that you have a list of your possible favorite throw blankets, let's look at how you can choose the right one for you.
How To Choose The Right Throw Blanket?
While choosing a throw blanket, there are a variety of factors to consider. With so many different options to choose from, making that decision might be a tough one. So here are a few things to keep in mind while choosing your throw blanket:
Material – Different materials are used to make throw blankets. Depending on your need, it is wise to choose the one that's best for you. For example, wool blankets are the warmest but require high maintenance. Cotton blankets are lightweight and easy to care for. Polyester blankets are trendy, lightweight, and simple to maintain as well.
Size – If you're looking for a blanket to wrap around you on the couch, a smaller blanket will suffice. However, if you want one to cuddle up with your partner, kids, or pets, you will have to opt for a bigger size.
Utility – Before choosing a throw blanket, it is always a good idea to ask yourself why you need one. Some blankets are suitable for indoors and some that can be used outdoors too. If you're going on a camping trip and looking for a blanket to keep you warm, you will have to opt for a fleece blanket. Similarly, if you're looking for one to keep you cozy on your sofa, a woolen or polyester blanket will be your optimal choice.
Design – Many of these blankets can be used to spice up the decor in your house, either in your living room or bedroom. Depending on why you need it, it is best to choose the blanket that is compatible with the decor.
Maintenance – An important factor to consider, a fleece blanket has to be easy to clean. You do not want one that gives you an added task to get it cleaned. Most good throw blankets can be machine washed and tumble dried. Some of them are recommended to be air-dried to maintain their quality.
Warmth – Most blankets are suitable for all seasons but if you're living in a place where the climate can get exceptionally cold, the best option for you is to choose a weighted blanket. It keeps you warm and cozy even in the coldest winter. However, if you're looking for a blanket for a spring or windy summer, a lightweight blanket is your best option.
Number of sides – Another important aspect to keep in mind while purchasing a throw blanket is if it is reversible or not. Blankets that can be used on both sides are generally thicker and sometimes use two different materials. The single-sided ones are much thinner and make use of only one kind of fabric.
When it's time to put on those fuzzy socks and get cozy on your couch, sofa, or bed, the only thing you need to add to that mix is a super soft throw blanket. We hope our list gave you an idea to choose your favorite one. Comment below and let us know which is your favorite blanket from our list and what you look for in a throw blanket.
Recommended Articles: