Your toddler is ready to transition out of the crib into a regular or an adult-size bed. However, the thought of your child rolling over and tumbling out onto the hard floor seems scary. As a parent, there is nothing worse than seeing your child in pain. So let's help put your mind at ease by telling you that installing a toddler bed rail is one of the best ways to ensure the safety of your child.
A bed rail will help keep your child sleeping safely and soundly and give you peace of mind knowing that there won't be any middle-of-the-night falls. Bed rails are quite a trend, and there are so many options to choose from. So to make your search easier, MomJunction has put together a list of the 11 best toddler bed rails.
11 Best Bed Rails For Toddler
This toddler bed rail guard by ComfyBumpy features the classic metal and mesh design, which is crafted to fit a variety of bed sizes, ranging from single cots to king-size beds. Recommended for toddlers over 1 year old, it is sturdy, extra tall, and easy to adjust.
Pros
It is easy to fold down the bed rail
Comes with Velcro to connect to slat based-cots
Includes adjustable straps for box spring mattresses and screws for wood-based cots
Features flat metals bars that won't cause bumps or discomfort
Breathable and comfortable mesh padding
Cons
May be slightly short for a king-size bed
Made of durable steel, 3D linen, and breathable mesh materials, this bed rail is specially designed to fit adult twin-size beds. It is lightweight, well-built, and easy to install. It features a reinforced anchor system and a stabilizer bar to give your little one added security.
Pros
Durable
Features rounded corners to prevent injuries
Portable
Available in 7 colors
Cons
May not be suitable for wood-based cots
This dual-sided metal bed rail is ideal for protecting your little sleeper when you have a bed placed in the middle of the room. With each panel measuring 42.5×21 inches, it accommodates various bed sizes ranging from twin to queen-size mattresses, and also platform beds.
Pros
Fits thicker and wider mattresses
Breathable mesh polyester material
One side folds down for children to climb in and out of the bed
Easy to change sheets on the bed
Cons
A little pressure may unclip the upward-facing pins that connect the 2 rails
Slightly expensive
TotCraft Toddler Bed Rail is a universal design that is constructed to be compatible with any bed frame size and mattress type. It comes with screws, straps, and Velcro that are used to connect to a wooden base, boxspring, and slat-base beds, respectively.
Pros
Made of metal rod and mesh
Non-toxic, sturdy and durable
Features patented Fold-down design
Mesh fabric is machine-washable
Available in 2 colors
Cons
Does not come with an easy-to-follow guide of ins
If your child rolls over quite a lot in his sleep, this extra long bed rail is the best option for them. With the panel measuring 54×20 inches, this sturdy bed rail offers a higher level of security. It also features the brand's patented Gap Guard protection that prevents gaps between the rail and the mattress.
Pros
Suitable for queen size cots
Swing down feature makes getting in and out of bed easy
Lightweight and easy to install
Made of steel and durable nylon mesh
Can be wiped with water and soap
Cons
Can only be used with the mattress on a box spring base
Don't like large, clunky bed rails? Then this foam bed is your best bet. This inflatable bumper is foldable and portable enough to be travel-friendly but, at the same time, long enough to keep your child safe and secure on the bed. It is designed to fit twin, double, queen, and king-size beds.
Pros
Easy to install by sliding it under the fitted bedsheet
Water-resistant and machine-washable cover
Non-toxic and hypoallergenic
Non-skid backing
Cons
If your child feels caged in a bed rail, then opt for this foam bed bumper. All you have to do is inflate the bumper and tuck it underneath the bed sheet. It is gentle and is ideally sized to keep your child safe and sound in the confines of their bed. It features a non-slip bottom that prevents the bumper from sliding off.
Pros
Suitable for all bed types, including cribs, double beds, and large-size beds
Water-resistant and machine-washable
Hypoallergenic and durable
Convenient for big kids to climb over the bumper and onto the bed
Cons
May not be suitable for an elevated bunk or loft-style beds
One of the best toddler bed rails in the market, this one by Kooldoo is safe, sturdy, and durable. It is made of high-quality steel, which is enclosed in a foamed cotton fabric for added comfort. It features a fold-down design for convenient access to the bed and makes it easy to change the bedsheet.
Pros
Fits all bed types from toddler to king-size beds
Formaldehyde-free fabric
Features a safety belt
Easy to install
Wear-resistant and washable
Cons
The fold-down design may not be suitable for shorter cribs or platform beds
Munchkin Toddler Bed Rail is one of the sturdiest toddler bed rails available, which is made of durable aluminum and breathable mesh. It features curved edges that do not cause any injuries to your child. It is suitable for children aged 2 to 5 years old.
Pros
Safety straps eliminate the gap between rail and mattress
Fold-down design
Suitable for twin, full, and queen-sized beds
Can be wiped with a damp cloth
Available in 2 colors
Cons
If you have a toddler who does 360° turns every one hour or so, then what your child needs is an extra long bed rail just like this one by SURPCOS. Ideal for children from 1 to 5 years old, this bed rail covers one side of the bed entirely and is tall enough to prevent your child from climbing over.
Pros
Available in various sizes to fit different bed types
Made of high-quality steel and durable mesh nylon fabric
Easy to adjust the height of the bed rail
Storage pocket
Easy to install and operate
Cons
Compact, portable, and easy to set up – this is how we describe this bed rail or bed bumper by Ashtonbee. It is easy to inflate and deflate and features a non-slip silicone backing that ensures that the bumper stays put.
Pros
Comes in a pack of 2
Waterproof
Universal design to fit all bed types
Travel-friendly
Includes a foot pump
Cons
In the next section, we list a few points that can help you make the right choice while looking for a bed rail.
The Right Age To Start Using A Bed Rail
According to the US Food and Drug Administration (FDA), the recommended age to use a bed rail is 2 to 5 years. That said, some parents begin using a bed rail for their child who is as young as 18 months old. So, it could also depend on whether your child is ready to transition from a crib to a bed (fitted with a bed rail), and as a parent, if you are well prepared for this phase.
Are Bed Rails Safe For Babies
Bed rails may not be safe for babies or infants. The reason being small babies are at a higher risk of getting stuck between the safety bed rail and the mattress.
[ Read : Babyhug Kelly Wooden Cot Reviews ]
A Guide To Choosing The Right Bed Rail
There are many things to consider when choosing a toddler bed rail. Here are some factors to keep in mind.
1. Material:
The material of a bed rail is a primary factor to consider. They can be made of various materials such as wood, aluminum, metal, or plastic. No matter which one you choose, you need to ensure that it is durable and will last through your child's growing years. Since these bed rails are specially designed for kids, the material has to be non-toxic, and the frame should not have any sharp edges.
2. Size:
The size of the bed rail depends on the size of the bed you use and the coverage you are looking for. While some bed rails fit all bed types and mattresses, some are only meant to be used on single or twin beds. If you are still unsure about the size of your bed, it's best to take measurements of the bed and check for compatibility. It is also essential to check the height of the frame – the taller the bed rail, the more security it provides.
3. Installation:
Most metal bed rails are easy to install. All you need to do is adjust the Velcro or strap under the mattress. If you have a wooden-base cot, you might need screws to fix it. For parents looking for an alternative to metal, they can opt for soft foam bumpers. Nevertheless, most products come with easy-to-follow instruction manuals.
[ Read : Babyhug Malmo Wooden Cot Reviews ]
4. Additional features:
a. Bed rails come in both single and double-sided options. Choose one based on the set up of your bed in the room.
b. Look for a bed rail with a fold-down option. This feature makes it convenient for your child to climb up and down from the bed.
That was our round-up of the 11 best toddler bed rails that help keep your little one safe. Bed rails or bumpers come handy when your child is ready to make the shift from the crib to a regular bed. Have you already started using a bed rail for your child? Which one did you pick up from this list? Do let us know about your experience in the comments below!
Recommended Articles: 
The following two tabs change content below.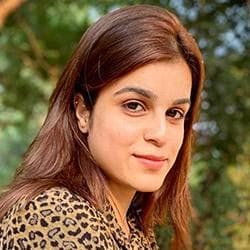 Sakshi John
Sakshi did her graduation in Journalism from the Madras Christian College, Chennai, before starting her career as a freelance writer. She is into blog writing and for MomJunction, she covers various topics, including products to buy for your kitchen, furniture, and other home requirements. Previously, she interned as a content writer in a cyber security firm. As a content writer, Sakshi...
more