Whether your child is sleeping at home or taking a nap in their car seat or stroller, a good-quality toddler blanket will definitely come handy. Blankets are essential accessories that your baby needs to keep them safe and cozy during the colder months. But some blankets can also be used during summer to keep their body cool and protected from the harsh sun rays when you're outdoors.
Just like choosing any other baby product, you need to be careful when picking a blanket for your toddler. The best blankets for toddlers should be lightweight, incredibly soft, breathable, and super adorable. From cotton summertime blankets to thick woolen winter blankets, there are so many options to choose from. Read through our list of the 11 best toddler blankets and pick one or as many as you like depending on what suits your child best.
11 Best Toddler Blankets Of 2021
Warm, fuzzy, and cozy are how we would describe this pretty pink blanket by Bedsure. It is sure to keep your baby snug on those cold days — you can wrap them with this bed sheet and put them to sleep in the crib or cover the stroller seat and lay your baby on it. Made of 100% microfleece, this 40 x 50-inch blanket provides constant warmth and comfort for your child. You can wash and dry this blanket as many times as you want without worrying about shrinking or shedding. Plus, if your kid is sensitive to wool, this fleece blanket makes for a great alternative as it provides the same warmth and softness.
Pros
Fluffy and lightweight
Easy to carry and store
Neatly stitched seams
Comes in different sizes
Available in varied colors, ranging from bright to neutral
Cons
If your child is a huge fan of the movie Frozen and loves anything to do with the movie's theme, then this bed set will make them jump with joy. This set includes a 40 x 50-inch Frozen-themed blanket that features designs of Elsa, Anna, Olaf, and snowflakes. It comes in a beautiful lavender color that is sure to liven up your kid's bedroom. This set also includes a flat top sheet, a fitted bottom sheet, and a standard size pillow cover. While the sheets are made of 100% polyester, the blanket is made of soft coral fleece, all of which create a perfect snuggly sleeping space.
Pros
Machine-washable
Fits a toddler mattress measuring 28 x 52 inches
Available in different designs and colors
The bottom sheet is elasticized to provide a snug fit on the mattress.
Cons
Looking for a blanket that will offer luxurious softness and comfort without breaking the bank? This baby blanket by BORITAR is a great choice for you and your child! Made of Minky fabric, this blanket features dual-sided reversible design – one side is super smooth, and the other side is plush with dotted design. It measures 30 x 40 inches and makes for a perfect toddler blanket as it provides full coverage and can also be used to swaddle a newborn baby. But remember to wash it before first use. This pink unicorn-themed blanket will make for a cute and chic addition to any room and is great for cuddling.
Pros
Lightweight and ventilated
Durable seam stitching
Safe to wash in a washing machine
Can be used as a photography prop
Does not contain chemical additives
Cons
When it's time for your little one to catch up on some sleep, the right blanket makes bedtime more comfy and fun. This ribbed fleece blanket by GREEN ORANGE is designed to keep your toddler snug while they sleep soundly. It is lightweight and hypoallergenic, making it safe to use for toddlers and those with sensitive skin. At the same time, its warming and breathable qualities make it ideal for year-round use. One of the best soft toddler blankets, it measures 40 x 50 inches and comes in a range of colors, from pearl grey to Marsala red to brown-white stripes. This plush, breathable toddler blanket is made from microfiber polyester (270 GSM) and with a unique shedding technique that ensures durability.
Pros
Durable stitching
Easy to maintain
Shrink and fade-resistant
Undergoes anti-pilling process
Can be used as a pet blanket or a throw for sofa
Cons
Might be flimsy and very thin
From the manufacturers of some of the best baby bedding products comes this lovely Navy Deer blanket that will add a touch of cuteness to your child's nursery or bedroom. It measures 39 by 47 inches, which means it's large enough to provide complete coverage to your infant or toddler and fits snuggly over mini and standard cribs. At the same time, it is also easy to fold and carry with you when you're travelling. Made of 300 GSM microfleece and weighing 0.9 lb, this blanket is super soft and of the right weight, keeping your toddler warm and comfortable in any season. 
Pros
Skin-friendly fabric
Machine-washable
Wrinkle-resistant
Fire retardant and odor-free
Available in different sizes and designs
Cons
Does your little one need extra help in falling asleep and getting a good night's rest? This weighted blanket is an excellent choice for them. Lack of sleep can lead to chronic stress and affect the child's sensory processing. But using a weighted blanket can help your child sleep better and for longer periods, which could improve their physical and mental health. Made of polyester, this light grey blanket weighs 3 lb and is suitable for kids who weigh anywhere between 9 and 40 lb. It provides gentle weight and comfort, giving your child a feeling of being hugged. While one side of the blanket feels super soft against the skin, the other side features a patchwork pattern and rhomb pockets design that is smooth and stimulates tactile cognition.
Pros
One-piece design
Even weight distribution
Machine-washable
Suitable for year-round use
Available in different measurements and colors
Cons
Babies are delicate beings with sensitive skin. Hence, it's essential that you choose a high-quality blanket that won't irritate their skin. Cotton is considered to be one of the most favored fabrics for kids due to its soft, hypoallergenic, and breathable qualities and this muslin cotton blanket by NTBAY is all that and more. This blanket features 3 layers — a 100% thermal fiber filling sandwiched between the top and bottom layers made of 100% cotton. Wrapping your toddler in this blanket will guarantee excellent comfort and warmth that they require during the cold days and nights. This star pattern blanket measures 30 x 40 inches and is available in 3 colors. Plus, it is machine-washable.
Pros
Super-absorbent material
Double-sided design
Gets softer with every wash
Lightweight and built to last
High-quality and durable edging
Does not contain formaldehyde and fluorescent agent
Cons
The sizing might be inconsistent.
On the hunt for a blanket that you can wrap snugly around your baby in any season? Look no further than this! Zenssia Organic Cotton Blanket is double layered and has the right thickness and softness to keep your baby warm and cozy on those chilly winter nights. At the same time, its breathable property makes it ideal for warm summer days. Measuring 39 x 39 inches, this grey quilted blanket is large enough to ensure full coverage, and at 0.77 lb, it is light enough to prevent overheating.
Pros
Fade-resistant
Hypoallergenic
Wrinkle-free fabric
Padded microfiber filling
Machine-washable
Available in 2 sizes
Cons
The stitching may not be strong enough.
Add a pop of color to your kid's bedroom with this cutesy blanket that features multicolored dinosaurs and trees printed on a white background. This blanket, made of high-grade polyester, features a double-sided reversible design. This means both sides of the blanket are incredibly soft, with the only difference being, one side is smooth, and the other is dotted. It provides warmth and comfort while facilitating excellent ventilation so that your baby does not feel stuffy.
Pros
Measures 30 by 40 inches
Suitable for all seasons
Non-irritative fabric
Mimics the feeling of being hugged
Can be washed in the washing machine
Cons
There is nothing cuter than your baby swaddled up in an adorable blanket, and this super-sized blanket that measures 47 x 47 inches wraps around your baby snuggly and makes swaddling a breeze. Aside from that, it can also be used as a surface for tummy time, stroller or car seat cover, or a throw blanket. Made of 70% bamboo and 30% cotton, this blanket is known for its breathability that helps regulate your child's body temperature to prevent overheating, making it one of the best toddler blankets for summer. Plus, it is large enough to use as your baby grows. Available in 3 different patterns – starry sky, dinosaur, and flamingo – it is sure to complement your nursery decor.
Pros
Can also be used as a winter blanket
Lightweight and stretchy fabric
Machine-washable for easy care
Gets softer after every wash
Cons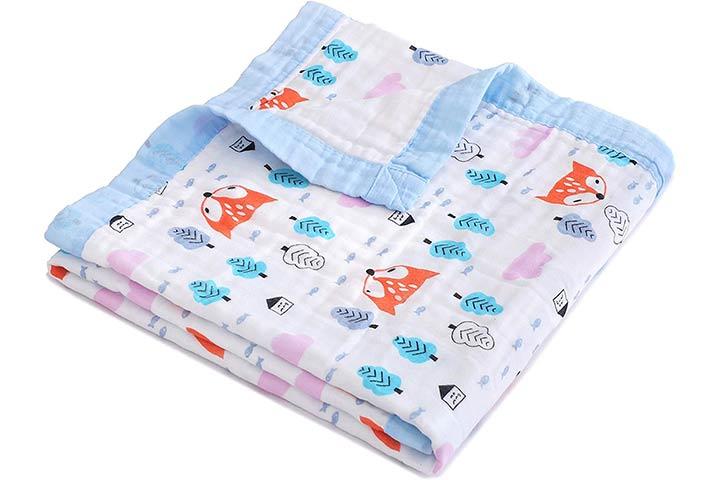 At 42 x 42 inches, this blanket is the ideal size for babies and toddlers. Made of 100% natural cotton, this blanket is hypoallergenic and amazingly soft. So rest assured, it won't irritate your little one's delicate skin. In addition to that, this blanket is lightweight and breathable to prevent overheating and stuffiness. All while its 4-layer design ensures maximum comfort and protection. It comes in varied colors and fun patterns that your kid is undoubtedly going to love. This blanket is machine-washable, and the best part is that it gets softer and more durable with every wash.
Pros
High thread count
Lightweight
Suitable for all seasons
Multi-use blanket
Cons
The sewing at the edges may come apart.
Given below are a few essential points you need to consider when choosing a blanket for your child.
How To Choose Right Toddler Blanket
Material: The blanket material that you choose should depend on the purpose and your child's age. Blankets made of cotton or muslin cotton work well for swaddling since these fabrics are lightweight, thin, and breathable. Meanwhile, a fleece or polyester blanket will be ideal for covering your child when sleeping or taking a nap. You should also make sure the material is soft, durable, and does not irritate your baby's sensitive skin.
Size: Toddler blankets come in different sizes ranging from 30 x 40 to 48 x 48 inches. It's essential that you pick a blanket that is the perfect size for your toddler. However, these days, most toddler blankets can be used for different purposes, such as swaddling, as a nursing cover, as a quilt, or on a stroller.
Ease of maintenance: When looking for a toddler blanket, opt for something that's easy to care and maintain. A blanket that is machine-washable and needs to be air-dried seems to be the best option. 
[ Read : What material is used to make the Babyhug Knitted & Fur Blanket? ]
Choosing a blanket for your child seems like a challenging task, but we hope it won't be that way once you have gone through our list of the 11 best toddler blankets. All the options listed here do exactly what they are meant to, which is to keep your toddler warm and protected. They also ensure to regulate your toddler's body temperature so that their body stays cool and sweat-free.
  Recommended Articles: