Is your toddler keen on helping you in the kitchen chores or is he at that stage of being toilet trained? Kids can't reach the countertops or the bathroom sink on their own. Toddlers crave independence and they want to be able to wash their hands or do the deed with as little help from you as possible. In this MomJunction post, we have scoured the internet to bring you the 17 best toddler step stools. Check out our list below!
Safety Tips
Here are a few steps that would help you to ensure the safety of your little one while using a toddler step stool:
It's no secret that toddlers kids wiggle a lot. Get a step stool that has a non-slip surface and anti-skid feet.
If you are going for a folding step stool, make sure it is sturdy enough and is guaranteed to not collapse. Also, it's safe to never let your child open and fold it on their own causing them to hurt their tiny fingers.
Lastly, it's best to go for a lightweight one that is easy to move around within the house and can be used for multiple purposes.
17 Best Toddler Step Stool


This simple and classic step tool will be sturdy and comfortable for your little one.  They can use it in the kitchen, bedroom, and bathroom.
Pros
Anti-slip top
Non-slip bottom to provide grip
Can support a load of over 70 lbs
Kid-friendly handle
Cons

Toilet training your little bambino has never looked so cute. The Bumbo Step Stool comes in 3 varied colors and is lightweight, making it one of the best toddler step stool designs available in the market.
Pros
Portable
Lightweight
Slip-resistant base and top
Can support weight up to 110 lbs
Cons
The bottom surface may snag dust

This wooden step stool from Growing Up Green is the perfect pick for your growing child. The sleek and classy design is eye-catching and would totally blend in with the home furniture of your kitchen or bedroom.
Pros
Durable construction
Non-slip base offers grip
Lightweight
Easy to clean
Can support up to 200 lbs
Cons

The BabyBjörn Step Stool features one of the best toddler step stool designs with a rubber mat on the top for better grip and comfort. They come in 8 varied colors to choose from.
Pros
Playful design
Slip-resistant surface
Durable and recyclable plastic
Lightweight
BPA-free
Cons

This step stool from Tundras can be the go-to step stool for toddlers to reach new heights! The toddler step stool features a non-slip design at the top and bottom of the stool to prevent your child from falling.
Pros
Non-slip surface and bottom
Portable and lightweight
Durable
Easy to clean
Cons
May be slightly short to use for anything other than toilet training

As parents, finding the best toddler step stool can be tricky. This step stool for toddlers comes in a cute Froggie design that features a non-slip surface on the top and feet of the design.
Pros
Anti-slip top and bottom
Made using sturdy material
Lightweight and portable
Affordable
Cons

Granted, a single step stool will suffice for your little ones. But sometimes we need a little more than that. This two-step stool for toddlers can be pushed up against a cabinet, bed, or wall to help your child reach for anything they might need.
Pros
Available in 3 different colors
Can hold up to 100lbs
Ideal for kids above the age of 3 years
Provides higher access compared to other stools
Cons
Need to assemble
Slightly expensive

This toddler step stool from Acko has everything to make you fall in love with it. Crafted with a unique structural design, it is safe, strong, and foldable.
Pros
Can support up to 250 lbs
Offers convenient storage
Improved folding bar to prevent collapsing
Non-slip bottom
Handles make it easy to lift
Cons

Featuring one of the best toddler step stool designs, the Dual Height Step Stool offers great support and has a sturdy construction. The two-step design features four rubber grips to provide maximum grip on the floor.
Pros
Dual height construction
Can support up to 150 lbs
Provides traction on the floor
Features soft grips
Durable
Cons

This step stool for toddlers comes in a foldable design that helps you save your closet space when not in use. It is also lightweight making it easy to carry from one room to another.
Pros
Foldable
Built-in handle
Can hold up to 250lbs
Available in two colors
Cons

Next on our list of the best toddler step stool is the Dual-Height Step Stool from Tundras. Made with BPA-free plastic, it is lightweight and eco-friendly.
Pros
Offers optimal safety
Lightweight construction
Eco-friendly
Durable
Cons

This wooden step stool comes in three different styles of dinosaur kingdom, sunny safari, and little firefighters. The versatile style would perfectly fit in with the rest of the nursery decor making it one of the best toddler step stool designs.
Pros
Storage space
Sturdy design
Comes in three styles
Ideal for kids around the age of 3 years and above
Cons
Requires assembly
On the expensive side

If you are looking for a toddler step stool with rails, then you have come to the right place. With this ladder, toilet training is made easy and fun. It comes with a cushion seat and splash guard that can be removed.
Pros
Can be folded
Lightweight
Easy to assemble
Grip handles
Cons
May not be as portable compared to other stools
On the pricey side

Next on the list of the best toddler step stool is the step stool from OXO Tot. Designed with a non-slip surface, it provides the little ones the elevation they need to reach things on their own.
Pros
Non-slip surface and bottom
Easy-grip handles on the sides
Portable
Holds up to 200lbs
Cons

This step stool from Joovy comes with a sturdy design specially designed keeping your child's comfort in mind. The stool is lined on the top and bottom with non-slip rubber for better grip and stability.
Pros
Can support up to 300 lbs
Slip-free model
Stackable design
BPA, PVC, and phthalate-free
Cons
Non-foldable design
Available only in a single color

Nuby Step-up Stool is designed using high-quality, durable material. This makes it a perfect choice for your kids while toilet training them and also allows them to get to those hard-to-reach places.
Pros
Portable and lightweight model
Can hold up to 800 lbs
Non-skid design on top and bottom for support
Easy to clean
Cons
Small surface area
A single step decreases the accessibility to reach out to higher places

Why purchase two separate toddler step tools when you can get the same efficiency and functionality in one? This two-sided step stool is perfect for kids with different heights.
Pros
Lightweight
Holds up to 300 lbs
Easy to carry
Non-slip floor pads
Sturdy design
Cons
Now that you have a list of the best toddler step stools at your disposal, here are a few safety tips and additional features to look for before investing in a step stool.
How To Choose The Right Toddler Step Stool?
If you want your toddler to reach multiple places in the house such as the bathroom sink, toilet, or the kitchen countertop, it is best to go for a two-step stool for toddlers. A stool that is short on height may run the risk of your kid standing on his/her toes which can cause accidents. Another factor is to ensure that the step stool features a sturdy design and has a slip-resistant surface and bottom to provide the right support to your child.
Frequently Asked Questions
Why does stool height matter?
Stool height plays an important role in ensuring that your child does not struggle while trying to access something. A step stool with the right height provides steady support and your toddler can avoid the risk of falling down.
How can a stool help with potty training specifically?
With a step stool, you won't have to lift your child to the toilet seat every time they want to use the bathroom. The step stool helps them to be a little more independent while also giving them some privacy.
Sure, these toddler step stools will make your toddler's life easier. But let's not forget that they are a parenting win as well. Now that they are able to do certain things on their own, it would mean they probably wouldn't need you by their side all the time. Which means more spare time for mommy! Did you find the right step stool for your toddler? Let us know in the comment section below.
Recommended Articles: 
The following two tabs change content below.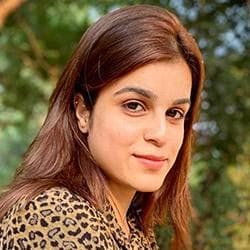 Sakshi John
Sakshi did her graduation in Journalism from the Madras Christian College, Chennai, before starting her career as a freelance writer. She is into blog writing and for MomJunction, she covers various topics, including products to buy for your kitchen, furniture, and other home requirements. Previously, she interned as a content writer in a cyber security firm. As a content writer, Sakshi...
more