Toe rings are a fun way to add some style and elegance to your overall look. Like finger rings, toe rings are small and may not always get the attention they deserve. But when your footwear shows off your manicured toenails, why not deck them up a bit more by putting on a toe ring or two?
Just like the finger rings, toe rings are available in different styles and forms, from pretty floral embedded bands to the classic double bands. Women generally prefer to wear toe rings with barefoot sandals, flip flops, and anklets.
Keep reading to explore some of the best toe rings for women in this list by MomJunction and choose one that matches your personality and style.
11 Best Toe Rings For Women

If you prefer minimalist jewelry, these sterling silver toe rings are a great pick. The rings are inspired by vintage style designs and are smooth to wear. These Hawaiian style high-quality toe rings are platinum plated and are safe for sensitive skin too.
Pros
Polished finish
Open-end design for a better fit
Adjustable rings that can be worn as a knuckle ring and stacking ring too
The smooth inner finish of the rings makes them safe for regular wear
Cons
Metal may not suit everyone
Can be too tight for some

If you want to switch your everyday rings to rings that complement different outfits, this set of eight toe rings by Finzeriois is a good option. These simple and pretty toe rings are made of copper with platinum-plated so that you don't have to worry about rust or tarnishing. 
Pros
Platinum-plated to prevent rusting or tarnishing
Long-lasting and adjustable
Smooth inner finish to prevent injuries to toes
Minimalistic and elegant designs
Cons
May snag on carpets and rough surfaces

If you prefer silver-tone toe rings or jewelry, this set of Jstyle adjustable toe rings with some classy designs will impress you. All the toe rings in this set are unique and elegantly designed.
Pros
Shiny silver surface
Safe for sensitive skin
Adjustable and open ring design
No rough ends
Cons
Finishing of the diamonds may wear

If you want a unique piece of jewelry that not everyone wears, the Joerica to ring set is worth a look. This set has rings that will suit different occasions. This adjustable and retro gift set consists of a simple single band, a double band, a band with diamonds, a ring with pretty cutouts, and two leaf and arrow rings.
Pros
Adjustable
Trendy and chic rings
Can be stacked
Collection of unique toe rings
Cons
Breaks easily
May not offer a tight grip

For women obsessed with foot jewelry, this anklet and toe-ring set is a great option. This comes with eight trendy and glamorous chain anklets and four minimalistic toe rings. The anklets are made using different alloys, and toe rings are made of copper. 
Pros
The chain anklets can be conveniently put on and removed
Open-design toe rings for better grip
Glossy and rich polish
Minimalistic and feminine designs
Cons
Thin rings might not offer proper grip
Charms may get caught on rough surfaces

If you prefer bohemian style, silver-toned chunky toe rings, this set of 27 unique and vibrant toe rings might interest you.  The adjustable toe rings would be apt if you don't want the hassle of fitted rings. This set consists of both silver and black-toned rings. 
Pros
Set of 27 toe rings for every occasion
Each ring is designed differently and with care
Can be used as stacked rings, knuckle ring, stopper ring, etc.
Made using high-quality alloy
Cons
The bands are thin and may wear out easily

If you like studded jewelry, this set of 12 colorful toe rings could be a good pick. A little different from regular toe rings, these elastic crystal toe rings are embedded with colorful rhinestones that'll compliment your everyday outfits. 
Pros
Available in different colors to match your outfits
It'll fit your toe comfortably as its stretchy
Great for people with small toes
Cons
Elastic may pinch and irritate the skin
The rings can hurt when they roll on the fingers

A perfect addition to the designs of simple toe ring bands is the swirl pattern. The swirl rings are very popular these days, and this set also consists of the simple toe rings you might like to wear every day.
Pros
Cute and chic designs for regular use
Made using quality copper, and plated with sterling silver
Tarnish and rust-resistant
Adjustable fit
Cons
May not provide a tight grip

If you have sensitive skin, these hypoallergenic toe rings are a good choice, as they do not irritate the skin or trigger an allergic reaction. These toe rings are available in silver, rose gold, and gold tones. The set consists of an arrowhead band, cut-out band, floral knot band, infinity band, and other single and triple bands. 
Pros
Fits all the toes
Polished and glossy finish
Great for beach parties and everyday use 
Cons 

These copper-nickel toe rings in sterling silver coating are great for parties and also for office wear. If you don't cover your feet fully, these pretty and unique toe rings can make your toes pop. The set comes with four refreshing and chic designs. You'll get two double and triple-band toe rings, and two chic swirl toe rings with stone-studded patterns.
Pros 
Set of four trendy toe rings
Appealing designs
Sterling silver plating for a rich effect
Makes a great birthday or Christmas gift 
Cons 
Swirl rings may not provide better grip
The diamonds may fall off after repeated use

Flower toe rings are delicate and feminine floral patterns. If you've got a recent pedicure, these stretchy and appealing floral toe rings will make your toes pop. The 12 toe rings are made using acrylic flowers and stretchy elastic cord so it can fit anyone's toes easily. 
Pros
The stretchy cord won't hurt
Also great if you are allergic to metal alloys
Comes in various colors
Cons
Doesn't offer a perfect grip as the cord might loosen up
The flowers might fall off
How To Choose The Right Toe Rings?
Toe rings come in different shapes and sizes. Here are a few things to remember while buying toe rings.
Adjustable: If you don't want the hassle of removing and wearing the tight-fitted rings every day, you can choose adjustable rings. These rings open on one side so that you can easily insert it and tighten it as per the size of your toe. These rings generally offer a great fit.
Fitted: The fitted toe rings are not the best options as they have specific dimensions and may not fit everyone. Unlike the finger, the toes are wide and narrow at different areas. So, if you have thin or small toes, the rings will glide down and cause discomfort. However, if you find fitted toe rings as per your size, you may buy them.
Simple band: Simple bands are the most stylish and chic toe rings. You can also wear these toe rings for casual events, to the office, and even parties. Sterling silver toe bands are especially popular as they last long, are tarnish and rust-resistant, and fit perfectly.
Beaded and studded: The beaded or studded toe rings look elegant, but they have a short life. The rhinestones, diamonds, and charms come off.
Also, these embellishments get caught on rough surfaces and cause discomfort. So, if you want a delicate and feminine toe ring for a special occasion or for a short while, the floral studded toe rings are great. For everyday wear, these toe rings are not suitable.
Stretchy: These toe rings suit women who are allergic to metals and alloys. These toe rings are made of a stretchable cord and some acrylic flowers. Some rings are also made using hypoallergenic metals that are safe for skin.
Frequently Asked Questions
1. Which toe should I wear my toe ring on?
While in some cultures, the toe ring is worn on the second toe of the foot, next to the big toe or thumb, there is no rule in particular. Some also wear it on the third toe of the foot, and some suggest that the best position to wear the toe ring is right between the toe knuckle and the toe pad because it doesn't touch the ground and you will be able to wear it comfortably.
2. Can men and women both wear toe rings?
Yes. Several men wear toe rings and pull it off quite humbly. However, the toe rings won't complement various outfits that require them to wear shoes or boots. Those who do wear prefer to wear a band on the big toe or the second toe.
3. I am sensitive to most alloys, what material should I be looking for?
People with sensitive skin may face allergic reactions like rashes and itching if they wear jewelry made using metal alloys. If your skin is highly sensitive to alloys, avoid toe rings made of nickel, copper, rose gold, brass gold, or other plated metals. You can choose platinum or tantalum as these pure metals are hypoallergenic and gentle on sensitive skin.
4. What is the most durable material for this kind of jewelry?
Although toe rings are made using various metals, the most popular and durable metals used for making toe rings are sterling silver and gold. Toe rings made using these metals can last for years without fading or losing shine. 
If you love to accessorize and want to sport a chic look, toe rings are a perfect addition to the list of your everyday accessories. You can pair your outfits with different toe rings and make your gorgeous pedicured feet look even more stunning.
The following two tabs change content below.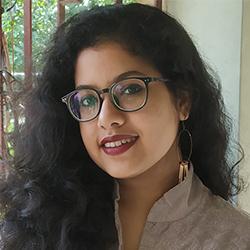 Poulami Nag
Poulami Nag is a writer and associate editor at MomJunction. She did her MA in English from Miranda House, University of Delhi and has qualified UGC-NET. Her journey as a content writer began in 2017 and since then she has garnered diverse interests along the way. Her knowledge of literature and language has given her an eye for detail and...
more