Your child's initial years are when you need to exercise caution so they do not meet with accidents while accessing toilets. Here's our list of the best toilet locks to help you keep your child safe, especially when they begin to take their first steps. Not only a drowning hazard, but toilets also are germ carriers that can pose serious harm to your child. However, you can baby-proof the toilet seats with the best toilet locks. You can secure them using strap locks with adjustable straps to suit different needs. They are easy to install and can be used for a long time.
These toilet locks are versatile since you can also use them for cabinets, almirahs, doors, vanity storage, and other appliances around the house. So, explore our list to choose the right product to meet your toilet security needs.
Top Products From Our List
11 Best Toilet Locks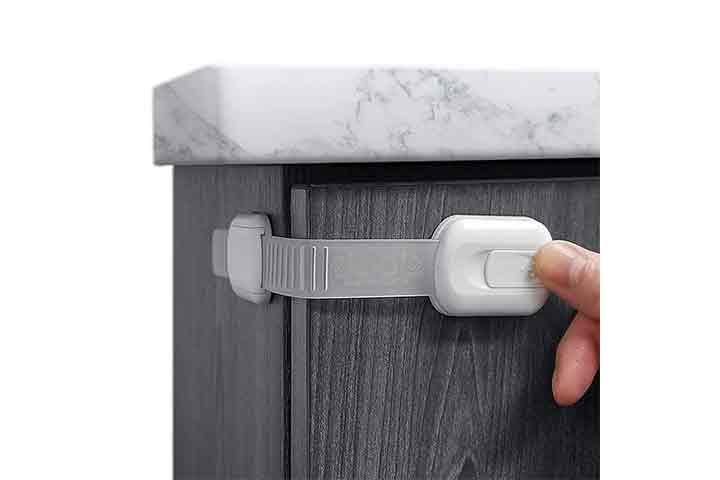 Easy to install and use, the Jool Baby Child Safety Strap Lock is adjustable and best suited for child-proofing refrigerators, cabinets, drawers, toilet doors, washing machines, closets, and more. Including a simple, tool-free installation process, the multi-surface lock comes with a safety strap that attaches with a strong 3M adhesive to secure your toilets. Not only are these locks discreet and practical, but they are adjustable and hassle-free. Secure your toilets with this long-lasting strap lock that also comes with a 10-year manufacturer's warranty.
The Wappa Baby Toilet Lock comes with a strong 3M adhesive and boasts a great design for easy one-hand use. This baby-proofing tool fits most standard toilets and has a universal design that allows a sanitary and convenient operation process. You can also completely deactivate the lock whenever the need arises, which makes this a hassle-free toilet lock without involving screws or drilling for the installation process. At a simple push of a button, this durable toilet lock is ideal for those who wish to adopt a safe and secure toilet lock system.
The Secure Home baby safety lock is a multi-purpose wonder that secures toilets, cabinets, drawers, appliances, trash cans, windows, and much more. Made from high-quality ABS and TPE material, these low-profile design locks ensure a more flexible and durable user experience. The straps are made resilient and also come with 3M adhesive pads to help you reuse the latch whenever you need to. This safety latch system also works on both flat surfaces and around corners as it can be adjusted to the desired length between 7.7 to 4.1 inches. Additionally, these locks are easy to install and do not require drills or screws, and allow for one-handed access. They are just as easy to remove, too, and do not leave marks.
The Goodv Child Safety Latches are child-proof and can be used for toilet seats, doors, cabinets, appliances, containers, ovens, and more. You can easily install this safety tool without any extra tools as it comes with a strong 3M sticker that firmly attaches to any surface and holds well after placement. They can also be removed fairly easily without causing any damage or leaving any marks behind. Simply adjust the strap length according to your requirement and ensure that your toilet seats are secure. Made from high-quality, non-toxic ABS and TPE, this safety tool is also free from harmful chemicals.
If you are looking for a sanitary one-hand operation tool, the Safety 1st Swing Shut Toilet Lock is a good choice for you. With a secure adhesive mounting, this easy-to-use lock is designed to fit most toilet seats. You may not be able to use this lock on soft or padded lids, but when properly installed, you will be able to lift the lock by 1.5 inches. This tool has a SecureTech locking indicator that has visible icons, automatically relocks when the lid is lowered, and is effective to keep curious children safe.
Suitable for multiple uses, these stylish and non-bulky Creencia Baby Safety Cabinet Locks keep children away from toilets, cabinets, drawers, appliances, and windows, among other potential household dangers. This lock is easy-to-use, flexible, adjustable, and contains an ultra-strong adhesive, making it a safe and reliable option. You can even adjust the length of the lock after opening it and rest assured that this strap lock causes no damage to the surface. The double-lock protection offers double-layer safety that is free from tampering and is also easy to disassemble.
If you are looking for an extra-durable set of child-proofing locks, the Eco Baby Safety Lock is a multi-purpose safety kit with innumerable options, made from the highest-quality BPA-free ABS and TPE plastic. Safe for your child's health, the super-strong 3M adhesive pad is simple and quick to install and does not require any additional tools. Not only is this pack flexible and durable, but it is also multi-functional and works on appliances, furniture, toilet seats, and closet doors. This product can also double up as a pet-proofing tool and comes with a lifetime replacement warranty.
The ALMA Child Safety Lock is made of durable and non-toxic plastic and adhesive that are tested according to performance standards to provide you maximum security. These dual-action locks work both on flat surfaces and around corners and do not require screws or drilling to install them. The flexible straps are adjustable and can be used to lock toilet seats, cabinets, drawers, ovens, windows, and other potentially dangerous appliances in your home. The 3M adhesive allows you a good fixation system and can be used on surfaces like wood, metal, plastic, and glass. These toddler-proof locks are also easy to remove without damaging your household items.
The Fangze Baby Proofing Toilet Lock is designed specifically for toilet seats and prevents babies from opening the lid or exposing their hands to dangerous germs and bacteria. The universal design fits most standard toilets and the lock does not allow the seat to be opened. This product is also great for pet owners and is designed to operate quickly and easily with one hand. It is easy to install and comes with a 30-day hassle-free money-back guarantee option, making it an excellent choice for your toilet security needs.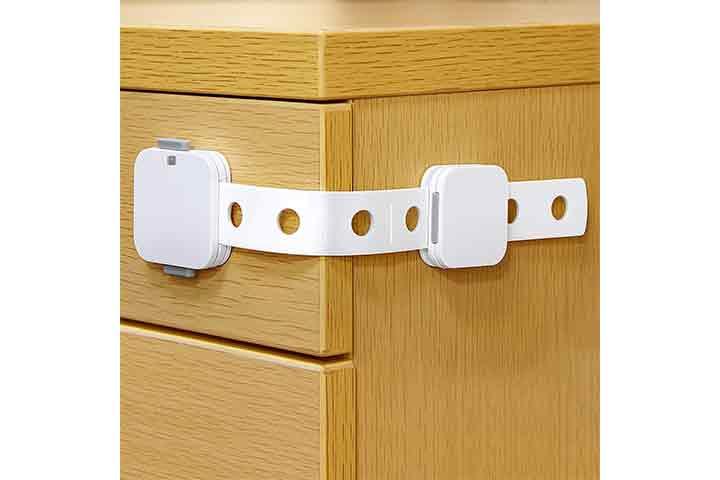 The SYOSIN Child Safety Locks are durable, multi-purpose strap locks that are flexible and resistant, allowing you to reuse them. Guaranteed to withstand the test of time, these superior quality locks can be used on all cabinets, doors, toilet seats, and drawers to protect them from your curious toddlers. With an ergonomic design and premium materials, these strap locks are also easy to install and uninstall, without the aid of extra tools or special skills. This is not only an effective and inexpensive proofing method, but it also safeguards your child from hazardous bacteria and diseases.
The ideal choice for keeping your baby safe from potential threats is the SANBRAGE Child Safety Strap Locks. These strong and durable strap locks have a multi-purpose feature and can be used for cabinets, drawers, ovens, windows, and toilet seats. Made of high-quality ABS and PE plastic that can bear tension force, this lock has a 3M adhesive that is tough and holds on to the surface without causing any damage. The easy adult access and the double-lock design has an adjustable strap between 2.1 to 4.9 inches that can fit any appliance size. Additionally, the locks are fairly easy to install and do not require drilling but only work on flat surfaces.
Investing in a simple toilet lock can go a long way in ensuring that your child is safe in a potentially dangerous environment. Now that you have browsed through our list of the best toilet locks, you may have some doubts when it comes to buying the right lock for you. Check out our buying guide that will help you make the best choice.
What You Should Consider When Buying A Toilet Lock
A flexible and adjustable toilet lock is versatile enough to be a multi-purpose lock. These tools rely on your child's inability to press 2 buttons simultaneously, which is something an adult can easily do. You have to keep in mind that various factors influence the credibility of a good toilet lock, and we have discussed some of them.
Things To Consider When Buying A Toilet Seat Lock
Most strap locks are easy to install and come with an adhesive, which can be stuck to the surface. Look for options that are hassle-free and do not involve drilling or screwing as part of the installation process.
Most toilet locks come with 3M adhesives that can be removed without leaving behind any damage to your surface. As an added safety measure, you could also heat the area around the adhesive using a hairdryer and ease the device off the toilet. In the case of remaining adhesive, you can use rubbing alcohol to clean the surface.
The material used to make the toilet locks often determine the durability of the product. The best toilet locks are usually made from ABS and PE plastic that are long-lasting and safe for your children. The straps should ideally be adjustable, making them flexible to use for different kinds of toilets.
While these locks are meant to keep toddlers and children safe, you should ensure that it is easily accessible for older children and adults. Most strap locks have an easy touch mechanism that allows you to open the lock with ease.
Frequently Asked Questions
Can toilet locks work on appliances and surfaces?
Most lock straps are multi-purpose and can be used around the house for other surfaces and appliances.
How do you set up the toilet lock?
Most strap locks come with a strong 3M tape that can be attached to the lid's surface. For best results, follow the instructions from the manufacturer to secure the toilet lid lock.
Are the toilet locks easy to operate for adults?
Toilet locks are simple to use for adults but may pose a difficulty for children. Most children above the age of 2-3 years will slowly be able to navigate their way around a toilet lock, but it is safe and effective to use for toddlers under 2 years.
Will the adhesive leave a mark when it is uninstalled?
A good strap lock will not leave a mark or cause any damage to the surface. For best results, using a heater or hairdryer with a heat setting to gently blow over the adhesive and then use a thin string to peel off the adhesive.
Babies can be adventurous around the house and while there may not be any real way to stop them, you could always depend on protective measures to ensure that they are encouraged to be active while being entirely safe. Young toddlers may generally find the toilet fascinating, and you could prevent them from climbing into the toilet or touching the insides with their bare hands, simply by using a good toilet lock. Ideally, your baby will not be at risk of any harm with these effective tools around!
Recommended Articles:
The following two tabs change content below.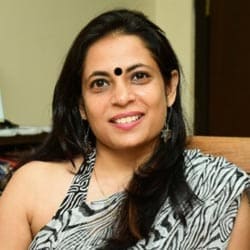 Priti Bose
Priti Bose is a poet, songwriter and blog writer. She did her masters in English, Public Relations and Advertising. Her creative skills and hunger for details make her do in-depth research on the topics she covers. For MomJunction, she writes on product analysis and reviews, especially for kids' products, toys and gifts. Before her association with MomJunction, Priti worked in the...
more