Toners are great for hydrating dry skin. They are enriched with antioxidants, glycerin, and anti-inflammatories, which are effective in cleansing the skin. They are also quite effective in removing the excess dirt from your face and balancing the natural pH level of your skin.
In this post, MomJunction provides you with details of the best toners for dry skin.

Top Products From Our List
17 Best Toners For Dry Skin
Infused with naturally fermented ingredients like aloe, lotus, and chrysanthemum morifolium, this toner by Whamisa moisturizes your skin for 24 hours. The ingredients are non-alcoholic and hypoallergenic and give a natural texture to dry skin. The floral fragrance is pleasing and keeps you feeling fresh. After rinsing the face, a spritz of this toner in the morning and evening revives your appearance.
This glycolic acid toner by Touch contains the goodness of aloe vera, glycolic acid, rose water, and witch hazel. It penetrates deep into the skin and helps fight pores, blackheads, redness, and acne. It is compatible with all skin types, including dull, dry, oily, and combination skin. The aloe vera content in the toner keeps your dry skin moisturized and hydrated.
Let your skin breathe with this 100% pure and natural Bulgarian rose water mist toner by Amaki.  The toner helps restore the pH level of the skin while moisturizing it properly. It contains no harmful preservatives and is cruelty-free. The rose water with its antioxidant properties helps eliminate the free-radicals and rejuvenates the skin. The toner gently hydrates the skin, and its reviving aroma keeps you feeling fresh the whole day.
Advanced anti-aging hydrating toning mist by Voibella Beauty is a 3-in-1 solution for all skin types. It is enriched with rose water, aloe vera, and witch hazel, which help soothe dry, inflamed, and sore skin and leave your skin hydrated. It helps dampen the skin and retains the pH level of the skin. The toner is suitable for all skin types and is ideal for preparing the skin for receiving moisture. It is non-oily, non-greasy, and non-sticky, and has a light texture.
This calming toner by Paula's Choice is infused with hyaluronic acid, glycerin, water, vitamin C, E, and B3, and non-fragrant plant oils, which enrich dry skin and reduce pores and skin redness. It moisturizes dry skin and treats spots and pores on the face. Soothe, relax, and calm your dry skin with this toner.
Stay refreshed for 24 hours with Flowers Rich Toner by Whamisa. It contains avocado oil, aloe vera, lactobacillus, broccoli extracts, and argan oil, which moisturize dry skin, heal acne, and eliminate pores. This skin toner for dry skin is lightweight, non-greasy, and has a mild and soothing floral fragrance.
Treat your skin with witch hazel toner, which reduces impurities and pores and adds freshness and charm to the face. It is infused with organic rosewater that is is safe for the skin. The natural rosewater refreshes your day with each spritz. It hydrates the dry areas and absorbs excess oil to give you healthy and glowing skin.
Era Organics Nourishing And Hydrating Toner is enriched with the goodness of  apple cider vinegar, witch hazel, rose water, and aloe vera. It boosts the pH level, revives dry skin, and gives your skin a natural texture. It also minimizes pores, soothes inflammation, prevents aging, and rejuvenates the skin. It is suitable for all skin types and is free of harsh chemicals. Spritz your face and neck with it to kick start your day.
Green Tea Matcha protects your skin from redness and irritation with ingredients like aloe vera, green tea extract, peppermint, and cucumber. The whole set of natural ingredients soothes the skin and reinvigorates the face. A spritz of the toner followed  by a serum or moisturizer can work wonders on dry skin. The toner is safe for use even around the gentle areas of the eyes and is free of alcohol and oil.
Green tea fresh toner by ISNTREE is infused with green tea, minerals, protein, and polyphenol, which revive and lighten the skin. It can be used on any type of skin. The toner is dermatologist-tested, hypoallergenic, and free of harmful chemicals and fragrance. It has a lightweight, watery, and non-greasy texture and hydrates the skin effectively.
The Best Toner Ever by Skin Nation is effective at soothing  redness and itchiness and cleansing pores. It helps maintain the  pH level of the skin and moisturizes the skin.  It is enriched with the goodness of tea tree oil, white rose flower, orange blossom water, and aloe vera, with no added  parabens or harmful chemicals. The toner also has anti-inflammatory properties and is ideal for treating various skin conditions, including eczema.
This toner by Faces Shop is infused with mango seed and  mango seed butter, which contain Vitamin E, essential amino acid, and botanical squalene, ingredients that are known to protect the skin from dryness. It is dermatologist-approved and chemical-free. The product is claimed to keep irritation, wrinkles, and dryness at bay and moisturize your skin for 36 hours.
Nu Skin pH Balance Toner by Nu Skin is infused with strawberries, aqua water, fruit extract, aloe, and barbadensis, leaf juice, which soothe dry skin. Use the toner twice a day to combat dull and dry skin. The toner is also claimed to combat free radicals, diminish the appearance of pores, and maintain the skin's optimal pH level. The toner also contains SPF 15 to protect the skin from the harsh sun rays.
This advanced anti-acne solution is formulated for dull, flaky, or dry skin. It helps nourish the skin and boosts the skin's pH level. The toner by chyuRuria provides soft and smooth skin and works as a toner, body moisturizer, mist, or sheet mask. It is infused with citric acid, glycerin, hyaluronic acid, witch hazel extract, and many more to eliminate redness and hydrate the skin.
Bellatera Pore Refining Toner is infused with aqua, glycerin, chamomile, and menthol, which gets absorbed by the skin quickly and provides instant hydration. It protects the skin from the harsh sun rays, wrinkles, debris, acne, and fine lines. The toner is free of alcohol, chemicals, talc, and oil. The toner clears impurities and works harmlessly on dry skin.
713 PINUS Deep Hydration Facial Toner is enriched with coconut oil, Macadamia oil, argan oil, jojoba oil, and pine bark extract, which cleanse your skin and help maintain the pH balance. It tackles dark spots, sunspots, redness, and works best on dry skin. It offers you glowing skin and protects the skin from dirt and pores. Put a little amount of the toner on a piece of cotton and spread it on your face.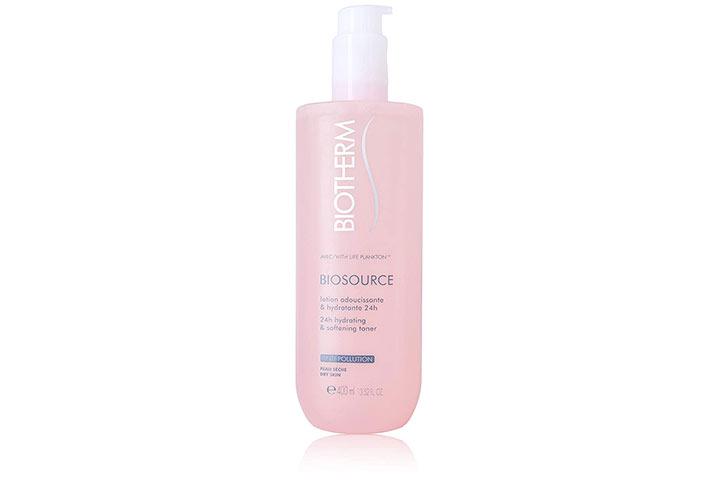 Protect your skin from routine dryness with the Biotherm Biosource 24h hydrating and softening toner. The toner is infused with glycerin, aqua, citric acid, and others. It cleanses the debris, pores, blemishes, and oil from the skin and gives it a bright look. It is claimed to hydrate the skin for 24 hours.
What Does a Toner Do and Why Do You Need One?
A toner helps remove impurities and excess dirt from your skin. It shrinks pores, acts as a protective layer, refreshes the skin, and helps restore the Ph balance of the skin. It also helps reinvigorate the skin and leaves you feeling fresh.
When And How Should Toners Be Applied?
Rinse your face with water. Put a small amount of the toner on a cotton ball and dab it on the skin.
Another way of using it is to dab it on toner cloth and apply it.
Let it sit on the skin for a while to enrich the skin.
Apply a moisturizer to your skin for better results.
How To Choose The Right Toner For Dry Skin?
Grab a cruelty-free toner to hydrate your dry skin. Make sure it is not harsh on your skin.
Ensure it contains mild ingredients like vitamin E, glycerin, essential oils, and antioxidants.
Choose one that can restore the pH level and exfoliate the skin.
Go for one that can retain the moisture level and lessen the effect of dry skin.
Frequently Asked Questions
1. What are the side effects of using a toner on dry skin?
An excess of anything can be harmful, so use it only twice a day for better results. If it doesn't suit you, it may cause itchiness and breakout of acne.
2. What are the safety tips for applying a toner?
Do not apply more than a few drops on the skin as the ingredients may cause redness or itchiness. Remember to spritz it at a safe distance from your delicate eyes or nose, and read the ingredients carefully before buying toner for dry skin.
Before buying toners, look for the ingredients and read the label carefully. Go for a product that has safe ingredients. One containing natural ingredients could be a safer bet. If you have skin allergies, make sure the ingredients do not trigger an attack.