As time passes, technology evolves, and with it, our lives become simpler. A simple yet great innovation that began in 1700 B.C. has transformed into a work of wonder that operates at the wave of a hand. Yes, the so-called 'tap' has now been transformed into a touchless faucet that makes life easier and washing vegetables and dishes hassle-free. Treat your kitchen and yourself to the care and love you need with a faucet that is controlled through motion sensors.
Are you tired of your faucet getting dirty from messy hands? Is it troubling to constantly turn the faucet on and off manually when washing the dishes? Well, then what you're looking for could be just a wave away. If you've been thinking of purchasing a good touchless kitchen faucet, you've come to the right place. Here's our list of the 11 best touchless kitchen faucets of 2020.
11 Best Touchless Kitchen Faucets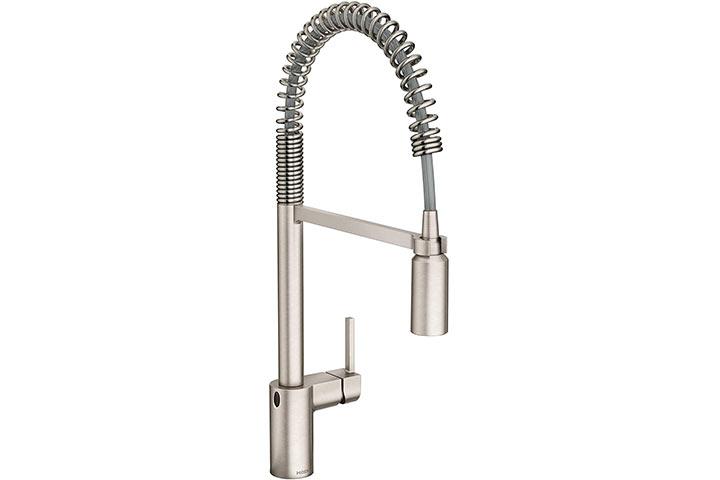 This Moen Align Motionsense faucet will lend a vibrant and fresh look to your kitchen. This sleek yet stylish faucet is based on the Motionsense wave technology that allows you to turn on and off the water with the wave of a hand. The water flow can be easily adjusted by turning the side lever. The single touch sensor is located on the left-hand side of the faucet. It features a stainless steel finish that ensures a rust-free experience. This faucet is available for purchase in multiple colors. 
Pros 
Retractable
Spot-resistant
Easy installation
Power clean technology offers excellent spray power 
Cons
The plastic sprayer head may not be very durable.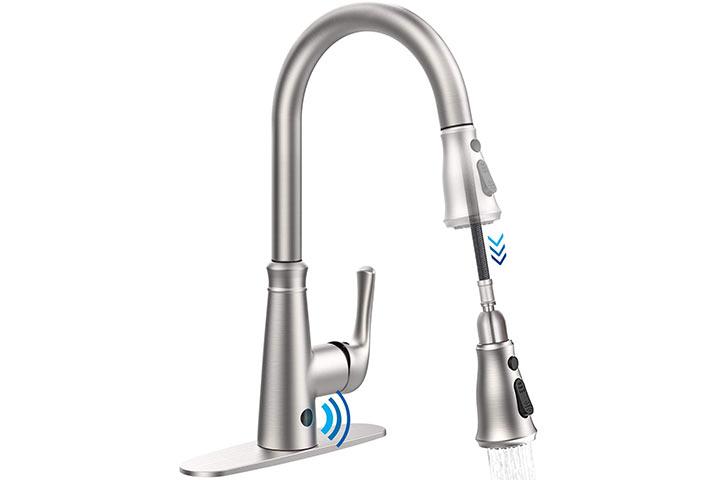 The brushed nickel plating of this kitchen faucet with sprayer will infuse a touch of elegance into any kitchen. The sleek and stylish design will be perfect for any modern kitchen. One of the main highlights of this faucet is its dual sensor mode. You can either put your hand close to the motion sensor or pull down the sprayer. One handy feature is the low battery indicator. Once the battery reaches less than 10%, the sensor light will flash. This serves as a reminder to change the battery.
Pros 
Leak-free
Stain-resistant
Easy installation
Fingerprint-resistant
Can be used in manual mode 
Cons 
May not offer a high water pressure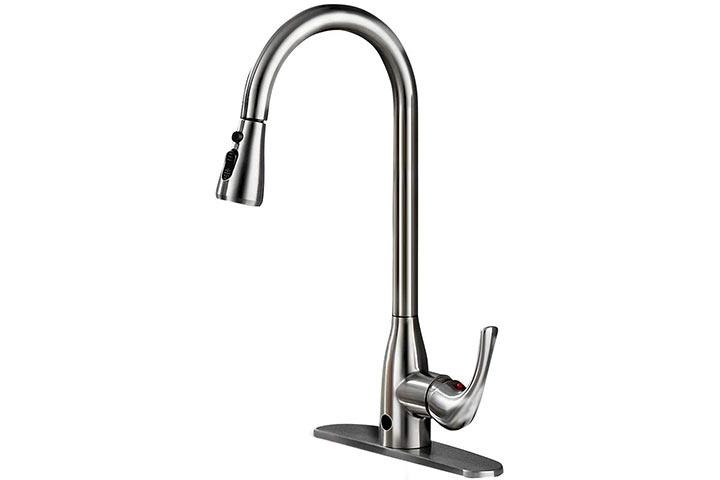 Equipped with fast clean technology, this faucet is engineered with three spray patterns. This allows you to adjust between different water flows, speeding upon the amount of water pressure needed for different situations. Thanks to its Swiss Neoperl Aerator, its operation is somewhat noise-free and even helps in saving water. The brush nickel PVD finish makes this faucet by badiJum look elegant and modern. This faucet is even leak-free, courtesy of its European ceramic cartridge. 
Pros 
Pull-down sensors
Easy installation
Smart safety timer
Lead-free materials 
Cons 
The entire faucet is made of copper and has a brushed silver finish. Thanks to its durable design, it can not only withstand the ravages of time and water but protect against rusting while doing so. The stylish design is not only for looks but also helps in its smooth operation. Its one-hole design ensures that it can be fitted on almost any kitchen sink. Offering consistent flow of water at the wave of a hand, this copper kitchen faucet by FORIOUS is a work of brilliance. If you happen to be looking for the best touchless kitchen faucet, this one should be at the top of your list.
Pros 
Dual operation
Easy installation
360° swivel pull-out sprayer
Concealed sensor technology 
Cons 
The water hose connector may not be long enough.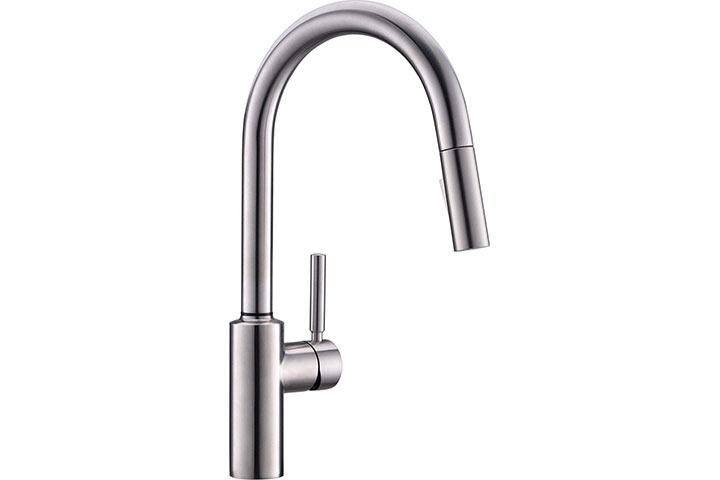 Are you looking to transform your kitchen into a modern wonder? Well, you could start with a touchless faucet. The brushed finish on this stainless steel faucet makes it visually appealing. Its simple and slender design will add a spark of elegance to any kitchen. Its stainless steel construction protects it from corrosion and rust. This faucet by JUSTOPIN features all the necessary options while still looking brilliant. 
Pros
Easy installation
Dual-function sprayer
Cold-start technology
Responsive touch sensor
Cons 
Might be prone to small leaks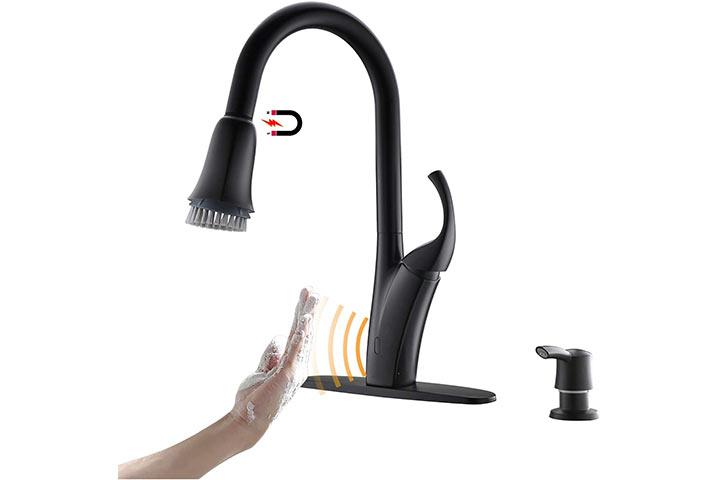 This matte black faucet by APPASO is just what your kitchen needs. The entire faucet is made of stainless steel, which not only makes it durable but also rust-free. Its touchless design is user-friendly and time-saving. The innovative and clean design makes it worthy of adding to our list of the best touchless kitchen faucets. This faucet is equipped with a low battery indicator that flashes when battery levels plummet below 10%. The batteries are replaceable and easy to change. Thanks to the included brush, this faucet doubles as a tap and simple solution for one-handed cleaning. 
Pros
Easy installation
Auto 3-minute turn off
Dual operation method
The magnetic docking feature secures it in place. 
Cons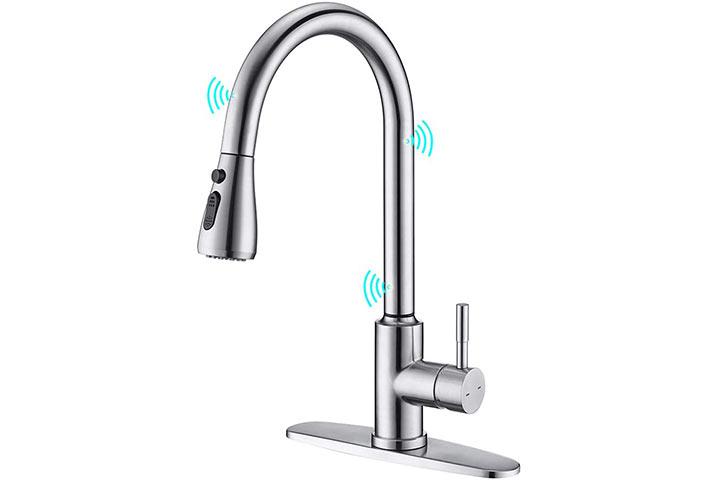 The brushed nickel finish adds a touch of elegance to the sleek and slender design of this kitchen faucet. The valve on the side of the faucet allows for an easy switch from hot to cold water with just a turn. The installation is fairly simple and is well explained in the installation manual provided with the product. This retractable faucet makes it easy to direct water in specific areas of the kitchen sink. To keep things quick, this faucet has a fairly good sensing range of 3 inches. Plus, the dual operation mode of this faucet makes it use-friendly. 
Pros 
Leak-free design
Quick touch sensor
Great maneuverability
Multifunctional sprayer 
Cons 
May provide an inconsistent flow of water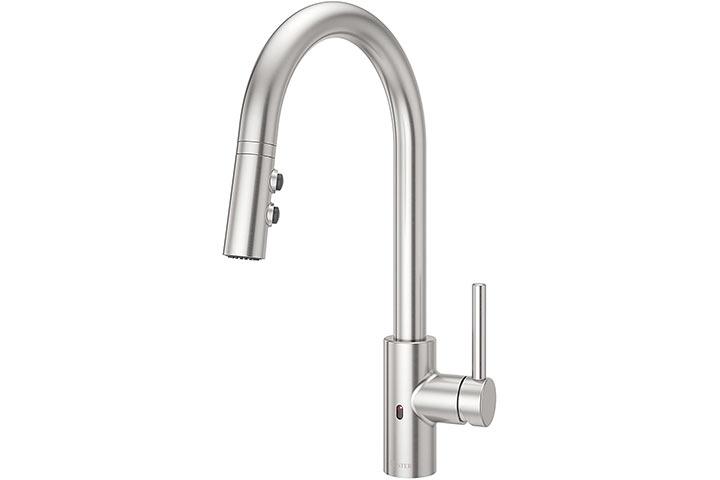 What makes this faucet so different from the rest is its highly functional design. Resting on the head of the faucet are two buttons for switching between different water flow modes. The easy-to-use side handle controls the temperature of the water between hot and cold. Added to its list of features is its auto shutoff feature, which reduces wastage of water as the faucet switches off after 3 minutes of inactivity. The stainless steel construction makes it strong and reliable.
Pros 
360° swivel handle
Open valve system
Dual operation mode
3-function pull-down sprayer
Cons 
The sensor may not respond quickly.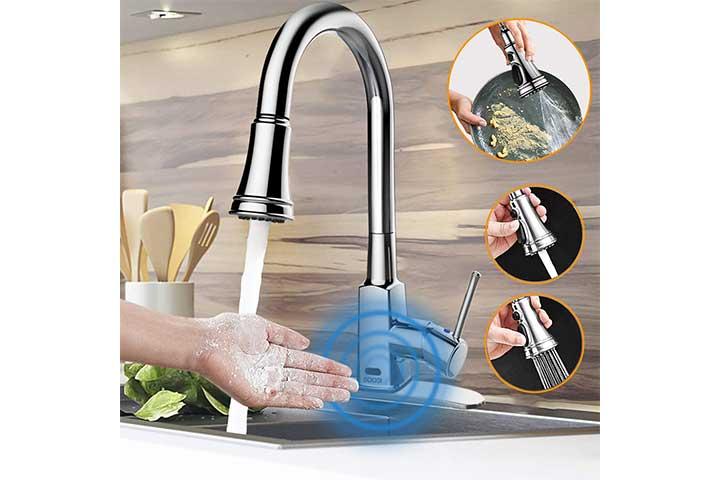 You can now bid farewell to dirty faucets resulting from messy hands. This faucet can be turned on at the wave of a hand or even with your forearm. The well-polished chrome finish stainless steel will make this faucet blend in well in your kitchen. Keeping true to a non-toxic experience, this Soosi faucet is lead-free. Its anti-fingerprint design is also a worthy mention. Faucet leaks can be annoying, and you will not have to deal with any as this faucet is constructed using a ceramic valve. 
Pros 
Easy to install
Ergonomic design
Leak-free ceramic valve
Multifunctional spray head 
Cons 
The flow rate of hot water might be slower than that of cold water.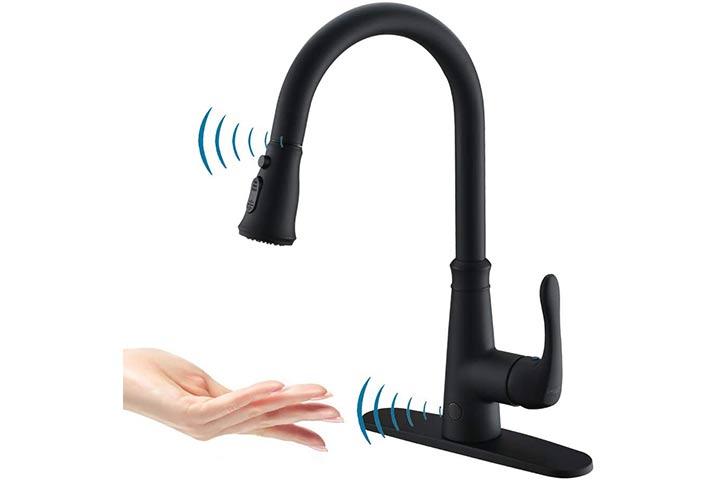 This faucet doesn't depend on electricity to function and instead is powered by AA batteries. Its modern design and solid black finish make it one of the best-looking faucets on our list. This is ideal for everyday use, including washing dishes, vegetables, and meats. Its handless design is perfect for times when you have messy hands. The sensors are fairly responsive and function as expected. The faucet is fixed using a 3-hole mounting mechanism, and ensuring its longevity is its stainless steel body.
Pros 
Multifunctional
DIY Installation
User-friendly design
Dual-sensor function
Includes 2 modes – spray and stream 
Cons 
May not have a very durable head magnet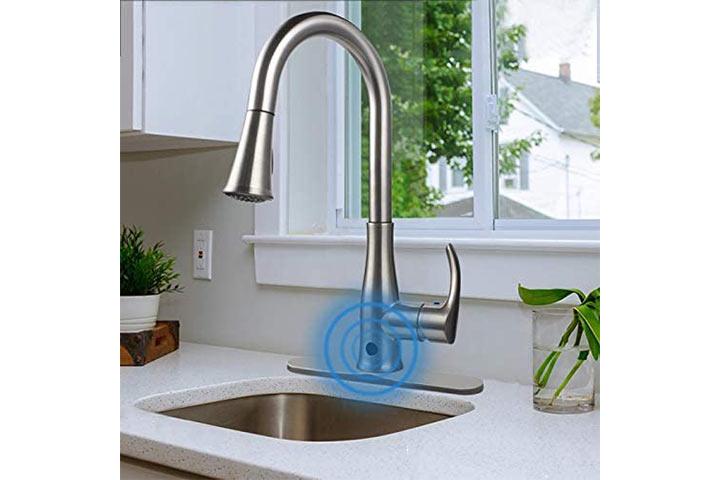 If you're looking to purchase a touchless kitchen faucet, this one by Atalawa will create a lasting impression with its good looks and highly functional design. The stainless steel exterior with a matte black body will blow you away. The interior is also as good as it looks. The interior is made of brass, and the ceramic cartridge ensures longevity and minimizes annoying leaks. This faucet can be installed with a single screw, which eliminates the use of a deck plate. However, if you feel that the deck plate adds to its grandeur, you can install it with the use of three screws. 
Pros 
Lead-free
Auto-off system
Easy installation
3-mode operation 
Cons 
The water hose might be a little short.
Now that you've had a look at some of the best motion sensing kitchen faucets that the world has to offer, have you set your heart and mind on the one you like the most? Well, before you take that leap of faith, there are a few things that you must keep in mind.
How To Choose The Best Touchless Kitchen Faucet
1. Sensors
This is one of the most important considerations when investing in a sensor-based kitchen faucet. The accuracy and response of the sensor will greatly influence the user-experience. Having a faucet with multiple sensors can improve accuracy. However, response time will matter more on the quality of the sensor used rather than the number of sensors. The last thing you want is a sensor that requires you to wave your hand multiple times for the water to start flowing.
2. Power
Anything with a sensor requires a source of power to work. The two options when it comes to source of power are electricity and dry battery cells. While faucets incorporating batteries cost less, they can be expensive in the long run as you have to continuously charge the battery. Irrespective of which type of faucet you choose, you should consider one that is energy-efficient.
3. Water flow rate
This will help in determining how much water the faucet uses. And, in turn, its efficiency. Conventionally, water flow is measured in gallons per minute (GPM). A rule of thumb when choosing an efficient faucet is to look for one with a lower GPM. The lower the GPM of the faucet, the more efficient it will be.
4. Finish and design
Some of the most common finishes for touchless kitchen faucets include chrome, stainless steel, and brushed nickel. Your choice of faucet design will greatly be decided upon by your home and kitchen decor. Do bear in mind that while faucets with a shiny finish look good, they are prone to smudges.
Frequently Asked Questions
1. Does a touchless kitchen faucet require electricity?
This depends entirely upon the faucet in question. While it is true that a touchless faucet relies upon a source of power, it doesn't have to work through electricity. The faucet could get its power from dry cell batteries. Most manufacturers resort to implementing the use of batteries for their faucets.
2. Can a touchless faucet work manually?
Yes, a touchless faucet can work manually. However, to do so, the faucet will need to be turned off. Almost all can work in manual mode. However, the method of putting it into manual mode will differ from faucet to faucet. A quick way to find out how to use your touchless kitchen faucet manually is to have a look at its manual.
In today's world, housework can be made convenient through the use of handy gadgets. Setting the trend and coming in hot are touchless kitchen faucets. These motion-sensing works of brilliance can change the way you look at a conventional faucet. Their ease of use and elegant looks will steal your heart. The great thing is that you can now adorn your kitchen with beauty and functionality that could make your work in the kitchen easier. Have a good look through our list of the 11 best touchless kitchen faucets and pick the one that best suits your style and needs.