Toy Garages are replicas of real-life car garages and come in various shapes and sizes to aid imaginative play in children. They feature various aspects, such as car servicing, car cleaning, parking, and racing.
By playing with these toys, your children can have a chance to know the many jobs that are involved in taking care of a car. If your child is fascinated with cars, then this could be an excellent gift you can give them for their birthday or Christmas.
Read this MomJunction post to know about some of the best toy garages in the market. 
13 Best Toy Garages
With this toy, your child gets the experience of running a real-time garage. It has four different levels, and each level has one car servicing feature, such as a repair station and a car cleaning section, among others. All four levels are connected by a spiral ramp, which is easy to navigate. It also comes with a working elevator and a tow truck. The Matchbox toy garage is said to work with Hot Wheels and Matchbox cars and is recommended for children above three years of age.
This toy garage includes both a garage and a racing track for toy cars. It offers parking spots for 36 cars in a four-floor parking lot, and each floor is accessible by two working elevators. The Hot Wheels Ultimate Garage also has a tune-up shop and a gas station. The chomping shark and the racing track might add to the needed action in your child's imaginative play. This garage set can be connected to other Hot Wheels sets.
Over three feet tall, this garage playset from Hot wheels is said to be the biggest toy garage ever. It can stage up to 140 cars at a time and comes with a car maintenance section. The parking spaces are accessible with a dual-track where one is a corkscrew track, and the other is a spiral track. The motorized elevator can transport up to 23 cars at a time. For added action, this set also has a menacing gorilla and a jet plane with a launchpad. It comes with four cars.
If you are looking for a simple toy garage playset, then this might just be the one for you. This garage playset comes in two levels that include a parking garage, a service station, and a drive-thru car wash. It also has a functional elevator that moves the cars up and down. A garage with doors, a gas pump, and two wooden cars are also included to give your child the complete experience. This could be one of the best toy garage-sets for children aged three to six years.
This garage playset makes a great gift for a child who adores Mickey Mouse. It comes with a three-level garage that is connected by a 360° spinning lift and a secret fold-out ramp. The third floor has accessories such as exhaust pipes, an engine, and a spoiler. It also comes with a 3in poseable Disney Mickey Mouse figure wearing a garage hat, along with a table, chair, tool cart, and a gas pump. It has a car that can transform into a race car.
Designed for toddlers aged three years and above, this parking garage set is simple, yet fun to play with. It comes with a two-level parking space that is accessible by a lift and a ramp. This parking playset is compatible with other Brio world cars and is recommended for children of ages three years and above. It comes with two cars and a car transporter wagon. The interactive aspects of this playset are said to help in building fine motor skills in your children.
Recommended for children aged three years and above, this garage set comes with an ambulance, a fire truck, and a police car. The set has interactive features, such as the opening of garage doors with a set of keys, to aid in developing fine motor skills in your toddlers. The cars can be stored in their respective garages, and the whole thing can be carried anywhere using the sturdy handle. This garage toy set is said to be made of child-friendly and safe materials.
With this garage playset, your child can now build their own Piston Cup garage from the movie Cars. It comes with a 1:5 scale Lightning McQueen car and has two-levels accessible with a working elevator. Your children can also connect this with other racing garage toys to expand their imagination. It is recommended for children of ages three years and above.
Want to make counting fun for your toddlers? Then this Stack and Count Garage set from Melissa & Doug might come handy. This set comes with a wooden frame to stack the cars, a sliding counter, and ten wooden cars. Your child can have hours of imaginative play with this toy. It is said to have a compact design and made with eco-friendly materials. Recommended for children from ages three years and above, this toy can give your children some quality screen-free time.
This Melissa & Doug garage and cars playset comes with seven cars and their garages in various colors. Your child has to sort and match the car with its garage and also arrange them according to their sizes. Recommended for children aged two years and above, this playset might help develop fine motor and cognitive skills in your children.
If your child likes to pretend being a police officer, then this could be one of the best toy garages for them. It is a combination of a fire station and a police station with towers, lights, and sound. The real-sounding microphone that calls emergencies is said to add the needed action into your child's play. It includes a police car, a fire truck, and a police helicopter. A title speaker is also available to play sounds when a car is launched and goes down the dual ramps. Additional accessories such as flames and road cones are also given.
Hot Wheels comes up with yet another mega garage playset, that consists of three levels to park the cars. It also comes with a working elevator, turnstile, two car launchers, and five ramps. One car is included within this playset, which is compatible with other Hot Wheels cars. It consists of various interactive parts such as levers and check-posts throughout the ramps so that your children can spark their imagination while playing.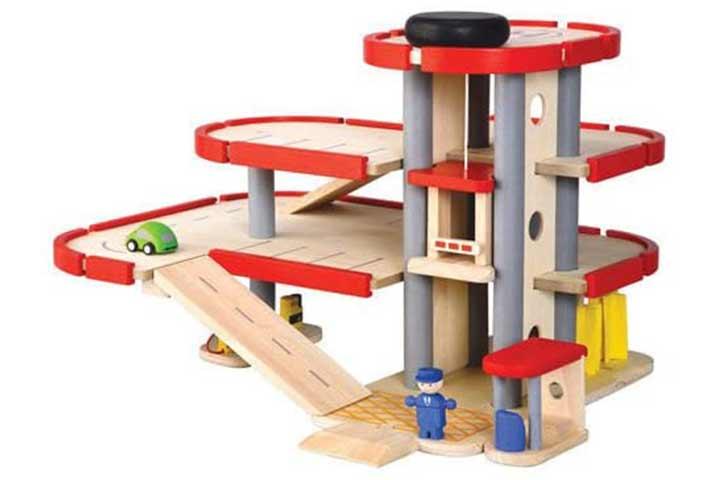 Made with eco-friendly materials, this playset is designed to replicate a real-life parking garage. It consists of three levels that are accessible with a lift or through a ramp. Other details, such as parking ticket collecting check-post, fuel pumps, etc., are also present. It also has a car cleaning unit so that your child can have hours of fun and invent their own games to play with friends.
Features To Consider While Buying A Toy Garage Playset 
Keep in mind some of the below aspects when looking for a toy garage playset for your children.
Theme: Some toy garage playsets have a specific movie or race car theme, whereas others come in generic themes of parking garages or police stations. Choose a theme in which your child has an interest, as they will be able to relate to it.
Age: Choose a toy garage set that is recommended for your child's age, as some playsets might be too complicated for younger children or may contain small parts that could be a choking hazard for younger children.
Size: These toy garages come in all sizes, some are as big as three feet, while some come in more compact sizes, so choose one that is suitable as per the space available.
Hand or battery operated: While battery-operated ones are good for older kids, hand-operated toy garages are said to help develop fine motor skills, so choose accordingly.
Garage playsets maybe just toys, but your children can know about the processes and gain knowledge in car racing, policing, or fire-fighting. Choose one that is apt for your child's age and preferences.
Recommended Articles: 
The following two tabs change content below.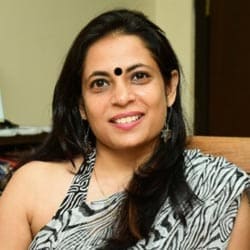 Priti Bose
Priti Bose is a poet, songwriter and blog writer. She did her masters in English, Public Relations and Advertising. Her creative skills and hunger for details make her do in-depth research on the topics she covers. For MomJunction, she writes on product analysis and reviews, especially for kids' products, toys and gifts. Before her association with MomJunction, Priti worked in the...
more