Buying your toddler a toy phone is a simple alternative to giving them real telephones. Toy phones are safe, fun, and keep your children intrigued. Some are so realistic that the child may barely notice the difference. Not only are toy phones fun, but they can also be used for educational purposes.
In this MomJunction post, we have compiled a list of the best toy phones for toddlers to help you buy the right one for your child.
13 Best Toy Phones For Toddlers
With this smart little phone, your toddler can explore more than 15 activities, including various counting songs that the child can sing along. Recommended for ages 18 months and above, this phone has ten buttons, each giving different displays upon pressing. The fun animations and different activities introduce the child to numbers and counting, pretend-play, conversational skills, and social skills.
As the name suggests, it is not just a toy phone, but a learning device that features ten practical applications your child could try. The features include a clock, music, photos, games, five different ring tones, pretend phone calls, and a pretend phone book that could store up to five numbers. Recommended for ages two to five years, this toy phone also teaches letters, numbers, and time concepts. It also has a voice activation feature to talk with an animated bird.
The retro chatter phone is an attractive phone that has been introduced in 1961. It was the ultimate pretend-play toy phone with eyes that roll up and down, a rotary dial that rings, and chatting mouth that brings a smile to your little one. Recommended for kids aged 12 months and above, it is a classic roll-along pull toy and gives a vintage appearance with its friendly face.
One of the best toy phones for toddlers that has fake phone calls and voicemail features, this phone can teach your little one to count numbers from 0 to 10. It has exciting animations that get activated when the child presses the number buttons. While watching videos, the child can add emojis with sound effects to it. It includes phone manners, guessing games, and number games. It is recommended for kids aged between 18 months and five years.
Joyin toy smartphone comes with remote control and is an ideal pick for kids aged one year and above. Made of safe ABS plastic, the products are durable, easy-to-use, designed with giant colorful buttons, and have a large screen. The remote control has channel keys that imitate a TV remote, play realistic sounds, flashing lights, and play words in different languages. The cellphone helps the toddler learn numbers, hear animal noises, and play eight different songs.
If your toddler loves Minnie Mouse, then this could be something you may prefer buying. Featuring Minnie phrases, realistic phone sounds, a large keypad, and lights, this toy phone would surely entertain the child. It has a cute Minnie hair bow and Minnie buttons that bring cheer on your little one's face. It is intended for kids aged three years and above.
Your toddler gets fun learning opportunities with this realistically designed toy phone. It features 29 interactive buttons that could bring fun, eight emojis that introduce feelings and emotions and plays more than 75 songs, sounds, tunes, and phrases. All of these teach your child the days of the week, feeling words, the art of conversation, social phrases, and greetings. There is a voicemail message feature and pretend dial that gives real sounds.
It could be one of the best toddler toy phones along with a toy remote control and car keys your child would love or carry around. Designed with bright colors, the products are all made of BPA-free material and are non-toxic. They feature flashing lights and realistic songs to keep your child entertained. The pretend playset helps your child enhance motor skills and imagination and is intended for children aged from 36 months to eight years.
Your toddler would show enthusiasm with this easy to grasp and flip over toy phone. It has a bi-lingual learning mode of English and Spanish. Your child gets to listen to funny sounds, phrases, and greetings that engage them. It comes with a fun peek-a-boo mirror and is available in vibrant color themes. It is recommended for children above three months.
Here is another fun flip-over toy phone that seems realistic and calls back. It features songs, sounds, a light-up screen, and three pre-recorded messages. Parents could record personalized messages to their children, and the phone has a locking message function. Your child would love its soft finish, bumpy texture, and cushioned strap. It is a learning toy that improves hand-eye coordination, fine and gross motor skills. It is recommended for children between the ages of 18 months and five years.
Your child would love this toy phone for its magnifier screen and the colorful dial pad. This toddler toy phone is made with sustainable chemical-free recycled rubberwood material and water-based non-toxic colors. It is recommended for children above 12 months of age and could improve your child's fine motor skills and cognitive skills.
The VTech smartphone could be used to teach your toddler a lot of things while also allowing them to receive calls. The touchscreen feature has 12 light-up pretend apps that include a clock, calendar, and weather. It is programmed with around 15 melodies, sing-along songs, and different phrases to keep the child engaged. It encourages your child's development by teaching the 123s, ABCs, and first words. It is intended for children between six months and three years.
Featuring baby shark press buttons, it is an interactive smartphone that helps improve hand-eye coordination and fine motor skills. Your toddler would love to meet the complete baby shark family by pressing buttons to learn numbers, different songs, and sounds. There is also a music button to listen to the baby shark's full-length song. It comes with a factory-set volume level that protects the child's hearing.
How To Choose The Right Toy Phones For Toddlers?
Here are a few points to consider while buying a toy phone for your toddler.
Age: Buy an age-appropriate toy phone. Read the features to know if they are challenging to their age and if they could educate them.
Safety: Check for any removable accessories and its assembly, to prevent the risk of choking. Choose a toy manufactured according to international safety standards.
Features: Some toy phones would just imitate the latest smartphones and do not offer features that could raise curiosity or entertain the child. Look for the one with multiple features such as light-up and beeping buttons, talk and text modes, touch-screen functions, icons, bright colors, and size. The more the elements, the higher is the curiosity of the toddler.
Durability: A toddler is likely to drop and bang the toy occasionally. Therefore, buy a toy phone that gives a good deal on durability.
Price: Stick to your budget and buy a toy that is reasonably priced and is of good quality.
A toy phone is a useful product to save your expensive smartphone and protect your toddler from its harmful effects. The above list of best toy phones for toddlers might help you get a suitable one for your child. Read the features and use this buying guide to pick an appropriate one that is within your budget.
Recommended Articles: 
The following two tabs change content below.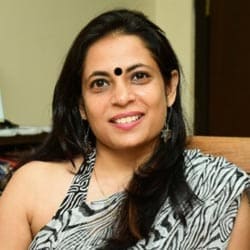 Priti Bose
Priti Bose is a poet, songwriter and blog writer. She did her masters in English, Public Relations and Advertising. Her creative skills and hunger for details make her do in-depth research on the topics she covers. For MomJunction, she writes on product analysis and reviews, especially for kids' products, toys and gifts. Before her association with MomJunction, Priti worked in the...
more