Encourage learning and interaction among children with autism with our list of the best toys for autistic children. Children with Autism Spectrum Disorder learn well through play (1). When they play with these toys, their sensory-motor skills develop along with their language, problem-solving, and social interaction skills. With various designs and features, these toys are fun to play with and aid the children's overall development. Since children with ASD may struggle to play with some toys, we have handpicked a few great ones that they can interact and engage with easily. So, read on to find one that best suits your child's needs.
Sensory Toys For Children With Autism
Some toys provide a sensory experience that children with ASD crave. The toys allow the children to engage their sense of touch, hearing, and vision. Also, integrating sensory therapy via play can help improve an autistic child's daily functioning
The Adorox Liquid Bubble Drop is a beautiful desk toy that doubles up as a visual stimulant for children with special needs. Children with autism specter disorder tend to look at lights or moving dots or objects to stay focused. This desk toy helps the child calm down and focus on one thing.
Features: The Adorox Liquid Bubble Drop Motion Wheel is a small calm-down bubbler that fits in your child's hand. The colored liquid moves from top to bottom, although a little faster than you'd like it. Once all the liquid comes to the bottom, turn it upside down and get started again!
The desk toy comes in three color options and is made of heat-resistant plastic. The toy is safe for kids and can be carried in a bag or pocket with ease.
2. Best Stress-Relieving Toy For Autism: 12-Sided Fidget Cube
When the child is stressed and does not have a parent or teacher to calm him down, a fidget toy might come in handy. The ATiC 12-sided fidget cube can help relieve stress, reduce anxiety and relax children with ADHD and autism. This toy is a must-have when your child goes out on long drives or outings and needs something to keep them occupied and relaxed.
Features: The fidget has 12 gadgets including smiley minion faces, sliding blocks, soft buttons, a silicone ball, an on-off switch, a joystick that moves 360°, a silicone tag, gears, worry stone, soft silicone, rotating disk, and gaming buttons. The toy is made of high quality, non-toxic polycarbonate and is safe for the kids to use. This video will help you make an informed decision about your purchase.
3. Best Oral Sensory Toy For Autism: cHu-buDDy Pendants
Some children with autism have trouble with oral sensory processing and may indulge in inappropriate chewing, licking and biting. Using oral sensory toys such as the Chubuddy pendants provide the necessary oral stimulation that children with oral sensory issues need.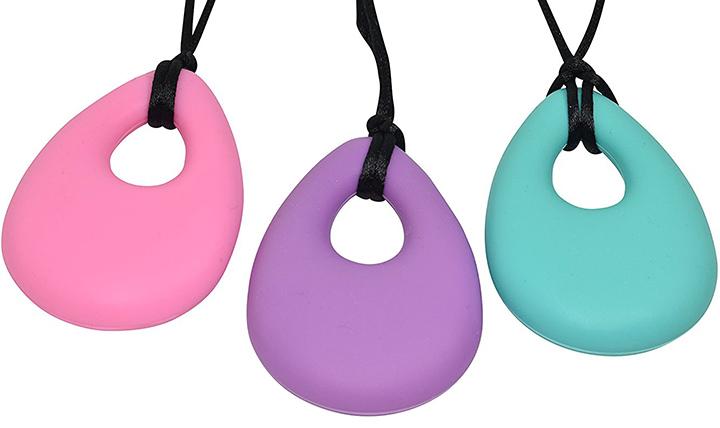 Features: The Chubuddy pendants are fashionable and made of a high-quality material that's free from lead, latex, plastic compounds and other non-toxic materials. The pendants blend in with your child's style when worn as fashion accessories and also double up as chew toys for children with ASD. The pendants come attached to a breakaway clasp necklace that keeps them close to the child. Check out this product review video and pick the best-suited one for your needs.
4. Best Austistic Toy For Auditory Senses: Vehicle Sound Blocks
The Vehicle Sound Blocks by Melissa & Doug is a simple puzzle that engages the child's auditory senses. It features six different vehicles, and all that the children have to do is match the blocks to hear the sound of that vehicle. Vehicle sound blocks improve visual perception, fine motor skills, and coordination. Watch this video to get a detailed review of the product.
Features: The blocks are easy to play with and have a self-correcting feature that lets the child learn about picture association and identifying vehicle sounds all on their own. The blocks have six sides featuring a boat, plane, motorcycle, train, fire engine and an ambulance. When the child solves the puzzle correctly, they get a visual (image of the vehicle) and the auditory feedback (sound of the vehicle) that are rewarding in themselves.
Puzzles For Children With Autism
Children with autism enjoy solving puzzles. In fact, they have a knack for solving puzzles! Puzzles are fun and can be used to teach the kids anything with ease. Our list of puzzles includes sound puzzles, peg and knob puzzles, sensory foam puzzles and more.
This puzzle, similar to the vehicle sound blocks, engages the child's auditory senses. The wooden peg puzzle features eight farm-animal shaped pegs that need to be set in the appropriate holes. When the child gets it right, he gets to hear the sound that the specific animal makes. This sound puzzle focuses on developing the child's listening skills and the ability to identify and match colors and shapes.
Features: The colorful puzzle is more than just that. It is an educational toy that teaches kids about farm animals. It features cutouts of eight animals including a cow, shepherd dog, cat, pig, horse, rooster, duck, and sheep. When the child places the animals in their right place, they make a sound.
The toy focuses not just on the pictorial representation of the words, but also on the language part. The See and Spell Learning toy by Melissa and Doug is a simple puzzle that also doubles up as a basic educational toy that teaches spelling to the child. The puzzle helps improve sight-reading, language skills, and fine motor skills.
Features: The puzzle has over 50 pieces of English letters and eight two-sided boards that teach kids the spelling of three and four-letter words such as fish, bus, pig, bird and more. The colorful letters and boards make the toy appealing and engage the child in productive play. This toy is an excellent addition to classrooms for kids with special needs.
Edushape Soft Foam Puzzle Blocks engage the child's sense of touch to teach them about shapes, colors, and texture. The differently shaped foam blocks in bright colors are eye-catching and are designed especially for children with special needs. The block puzzle helps improve the child's spatial, logical and reasoning skills.
Features: Made of soft foam, the puzzle blocks are easy to use and safe too. The lightweight puzzle blocks have a dotted texture, which stimulates the sense of touch as the child plays with them. The colors boost imagination and visual sensory development of the child.
This 2-in-1 bubble fidget toy is the perfect combination of pop games and building blocks. It is a great toy to keep your child engaged in a fun, creative way and help them think and strategize. The toy pieces can also help children identify colors and shapes, develop their logical thinking, and enhance their motor skills.
Features: The Anlabay 2-In-1 Pop Blocks come in a pack of 48 pieces that can be put together to form different shapes. Pressing the mouse bubbles helps create a popping sound to relieve stress, especially for children with ADD, ADHD, or OCD. The material is high-quality and non-toxic and has excellent durability. You can wash and reuse the toy pieces, and they are easy to carry and don't occupy much space.
Physical Activity Toys For Children With Autism
Children with autism spectrum disorder need more than just mind games. The toys listed here can help the children develop their gross motor skills and physical coordination.
9. Best Toy For Physical Coordination: Gonge Riverstones
Gonge has a range of exciting toys for young children. The Gonge Riverstones is one of the series of toys that can help the child's physical coordination. The stones, made of a non-slippery material, vary in size and thickness. The stones are made of a sturdy material and designed for ease of use and storage through stacking.
Features: The toy-set contains six Gonge stones made of non-toxic material and can be used on hard surfaces, indoors or outdoors. When the stones are laid on the floor, not too far away from or too close to each other, the kids can move from one stone to another without touching the floor. With these stones, children can learn to judge the distance, steepness, and timing of movement, and jump and balance confidently.
Balance boards are one of the most effective tools for improving physical coordination. In simple words, this board helps the kids maintain balance and stay steady on their feet. Not to mention, the monkey balance board promises endless hours of fun. The board has been designed with the safety of kids in mind and is ideal for children between three and seven.
Features: The monkey board requires assembly and comes with a colorful platform with the image of a smiling monkey on it. Once ready, the child has to stand on the board with each foot on either side of the platform and try to balance by shifting their weight to the left and the right. The aim is not just to swing left and right, but to try and adjust the board on its center, with both the sides of the platform above the ground.
11. Best Versatile Toy For Austism: Moluk Bilibo
At first glance, the Moluk Bilibo looks deceptively simple, like a military helmet. But it is so much more than just a shell-shaped toy. Made of non-toxic polyethylene material, the Bilibo is light in weight and has multiple uses. The toy encourages open-ended imaginative play, inspiring and encouraging the child to try new ways to use it! It is shatterproof and can be used indoors or outdoors.
Features: When placed on the floor on its curved side, the Bilibo becomes a rocking seat. When placed upside down on the child's back, it becomes a protective shell. The multipurpose Bilibo is available in eight colors and has multiple uses. Use it as a revolving seat for sliding in the snow, like a bowl for your toys, a helmet, a float in the swimming pool or as a stepping stone on sand or snow. What your child does with it is limited by their imagination!
12. Best Physical Therapy Toy For Autism: Space Hopper Ball
Space hoppers are inflated physical therapy balls that the children can sit on and jump around in the room. Not only do they help in strengthening the core muscles of the child, but also improve the child's ability to balance. The hoppers are a fun way to exercise the body and are also used by adults.
Features: The inflatable space hopper comes with a handle on top, which ensures a solid grip to keep the child from falling off. The space hopper is made of an eco-friendly material that is free of any toxic substances. Besides being a lot of fun, the space hopper also helps in balance training and vestibular orientation.
Educational Toys For Children With Autism
Children with autism spectrum disorder have difficulty in focusing, understanding and learning like other kids do (3). They tend to have difficulty learning necessary skills that the other children learn with ease. In this section, we have listed a few toys that can teach them a few basic skills and some more in a fun and exciting way.
The Basic Skills Board by Melissa and Doug is one of the best toys for children with autism. Designed to be an educational toy, the board lets children practice simple dressing skills like tying the shoes, buttoning the shirt and buckling up a bag. The board features an image of a happy bear with all the necessary items such as lace, belts, buttons and a zipper.
Features: A six-piece puzzle board for children aged three or more, the Basic Skills Board helps improve a child's fine motor skills. Each wooden puzzle piece has a tool like a zipper, shoelace, belt with buckle, clasp, and buttons. Made of high-quality wood, the dressing skills board is durable and is an excellent addition to the collection of toys of children with ASD. You can get it for use in school or a classroom.
14. Best Toy For Communication Skills: Socially Speaking
One of the things that autistic children struggle with is expressing their emotions. Children with autism spectrum disorder have difficulty communicating and understanding another person's point of view. Socially Speaking is a board game that helps autistic children improve their social skills that they need at home, school and the community. The game can be played in classrooms too, with three to six players.
Features: Children with autism spectrum disorder find it difficult to interact with other people, making them socially awkward. The game teaches them the basic skills such as listening, greeting someone, giving a compliment, asking the right questions, expressing emotions, making phone calls and more. The game also teaches the importance of taking turns during a conversation and not interrupting someone when they are saying something.
Flashcards can be useful when your child has difficulty remembering what he or she has learned at school. The Early Flash Cards set helps the child learn the alphabet, numbers, shapes, phonics and simple words. Ideal for children aged four to eight, these flashcards reinforce what the child has already learned at school. The colorful pictures on the flashcards make them appealing to children.
Features: The Early Learning Flash Cards box contains six sets of cards with each set containing 54 cards. The sets are divided by tabs for easy organization, which is another skill you could teach your child with these. The aim of using flashcards is to help the child succeed in academics, and boost their confidence further. While this is not technically a toy, learning with flashcards can be as fun as other toys.
Besides the toys mentioned above, you could also look at other toys such as Tangle Jr. fidget, squeeze toys for stress relief, sand panels, cool night lights, vibrating pillows and rolls, and other toys that engage the child's senses while teaching him a thing or two. But no matter how many toys you buy, you may not get the desired results if they are not appropriate for your child.
Next, we have a few tips on how to choose the right toys for autistic children.
Tips For Buying Toys For Children With Autism
When it comes to buying something for children, we are seldom hasty. We tend to gauge the usefulness the toy, the durability, the safety and the cost. And when it comes to buying something for a child with special needs, we may end up overthinking our shopping. Well, there is no need for that. Here is all you need to remember when buying toys for a child with autism.
The child's needs and interests are the two most important things you need to remember when you look for toys. Just like any other kid, a child with special needs also has likes and dislike. Being thoughtful about them can help you a great deal in choosing that right gift.
Ask the question, "Will my child be able to play with that?" or "How simple or difficult is it to play with that toy?" Keeping in mind the child's cognitive levels will ensure that the toy you buy will be put to good use.
If you are buying a gift for someone else's kid, just ask the parents what the kid would like.
Check online for reviews of a particular toy or game before you buy it. Better yet, just buy it online. Many online shopping websites cater to the needs of autistic individuals. From sensory toys to educational kits, your options online are many. Also, you get some of the best bargains when you shop online.
Remember that not all toys are for everyone. Keep in mind the child's age, interests, ability to comprehend and their skills before investing in a toy. If there is a specific skill that you want the child to improve, look for toys that aid in that.
Select quality over quantity. Children often end up playing with just one or two toys they like the most, even when they have a box full of them lying next to them. So, it should not be about getting more toys, but about getting the right toys.
Remember that you do not always have to buy toys for your kids. You can also make appealing toys with everyday objects right at home. The idea is to give the child a toy or an accessory that can provide them enjoyment for hours, teach them new skills and help them improve their existing skills. The bottom line is to think like your child when you buy a toy. Just ask yourself, what would my kid buy? And take it from there!
How We Selected The Best Toys For Children With Autism
We have tried to be thoughtful while choosing this list of toys for children with autism. Considering their needs and learning requirements, we have selected the toys that are engaging, stimulating, and child-friendly. These toys will help your child learn valuable skills and reach their developmental milestones. The products in our list are non-toxic and made of high-quality materials to ensure your child's safety. Moreover, we have considered the reviews of real buyers to provide you an unbiased opinion and to help you choose the right toy.
Recommended Articles: