As your little girl slowly grows up, you will start noticing that gone are the days when you would give them any toy, and they would happily accept it. The best toys for 5, 6, and 7-year-old girls require some consideration from the parents' side. The primary reason is that girls of this age range have developed their own preferences, and you need to consider them.
In this post, we have listed some great options for toys for girls. Explore all of them and choose the ones that best suit the girl's interests.
Toys for 5-year-old girls
A five-year-old girl is entering a new phase in her life. Now, she has started taking lessons in a formal ambience. Therefore, match your toys to suit her new learning capabilities as well as her changing tastes.
1. Best Mobility Toy For Girls: Steppers
For enjoying the thrilling Steppers, one need not even be a child.
Why girls love it:
Your girl can stand atop and maneuver her way around while standing tall. The game can be played both indoors and outdoors. Steppers provide a firm foundation to stand and hop around.
What we like about it:
The ropes are braided and soft enough for little girls to wrap around their hands. Steppers is a great toy for improving balance and coordination. The anti-slip top texture prevents falling.
2. Best Toy For Fine Motor Skills: Perler Beads
Perler Beads Building toy is perfect to hoist creativity and imagination in young girls. They will be happily occupied for hours.
Why girls love it:
It comes with a beautiful range of colorful beads and patterns that kids can choose to create their own designs. It paves a path for an endless road to creativity.
What we like about it:
The box can be carried anywhere. Building games like this improve fine motor skills, hand-eye coordination and sparks imagination in children.
Ivy Step Toy Eggs for Toddlers is ideal for individual and group playing. All the matching eggs can be clicked together. The convenient storage allows storing all the eggs. Your little girl can now practice counting from 1 to 12.
Why girls love it:
The dino-themed toy, when played with parents, makes for a good bonding experience. It has attractive colors, patterns, and numbers to entice a child's imaginative mind.
What we like about it:
This toy encourages logical thinking skills and develops spatial relation skills. It improves hand-eye coordination.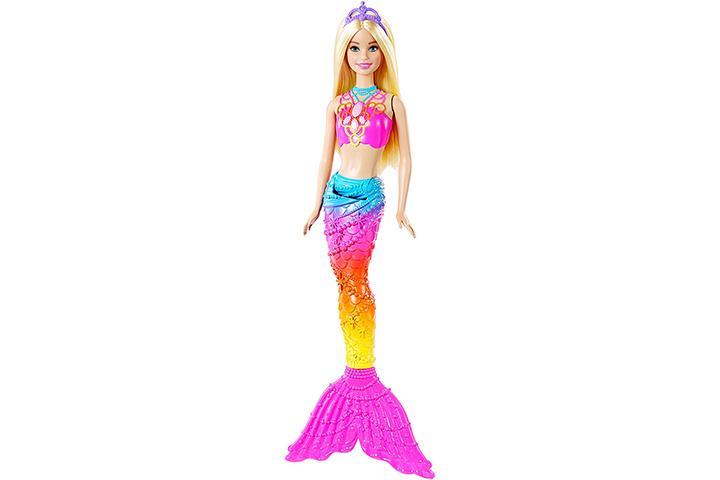 The most celebrated doll, Barbie has become a mermaid, making your little girl's pretend plays more cheerful and exciting.
Why girls love it:
Mermaids are fascinating, especially when it is the classic and favorite Barbie. It is easy to operate and activates once it is dipped in water to display a beautiful light show. Girls can play with this doll during their bath time or even off the water.
What we like about it:
The toy encourages imaginative play, which helps improve the kid's cognitive skills.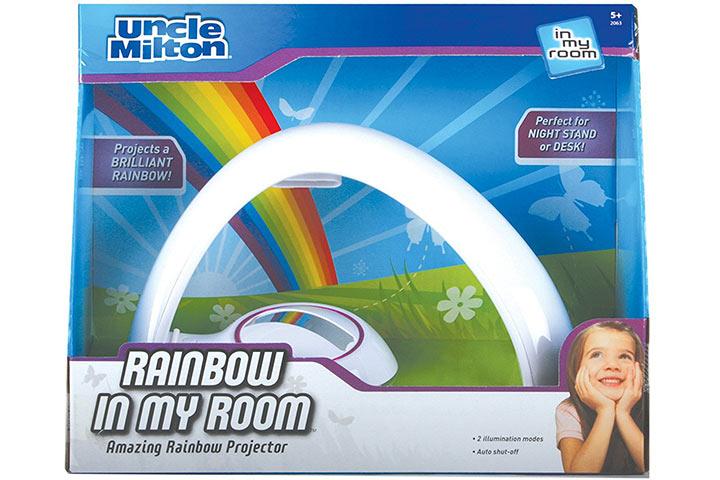 How about a rainbow right inside your little doll's bedroom? Though not a traditional toy, it's a fun device for young girls.
Why girls love it:
The tabletop turns bedtime into a peaceful and calm place. Your girl can dream about sleeping under the open sky with a beautiful rainbow above her.
What we like about it:
This stimulates imagination, especially during bedtime stories. It has calming qualities and improves a child's elementary knowledge of colors.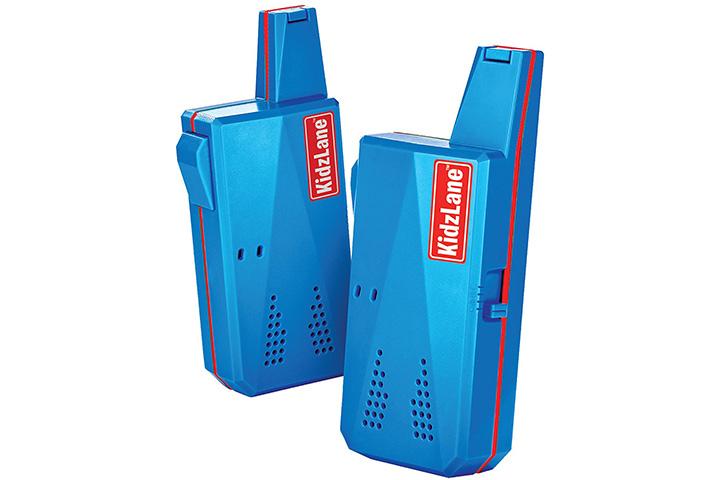 The sleek and pink Walkie Talkie will make your five-year-old girl have endless fun.
Why girls love it:
Girls go on adventurous streaks without worrying about how long the toy will remain active. It is easy to use with just the push of a button.
What we like about it:
It has a wide communication range, stretching up to two miles. This toy introduces the child to concepts about radio communication.
The device works for a stretch of nine hours in standby and 3.5 hours continuously.
Toys for 6-year-old girls
By now, girls like playing with friends, they build opinions and try making their own style statements. In short, it means your toys need to be thoughtful and well-chosen. Here are our picks.
7. Keepsake Box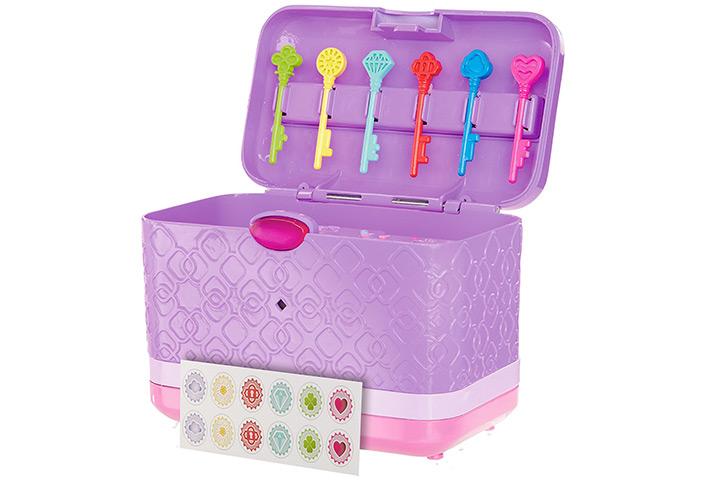 Every girl's secrets are spilled out only at the right time and to the closest mates. With this box, she can not only keep the secrets but also lock them away.
Why girls love it:
It is a fun alternative to a journal. It functions on a voice-unlock mechanism, letting girls retain their individuality and personal space. It is easy to carry while traveling.
What we like about it:
This is a great keepsake box with an electronic password. It makes your child know the importance of having passwords and keeping them a secret. It helps save their favorite things and hold on to their memories.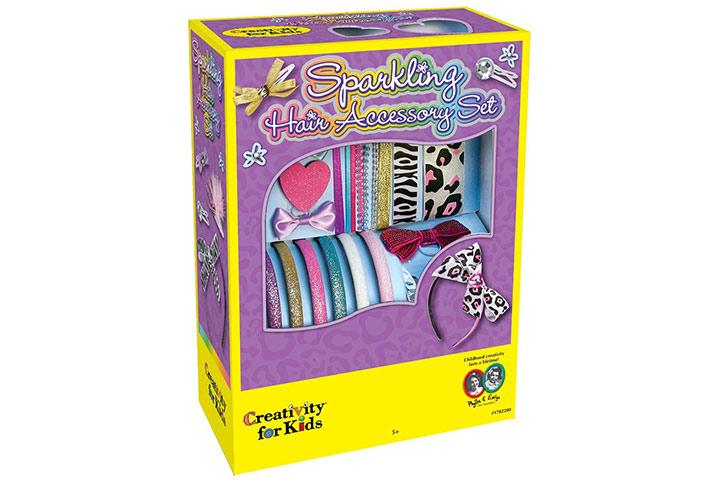 Your child must already be combing her hair and looking in the mirror to make sure her hairstyle is nothing less than perfect. So, gift a customized headband set and let her style herself.
Why girls love it:
The band lets the child make her hair in a jiffy. Ten different accessories come with it — there are flowers, ribbons, rhinestones, butterfly, and feathers to choose from.
What we like about it:
Your girl is now building her identity and this toy supports her in it. It works on her hand-eye coordination.
Going around the neighborhood on a scooter makes her feel thrilled. With this pink scooty, she can now ride anywhere.
Why girls love it:
The different colors fit a child's taste. It brings a sense of freedom and individuality as they go out alone. They don't have to ask you to drop at their friend's place or in the park.
What we like about it:
Besides enhancing a child's motor skills, riding the scooter strengthens arm and thigh muscles. It also improves her balancing and coordination.
If your girl is already showing signs of an adventure lady, why not start with jungle adventure right inside her bedroom?
Why girls love it:
The jungle-themed toy has the doll-figure Olivia with her tiger cub and chameleon. Olivia saves the tiger and builds a dam from the waterfall.
The game has less than 200 pieces to assemble and start. It also comes with accessories such as glasses, fruit plates, driftwood and precious gems creating perfect woodland.
The cliff hut has tables and stools, trees, flowers and flexible vines.
What we like about it:
This instills the love for environment and wildlife in young children.
The toy can be carried anywhere. Meant for imaginative plays, it improves fine motor skills and cognitive abilities.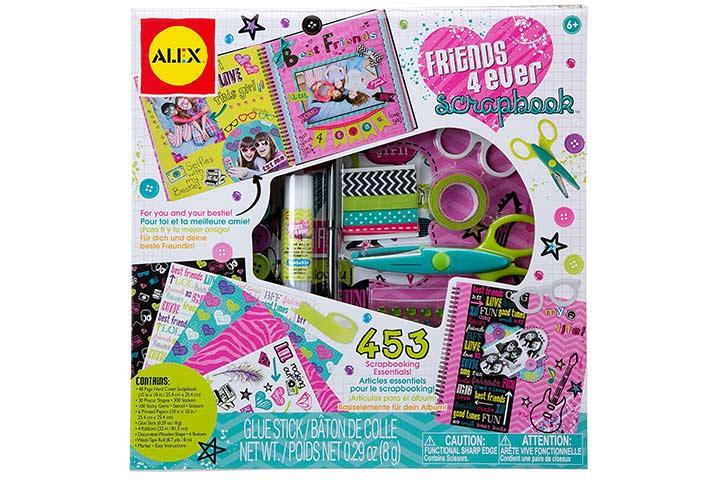 Your girl can spend hours by scrapbooking. Let her design all that she wants to without any bar to her creativity.
Why girls love it:
Every young girl loves the tradition of scrapbooking and with Friends 4 Ever, there is not one way to design. The toy comes with pre-cut shapes and fun accessories like stickers and gems, along with a page book.
What we like about it:
There's no better way to encourage free and creative thinking than gifting your girl a scrapbook. It not only enhances fine motor skills, but also serves as history when updated since childhood, preserving memories along with photos.

Toys for 7-year-old girls
A girl's individuality and taste increase by this age. She realizes the need for freedom. Whether your girl is an introvert or extrovert, this list of toys
is sure to impress her.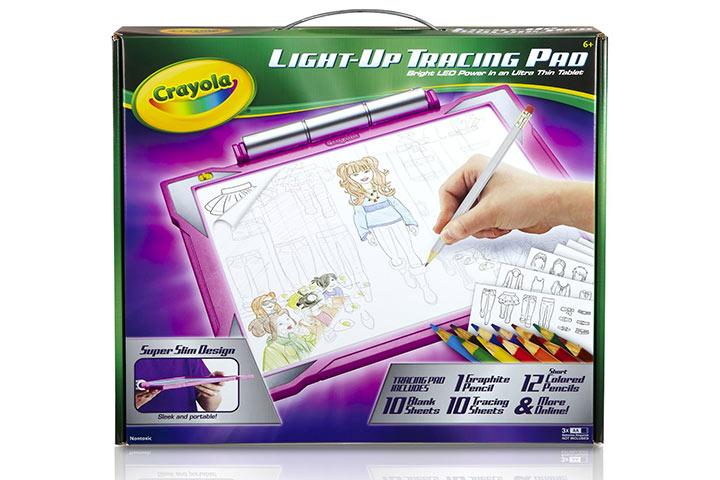 If your seven-year-old girl loves art and needs a canvas, it's time to get her one.
Why girls love it:
There are plenty of free images available for download. It has a paper-locking frame to make papers stay in place. It also has drawing pencils and LED lights.
What we like about it:
This boosts hand-eye coordination besides giving creative liberty to your child. The powerful LED lighting is battery operated. It is slender and portable.
Your little girl can roll on these wheels for hours of active fun.
Why girls love it:
It can be used both inside and out. The footing is comfortable and secure.
What we like about it:
The skates boost the child's self-confidence and give her a sense of independence. They help learn to balance the body while moving on wheels.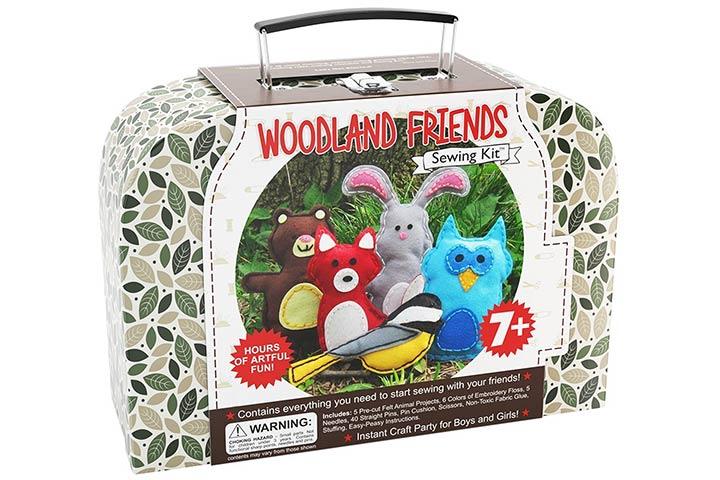 Introduce your little girl to the fascinating tradition of sewing with this wonderful embroidery sewing kit.
Why girls love it:
It comes with a nice leaf print trunk with a handle. The five pre-cut Woodland animals include red fox, chickadee, bunny, tubby bear and a wise owl. The instruction manual is easy to follow. The kit also has embroidery threads of six different colors, cushions and stuffing.
What we like about it:
This toy celebrates independence and confidence in seven-year-olds. The manual is helpful and children learn everything by looking at the illustrations and reading them.
Each animal comes with its set of instructions and the needles are plastic, except one regular metal needle.
This game is also great for family gatherings and house parties.
15. Chalktrail Scooter Accessory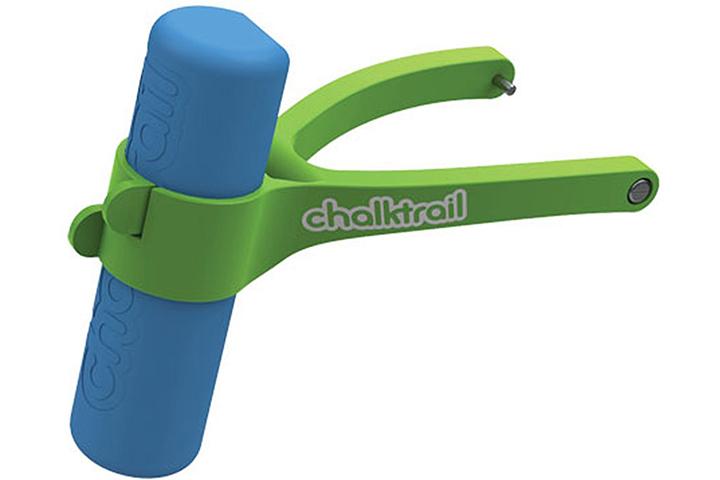 Is your child a fan of painting but does not have the patience to sit and draw? Here's a perfect toy that she can play with even when she's cycling.
Why girls love it:
This can be attached to the back wheels of your kid's cycle. The chalks are of vibrant colors. The chalktrail is durable and strong, and doesn't break even when your kid hits a bump.
What we like about it:
Chalktrail is lightweight and has one size that fits all. It won't break easily. The chalks make sturdy and visible lines and pave the way for a perfect creative day out for kids.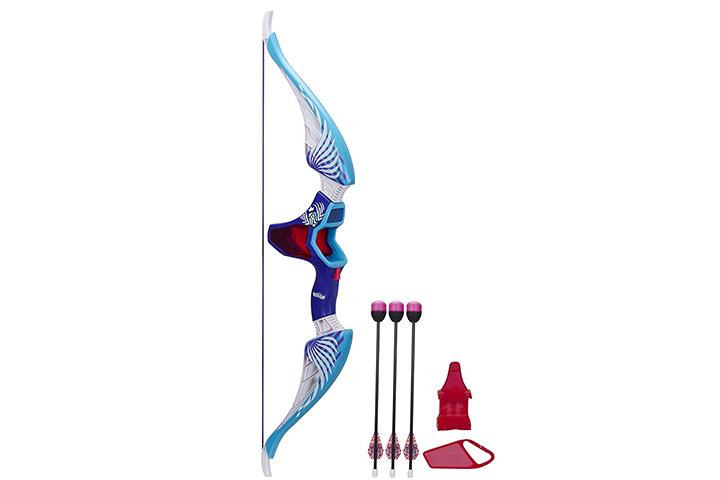 If your girl loves archery, or if she is a big-time fan of The Hunger Games, then this is the right way to nurture her love for this artform.
Why girls love it:
The toy comes with a bow-and-arrow kit. The arrows are soft and foam tipped and go about a distance of 85 feet. This brings a perfect feeling of adventure and builds confidence in kids.
What we like about it:
The toy is an excellent tool for strengthening hand-eye-coordination, aiming and concentration. Besides being a great exercise, it makes the muscles of the hands and arms strong. Refill packs for the arrows are available online.
At five, six and seven years, kids like to draw, learn riding scooters, and cook. And for girls, an added interest would be to style themselves to their satisfaction.
As parents, you care for their cognitive development, motor skills, and creativity, besides play.
Buy them toys that meet both your criteria so that she is happy and you are satisfied.
Why Trust MomJunction?
Priti Bose is an experienced writer who specializes in writing about kids' toys and games. Her skill as a product reviewer allows her to give readers a seamless and stress-free shopping experience by researching and recommending the best products in every category. This article presents a carefully vetted list of the best toys for 5, 6, and 7-year-old girls that can capture their attention, keep them occupied, and provide fun ways of developing their skills. These toys are safe, sturdy, and made of high-quality materials for long-lasting performance.
Do you have a little girl at home? What are her preferences? Share your stories with us in the comment section below.
Recommended Articles: