A train table is a specially designed table to arrange all the elements of a toy train set neatly. These tables give your child the space to set up the tracks, bridges, trains, and other elements and play comfortably. Usually, a train table is recommended for children aged three years and above. The many models that are available range from simple to complex and should be chosen based on your child's age and skill level.
If your child is passionate about toy trains and spends hours playing with them, then it is time that you buy a train table. Read this MomJunction post to know more about some of the best train tables you can buy.
Top Products From Our List
11 Best Train Tables
This train table comes with a 120-piece train set. Once this is set up, your kids would enjoy watching the train go through a mountain, and under a replica of the Golden Gate Bridge. With added features like trees, a construction crane, trucks, and people, this gives children a feeling of running a whole town.
Features
Sturdy construction, with T-molded edges.
Measures 48.75 x 34.38 x 16in.
Three plastic storage bins that slide under the table.
1 ½-inch lip to keep the toys within the table.
Silk-screened playboard.
Solid wood track.
If you are looking for a multipurpose table that can be used both as a train table and also for puzzles and Legos, then this wooden table by Melissa & Doug could be an apt choice.
Features
Huge drawers for maximum storage.
Easy-to remove panels for cleaning.
Raised edges to keep the toys within.
32.5 x 50 x 16in.
Sturdy design.
With built-in tracks, this train table can be used both as a train table and an activity table. The ready-to-use tracks reduce the hassle of setting up the tracks every time.
Features
Molded tracks and non-removable bridges.
Hardboard lid to convert it into an activity table.
Comes with a three-piece train set.
Measures 47.6 x 26.6 x 6.7in
Sturdy, durable design.
Does your child enjoy pretend-playing with their buddies? Then, this KidKraft train table might be useful when they want to run their little bustling metropolis. With interactive pieces and realistic details, this train table would add more fun to their playtime.
Features
Measures 46.9 x 32.9 x 26.8in.
Spacious table to share.
Large storage drawer with two compartments.
Hundred-piece train set with interactive aspects.
Colorfully illustrated playboard.
If you are looking for a simple and portable train table that does not occupy much space, then check out this track table by Simplay3. You can use this table anywhere to let the child play with it indoors or outdoors.
Features
Built-in racetrack.
Lightweight and portable.
Racetrack on one side and train track on the other side.
Measures 35.5 x 17.5 x 4in.
Easy to store.
Easy-to-carry side handle.
This dual-purpose train table comes with 200 building blocks and a 30-piece wooden train set. It has everything your children need for a great playtime with their friends. This train table is recommended for children aged three years and above.
Features
Two-sided play area.
Smooth and rounded corners for safety.
Measures 25 x 23 x 17in.
Storage space underneath the playboard.
Easy-to-lift playboard with colorful illustrations.
With this train table, your kids can have fun right from building the tracks to seeing the train whizz on them. It has accessories like trees, buildings, signs, people, and buildings, and might give your kids the complete experience of running a train.
Features
Themed playboard.
Eighty-piece train set.
Measures 24 x 3 x 48in.
Suitable for all Thomas wooden railway items.
Printed instructions to lay the track.
Free Conductor Carl engine car.
The Brio play table is made with solid wood and is easy to assemble. It is painted with non-toxic lacquer paint and is said to adhere to child safety requirements.
Features
Safe, rounded corners.
Made with high-quality wood.
Raised sidewalls to prevent toys from falling out.
Measures 46 x 30 x 18in.
Removable playboard.
Recommended for children aged three years and up, this train table might spark the creativity in your child. Your child can build a fully functional train track with various interactive aspects and have a good time with their friends.
Features
Reversible table.
Storage unit beneath the playboard.
Colorful, illustrated playboard.
Compatible with most popular train products.
Raised edges for safety.
Measures 31.5 x 32.2 x 15.8in
It comes with a train table as well as pieces required to build a railway track. This colorful train table from Zonixe is said to be a good playtime partner to improve your child's creativity and imagination.
Features
Eighty-piece wooden train set.
Height of the table suitable for toddlers.
Measures 28.7 x 23.6 x 15in.
A variety of accessories.
Colorful and illustrated playboard.
Completely made of wood, this train table set is colorful, interactive, and fun to play with. Your child can build tracks and set up a whole town along with their buddies. This could be a good way to develop social skills in your child.
Features
Eighty plus wooden accessories.
Rolling storage drawer.
Spacious table for multiple players.
Measures 30.75 x 25.5 x 13.5in.
Reversible playboard.
What Are Uses Of A Train Table?
A train table can help your kids arrange and set up their toy train set. Having a train table at home offers the following benefits.
Your child can have their own space to explore and play.
There is no hassle of building the train set again and again.
It keeps all the parts of the train set together and safe, and also prevents your child from tripping over any small components.
Encourages socializing as most tables can accommodate more than one child.
A train table is a multifunctional piece of furniture that can be used for various purposes. If you want to create a space for your child where they can explore their creativity, and have a good time playing with friends, then getting home -a train table could be a good idea.
Recommended Articles: 
The following two tabs change content below.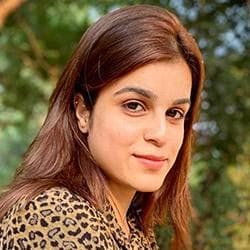 Sakshi John
Sakshi did her graduation in Journalism from the Madras Christian College, Chennai, before starting her career as a freelance writer. She is into blog writing and for MomJunction, she covers various topics, including products to buy for your kitchen, furniture, and other home requirements. Previously, she interned as a content writer in a cyber security firm. As a content writer, Sakshi...
more