A travel jewelry case is a compartmentalized bag to keep your jewelry organized. It is a useful travel accessory that can keep your long chains, rings, earrings, and other jewelry in one place. Different materials such as velvet, leather, and suede are used to make these cases. If you are a travel bug and love to keep your accessories organized, this list featuring some of the best travel jewelry cases is for you.
15 Best Travel Jewelry Cases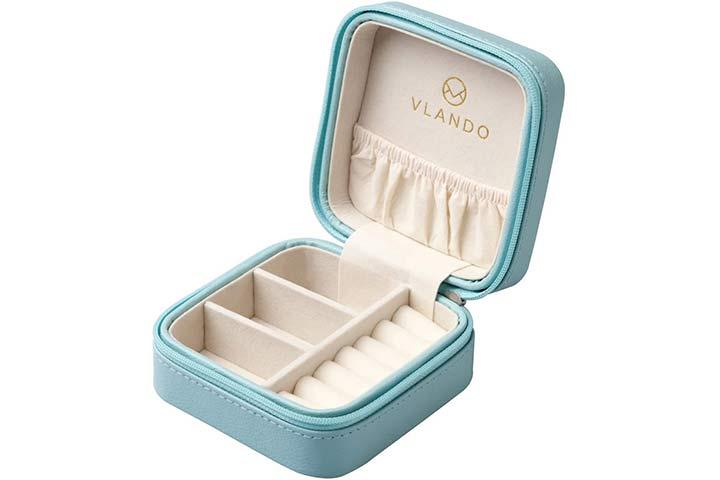 Vlando jewelry box has an elegant and compact design. It is made of premium PU leather with velvet lining, and high-quality flannel interior. It comes with two removable divisions and rows of ring rolls. The silver zip closure makes it easy to open and close this travel box that measures 4.53×4.53×2.56in. The box has an elastic pocket to keep your necklaces and other smaller pieces safe. It can be customized and is available in eight attractive colors.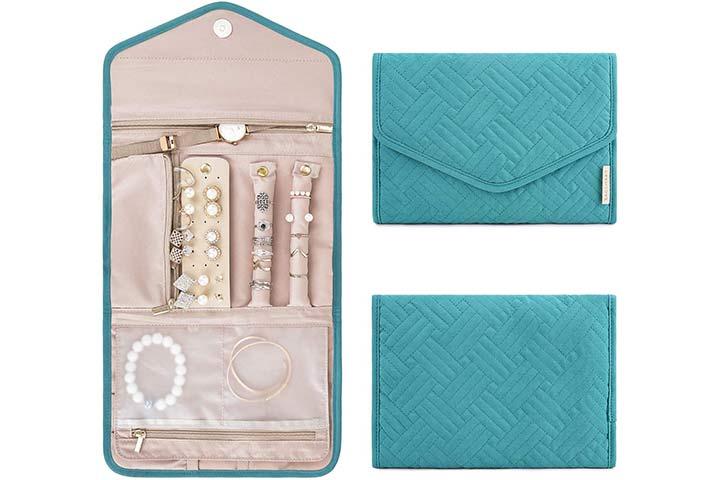 If you are looking for a classic jewelry case, this one Bagsmart could be the right choice.  The environment-friendly case is made of polyester and cotton, measures 9×6.3×1.2in, and weighs 0.26lb. The pouch can store rings, necklaces, earrings, hairpins, and brooches in its compartments, including an earring panel, long zip pocket, buckled band for rings, an interlayer zip pouch, and a buckled strap for a necklace. It comes in nine colors and three sizes – small, mini, and large.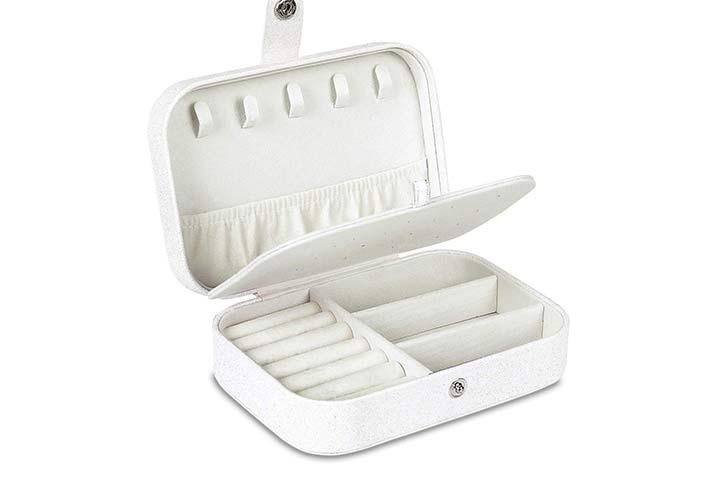 The Misaya jewelry box may look small but can store more than you can imagine. The double-layered case has a ring groove, stud plate, and a necklace hook, in addition to the adjustable storage space for tiny pieces of jewelry and cosmetics. This masterpiece can accommodate up to ten pairs of earrings, and five necklaces separately on the hooks.
The lightweight jewelry carrying case measures 6.3×4.3×2.05in and weighs just 0.48lb, making it portable and a great choice for traveling. It is made of pearlescent cross synthetic and is lined with soft synthetic, which is non-abrasive, scratch-resistant, and does not fade. It has a buckle closure, and is available in five classic colors.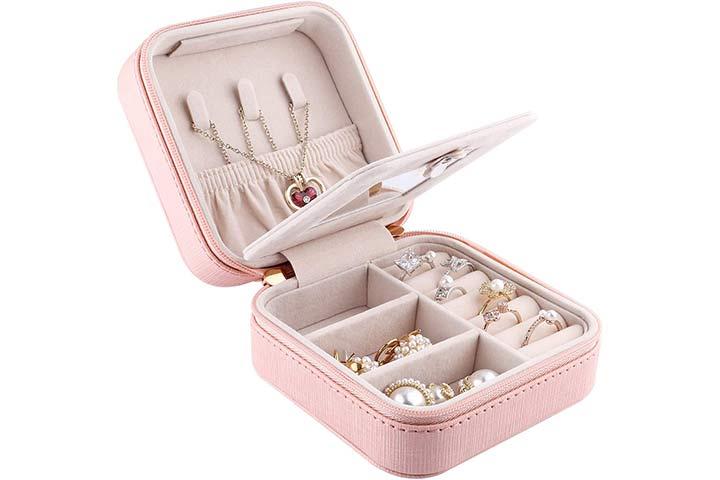 The Duomiila travel jewelry case is made of deluxe synthetic leather on the outside and premium quality flannel inside. The design is compact, simple, and elegant. The box has three hooks for chains, seven ring holders, one hard card with six holes, and a mirror. It is lightweight, portable, and easy to carry and store, making it travel-friendly. It measures 3.94×3.94×2.16in and weighs 0.25lb. The elastic pocket in the lid can be utilized to store other tiny stuff.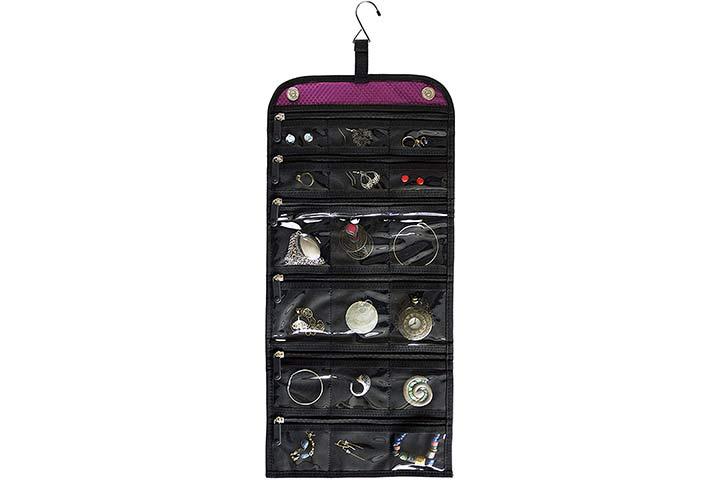 The large hanging jewelry case can be used at home or on vacation. It is made of high-quality material, which is tear-resistant and strong. The 420D honeycomb polyester and the see-through windows make this product stand out from others. It includes 23 single partitions and comes in six varying sizes. The soft lining inside the pockets protects your accessories from scratches.
The length and breadth of the organizer, when unfolded, is 22.2×10.2in, and 8.3x 10.2in, when folded. It weighs 0.85lb and has durable zippered pockets for safe storage. The compact trifold magnetic latch design makes it travel-friendly.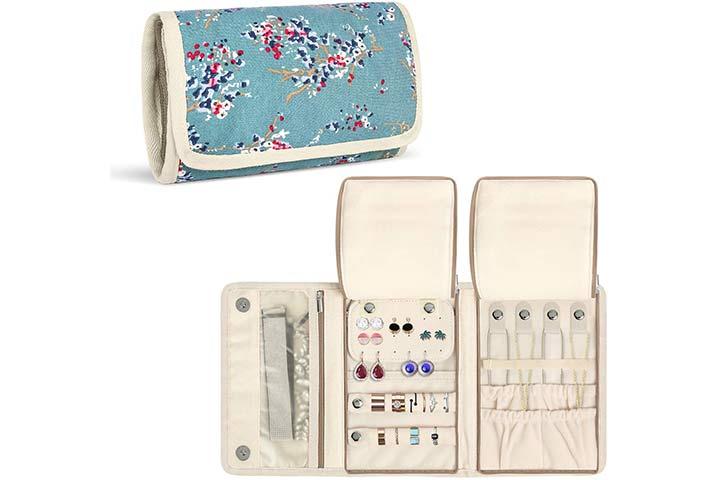 Teamoy travel organizer is a roll-up case designed for rings, pendants, bracelets, and other accessories. This travel pouch has three straps, with a bottom section to keep your chains separately and prevent tangling. It is made of extra soft cotton canvas material and has a semi-flexible pad inside to protect your jewelry from damage and scratches. 
When unfolded, its size is 18.5x8in, and when folded, it measures 6.5×7.5in. It weighs 0.37lb and has drawstring design for easy opening and closure. It has see-through zippered pockets for chains and bracelets, two rows with snaps for rings, three snaps for necklaces, and a detachable holder for earrings. A unique feature of this organizer is the magnetic snaps to hold bracelets and necklaces in place. It does not occupy much space and is a perfect travel case for traveling.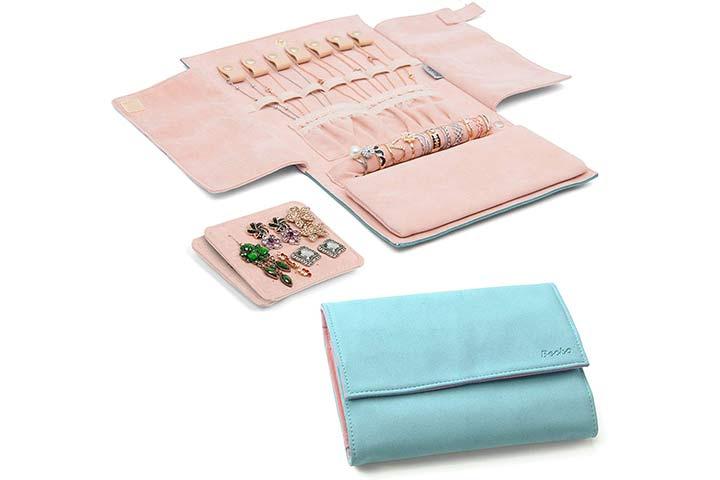 Becko Jewelry organizer is made of premium quality soft leather and suede. It looks graceful with anti-winding design, seven snapped bands, and seven elastic bands that prevent the chains from intertwining. The case can store up to 16 pairs of earrings, seven necklaces, rings, wristwatches, bangles, bracelets, or even sunglasses. At the bottom are four elastic pouches for gems and pendants. 
The large jewelry case measures 8.1×5.9in when folded, and weighs 0.66lb. There are two pouches to hold earrings and a detachable pouch for those beautiful bracelets. The two-sided flips provide extra protection to the accessories.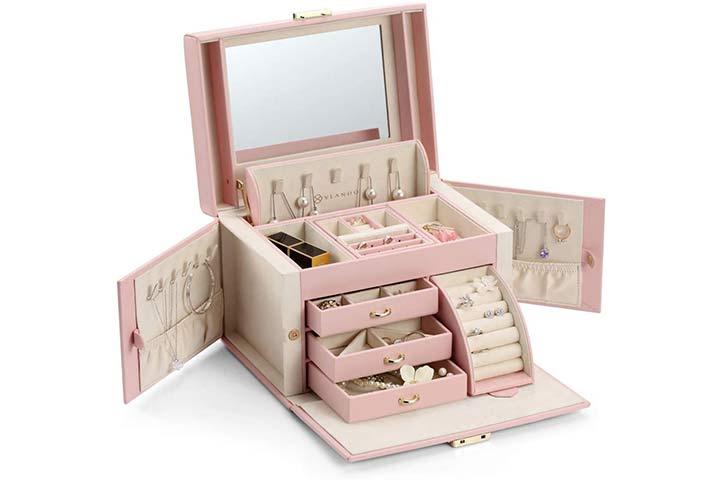 If you are looking for a modern and classic jewelry case, this one from Vlando could be the right choice. It is made of deluxe synthetic microfiber faux leather on the outside and has a faux suede lining inside. The jewelry box has an automatic pull-out division for hanging necklaces.  You could also keep your precious gems safe in this box, as it comes with a retro key and lock.
The box has three layers, each with several compartments to organize your jewelry. The dimensions are 10.5×8.25×7.7in, and the weight is 5.84lb. The necklace hooks on both sides of the jewelry box are an added feature. The box includes removable boards with built-in buttons to prevent accessories from falling.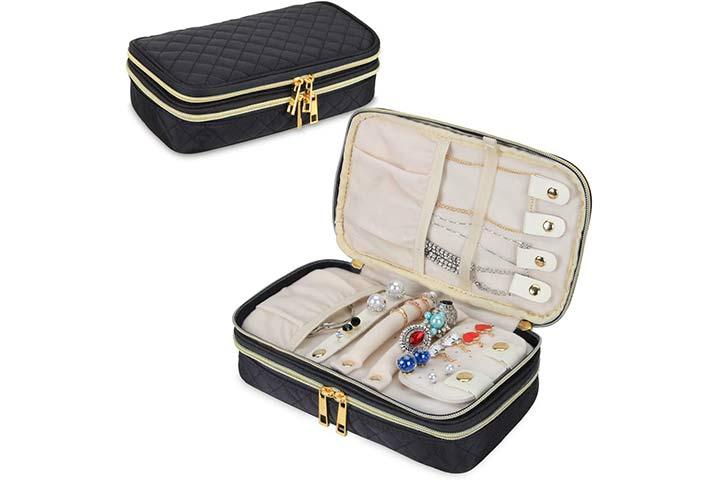 The Teamoy double-layered jewelry case is an elegant piece of work made of superior quality velvet inner lining and high-quality quilted layer outside. The soft interiors provide extra protection to your delicate jewelry. The case has four straps with snaps and a pocket at the bottom to prevent chains from tangling. The adjustable divider is another excellent feature to store accessories safely.
The double-layer organizer measures 9.5x 5.5x 2.5inand weighs s 0.63lb. It also includes two ring holders, one pouch, and one separate strap for earrings. The second layer has transparent zip pockets to store big items. This case is available in five different colors.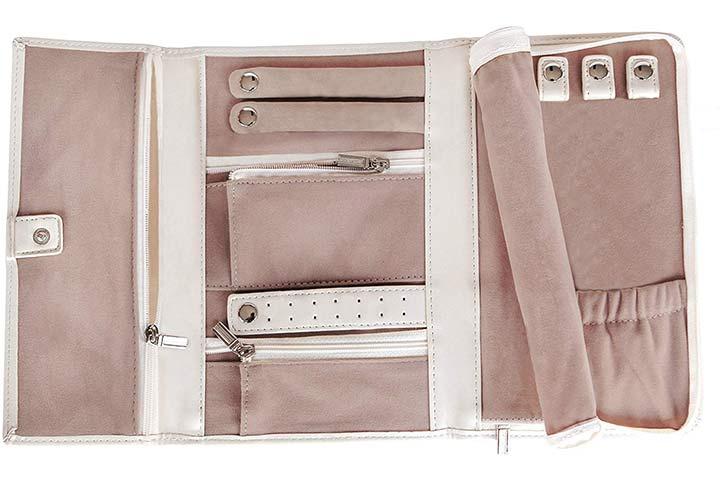 If you are an animal lover, then this case is for you. It is made of natural texture and vegan leather, and is small enough to fit into your bag. It measures 8×5.5in and weighs 0.25lb. The case has two ring holders, two zippered pockets, a strap that accommodates seven sets of earrings, and three tabs for ear studs. This elegant piece is not only luxurious but also durable. It is extra soft and protects the accessories from scratches. The jewelry case is available in four pretty colors.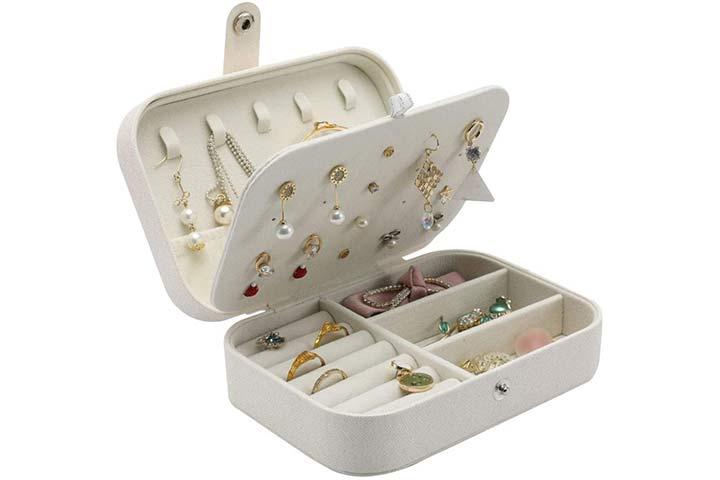 If you are looking for a simple design, then DerBlue travel jewelry case could be a good choice. This box is portable, lightweight, and made of synthetic PU leather that can sustain the daily wear and tear. The interiors are made of soft faux suede to protect your jewels from scratches and damage.
The compact and simple design could be a perfect choice to store smaller accessories. The dimensions of the case are 7.3×4.7×2.4in, and the weight is 0.49lbs. It has three small compartments and removable holders for bracelets. The bottom part has seven partitions for rings, studs, and earrings. The top lid section has five hooks to keep necklaces and a lower elastic pocket to accommodate other accessories. The middle holder can store ten pairs of studs or earrings. 
The gorgeous travel organizer is large enough to store your favorite jewelry. The polyester material gives you a soft feel and keeps the jewelry scratch-free. The two-way zipper system keeps the items safe and provides quick access. It has five main compartments, including a long buckled band for rings, zippered pouch, necklace strap, earring panel, and side zippered pocket.
The pouch measures 9.8'x 6.1 x1.9in and weighs 0.55lb. The simple design lets you store both large and small items. Multiple compartments of this travel case help to keep your jewelry well organized on your next vacation.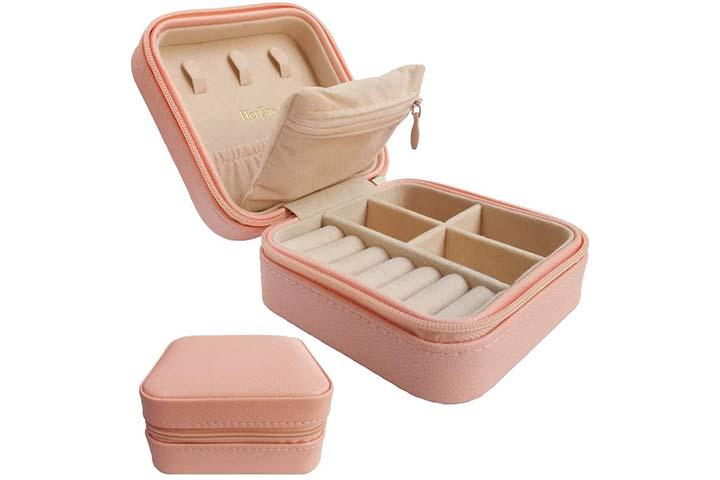 The all-in-one travel jewelry case includes six ring rolls, three necklace hooks, an elastic pocket, a zippered pocket, and four compartments to keep your jewelry de-tangled and scratch-free. It is lightweight and travel-friendly. The organizer measures 3.93×3.93×1.97in, and weights 0.26lb. The jewelry box is made to withstand shocks, keeping your jewelry safe while traveling. It could be a wonderful gift for your family or friends.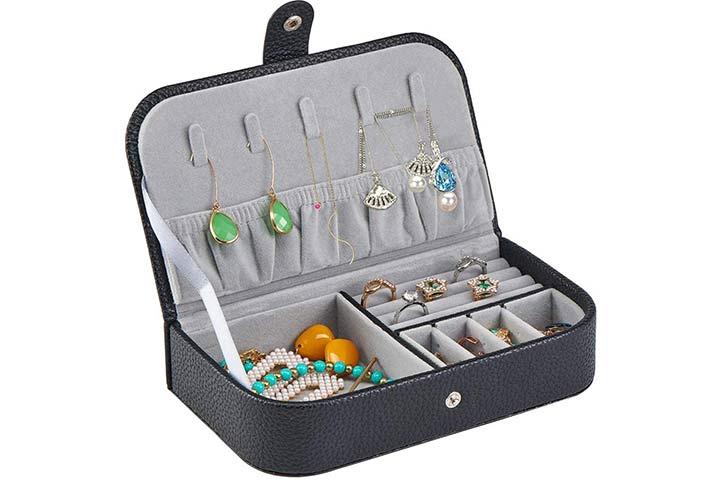 The lightweight and portable travel case can be placed easily in a handbag, backpack, or luggage when traveling. It is made of PU synthetic leather and has a buckle closure, which makes it easy to open and close. The soft velvet lining protects the jewelry from any kind of damage. The smart design includes earring holders, ring straps, and extra space to store bracelets and chains. The dimensions of the case are 7.62×4.32×1.65in and it weighs 0.52lb. You can find the organizer in six attractive colors. 

The Yapishi jewelry box has an exquisite design with several adjustable compartments. It is made of PU leather and has nylon décor stitching. The box includes cardboard partitions and has the sleekest design with zipper closure. It has soft velvet lining and a protective flannel cloth inside. The unique box includes elastic storage pockets, two movable delimiters, and a mirror. It measures 4.1×4.1×2.1in, weighs 0.48lb and is available in six colors. 
How To Choose The Right Travel Jewelry Case? 
Before you invest in a good-quality travel jewelry case, you need to look for some key features. 
Type of jewelry: You need to choose a travel jewelry organizer based on the type of accessories you want to store in it. If you have more rings and a few pairs of earrings, then find a box that has more space for rings and a small section to keep earrings. Similarly, if you have necklaces and bracelets, then look for a case that has separate compartments to keep them safe..  
Type of storage: You can find pouches, boxes, hangers, and roll-up jewelry cases. Depending on your need, you can either choose a hanger for your closet or a pouch that can be carried in a handbag. 
    Cost: Travel jewelry cases are available in varied price ranges. You should pick a product that fits in your budget and fulfills your needs. 
If you are a jewelry lover, then you will surely understand the importance of storing and carrying your valuables in a travel jewelry organizer. A stylish and sleek travel case will keep your jewelry safe and easily accessible. We hope that you find the perfect match from the above list of the best travel jewelry cases.