Having the best under-cabinet lights can be a blessing for your home. They improve your kitchen's ambiance and brightness, thereby brightening your cooking area. They exist in various shapes and sizes and are easy to fit. Several under-cabinet lights feature motion sensors for efficient control. Choosing the best lights is not an easy task. We have compiled a list of lights having unique functionalities and designs to make your search easier.
17 Best Under-Cabinet Lights For The Kitchen


This under-cabinet lighting by Harrrrd, measuring 16in wide and 24in long, has a durable metal base and a stylish design and perfectly fits into the cabinet roof of modern kitchens. The LED bar light system comes in five different lengths: 36in, 24in, 21in, 18in, and 12in. With a frost lens, the LED light bar enables light distribution in a wide area, especially in closed spaces such as shelves, counters, cabinets, and bookshelves.
Features
Easy on the eye with the glare-free lens
Warm and bright light
Compatible with various dimmers
Long life of up to 50,000hrs
Conforms with UL 1598
Five-year warranty
Easy to install and clean


If you are looking for an under-cabinet light suitable for your kitchen cupboard, monitor back, desk, shelf, etc., the Wobane under-shelf lighting kit is one of the best options. The under-cabinet lights, made of copper and plastic, offer high durability. The DIY cabinet strips are designed with flexible LEDs for easy fixtures and offer sufficient brightness at a low 12w.
Features
Light capacity of 1100lm
Comes with a UL-listed adapter and strips
Produces low heat
Easy to install with screw-free adhesive taping
Includes four pieces of 20in light bars
Litever white cabinet light kit has a classy anodized finish with plastic end caps and PC diffusers. The under-cabinet light's aluminum-alloy body gives it a modern style with white and bluish light (5000K shade). They come in three-bar and six-bar options to suit your needs.
Features
Super bright with energy consumption of 31w
Bright daylight white lights
Dimmable customization with rotary switch dimmer
Easy to install with self-adhesive pads
Includes US plug with 115cm cable
Durable
Otilai LED battery lights, made of plastic and metal, use motion sensor technology and have a USB rechargeable function to save energy. The set of three with 10 LEDs in each pack offers high performance and is reasonably priced.
Features
Comes with PCT International, design, and utility model patents
Aluminum alloy shell and anodizing process
Lightweight at 0.17lb
Broad usage capacity across closed spaces
Installation with stick-on feature
Three modes of control
Motion sensing within 10ft with an auto-off function
GetInLight dimmable under-cabinet led light comes in three colors: soft white, warm white, and bright white to suit the décor of most kitchens. It also comes in six different lengths, ranging from 12in to 48in, and has a life expectancy of 50,000hrs.
Features
Switch for temperature slides
Easy hardwire installation with knock-out holes at four inches
Single knock-out for 9in and 12in variants
Hardware kit and cord for installation
Up to 20 units linkable with one power supply point
Energy Star certified
ETL-listed
If you are upgrading your home, Bason under-cabinet light is a must. This product comes in 16 colors and four play modes and with a remote control. Its wired multi-color changing lights are dimmable and powered by an adapter for easy plug-in. The lights have a copper finish to give a modern appearance to your kitchen.
Features
Extendable cord length of 4.92ft
Easy connection with four-way splitter
Ten modes of brightness adjustment
Energy efficient with 12V operating voltage
Current color mode retention with memory function when switched off
Easy to install with double adhesive and screw
Laboreducer wired linkable puck lights, made of plastic and aluminum, have a versatile design with bright and natural white shade. This modern under-cabinet lighting kit has an automatic turn-off function and requires the least manual interference. It is easy to install to the cabinet and improves its overall aesthetics.
Features
Auto-off tunable for 15, 30, 60, and 120 minutes
Dimmable
Timer function
Parallel connection of puck lights
Six-way splitter for easy plug-in
Easy turn on and off with RF remote
Easy to install using insert screws
Lighting Ever's puck light kit has a warm white design that blends with similar-colored walls and cabinet tops. The hardwired under-cabinet lighting, made of aluminum, comes in a package of six and includes essential accessories for easy installation and use. It is suitable for kitchen cabinets, closets, and stairs.
Features
Brightness at 1020lm
Warm white at 3000k
LED puck light of 6w
Reduces energy consumption by 88%
Stick-on lights
Easy installation without any tool
Dimmable (four brightness levels)
Ultra-thin at 0.5in
This low-voltage under-cabinet lighting kit has a touch-free dimmable control system, making it one of the best options. The under-cabinet light is made of aluminum and plastic, giving it a modern appearance. Its small size makes it suitable for small spaces, such as kitchen cabinets. The product is light, weighing 1.2lb, and is easy to install.
Features
3000k warm white light
Sensitive IR sensor installed for hand wave activation
Consumes low energy at 12w
Eco-friendly and economical design
Made of sturdy material
Available in 6000k cool white color variant
If you want an under-cabinet Lighting system that can be controlled via your smartphone or voice commands, choose the Lampaous CabiSmart under-cabinet light. These white and multi-colored lights have easy compatibility and effortless fixture functions. The classic design and metal body make them highly durable.
Features
Compatible with Alexa, Google Home, Echo, Echo Dot, and Google Assistant
Red-Green-Blue lighting
Separate warm and cool whites
Super bright white LEDs
Easy adhesive tape installation
Easy-to-fit dimension of 12×1.5in
Dimmable
If you are looking for an alternative to battery-operated under-cabinet lights, the Willed3W light bar is ideal. It has a stylish design with a mirror finish and is reasonably priced. Its small frame and easy-to-install design make it suitable for your study, closet, reading table, and bedside. The product consumes minimum power of 3w.
Features
4500k color
Battery-less operation
Adhesive installation with stick magnet mount
Adjustable brightness with dimmable feature
90-degree rotatable
Ustellar white LED light has an extended 20ft cord for easy installation. This lightweight under-cabinet light, made of plastic, has in 6000k daylight white shade, giving an elegant brightness to your kitchen cabinet. Made of flexible material, it allows you to experiment with different kitchen cabinet lighting ideas.
Features
Hand wave switch
Dimmable light strip with a luminosity of 1800lm
Automatic hand wave activation within 5cm
ETL-listed design
Made of 360 LEDs
Ten brightness levels
Energy-saving of up to 80% with 12w consumption
Installable via 3M stickers and simple screws
This lighting kit, made of plastic shade material, has a modern design with soft luminescent white color. The stick-on lights are available in a pack of six and come at a reasonable price with an easy-fix design.
Features
700mAh battery-powered operation with wireless remote
Dimmable lights
USB-rechargeable
Lasts up to 30 hours on a single charge
Super bright 60 LED puck lights of high luminosity
Manual control option
No installation required (built-in magnets)
The LED lights by Lunsy are suitable for fixtures across enclosed and open spaces that do not receive enough sunlight. Their sleek design makes them easy to install. Each kit carries two packs comprising 120 LEDs and is battery-powered for convenient use.
Features
Motion sensor control with three modes
Portable and wireless design
USB rechargeable battery
Adhesive as well as magnetic switch installation
Three light colors with a single press switch
Bright at 350lm with dimmable control
Built-in 2500mAh rechargeable battery
Myplus under-cabinet lighting set comes with a 16.ft LED strip and is available in warm white. Its adhesive switch installation makes the lighting system easy to fix to under-cabinets. The strip lights offer super brightness at 1050lm.
Features
300 PCS SMD 2835 warm white shade
Best suited for use as decorative lights
Dimmable with ten brightness levels
Comes with a UL-listed 12v adapter
Safe to touch while operational
Stick-on installation
Keyola 60 LED under-cabinet lighting kit, made of acrylonitrile butadiene styrene, is highly durable. The compact LED lights measure 10ft long and are suitable for enclosed dark spaces and kitchen cabinets.
Features
IP65 Waterproof
High luminosity at 2400lm
Available in 6000k white shade
Under-cabinet cordless light with easy installation
Made up of 5630 LEDs with a service life of up to 50,000hrs
Dimmable and equipped with a touch sensor
The ultra thin LED lighting by LEDLampsWorld is available in variants of one light in line, two lights in line, and three lights in line. It has a sleek design and is extremely easy to install. These lights, made of aluminum, are durable.
Features
All-in-one kit with easy installation fixtures
Dimmable control
Thickness up to 7mm
Easy installation via 3M adhesive tape
Low energy consumption at 5w and brightness at 450lm
Saves 50% energy
Natural bright color at 3000k
How To Choose The Right Under-Cabinet Light For Kitchen?
Before buying an under-cabinet light for kitchens, consider the following factors.
Cabinet size and space: The type of light you want to buy will depend on the space available in the kitchen cabinet. Assess the space available in the kitchen before buying one.
Brightness requirement: Bright lights are ideal for dark spaces, while moderate brightness is suitable for not-too-dark cabinets.
Size of lighting strip: Correlate the size of an under-cabinet light with the available space.
Type of LED light: LED lights are available in linear bars, strips, hardwired fixtures, and puck lights. Determine the type of fixture and arrangement style you desire.
Power options and control: There are two power and control options: manual and automatic. Choose one according to your convenience.
When upgrading your kitchen, you need to consider your lighting system. These stylish lights can enhance the aesthetic of your kitchen while saving energy. Make sure to check your installation arrangement before proceeding to buy a suitable under-cabinet light for illuminating your kitchen.
Recommended Articles:
The following two tabs change content below.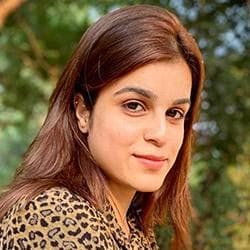 Sakshi John
Sakshi did her graduation in Journalism from the Madras Christian College, Chennai, before starting her career as a freelance writer. She is into blog writing and for MomJunction, she covers various topics, including products to buy for your kitchen, furniture, and other home requirements. Previously, she interned as a content writer in a cyber security firm. As a content writer, Sakshi...
more