Sometimes workout routines and a busy lifestyle do not go hand-in-hand. So, we have brought our list of the best under-desk ellipticals to make this task possible. An under-desk elliptical machine's compact design fits well under a table and allows you to work out at your home or office. You may also use them while enjoying a break, like reading a book or listening to music. It has an easy-to-read display that shows data on the workout duration and calories lost. These machines are built to help you burn calories without much sweating. So, read on to learn more about the features to make an informed decision.
Top Products From Our List
13 Best Under-Desk Ellipticals

With an ergonomically designed compact mini elliptical, Cubii JR1 allows you to switch between eight resistance levels for increasing your exercise levels. The built-in LCD monitor enables you to set goals and track the progress of your exercise. You can easily keep this mini machine under your desk for easy storage.
Pros
Low-impact on joints
Whisper quiet
Adjustable resistance
Easily portable
Cons

The space-saving exercise machine with large textured foot pedals prevent slipping while in use. Each stride is seven- in long that move smoothly with integrated wheels. It runs on a belt drive mechanism with magnetic resistance that requires less maintenance. You can lift it easily from one place to another with its centrally located transportation handle. The digital monitor helps to track your time, speed, and distance.
Pros
Portable
Compact design
Eight resistance levels
Quiet performance
Cons

Ativafit elliptical bike allows you to exercise in both sitting and standing positions. It is a mini exercise trainer designed with multiple resistance levels. The bike helps control the frequency of your workout according to your stamina. Its built-in LCD monitor has five features to set the progress of your exercise. The break resistance mechanism ensures smooth and quiet operation.
Pros
Anti-slip pedals
Compact design
Low impact
Sturdy construction
Cons

With eight magnetic resistance levels to choose from, this fitness trainer allows you to customize your workouts. DeskCycle offersa compact design elliptical machine that can boost your energy levels while sitting at home or office. The large LCD has six functions that allow you to count 100,000 revolutions in a single session. Its low-impact features let you burn your calories without straining your joints.
Pros
Lightweight design
Ergonomic features
Anti-slip pedals
Whisper quiet
Cons
Rubber around the metal bar may not last longer

Designed with the lowest pedal rotation height, Fit Desk elliptical trainer is a perfect choice for all desk and people sizes. The pedal platform is large enough for comfortable foot placement. Its hands-free easy foot shifter allows you to change the resistance with ease. You can remove the mounted LCD for desktop use for ease of monitoring. Its magnetic resistance with eight-position allows a smooth operation without burdening your joints.
Pros
Wheel lock mechanism for rolling chair
Whisper quiet
Easy-foot-shifter
Sturdy
Cons

Theunique ellipticalwith adjustable pedals allows sitting and standing-up exercises. It is premium fitness equipment with large wheels to provide a whisper-quiet gym experience. The premium series 1050 monitor helps to monitor your fitness progress. To allow constant smooth operation, it comes with a lubricant to help release the squeak while moving. Ergonomically designed top handle allows easy transportation.
Pros
Comfortable to use
Low impact
Sturdy built
Versatile features
Cons
May require a mat for firm grip hold

The under-desk elliptical machine is designed with a bi-directional flywheel for forward and backward movement. It features adurable and long-lasting LCD screen to allow you to monitor your workout activities. The board surface is grooved to prevent your feet from sliding off the pedal. Its eight-level adjustable resistance gives you a smooth workout to suityour energy level.
Pros
Handle for easy transportation
Anti-slip
Space-saving
Portable
Quiet performance
Cons

Ancheeroffersa compact personal trainer with a powerful motor for high-degree exercise. The workout machine is designed with manual and auto modes. It has the added feature of a remote control tohelp you to switch between modes without bending down. The advanced built-in LED helps you to keep track of your exercise regime. You can shift the pedals backward and forward for gearing up your muscles. The built-in handle allows easy portability.
Pros
Anti-slip foot pedal
Stable frame
Contemporary design
Easy to operate
Three color options
Cons

Thecompact designed elliptical canbring you a comfortable workout experience. It is equipped with a vibrant LCD to check the duration of the workout. The non-slip rubber surface on the pedal allows easy grip movement of your legs. With eight resistance levels, you can maintain the tension level according to your exercise needs. This manually powered machine includes two AAA batteries for the monitor.
Pros
Easy to assemble
Lightweight
Noiseless
Space-saving
Cons
Does not allow you to stand and exercise

The unique model with 14 levels of magnetic tension resistance allows challenging workouts. It can be attached to your chair with an extendable hook for ease of exercise. The ergonomically designed handle allows easy portability. You can track your workout level on Bluetooth smart cloud fitness, with free apps available on iOS and Android phones. With 10.5in maximum pedal height, you can easily keep it under the desk for a comfortable workout.
Pros
Lightweight
Quiet operation
Anti-slip pedals
Carrying handle for easy relocation
Cons
Resistance may be high for those who like to exercise lightly

The under-desk mini exercising bike has a compact body and comes with an advanced LCD to track your exercise regime's statistics. Its textured foot pedal gives a firm grip to your foot while exercising. With adjustable resistance, you can tap your exercise strength according to your needs. You can use the compact strider while sitting or standing.
Pros
Easy portability
Whisper quiet
Multifunctional
Large pedals
Cons

The Leasbar mini exercise elliptical has four parts with a screw bag to allow easy installation. There is a small knob that allows you to adjust the resistance level with an easy twist. It is designed in a compact size for under desk use. The broad handle and the wireless design allow it to be carried anywhere with ease. It assures a smooth operation for a longer period.
Pros
Super-quiet
Low impact
Sturdy body
Display monitor to track activities
Anti-slip pedal
Cons
Resistance setting may not be smooth

To monitor your real-time progress while exercising, the Serene Life elliptical has a built-in monitor with four functions. It is designed to work out in the comfort of your home, and the smooth gliding motion promises whisper-quiet movement. It is equipped with an ergonomically designed handle for easy transportation. The low-profile design allows it to fit under the desk for ease of exercise. With eight resistance levels, you can customize the intensity of your workout.
Pros
Lightweight
Anti-slip pedal
Increases productivity
Easy to assemble
Cons
Requires a rubber mat for stability
How To Choose The Right Under Desk Elliptical?
Here are some aspects to keep in mind while buying an under desk elliptical.
Portability: Look for a compact and lightweight elliptical that is easy to carry. Consider a trainer designed with a handle.
Features: Look for an ergonomically designed elliptical that allows correct posture movements. The pedals should have a firm grip not to cause you discomfort while exercising.
Durability: The construction should be of durable material for it to last longer.
Noise level: Choose a whisper-quiet elliptical so it does not squeak while pedaling.
Height: Check for the clearance height mentioned by the manufacturer. Buy a product that suits the size of your table under which you will place the elliptical.
Benefits Of Under Desk Ellipticals
Affordable: Under desk elliptical is affordable to a full-sized elliptical. 
Multitasking: The compact design allows you to use it anywhere and makes it easy to work out while doing other odd jobs.
Overall fitness: Pedaling for several hours can let you lose huge calories. It improves your fitness and also tones up your legs.
Increases activity: Sitting for long periods at one place may have a long-term effect on your health. These ellipticals increase your activity level and can be used while sitting and standing positions.
Joint relief: In a mini elliptical, the motion of the pedal is smooth and adjustable according to your intensity. It does not create much pressure on joints and the multiple resistance levels help you adjust the pressure.
Easy assembly: They are small and easy to assemble. You need to attach the pedals to let it work.
Frequently Asked Questions
1. What muscles do under desk elliptical machines exercise?
Under desk elliptical machines target your lower body muscles, especially quadricep, hamstring, calves and tibialis muscles.
2. Can I lose weight with an under-desk elliptical?
Any movement of your muscle will help you burn calories. It helps you to lose weight to some extent.
3. Does the elliptical burn belly fat?
Exercising in an elliptical machine engages mostly your lower body part. It can burn calories but not belly fat.
4. How many calories can you burn with an under-desk elliptical?
A one-hour workout on an elliptical can burn approximately 150 calories.
5. Is elliptical better than walking?
Elliptical allows circular motion of your leg without giving impact on your joints while walking is rigorous as you go through uneven terrain.
6. What is the difference between cycles and ellipticals?
Both ellipticals and cycles work on your cardio muscles.
Cycles can burn more calories than ellipticals
Elliptical machines are more weight-bearing than cycles and help improve your bone health
Under-desk ellipticals support your fitness regime even when you are relaxing at home, or working in the office. These machines are noiseless, ergonomically designed with low impact benefits. They also improveyour lower body muscular endurance. To continue your workout sessions in the comfort of your home, explore the above list of the best under desk ellipticals to buy a suitable one.
Recommended Articles:
The following two tabs change content below.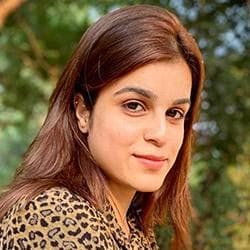 Sakshi John
Sakshi did her graduation in Journalism from the Madras Christian College, Chennai, before starting her career as a freelance writer. She is into blog writing and for MomJunction, she covers various topics, including products to buy for your kitchen, furniture, and other home requirements. Previously, she interned as a content writer in a cyber security firm. As a content writer, Sakshi...
more