Under-sink organizers help you declutter and bring order to your kitchen, bathroom, laundry, or other storage space. They are made to hold common supplies and essentials while taking advantage of vertical space under the sink. You will find them in many shapes and sizes, so it is essential to buy the one that fits under the sinks in your home.
Read to learn about the best under-sink organizers available in the market and turn the wasted space into a functional storage area.
15 Best Under-Sink Organizers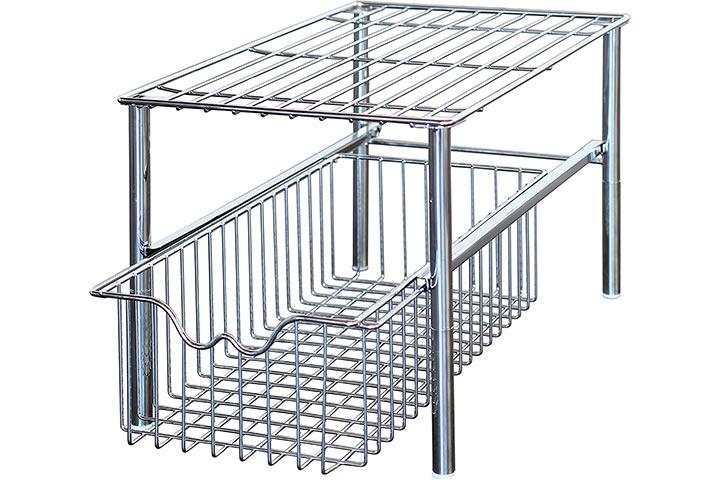 Deco Bros Stackable Under-Sink Basket Organizer is perfect for the pantry, both under the sink and on the counter top. It has shelves and slide-out baskets that fit well into the cabinet to organize the items. This drawer is made of steel and has an elegant chrome finish. The stackable sliding-type organizer has a product dimension of 16.7(L) x 10.8(W)x 10.2 (H)in. Its slide-out baskets have easy-to-carry handles.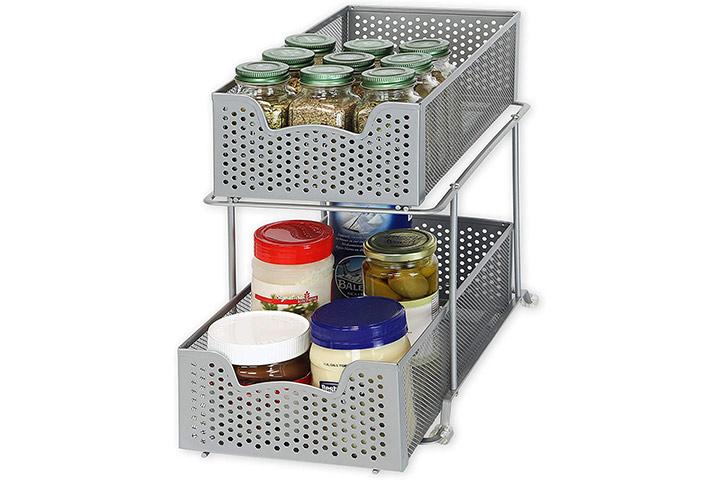 If you want a dual-level under-sink organizer, you could pick this two-tier sliding drawer. You can place it in any cabinet, pantry, or open space. It has an attractive metal construction and two lift-out baskets with easy-to-carry handles. The net dimensions are 14(L)x8(W)x12.75(H)in, with a drawer height of 3.8 in and a width of 6.75 in. This drawer has a classic silver-colored coating and is also available in bronze, pink and white finishes.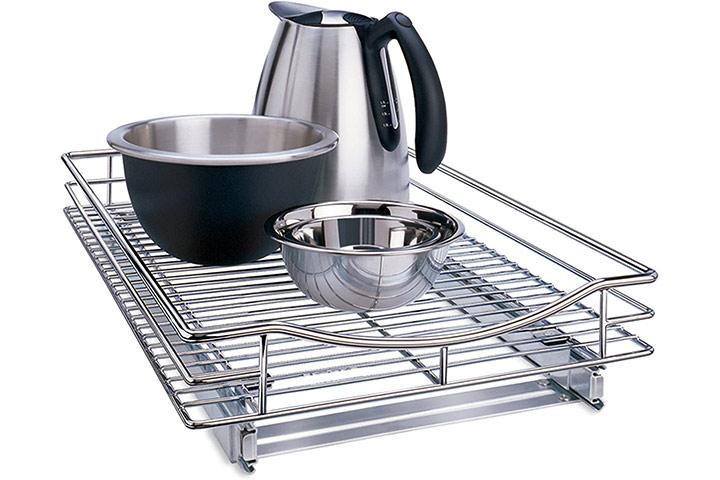 The Lynk Store Organizer is a single-tier drawer that gives you easy slide-out access to items. It can be placed in the pantry, bathroom, and laundry room cabinets. Made of commercial quality steel with chrome finish, it is strong, durable, and offers extended life. The patented Pro Glide ball bearing system ensures smooth movement in the cabinet.
It has an easy-mount system that requires no measurement and can be installed in minutes. The net dimensions of the organizer are 21(L)x14(W)x4(H)in, and it requires a minimum cabinet opening of 15 in. It is available in seven different sizes.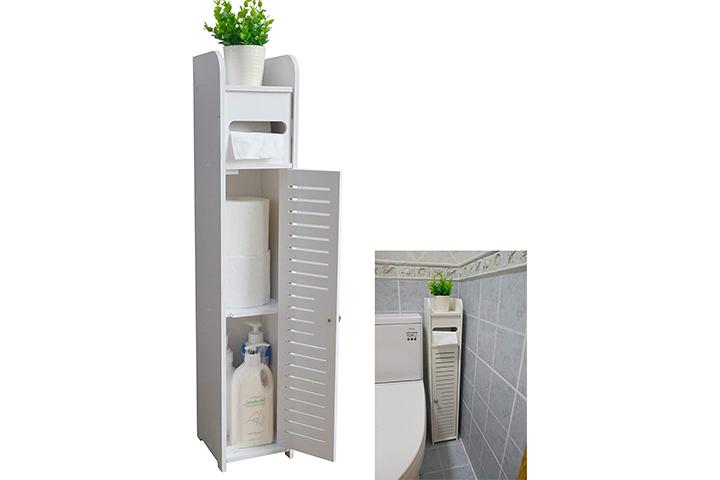 This narrow bath sink organizer can be a great fit in the slimmest of spaces. You can place it next to the vanity for storage, between the wall and dryer or between the toilet and the tub. It is a good organizer for storing toiletries, tissue papers, cosmetic items, bathroom cleaners, decor items, and more.
The top compartment is ideal for holding tissues, and the top-shelf can be used for placing mobile phone or a flower pot. This storage cabinet is crafted from PVC foam board, and it is waterproof, lightweight, moisture-proof, fire-retardant, and free from BPA and formaldehyde. It measures 6.7(L) x 6 (W) x 31.5 (H) in and is available in white color.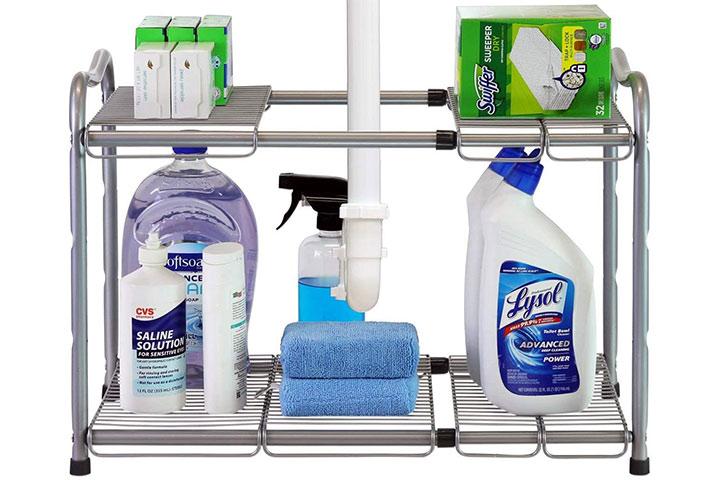 The Deco Bros two-tier under-sink cabinet organizer is made of steel and has an elegant silver-colored coating. It has three large and four small movable steel wire panels. It makes storage easier with expandable poles and vertically adjustable shelves. The organizer measures 15.5(W)11.3(L) x 15 (H) in, and it is expandable horizontally from 15.5 in to 25.2 in.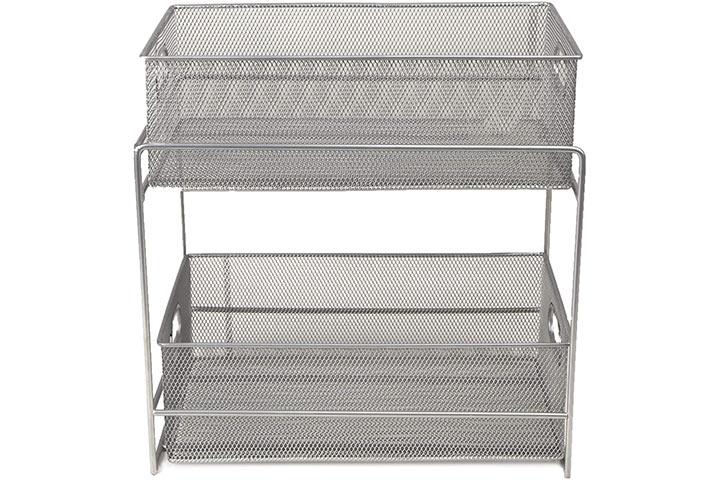 This two-tier metal mesh organizer is a space-saving vertical storage solution that you can use under the pantry or bathroom sink, office, or any other area. They are two sliding wire baskets with a solid steel frame that is strong and sturdy enough to hold any large items. They come with rubber grips at the base to offer stable and secure storage anywhere in your home. It is available in 14 different colors to choose from.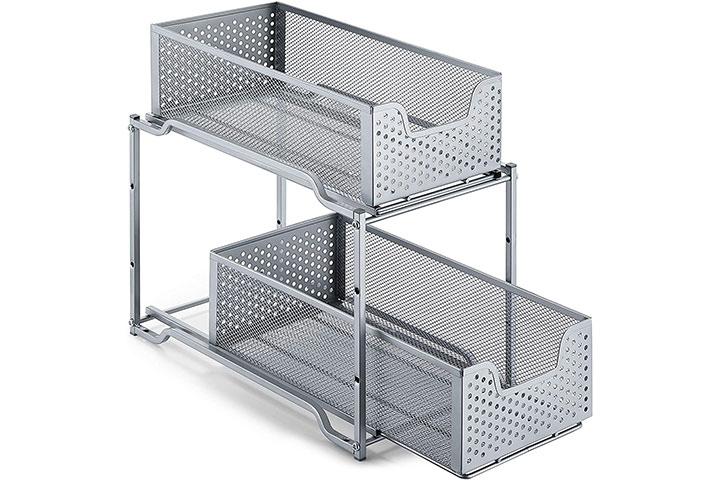 The Simple Trending space-saving organizer offers a versatile storage solution for compact space usage in your pantry, bathroom, and office to store supplies and essentials. Constructed of beautiful, perforated metal panel and mesh, it provides a clear view and easy access. It comes with four connectors to stack multiple units for maximizing storage space. You can add more racks for extra storage. The silver-colored coating and PET anti-slip pads prevent it from sliding or scratching surfaces.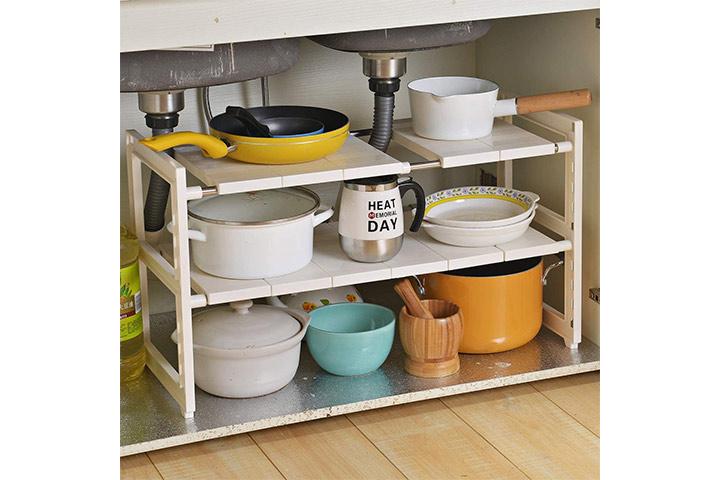 The Obor under-sink organizer is suitable for the pantry, living room, kitchen, garden, office, and any other space that you want to keep organized. The ivory white rack could be a great gift choice for your friends and family. Crafted from PP and stainless steel material, it is environmentally friendly, BPA-free, and durable. It has ten removable plastic shelves that are easy to assemble, move, and clean. The 11 holes help in the adjustment of height from 15 in to 26 in.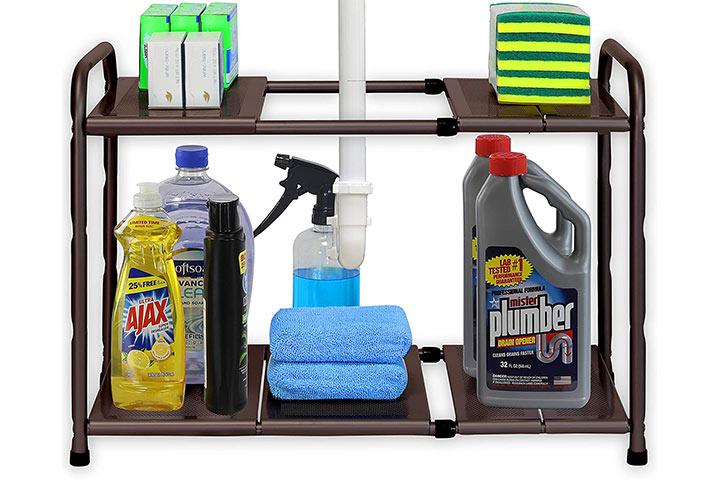 The Simple Houseware two-tier expandable shelf organizer will save space in your kitchen as you can place it around the pipes under the sink. Its adjustable panels allow it to fit into any cabinet, making it an efficient storage solution. The rack is expandable from 15 in to 25 in, and the height is adjustable to four levels – 2,5,9, and 13 inches from the bottom.
It includes three large steel panels and four small steel panels that you can arrange to overcome the obstacles around the sink drain. The whole set up measures 15(L) x 11.25(W) x 15(H)in.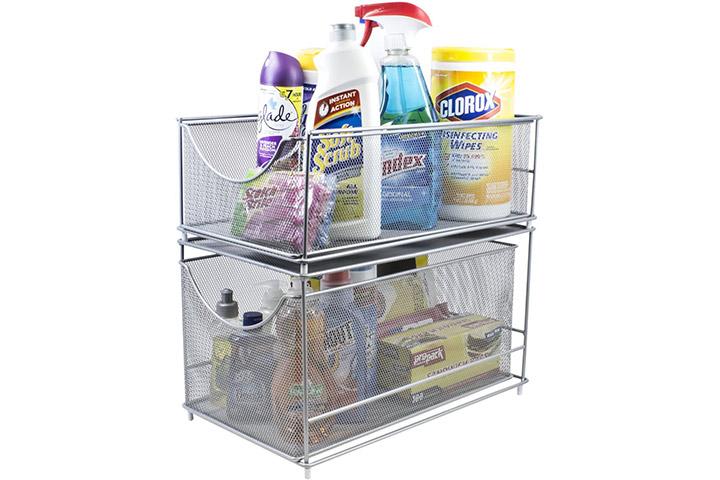 Creating storage space in the lower cabinets or under the sink is easy with this Sorbus organizer set. It is a two-tier drawer that allows you to store a variety of items, including toiletries, kitchen utensils, crafting materials, cleaning products, accessories, and more. It is sturdy and durable with its steel mesh with a silver-colored lining, and metal legs with rubber feet. The entire unit measures 15.50(L)x 9.62(W)x 15 (H) in, making it compact enough for small spaces. You can use it as one unit or detach to use it separately.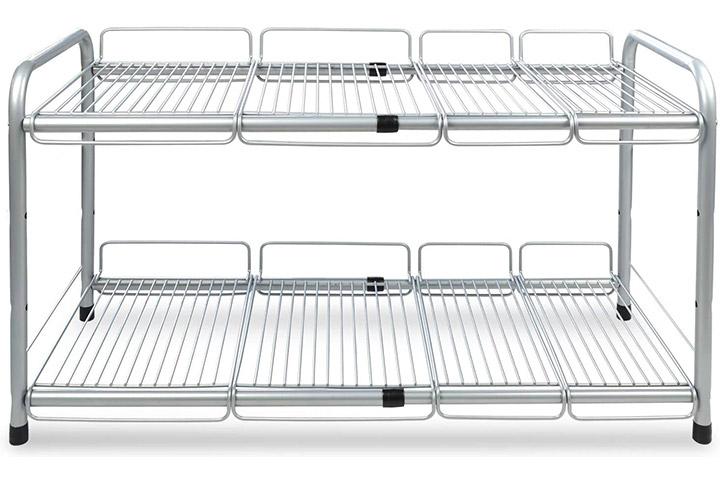 The Surpahs two-tier under-sink organizer is ideal for kitchen, laundry, and bathroom. It is horizontally extendable from 17 in to 25 in and can fit any cabinet size. It has three adjustable height levels and movable steel wire panels with back-railing to prevent essentials from falling off.
You can also adjust them to fit around the drain pipe. The steel construction features a silver-colored coating, and the set measures 11.5(L) x 17-25(W) x 15(H)in. It includes a full lifetime warranty with 100% satisfaction and a 100% worry-free guarantee.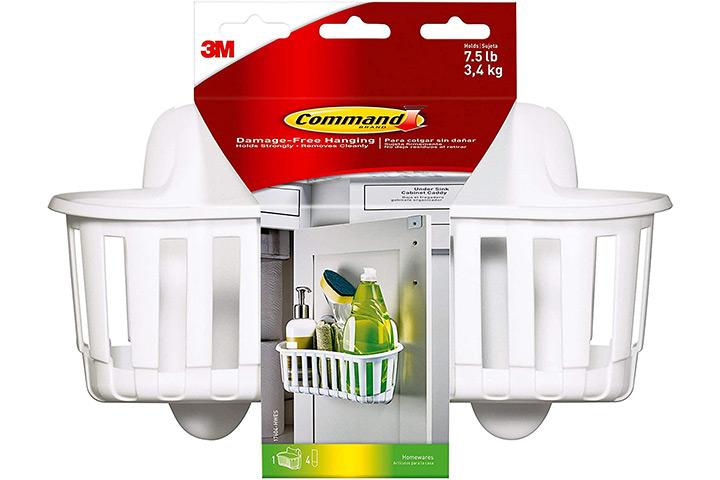 The Command Under-Sink Cabinet is ideal for storing your cleaning supplies and tools. It can be placed on a variety of surfaces, including wood and tiles. The package includes one caddy and four large indoor strips. A blend of wood and plastic material, it holds firmly to any surface. It can hold 7.5lb weight and is easy to install without any tools. You can also remove it easily without leaving any holes, sticky residue, marks, or stains.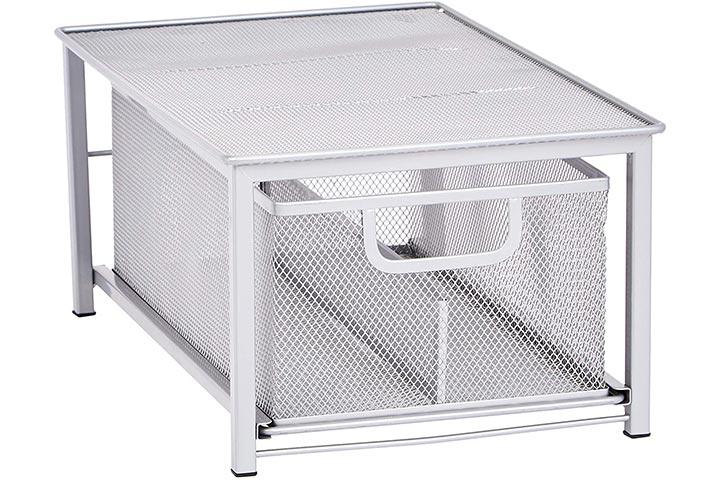 The Amazon Basics sliding basket is a handy storage organizer useful for the pantry, bathroom, workshop, office, and more. It is made of heavy-duty stainless steel that is sturdy and durable. The mesh basket is easy to pull out, install, and remove. You can use it to store the essentials and supplies such as toiletries, cleaning products, paper supplies, and more. It has rubber feet to protect the floors from damage.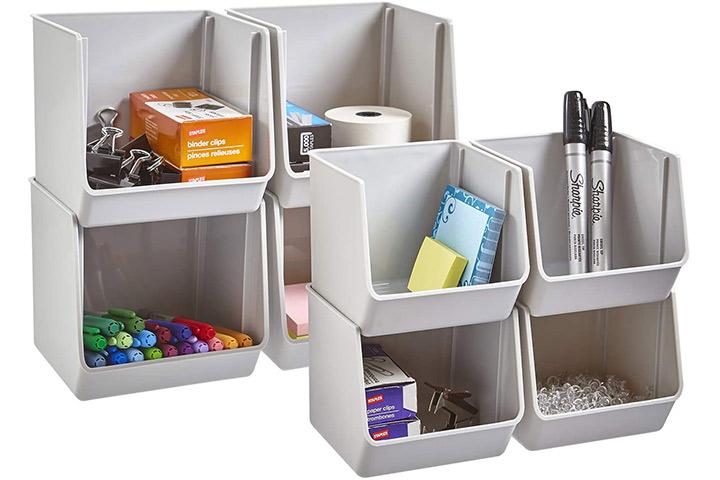 These are open-front stackable bins with versatile uses. They are available as a set of eight in two different sizes for use in the kitchen, counter top, shelves, etc. You can store small packets, spice jars, and boxes for easy access. The storage bins are made of thick and durable premium plastic and have a large opening and curved front for easy access. They are available in sizes 4 in and 5½ in.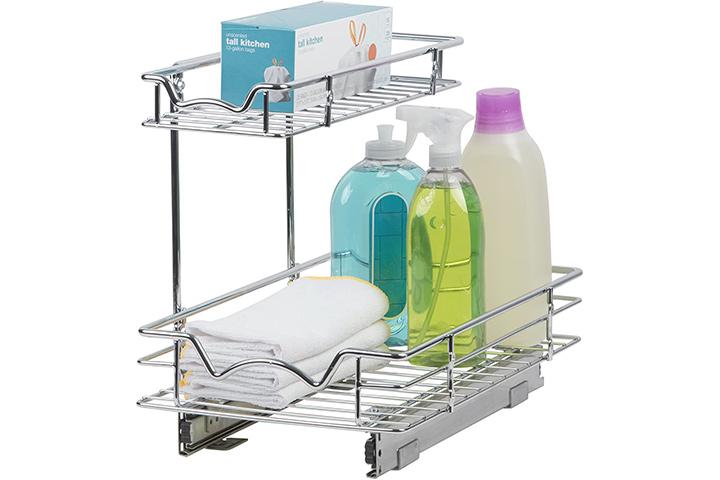 This two-tiered cabinet organizer is perfect for storing pots, pans, baking sheets, dishes, bath, and cleaning supplies. It has a professionally engineered and industrial-grade ball bearing glide system that moves smoothly every time you open and close it. The elegant heavy wire construction is durable enough to handle everything and gives a definitive style to the organized cabinets. The unit measures 18(L)x 11(W) x 14½(H)in, with the top shelf measuring 6.75(W)x 17.125(D)in. The storage solution comes with 100% money-back satisfaction.
How To Choose The Right Under-Sink Organizer?
Here is a list of factors you need to consider before purchasing an under-sink organizer.
Size: Check the size to make sure the unit fits under the sink. Measure the space where you want to place the storage organizer to pick the one that fits right. Placing and removing items becomes difficult if the organizer is either too big or too small.
Storage: Under-sink cabinet organizers are designed to hold essentials. Therefore, consider the items you intend to store under the sink, their size, frequency of accessing the items, and buy accordingly.
Features: Some organizers have simple shelves while some boast features such as slide-out baskets and spaces that are designed to hold specific items. Some are adjustable while some expand to fit right around the drain pipes.
Under-sink organizers for kitchen and bathroom allow you to find what you are looking for without any mess. They let you fit more essentials without taking much cabinet space. The above list and features can help you choose the best under-sink organizer that makes appropriate use of space and adds convenience.