The best utensil holders can make your kitchen look neat and organized. You can use them to keep the spatulas, spoons, and other tools neatly arranged and accessible. These holders available in various sizes make it possible for you to select one per your need or the size of your kitchen. You can also use them in the living space for storing paintbrushes, pens, and other accessories. Here is our list of trending utensil holders you can go through to pick a suitable product
15 Best Kitchen Utensil Holders to Buy
This elegant kitchen utensil holder lets you easily organize ladles, knives, and cutlery in one place. It blends well with a modern kitchen. It is suitable for holding long utensils, and its design prevents it from falling over or tilting when in use. It can be cleaned in a dishwasher and has a reasonable price. 
Pros
Satin finish with dual tones
Capacity of four quarts
Base is weighted to improve stability
Polished finish type
Doesn't wobble
Cons
No draining holes
May rust in humid climate
Offered in an elegant shade of white, this is one of the best utensil holders for the kitchen. Its special feature is a base that can be rotated to enable hassle-free access to the utensils stored within. This holder is created from durable plastic and accommodates large and heavy utensils without any issue. Additionally, it is quite sturdy and does not tip when in use.
Pros
Weighted base with rubber-coated feet
Features an insert to keep utensils from moving
Detachable divider with three sections
Dishwasher-safe
Available in different colors
Cons
Spin mechanism may not be as durable
May tip over if not spun in right direction
This kitchen utensil holder is a good option if you have a large collection of ladles, and spatulas and use them regularly. It is tall with a base that is specifically contoured to ensure that the utensils do not slip when placed within. The 5.5″ base diameter is quite large and keeps the holder steady, especially while removing or placing utensils. Take a look at this video to learn more about the product.
Pros
Fits up to 15 utensils
Ball-bearing based rotation
Compartments available within
Non-slip coated feet
Cons
Does not have a drain system
Compartment space may be small
Created using galvanized steel, this cooking utensil holder has a robust design and comes in an attractive turquoise hue. It has a sleek modern look and is an ideal addition to a stylish home. The six-inch tall holder can easily fit a large number of utensils to free up a cluttered kitchen. Printed images and graphics on the holder add a charming touch.
Pros
Powder coating prevents rust formation
Designed to be easily cleaned
Large five-inch diameter base
Smooth finish
Cons
Not dishwasher-safe
No internal compartments
This stainless steel utensil holder comes with an airbrushed silver finish and is an elegant addition to a modern kitchen. It has a perforated base that allows excess water to drip off and collect in a tray that can be removed and drained. The interior is spacious enough to hold up to sixteen kitchen articles. It also has a unique elliptical profile, ideal for storing immersion blender pieces and fitting into small spaces. Watch this YouTuber's honest review to get a better idea about the product and its features.
Pros
Detachable drip tray in plastic
Extra-large utensil holder for countertops
Three compartments within
Space for large-handled kitchen tools
Cons
Hard to clean residues
Fixed compartments
If you want an easy-to-use cooking utensil holder to rest spoons and spatulas when baking or cooking, then this is a good option. It has an integrated base with a raised ridge to keep food drips and water from staining your kitchen countertops and tiles. It can also be used to hold knives near a cutting board. It is made of slip-resistant silicone and has four slots.
Pros
High-quality food-safe silicone material
Holder is resistant to heat
Can be easily cleaned in a dishwasher
Fits large kitchen utensils
Cons
May be small for large spatulas
May get stained easily
The Oceanstar Wooden Utensil Holder is made of durable bamboo and can add a rustic charm to your kitchen. It helps organize ladles, spoons, spatulas, and other tools for easy access. The easy-to-clean utensil holder has a wave design on its edge, which gives it a modern vibe.
Pros
Durable, dual-layer build
Compact in size
Six-inch height
Does not scratch utensils
Cons
Sides of the holder are low
No internal partition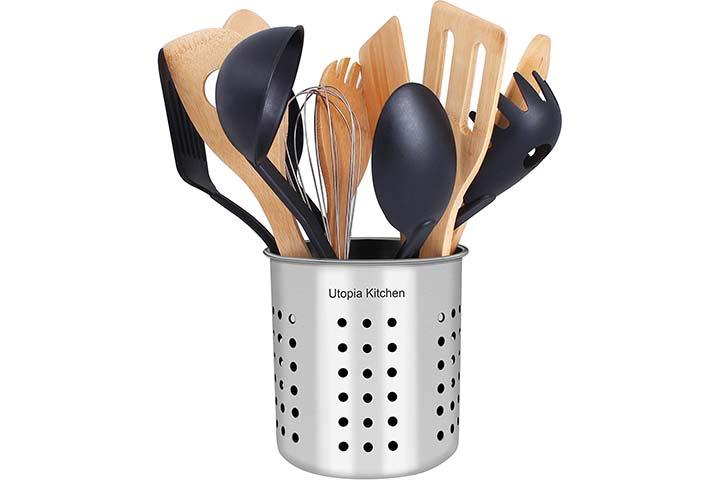 Boasting elegant style with a lustrous finish, this is one of the best stainless steel utensil holders. It has a cute design and enhanced stability with drain holes along the bottom to let the water drip off the wet utensils. Holes are also cut into the sides to ensure that utensils dry faster. The space within is suitable for storing up to 15 medium-sized utensils.
Pros
Lightweight holder can be moved easily
Rust-resistant steel build
Countertop mount type
Easy to clean in a dishwasher
Cons
Sharp holes might run the risk of hurting
May tip upon placing the large spatula
Are you looking for organizers to store cutleries and spatulas? This is a set of two stainless steel utensil holders. One is a large utensil holder for storing ladles and spatulas for cooking, while the other is a smaller version to hold cutlery. Each stainless steel kitchen utensil holder can also be used to store straws, paintbrushes, and paper clips. The holders have holes cut into the surface for water to drain easily.
Pros
Durable material used in the build
Thick, weighty base
Weighted bottom keeps it steady
Can also be used to hold stationary supplies or grilling material
Cons
Bottom holes have sharp edges
Material may be a bit thin
Created from elegant ceramic, this is a great option if you want to add a dash of charming style to your kitchen or office. The ceramic utensil holder has a bold design composed of decorative detailing on its exterior, and its 7.2″ height can accommodate large utensils. This countertop utensil holder can also be used as a vase for fresh flowers or to chill a bottle of wine in ice.
Pros
Top-quality ceramic construction
Lead-free material
Can be easily cleaned in a dishwasher
Natural microwavable ceramic
Non-slip and anti-scratch
Cons
May look huge on countertop
Designed to occupy minimal space, this is a unique kitchen utensil holder that allows quick access when cooking. It is made of long-lasting wire and comes with a base created from steel. The design allows water to drain away easily from the washed ladles and spatulas. The holder has a height of seven inches and can also be used to store pens and paintbrushes.
Pros
Durable steel wire used in the build
Spacious to store multiple cutleries
Wide mouth design for easy access
Easy to clean and dry
Cons
Thin-handled spatula may slide through the holes
May wobble if weight is distributed unevenly
When spatulas, ladles, and tongs don't fit into drawers or need to be stored on kitchen countertops, you need an aesthetic yet practical kitchen utensil holder. This ceramic option has a sleek minimalistic design, and is of the perfect size for storing brushes, art and craft supplies, and can alternatively function as a bucket for keeping wine cool.
Pros
Diameter of six inches
Handcrafted kitchen utensil container
Free of cadmium and lead
Microwave-, oven, and dishwasher-safe
Cons
This rectangular-shaped holder fits into small spaces on a countertop, to effortlessly store cooking tools. The kitchen utensil container easily fits large ladles and other kitchen tools for easy access. The stainless utensil holder comes with a smooth silver finish, is easy to clean, and remains resistant to fingerprints. It has a black trim plastic insert, which makes it easy to clean.
Pros
Fits up to eight kitchen utensils
Hole for draining water
Durable steel build
Smooth edges
Cons
Plastic insert may look flimsy
May not accommodate large spatula
This kitchen utensils holder makes it easy to store and access kitchen tools. It is frequently rated as one of the best stainless steel utensils holders, and its cute design makes it an ideal alternative to a copper wire utensil holder. It has an attractive finish and modern lines for easy access to utensils inside.
Pros
Durable matte coating
Rust-free material
Round yet unique wire-meshed design
Wide opening for easy accessibility
Vents for easy airflow
Cons
Gaps are slightly large for tiny spoons
May not work as a drainer
If you prefer wood to other materials, this is a fine holder that adds a rustic vibe to your kitchen. The holder is designed to fit within minimal space on a kitchen countertop, and it is composed of three slots that allow you to comfortably store and access utensils. Each of the compartments in the holder is 6.5″ high. This kitchen utensil holder can also be used in your office to store pens and other items.
Pros
Mighty model with a lot of space
Fits a lot of kitchen articles
Weathered Barnwood appearance
Versatile and multifunctional
Cons
Large spoons may not sit freely
Compartments may be smaller than expected
How To Choose The Best Utensil Holders?
Getting the best kitchen utensil holder is vital when you have a small kitchen with few cabinets and want easy access to ladles and spatulas while cooking. Continue reading to find how to choose the best utensil holder for your kitchen.
Space available on your countertop: If you do not want a cluttered kitchen, pick a square or rectangular-shaped utensil holder, which can take up less space than a round model.
Rotatable or not: If you plan to store different sized utensils along with cutlery, getting a holder that rotates is ideal. You just need to turn the holder to access the items that you need.
Compatibility with the utensils: You have to check if the holder is big enough to fit all your ladles and spatulas. Also, the diameter has to be big enough to store thick-handled utensils if you use any of them. 
Compartments: Among kitchen utensil holders, the best ones are those with two or more compartments as they allow for easy organization of tools. 
Holes for water to drain out: Sometimes, kitchen tools might be wet when you put them into a utensil holder, so it's ideal that you buy a version that has holes for water to drain away.
Style and material: If your kitchen has brass or copper pots and pans, buying a copper wire utensil holder will allow for it to match. In the case of a modern kitchen, a stainless steel kitchen utensil holder will be better suited for the décor.
Versatility: A versatile ceramic kitchen utensil container with an attractive finish and eye-catching design is a better choice if you want to use it for several purposes, like displaying flowers on a table or chilling a bottle of wine.
Why Trust MomJunction?
Sakshi John is a product writer specializing in kitchen and home essentials and provides the best product lists based on user reviews. In this post, Sakshi enlists the best kitchen utensil holders to help you organize your kitchen. In addition, she provides detailed information on the material of the utensil holder, capacity, weight, and features such as removable bottoms or anti-slip bases to help the buyer choose the best one depending on their requirements.
Recommended Articles :