Having a pet is a huge responsibility. You will need many things to take care of them, out of which one is the best UV light for urine detection. No matter how much you train your dog, there are high chances of defecating and urinating in your home. This can cause a foul odor, especially when it happens in your carpets and floors. If you do not manage this, there are chances that your pet might end up marking them as new peeing areas. To detect stains caused by peeing, you will need UV light. Check out the compiled list of some UV lights for detecting invisible stains.
11 Best UV Lights For Urine Detection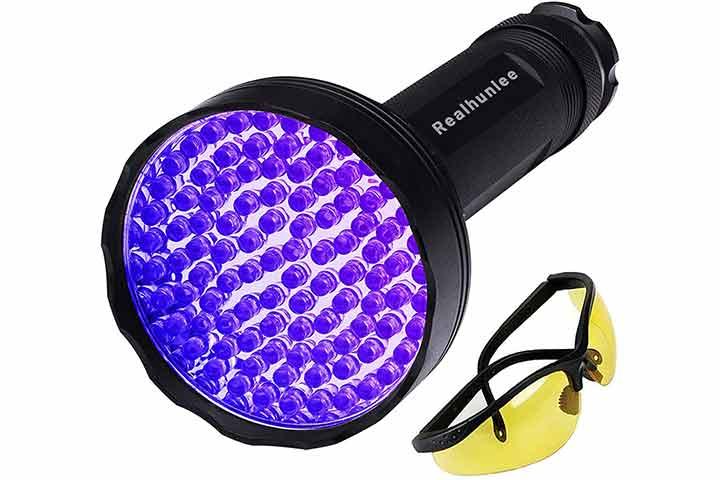 Realhunlee UV light can detect urine stains, leaks, contaminants on a surface and even reveal counterfeit currency notes. The portable design of the black light allows you to carry it while traveling. The high-quality aluminum construction makes the product durable.
Pros
Comes with UV sunglasses
Can also be used for forensic purposes
The Ip44 construction makes it dust- and waterproof
Has a battery capacity of 20 hours
Provides high brightness with its 100 LED lights
Has one-year warranty
Cons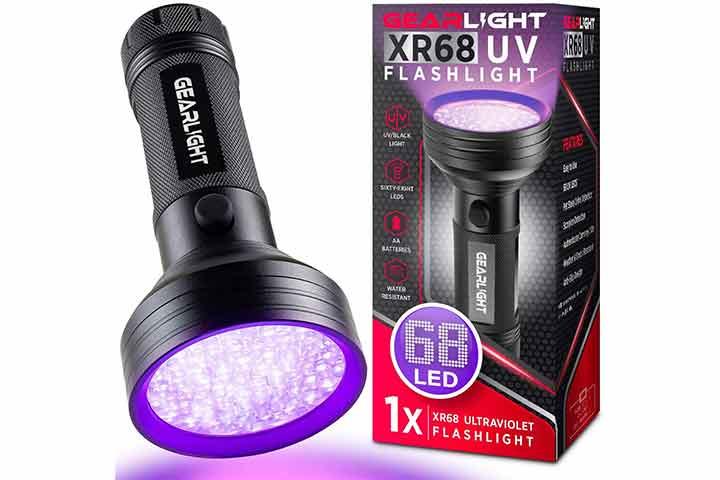 Suitable to meet the needs of pet owners, travelers, and adventurers, this blacklight UV flashlight provides a UV range of 390nm equipped with 68 LED lights and suitable for pet owners, travelers, and adventurers. The UV flashlight offers a clear image of urine stains, engine oil leaks and can identify rock minerals. You can also carry it during camping trips or use it in agricultural fields as they can spot scorpions and worms. To get a better understanding of the product, you can check out this video on YouTube.
Pros
Can be used for curing resin and viewing invisible paint
Has an accessible one-touch button
Doesn't require UV glasses to view the stains
Easy to operate
Cons
Might not work on cat urine stains
The short handle might not be comfortable to few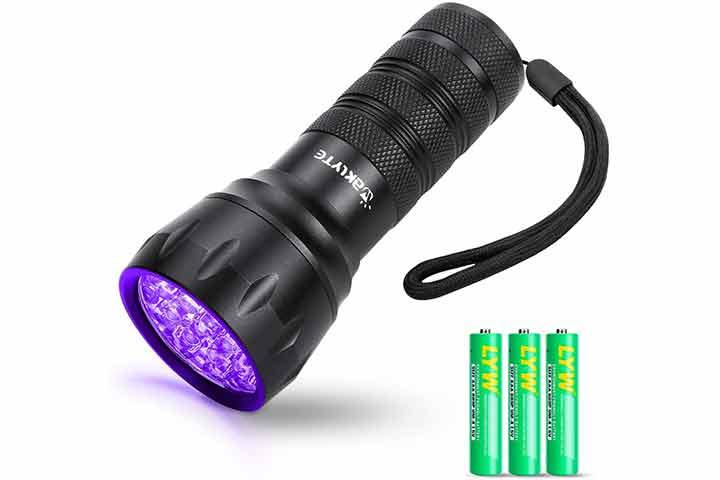 With 21 LED lights, Waklyte portable compact UV blacklight has a battery life of six hours. The intense light it produces shows urine marks and bed bugs even in dimly-lit rooms. Besides detecting urine marks, you can use this light to determine the optical brighteners used in cosmetics and baby clothing. The black light can spot scorpions, hidden ink on counterfeit ID cards and banknotes.
Pros
Silicone rings provide water resistance
Can detect stains at farther distances
Ergonomic handle with an anti-slip design
Wrist wrap helps inthe firm handling
Cons
Has a low battery life
The brightness may reduce as battery levels fall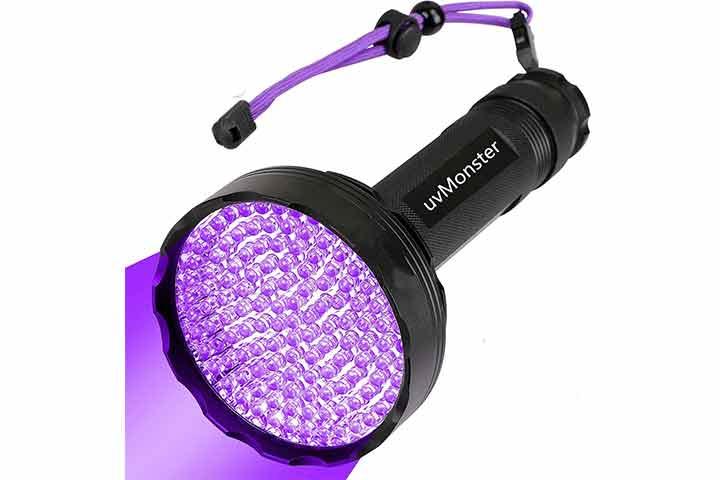 The uvMonster ultraviolet lamp has 128 LEDs, which can detect pet urine stains even at greater distances. Due to this high-capacity, the product works well even in a well-lit room to spot invisible stains. The ergonomic handle design has anti-abrasive loops and belt loops to provide a firm grip, while the pocket-size built is easy to carry. The flashlight is powered by six AA batteries and has a service life of 20 hours, suitable for camping.
Pros
Can be used to detect scorpions and as an HVAC tool
Suitable to detect both dog and cat urine
Can also be used to identify authentic documents
Aluminum construction offers durability
Comes with a one-year warranty
Cons
Battery consumption might be high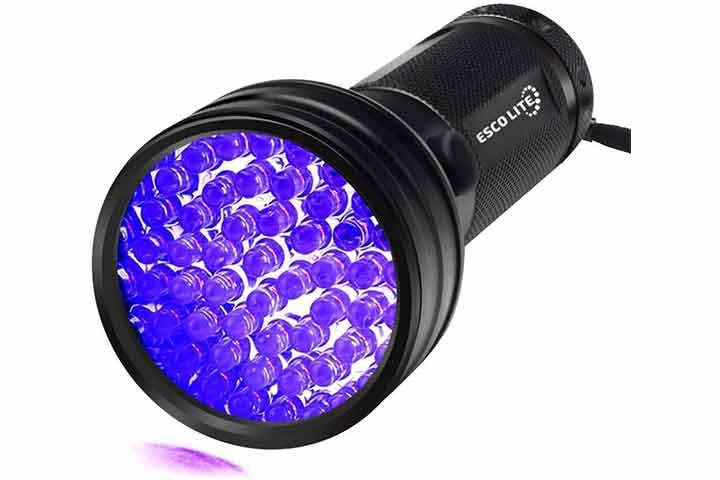 With 51 LED lights and wavelengths up to 400nm, you can view stains at greater distances. The aluminum alloy construction makes this ultraviolet flashlight light and durable. You can also use Esco ultraviolet light to detect the authenticity of passports, banknotes, and even spot scorpions. Check out the review of this product for more information.
Pros
Reveals dry pet urine stains
Can be used as a nail dryer
Comes with a lanyard for easy handling
Helps in mineral identification
Compact and portable design
Cons
Must be used only with alkaline batteries
The battery life is low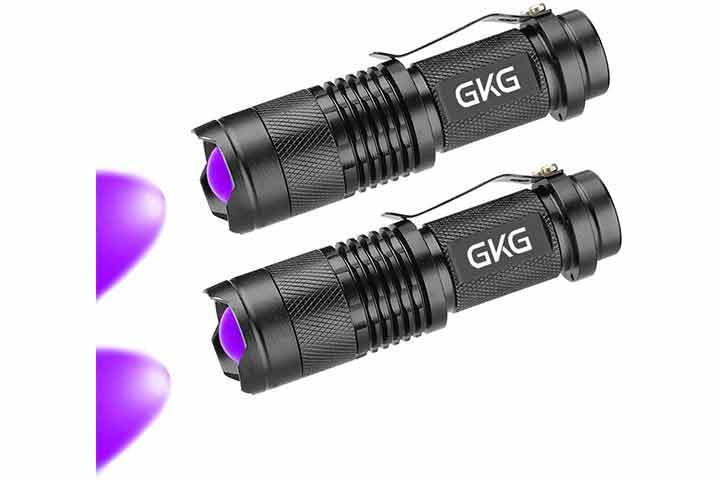 GKG UV flashlight can identify fluorescent particles in cosmetics and detect scorpions on camping trips. With its adjustable zoom function, you can adjust the brightness as needed and also change the light mode to get a better focus. This product's rechargeable function is one of its primary features because you no longer need to worry about buying a battery.
Pros
Water-resistant material
Aluminum alloy construction offers durability
Can also function with one AA-battery
Doesn't heat up due to its cooling fins
Portable and compact design
Cons
Emitting 395nm, Anker Bolder quickly detects pet urine stains and odorous areas in the house. You don't have to worry about continually changing batteries. The UV light weighs only 4.3 ounces, so you can take it when you are traveling and staying in a hotel.
Pros
Has a waterproof and durable finish
Can be used in an external environment
Comes with a wrist loop for easy handling
Can be recharged through any USB port
Cons
Might not have a high battery life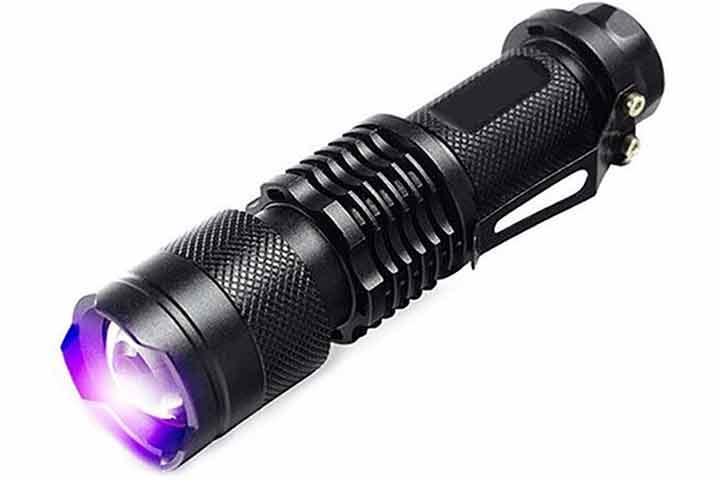 Wollcocer pet urine detector has a zoom option as its primary function, helping find stains, leaks, and invisible paint effectively. Its multifunctional design allows you to use this product for medical forensics and document verification purposes. It runs on an AA battery to identify stains and scorpions. This blacklight lamp's portable design also makes it an ideal camping gear and mineral identification tool.
Pros
Can be used to detect the properties of cosmetics and baby clothes
Easy to operate
Has a water resistance design
Compatible with rechargeable batteries
Has a shockproof built
Cons
Might not offer high brightness
Sunglasses and zoom design are the main features of the Toprohomie UV urine detector. The black light can help you find bed bugs that are invisible to the naked eye. Its large head diameter enables you to identify stains from another corner of the room. Another feature of this light is that it can be converted into a regular white flashlight when needed, making this multifunctional tool the best camping gear.
Pros
Can be used for currency and document authentications
Provides high illumination
Helps in spotting scorpions in the dark
Works on both dog and cat urine stains
Can also be used without batteries
Cons
The charge may drain quickly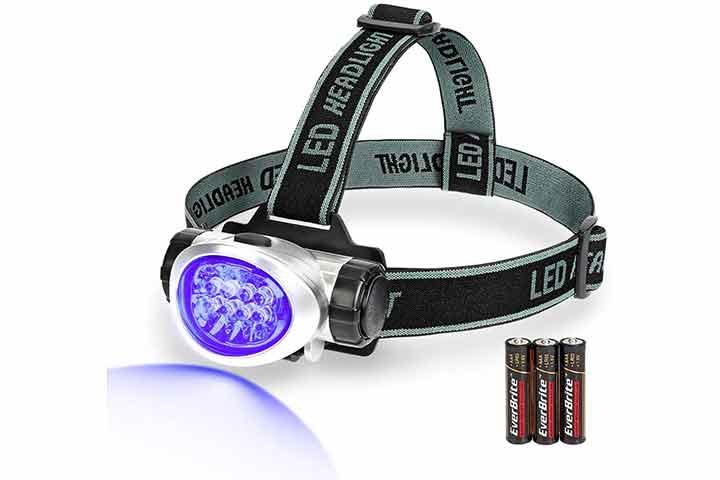 EverBrite headlamp has a unique headband design that allows you to operate hands-free, ideal for camping. The product can identify dog and cat urine stains and help you complete the deep cleaning of your house. You can adjust the four UV modes according to the surrounding environment's brightness to avoid eye strain. It has three batteries and has a battery life of up to five hours. You can also adjust its head at multiple angles to achieve a comfortable and ergonomic fit.
Pros
Also helps in scorpion identification
The band offers a universal fit
Helps identify authentic currency notes
Lightweight and portable design
Cons
The light range might be low
Hoxida black light emits high-intensity light of 1000-lumen that can help you identify any unfavorable stains or scorpions from a distance of 600 meters, suitable for camping travel. Its magnetic tail can be attached to any iron surface and comes with seven lighting modes so that you can choose the brightness as per your surroundings. A three-hour charging of this UV flashlight provides a considerable operational time, making it a perfect camping gear.
Pros
Can be charged with any USB port
Easy to use
Has zooming and overcharge protection features
Lightweight and portable design
Has a comfortable and anti-slip handle
Durable and waterproof
Cons
Might consume more power to recharge
Things To Consider When Buying UV Light For Urine Detection
Look for these features while buying a UV light for urine detection:
Durability: Consider buying products made of durable materials with protective functions such as waterproof and dustproof coatings, making it suitable for outdoor adventures. The aluminum alloy is sturdy and can provide a solid structure for the flashlight. With such durable finishes, you can use your UV flashlight even during your outdoor adventures.
Nanometers: The wavelength range of 365 to 385nm can effectively detect urine stains. The higher wavelength blends into the standard light, so they may not achieve the purpose.
LED count: This factor will determine the intensity of the UV black light. Most detectors have at least 50 LEDs. It is best to use a black light with 100 LEDs because it has a larger coverage area.
Protection: Direct viewing of ultraviolet rays is harmful to the eyes. Therefore, choose a light that comes with protective sunglasses.
Versatility: Most UV flashlights are multipurpose. You can use these UV flashlights when repairing AC gas leaks, identifying fake documents or using them in medical forensics. They also make excellent camping gear.
Portability: Most flashlights are portable, compact, and lightweight. Therefore, a portable flashlight is ideal for indoors and outdoors.
Why Trust MomJunction?
Keep your house clean and odor-free with a UV light that helps detect urine, liquids, and other substances that you may not notice easily. Ensure to buy a product that is durable and works efficiently whether you plan to use it indoors or outdoors. Consider its portability, durability, nanometers, and more to choose a UV light that can meet your requirements. Lastly, choose a product with protective glasses to keep your eyes safe from harsh light. We hope our list of the best UV lights for urine detection can help you understand your needs and product features.
Recommended Articles: