Cleaning the house can be the most tiring and boring job. Also, manual cleaning doesn't eliminate the dust and hair accumulated on the carpets, furniture, upholstery, and corners. A vacuum cleaner could be handy in such situations. Traditional vacuum cleaners were bulky, corded, and used only for cleaning carpets.
However, advanced technology has brought forth lightweight, compact, noiseless, and convenient cleaners that rid of dust, pet dander, and dirt from any surface. Modern vacuum cleaners can be corded or uncorded, hand-held, or upright, and robotic or manual ones operated by an individual.
Here, we have curated a list of the best vacuum cleaners that could suit various needs.
11 Best Vacuum Cleaners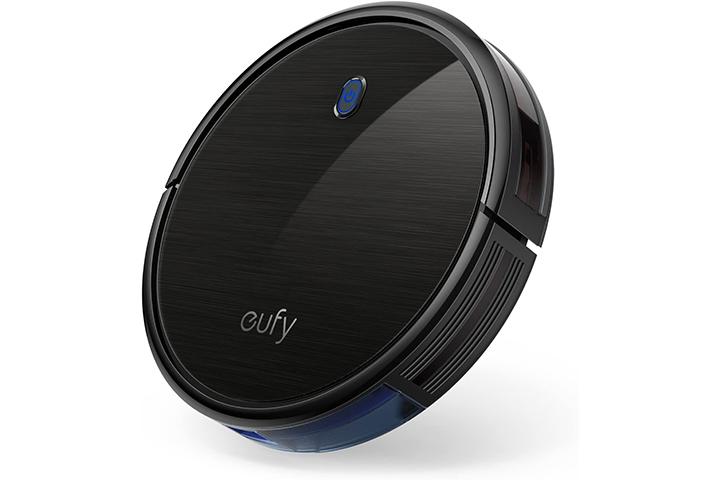 The Eufy RoboVac gives you a 100% hands-free cleaning experience. It is only 2.85in tall to clean the nooks and corners and under low-hanging furniture. With a suction power of 1300pa, it is powered by BoostIQ technology and a three-point cleaning system. It automatically changes power according to the surface needs, be it carpet, floor, etc.
With a protected, tempered, anti-scratch glass top and an infrared sensor for obstacles, the RoboVac uses drop-sensing technology to avoid falls. A run-time of 100min is ample duration to clean the house. It moves to its charging base automatically when required and is always ready for use. It includes four side brushes, five cable ties, and a cleaning tool. Easy to use and convenient, it also has a remote control to set cleaning schedules.
Pros
Slim design
Self-charging
Has extra filters
Time setting
12-month free warranty
Cons
Moves and cleans randomly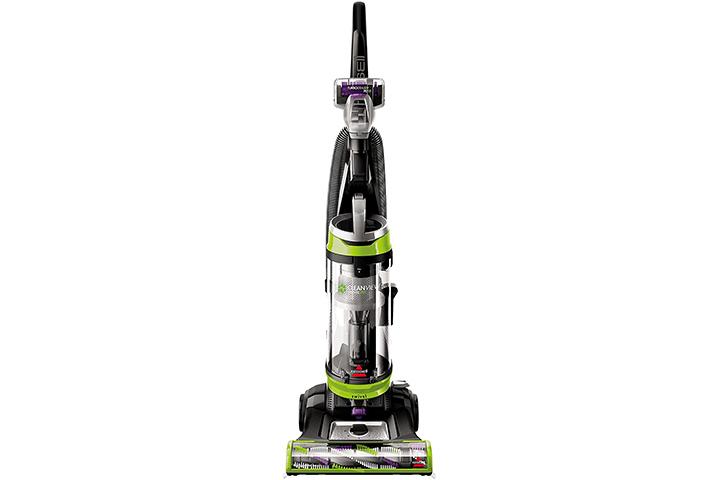 The Bissell Vacuum Cleaner is powerful and works especially well for pet hair. It is conditioned with swivel steering to maneuver easily through the house and pick debris. A six-foot-long hose reaches all nooks and corners. It has powerful suction and scatter-free technology to resist blow-aways.
With a cleaning field of 13.5in, the triple action brush roll lifts loosen and remove pet hair embedded in the carpet. This bagless vacuum has specialized pet tools to reach hidden and stuck hair. Soft silk bristles keep your hard floors scratch-free, and a large dirt cup allows around one-liter dirt accumulation.
Pros
Multiple surface cleaner
Multi-cyclonic suction system
Gentle silk bristles for hard floors
Edge-to-edge cleaning possible
Washable filter
Cons
Belts melt and might need frequent replacement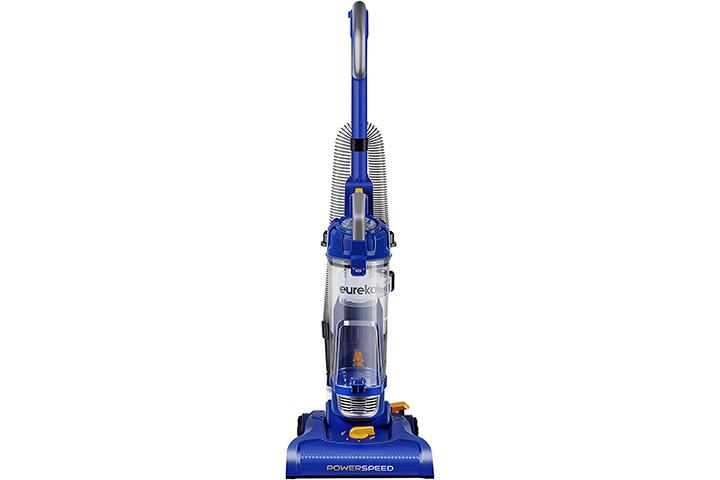 An upright, bagless vacuum cleaner, the Eureka power-speed has a dynamic motor and a five-height adjustment for your convenience and ease. A 12.6in wide nozzle clears the stubborn stains and dirt and is easy to maneuver. An extra-large dust cup allows less frequent emptying. It has a quick-release handle attached to a stretch rod ideal for low and high-area cleaning.
A dusting brush, a seven-inch crevice tool, and an upholstery tool help clean the difficult-to-reach places. The power-speed motor helps deep clean any dirt or pet hair from floors, carpets, rugs, car, curtains, or window sills. The filter is washable and recyclable.
Pros
Washable and recyclable
Lightweight
Convenient storage for accessories
Easy assembling
Cons
Makes a loud whistling sound
May be too big for small spaces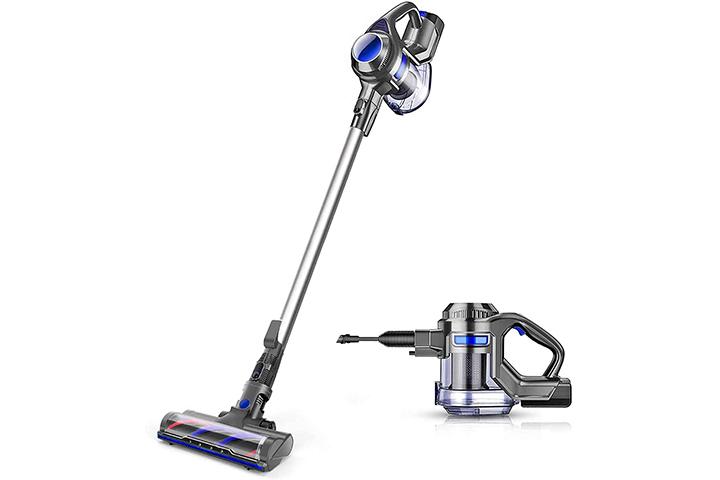 A 120W powerful vacuum cleaner from the Moosoo M. store has a cordless run-time of 20-28min. Suitable for floors, carpets, furniture, and upholstery, it picks up the dust and debris, pet hair, and food crumbs with easy maneuverability. Cyclone plus HEPA technology gives it a high-efficiency filtration process that can remove 99.99% microscopic dust and bacteria.
The strong rotating airflow clears and purifies the air, and its two power modes with 10000pa powerful suction allow light and deep cleaning. Accompanied by a motorized floor brush, two-in-one dusting brush, a cleaning tool, and an LED light, the ultra-light Moosoo vacuum cleaner gives you a hassle-free cleaning experience. A wall-mounting option makes this cleaner easy to store and convenient to charge.
Pros
Lightweight
Recyclable and washable HEPA
Detachable battery
Ergonomic handle
Four-in-one (two hand-helds, two long rods)
Cons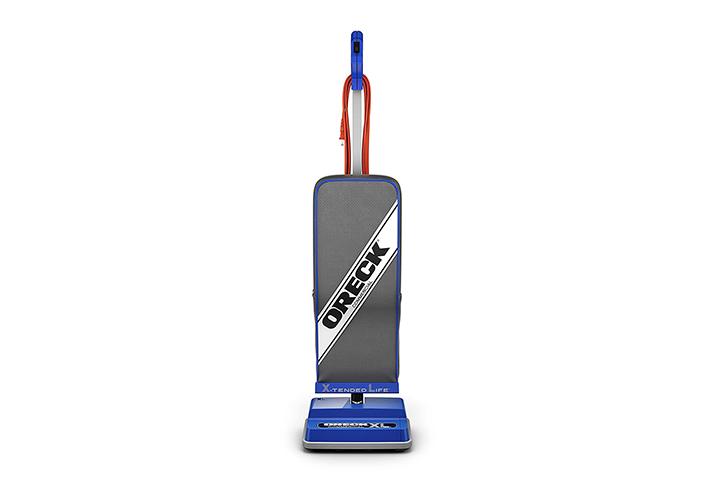 A 9lb lightweight vacuum cleaner, the Oreck XL has a helping hand handle for a firm grip. Its 35-foot long cord allows you to move from room to room with ease. The handle of this cleaner can lay flat to simplify cleaning under beds and cabinets. Wall bumpers keep your walls and furniture dent- and scratch-free. There is no filter but large vacuum bags to collect the dust and debris between replacements.
The power button is integrated into the handle for convenient control. This upright vacuum cleaner works greatly on a wooden floor, carpet, bare floor, laminated floor, or tiled floor. It has a 12in broad cleaning path with edge brushes to sweep corners and a high-speed roller brush for hard surfaces. The Oreck commercial works on electricity and needs no battery.
Pros
Includes XL size vacuum bags
Thumb-control on/off switch
No filter to clean
Suitable for various surfaces
No battery charging required
Cons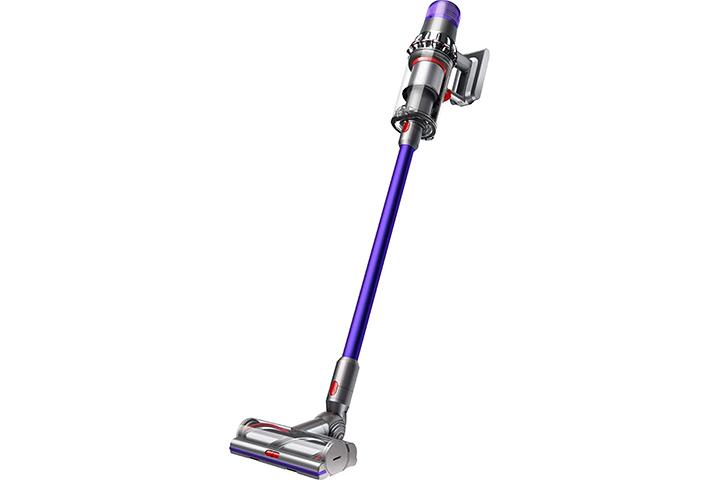 The 125,000rmp digital motor of the Dyson Store Vacuum Cleaner has a suction power of 185W that captures up to 99.97% of minute particles. Its six-stage filtration process sucks in and locks pollen, allergens, and dust. The dynamic load sensor and a hightorque cleaner head detects any resistance 360 times a second and automatically changes the power mode between hard and soft surfaces.
This cord-free cleaner has hard nylon bristles for deep cleaning the carpets and anti-static, soft, and carbon fiber filaments for hard floors and difficult nooks. It has a smart LED screen that shows the current status, including a run time timer, selected power mode, a reminder for filter cleaning and blockages. There is a wall-mount option for easy storage and charging.
Pros
Suitable for various floors and carpets
60min run-time
Auto-change between different surfaces
Hands-free emptying bin
Includes mini soft dusting tool
Noiseless operation
Cons
Body is relatively heavier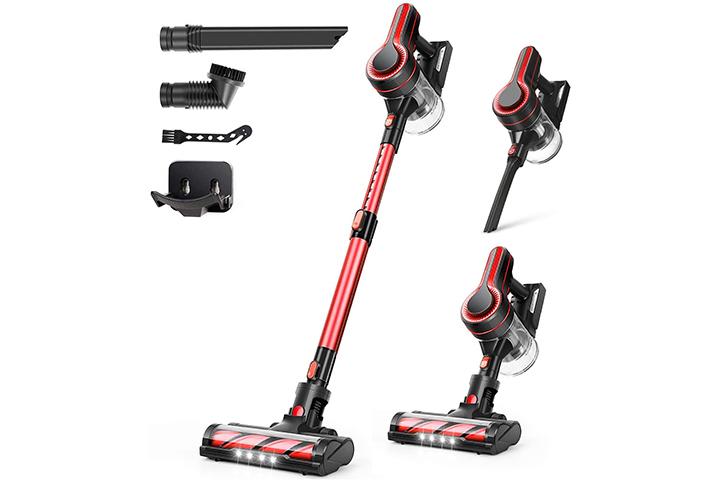 The Aposen four-in-one stick vacuum cleaner has a250W brushless motor and 24000Pa strong suction. It can run up to 30min and is 1.8 times powerful than ordinary vacuums. The two power modes allow deep or light vacuuming.
Accompanied by versatile attachments, including conductive telescopic tube, round brush, turbo ground brush, and long cleaning brush, it is ideal for outdoors, indoors, upholstery, or car cleaning. The LED light shows the finest of dust and particles, and its slim flat head-design can reach low and difficult places.
The Aposen Vacuum Cleaner can clean up to 160sq.m. and converts from a stick to a hand-held vacuum in simple steps. The wall-mounting facility makes this vacuum cleaner easy to store and charge. The 1.2L dust cup can hold any garbage. For the best air-purification experience, clean the filter regularly.
Pros
Removable and replaceable battery
Deep cleaner for carpets
Removes up to 99% of fine dust and texture garbage
Three charging methods
Two-year warranty
Cons
As heavier as a hand-held vacuum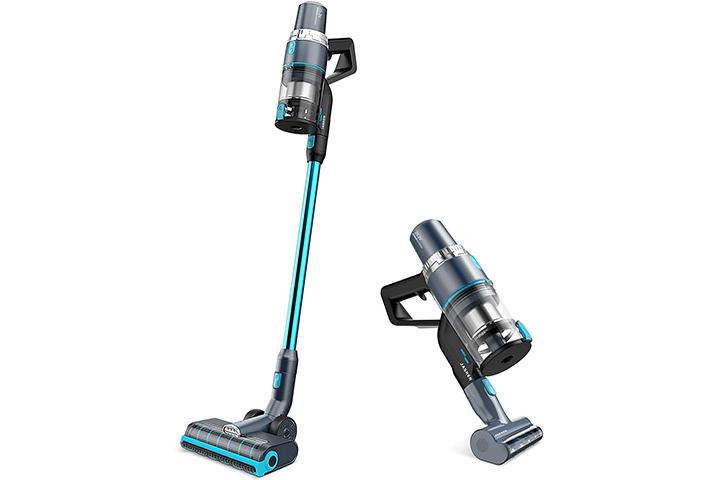 A 350W power performer, the Jashen Store's vacuum cleaner has a 2500mAh lithium battery, providing up to 40min run-time. Its HEPA plus Cyclone four-stage filtration process collects 99% of dust and fine particles. With an LED display, it displays a clean alert, mode, and battery status. The dust sensor detects dirt hidden in corners.
Supplied with attachments, such as a brush-roller for carpets and a soft-roller for hardwood floor, it is suitable for cleaning various floor types. The smart light sensor turns the viewing LED light on and off automatically. It comes with a crevice nozzle, dusting brush, power brush, upholstery tool, etc., can easily be used as a car, stick, or pet vacuum cleaner.
Pros
Ultra-powerful suction
Auto-adjust suction power
Convertible cleaner
Wall-mounted dock
Cordless
Rotatable brush head
Cons
Brush-changing from carpet to hard floor may be difficult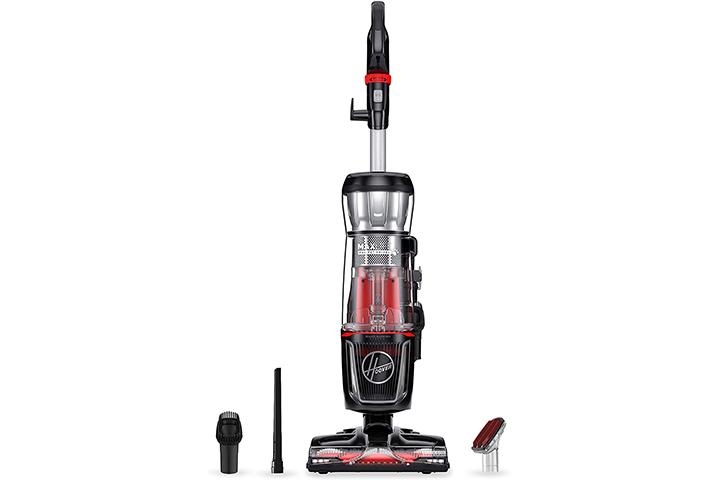 The Hoover Vacuum has easy swivel steer and maneuverability that easily cleans the hard-to-reach corners. Powered with the Maxlife system, it has long run-time and can capture up to 99% allergens and dust. It comes with multi-purpose pet tools, including a dusting brush, a crevice tool, and a pet upholstery tool to remove stubborn stains and excess pet hair.
Attached with a quick-release wand, it can reach up to 13ft above the floor. The advanced action brush roll assists in deep cleaning with a minimum hair wrap.
Pros
Low maintenance
Suitable for carpet and hard floor
Large dirt cup
LED light for enhanced visibility
Washable filter
Five-year warranty
Cons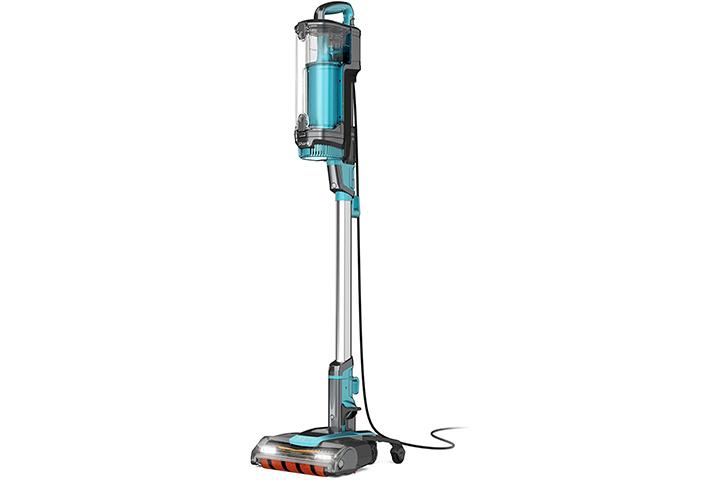 The Shark Lz601 Vacuum Cleaner is an upright cleaner with hyper-velocity accelerated suction for better deep cleaning. A direct airflow, a light pod, and an extendable built-in hose allow cleaning couches, carpets, car upholstery, furniture, curtains, and difficult-to-reach spaces. It is powered with Duoclean technology with a dual brush roll system that deep cleans the floors, giving a polished shine. The brushroll is self-cleaning and does not allow entangling of pet hair or cause hair wrap.
Its HEPA filter with complete seal technology traps fine dust particles and allergens inside the cleaner. The detachable lift-away pod has a long hose for cleaning car seats and smaller areas. Attachments like the duster crevice tool, pet multi-tool, and accessory holder make this multifaceted vacuum cleaner convenient and easy to use.
Pros
Extended reach
Converts to hand-held cleaner
Retractable support wheels
Can stand on its own
Easy-to-clean dust cup
Five-year warranty
Cons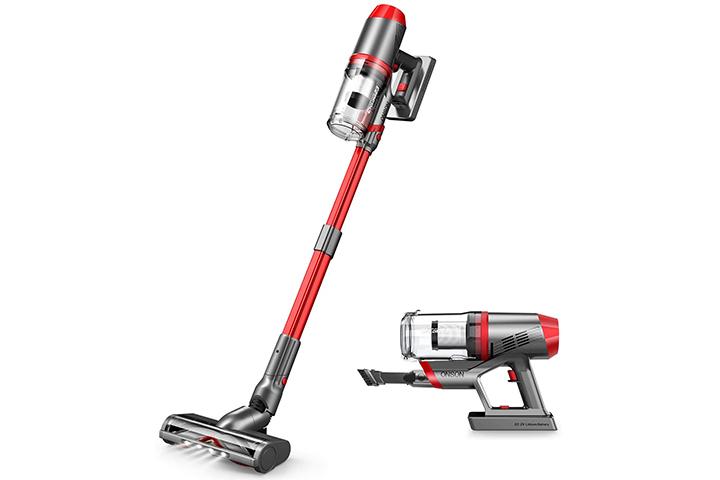 The four-in-one Onson cordless vacuum cleaner comes with a 2200mAh lithium-ion battery and an advanced 120W motor for powerful suction. It has four-level filtration and a V-shaped roller brush to absorb 99% dust and air impurities. The LED light brush helps locate dust in hidden nooks and corners. IT features two different power modes and cyclone technology for making cleaning super-efficient and easy.
It can be fully charged in four to five hours and has a run-time of up to 32min. You can use it with a two-in-one bristle brush too. The wall-mounting bracket allows easy storage and convenient charging. The HEPA filter is made of recyclable and washable material. It includes a small brush for easy removal of dirt from the filter and tangled hair fibers from the roller brush.
Pros
Lightweight
Ergonomic design handle
Removable battery
Can be used as a hand-held cleaner too
11Kpa power suction
Suitable for various floor types
High-capacity dust cup
Cons
How To Choose The Right Vacuum Cleaner?
Here are some essential points to consider to choose the best vacuum cleaner to suit your requirements.
Powerful suction pump: This is the most important feature that ensures efficient cleaning and long run time without getting heated.
Bagged vs. bagless: Bagless vacuum cleaners are economical, light to carry, and there is no need to replace the bag. Bagged vacuum cleaners are high-energy efficient and need recurrent changing of bags. Bagless could be a better choice as they are cost-saving options.
Easy to use: Pick a vacuum cleaner that can be used well based on its layout and the design of the house. Upright vacuums work well with wall-to-wall carpeting, whereas canister is suitable for homes with a bare floor. For quick pick up and cleaning low-pile rugs, stick cleaners are a better choice. People who are short of time can go for the robotic vacuum cleaner.
Power consumption and noise: Look at the product rating for power consumption and get an environmentally friendly vacuum cleaner as it cuts down on the electricity bill expenses. Also, check if it runs smoothly and silently.
Warranty and add-ons: A vacuum cleaner with added accessories will keep the house clean. The manufacturer's warranty and after-sales services also matter when you are narrowing down the search.
With technology continuously upgrading itself, it is important to have an advanced vacuum cleaner worth the money. Check our list of the best vacuum cleaners to pick the one that suits your needs the best and provides hassle-free maintenance.
Recommended Articles: