February is here, and it brings with it the day of love that we fondly call 'Valentine's Day.' It is the day to celebrate our relationship with the people we love and shower them with gifts that make them happy. But Valentine's Day is not just about romantic love; you can also express your love for your family or friends by gifting them something nice on this significant day.
If you wish to gift a girl, whether it is your wife, girlfriend, or just friend, something this Valentine's Day, then this MomJunction post is for you. Here, we list of 21 best Valentine gifts for her to consider.
21 Best Valentine's Day Gifts For Her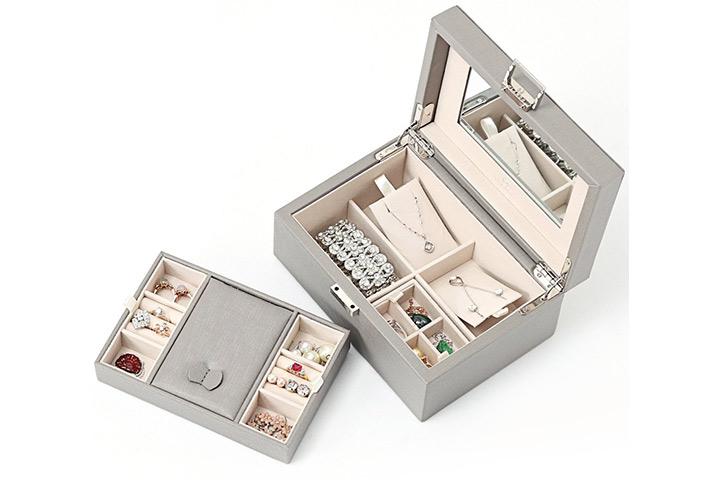 Women who love their jewelry know how much effort it takes to store these precious accessories safely. If your girl owns a lot of jewelry, this gorgeous jewelry box can help keep it well-organized and safe. Made from durable synthetic leather and velvet lining, this box comes with ring holders, double compartments, and two levels of large compartments. It is ideal for safeguarding all the delicate pieces that she owns.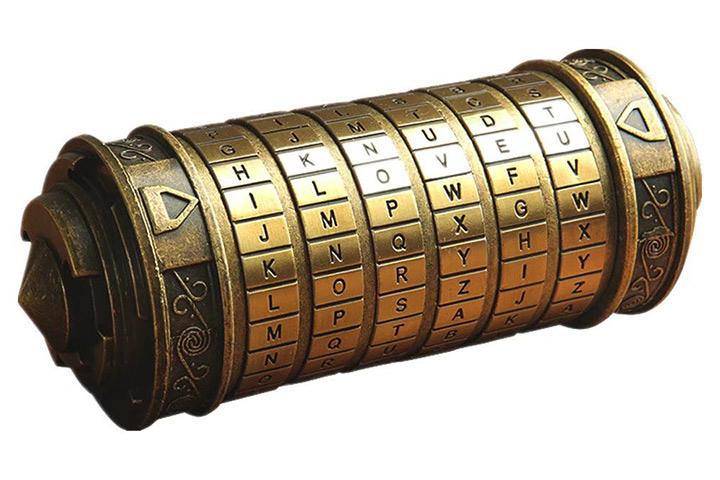 If you have been looking for an interesting way to express your feelings of love to your lady or want to tell her how much she means to you, then this Da Vinci Code Mini Cryptex is an exciting gift option for Valentine's Day. The default password to unlock the cryptex is 'iloveu,' and once you have access to it, you can set a new password and create your message in the compartment within. This gift can also be a cool medium to use if you are planning a proposal.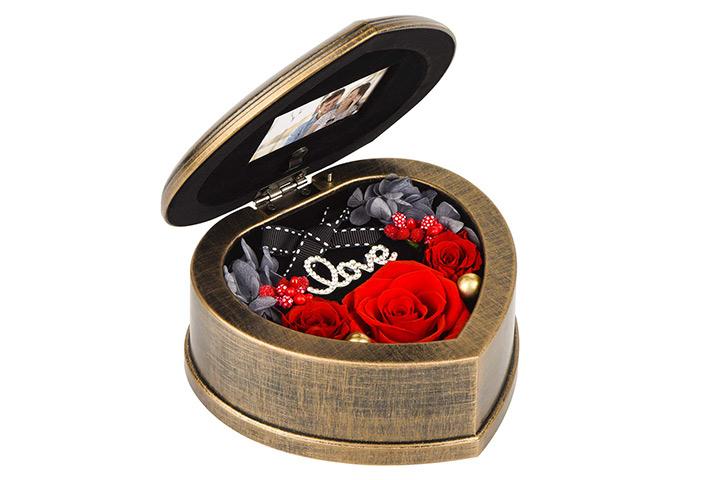 We all want our love to last forever. And this eternity box stands as a symbol of that feeling. This heart-shaped musical box comes with a real rose preserved using the biological fresh-keeping tech. It can last for one to three years, and the musical box with a photo frame attached to the inside of the lid can be used longer. This is a unique, retro-styled gift that can help convey your love to her.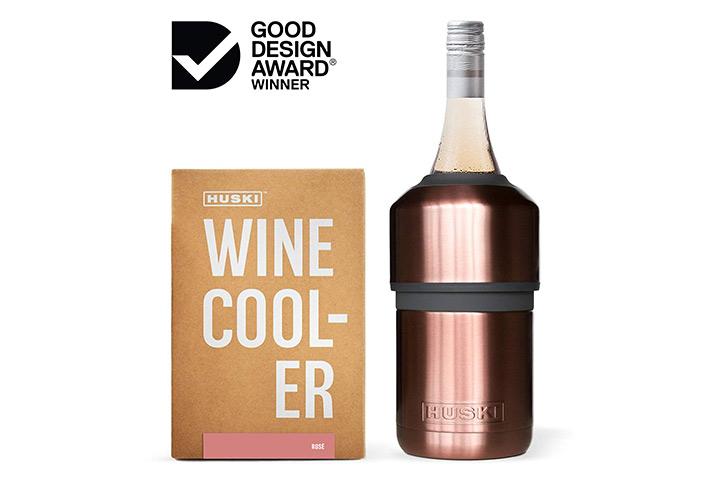 For someone who enjoys wine and wants it at the perfect temperature no matter where she is, this wine cooler can be a thoughtful gift. It helps keep the wine chilled for almost six hours and does not even need ice. Its adjustable height can accommodate several types of wine bottles. It has a flexi-lock design that ensures the bottle is firmly in place while you pour it. The stay-dry technology removes any chances of condensation, keeping it dry from the outside and chilled inside! It comes in four color options.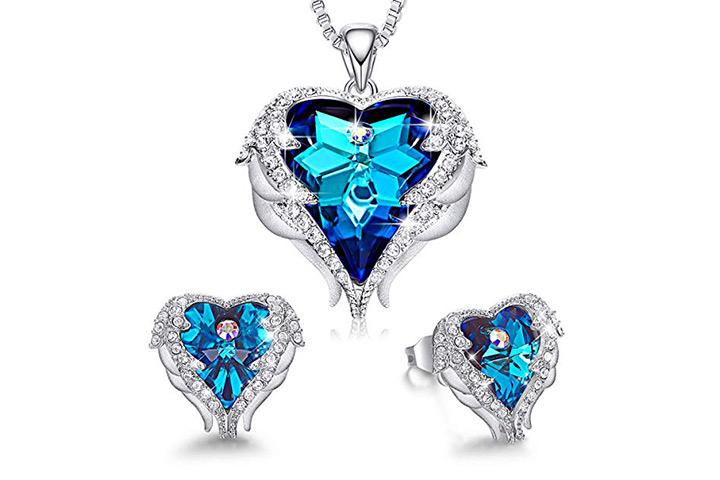 The heart symbol is synonymous with love. So why not get this necklace set with a heart-shaped pendant and earrings that remind her of your love? The white gold-plated heart pendant is embedded with blue crystals to match the earrings. The pretty jewelry set is made of a material that is hypoallergenic and free of nickel and lead and goes well with your lady's evening gowns.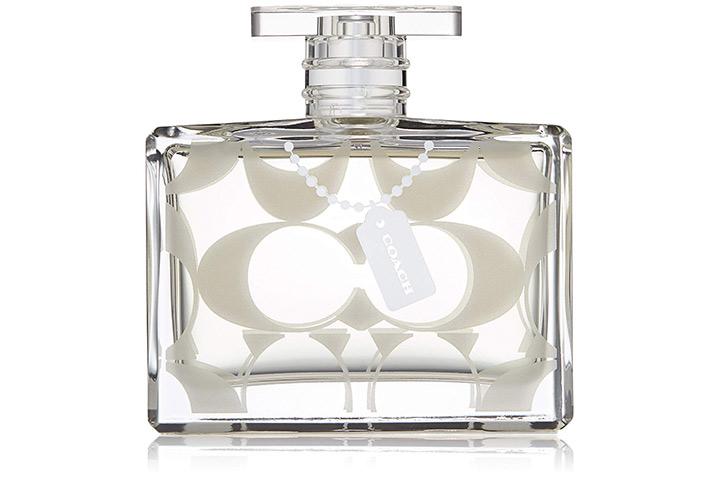 Looking for a safe, tried, and tested gifting option? Then a perfume that is both practical as well as romantic can be an option for you. Perfume as a gift never goes out of fashion. This Signature perfume from Coach claims to offer a sweet scent of jasmine, mimosa, and orange blossom blended with the aroma of vanilla and wood. It is a good gift for a lady who loves to smell good.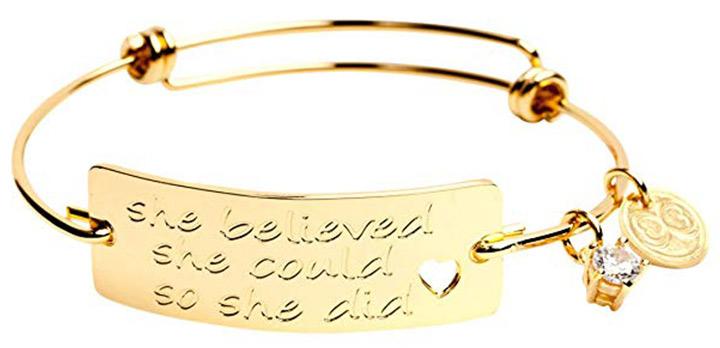 If you're looking for something that can lift your favorite girl's spirits when she is going through a tough time, telling her that you support her and are with her, this lovely charm bracelet could be a nice idea. The bracelet comes engraved with an inspirational message that can motivate your lady to do her best, even when the odds are against her. Made of 18K gold, it does not rust and is suitable for women of all ages.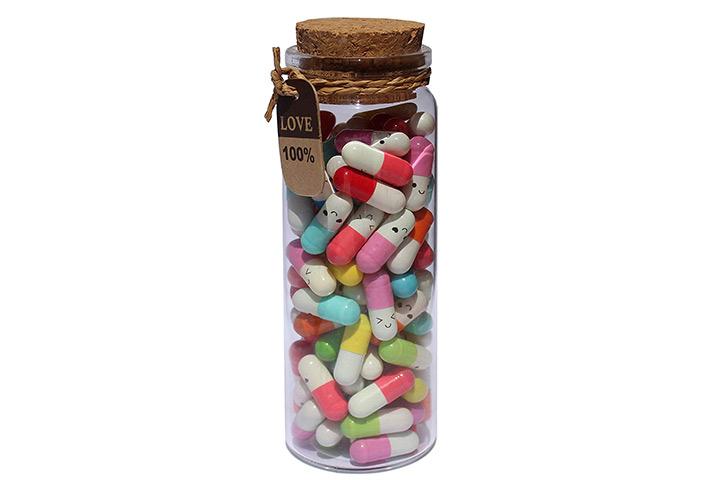 Leaving sweet loving messages around the house sounds too cute, doesn't it? But if you cannot be around to leave those messages and still want her to think of you every day, then you can try leaving them in these cute letter capsules. Designed to look medicinal capsules, they accommodate small pieces of paper on which you can write your message. Just put these message capsules inside the jar and voila! Your gift to the lovely lady is ready! The bottles come in two variants – one for 90 capsules and the other for 25 capsules.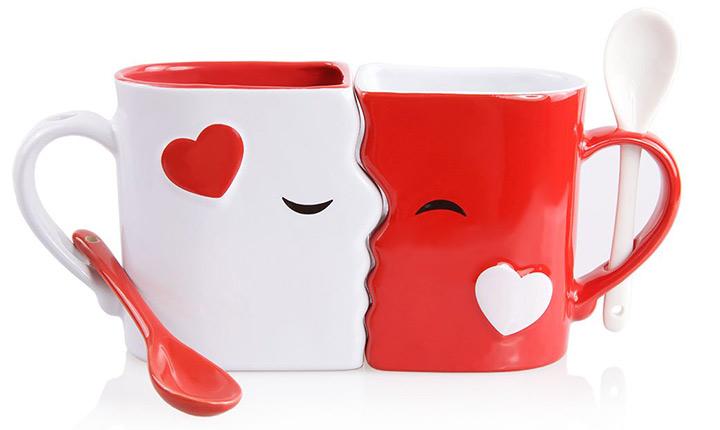 Couple gifts can be adorable, especially when they are in sync, like this pair of mugs. This pair of red and white mugs shaped like two faces kissing each other is a lovely gift to make her think of all the romantic moments you've shared. So, every morning, when she has her first cup of tea or coffee, she is reminded of you and your warm kisses. It has two matching spoons as a bonus.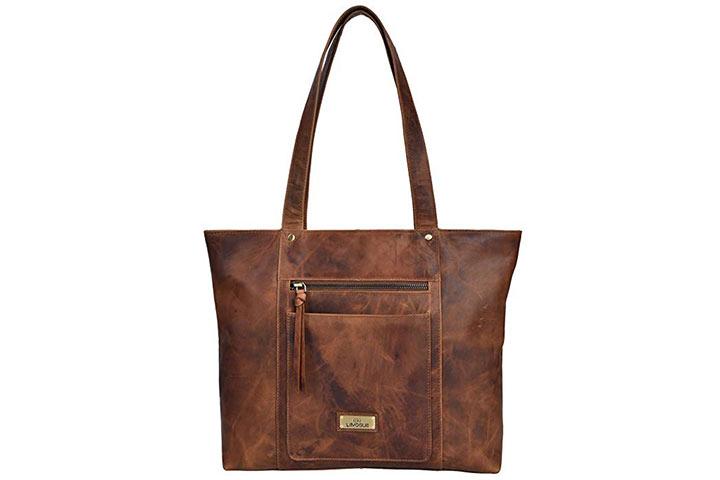 Women can carry their entire world in their handbag. So, isn't a good handbag worth gifting to your valentine? This leather handbag is handmade by professional artisans and comes with good quality zippers and metal fitting that ensure quality and durability. Its zipped compartments and deep pockets inside can keep your lady's important items safe.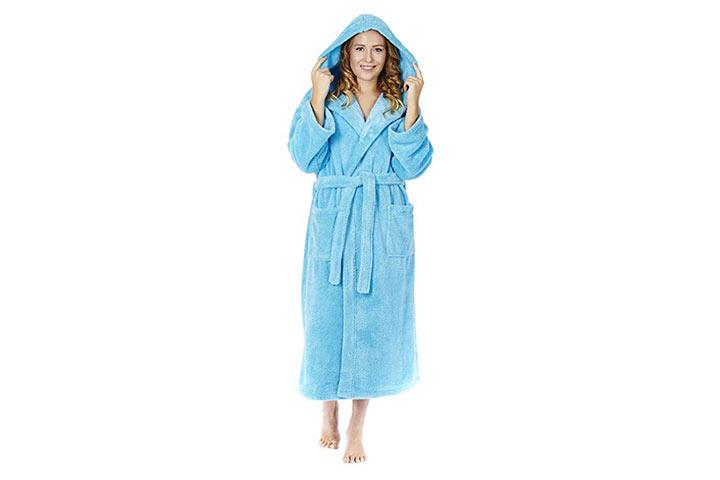 Want to gift her something really personal and intimate? Have a look at this blue-colored bathrobe with a hood. Its soft and plush design will keep her feeling warm and comfortable. It comes with a fabric belt that holds the robe together. It is available in two colors and three sizes.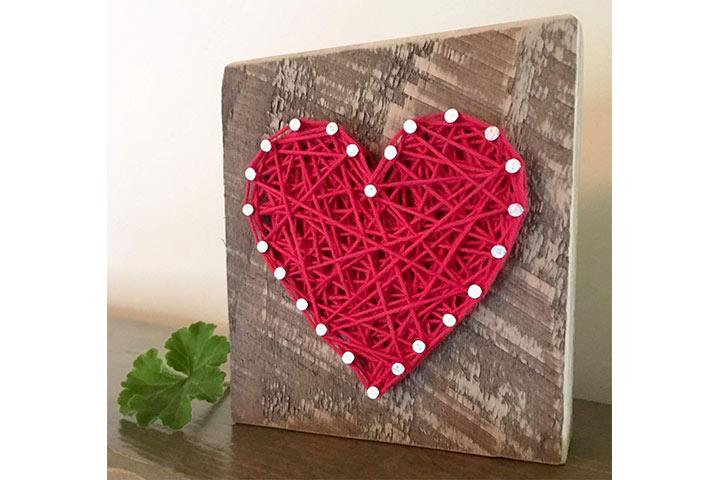 Imagine your dear lady reaching her office desk or opening her closet and smiling, looking at a heart with your message on it. This red string heart is just what you need to put a smile on her face. It is made on a reclaimed wooden block and comes with a bottle tab hanger so you can easily hang it anywhere you want. It is a good way to keep yourself in her thoughts.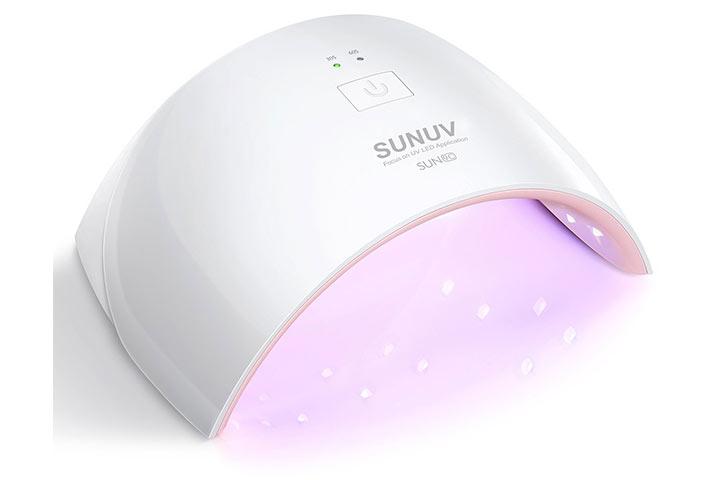 A lot of women are extremely particular about their nails. If your darling lady also takes great pains to maintain her manicure, then this nail dryer is 'the gift' for her. This product is highly practical and comes with a white light that does not harm the skin or nails. It is easy to use and can help dry her gel nails in no time.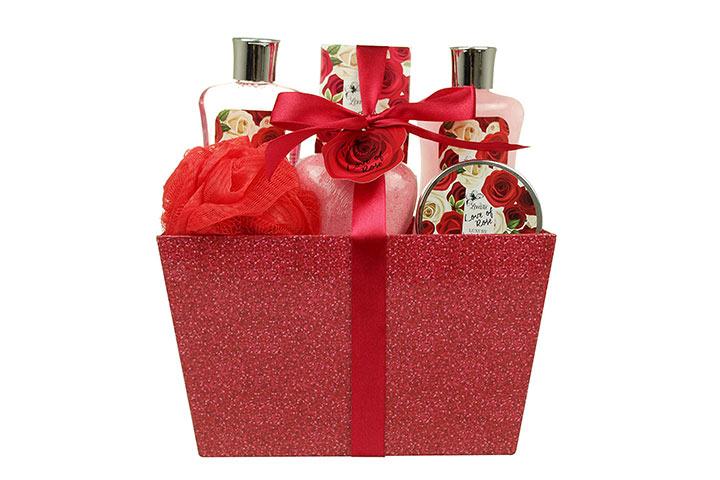 "I hate pampering myself," said no woman ever! Women love treating themselves to luxurious bath and body products that leave them smelling and feeling great. This spa kit comes with a shower gel, bubble bath, body lotion, bath salts, bath puff, and fizzer. Infused with a rose scent, it can soothe her skin and leave her feeling pampered. The hamper has products of five unique fragrances, each to suit the lady's moods on a given day.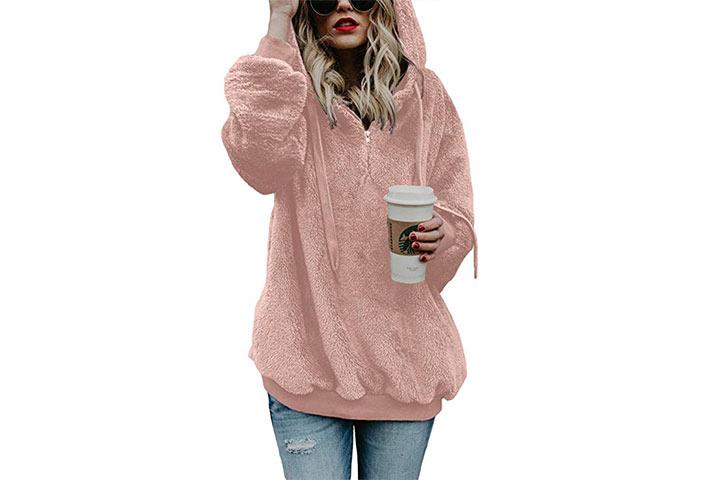 On a cold and lazy day, a lot of women prefer to wear an oversized sweatshirt and relax on their couch, watching their favorite TV show or reading an interesting book. If your lady loves that idea, then gift her this sweatshirt to get comfortable and unwind over the weekend. It comes with a hood and front pocket that will keep her comfortably warm. Its fleece, stretchable body can be easily washed in the machine.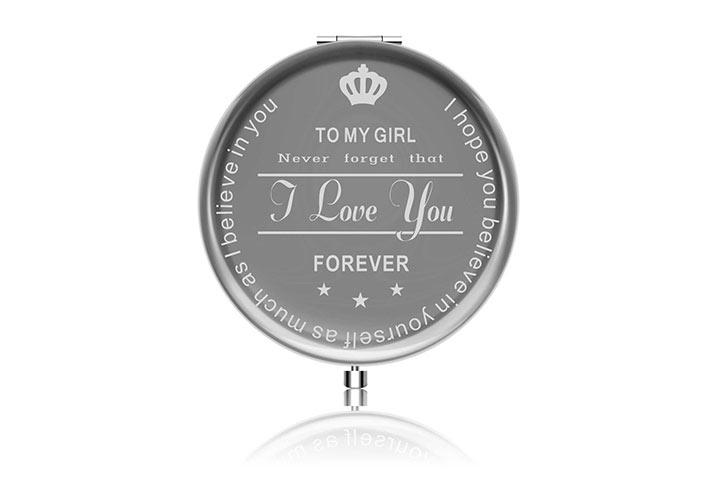 A pocket mirror in a girl's handbag can never be useless. If your girl loves catching a glimpse of herself in the mirror every now and then, then she might love this double-sided mirror, which has a shell that comes with an engraved message. Each time she sees this mirror, the loving or inspiring message you choose will remind her of you. The mirror can easily fit in a purse, and its regular and magnified mirrors can help her do makeup anytime and anywhere.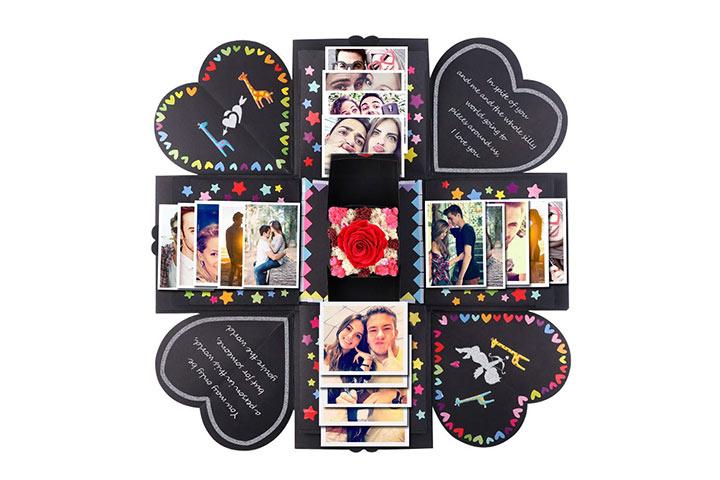 Women love it when you put in an effort to personalize a gift. It tells her how thoughtful you are and how much you care about her. This explosion box comes with an empty scrapbook that you can decorate and fill with pictures that will let her relive your most cherished moments together.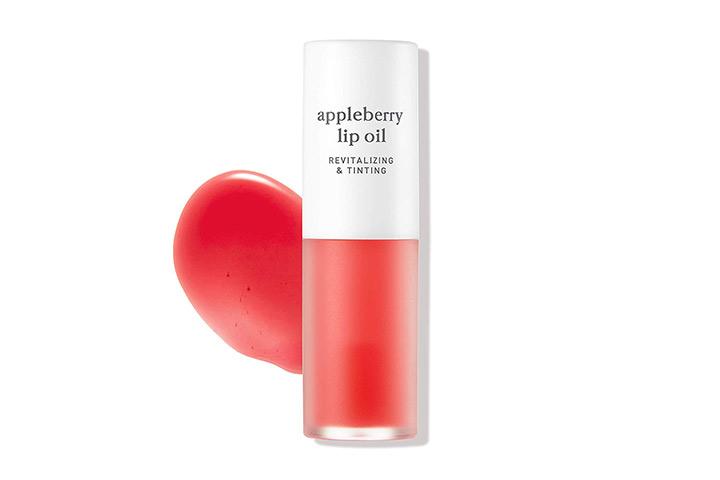 A lip product as a gift can convey two messages. One is that you care about her lips and do not want them to chap. And another is that you want to know how her soft lips might feel against yours. If kissing her is always on your mind, then you can let her know about it by gifting her this lip oil. It contains vitamins A, C, and E, and its silky, non-sticky formula can keep her lips nourished and soft.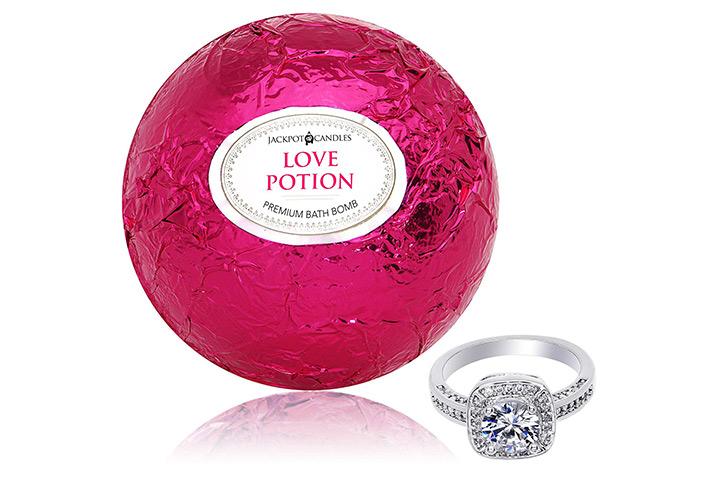 Proposing with a ring hidden in a glass of champagne is too common. Try hiding a ring in a bath bomb. Some women enjoy their time in the bathtub immersed in sweet-smelling bubbles. Imagine how surprised she will feel on seeing the ring while relaxing in her bathtub. A totally unexpected and novel idea for a romantic gift, if you have plans to propose to her sometime soon!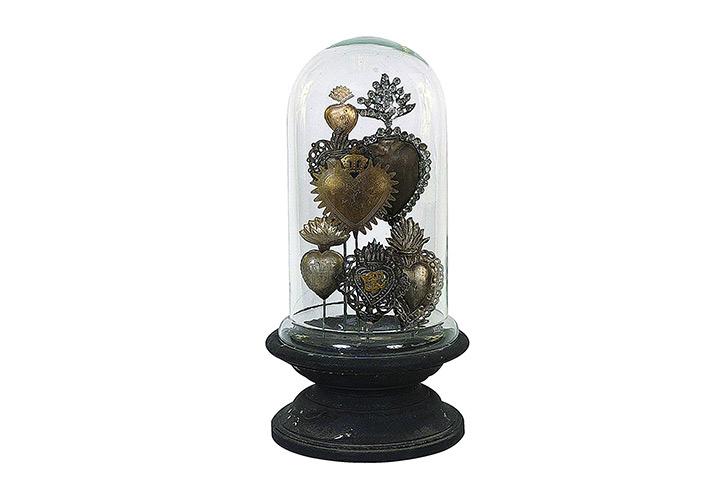 The heart is the ultimate symbol of love. These beautiful tin hearts come housed in a glass cover while resting on a wooden pedestal. Each heart is designed differently and looks unique. It has a vintage feel to it and can add to the beauty of its surroundings. This gift is ideal for a lady who loves collecting vintage house décor items.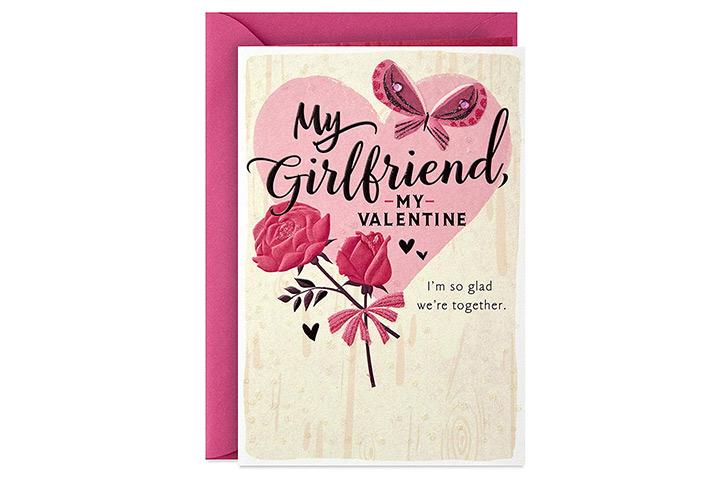 If you believe in expressing your love through heartfelt words, then you can pen your emotions on a Hallmark Valentine's day card. It comes with a message written on it, but you can add to it if you wish to express how you feel about her on the blank side of the card. You could gift her this card with something else or send her this card if you are away and cannot be with her on Valentine's Day.
These options are great, but do you know how to pick what's perfect for her? We tell you next.
How To Choose The Best Valentine's Day Gift For Her? 
Like any other gift, the Valentine's Day gift you pick should also depend on the kind of relationship you share with her. The better you know her, the easier it will be for you to pick a gift for her.
If you have known each other for a really long time, you can gift her a customized gift like the Creative Explosion Box listed above. You can remind her of all the fun times you shared and make her Valentine's all the more special.
If your intention of gifting is to spend a sexy evening together, then you can buy her something similar to the unique bath bomb with a ring inside, or the lip oil, so she knows you wish to take your relationship to the next level.
If you are looking for your first valentine gift for girlfriend and wish to express your feelings for her, then go for something traditional like a card or a jewelry item that will make her think of you.
Whatever gift you choose, ensure that it is something that she will like and appreciate. Do not buy something just because it is a popular gifting item. Women love receiving special gifts, especially those that are carefully and thoughtfully selected. Hope our list makes it easy for you to choose the most suitable gift for your special lady.
What are you planning to gift her this Valentine's? Do let us know in the comments section below.
Recommended Articles: