If you follow a vegan diet, check out our list of the best vegan protein powders for women to meet your daily protein intake. Proteins are the building blocks of the human body and an essential source of energy. However, it may not be easy to follow a vegan diet and get the same quantity of protein as non-vegetarians. Vegan protein powders can supplement the lack of protein in your diet and give you the energy you need without making you compromise on your beliefs.
Unlike whey or animal protein, the protein in vegan protein powders is derived from chia, rice, soy, pea, flax, and other plant-based sources. These protein powders can help women gain more muscle strength, develop lean body mass, and boost energy levels. So, consider the products listed below to find one that suits your needs.
15 Best Vegan Protein Powders For Women
The USDA organic, plant-based protein powder from Orgain consists of 21g of protein, six grams of fiber, and four net carbohydrates per serving. It contains protein that comes from brown rice, pea, and chia seeds and has no added sugars, delivering just 150 calories in each serving. The organic cocoa powder gives it a creamy fudge flavor to make smoothies or bake muffins, brownies, or biscuits as a quick energy snack after a workout. This non-GMO protein powder does not contain soy, gluten, lactose, or artificial flavors and is rich in ultra-clean nutrients. This video will help you learn more about the product.
Pros
Easily mixes with no clumps
Contains stevia as a sweetening agent
Allergen-free ingredients
Provides daily dose of calcium
Cons
Taste might be slightly chalky
Consistency may be slightly thick
The Organic Meal from Garden of Life is a blend of 44 ingredients, including fruits, vegetables, organic grass juice, and 21 types of vitamins and minerals. Each scoop provides 20g of plant protein made from 13 sprouted organic grains and six grams of fiber. The chocolate-flavored protein powder with less than one gram of sugar per serving does not contain soy, gluten, and dairy products.
It contains 1.5 billion CFU probiotics and enzymes to promote easy digestion. The powder is also rich in nutrients and is ideal for meals on the go and after-workout milkshakes. It can help you build muscle, relieve hunger, and control weight. Check out a detailed review of the product in this video.
Pros
Vegan-certified
USDA-certified organic
Boosts energy quickly
Improves digestion
Tastes delicious
Available in different flavors
Cons
Nutrients offered may not be balanced
May be a bit low in fiber
Vega Sport high-quality protein powder contains 30g of plant protein sourced from pumpkin seeds, peas, sunflower seeds, and alfalfa. Additionally, it contains turmeric to fight inflammation, tart cherries for muscle recovery, and two billion CFU of probiotics for better digestion.
Each serving provides five grams of branched-chain amino acids to strengthen muscles. This NSF-certified powder does not contain gluten, soy, dairy products, sweeteners, and whey. You can mix three grams of carbohydrates with your favorite fruits and water to make a protein-rich, vanilla-flavored shake. Watch this video of the product for more information.
Pros
Keto-friendly
Non-GMO-verified
Easy to mix
Free of artificial preservatives and flavors
Cons
May have a slightly intense ingredient smell
May be slightly chalky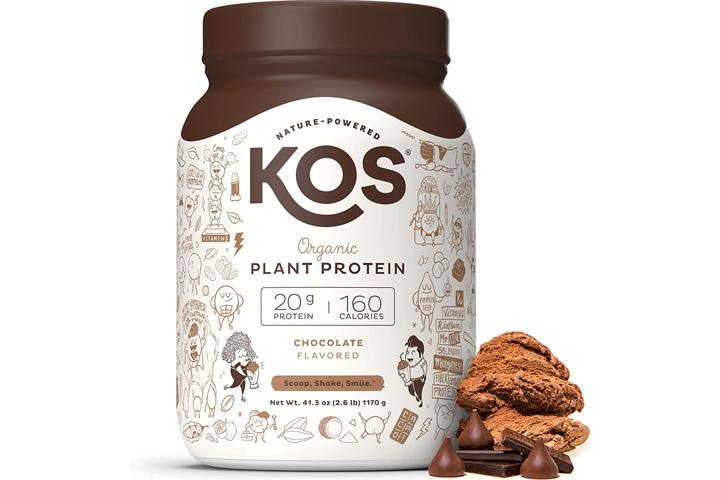 Certified by the USDA, this plant-based protein powder contains Himalayan salts, Peruvian cocoa, coconut milk, monk fruit, and a small amount of stevia. The powder is a blend of flaxseed, quinoa, pumpkin seed, chia seeds, and peas, and each serving can provide you with 20g of proteins and two grams of fiber.
The presence of digestive enzymes can enhance the body's ability to absorb nutrients and support digestion. This non-GMO formula has no soy, gluten, and dairy products and contains soluble fiber, giving you a feeling of fullness for a more extended period without affecting calories.
Pros
Can be added to water, smoothies, and snacks
Easy to digest
Has a creamy texture
Free of gluten, soy, and dairy
Cons
Flavor might be slightly intense for some
May have a slightly thick consistency
Try this nutritional protein shake powder from Vegansmart that combines the strength of five non-GMO plant-based proteins to provide your body with essential amino acids and repair and strengthen muscles. Each serving provides 20g of protein and six grams of fiber, making you feel full. It also contains more than 200mg of Omega-3, which is essential for maintaining brain and heart health.
This protein powder is rich in nine varieties of fruits and vegetables, 22 types of vitamins and minerals, and prebiotics that can balance the intestinal flora, help digestion, and improve overall health. The formula has a wild-berry flavor and does not contain gluten, MSG, soy, dairy products, yeast, sweeteners, and preservatives.
Pros
Hypoallergenic
Clump-free
Diabetic-friendly
Delicious taste
Cons
May have a slightly strong stevia taste
Consistency may be slightly watery
Bring home this organic nutritional shake from Purely Inspired that is made of high-quality plant-based protein sources such as rice, peas, and hemp. Hemp contains all nine essential amino acids and is high in fiber, minerals, and antioxidants. This supplement provides 20g of protein and five grams of fiber and is a powerful blend of 27 fruits and vegetables.
This milkshake powder contains 17 vitamins and minerals along with one billion CFU of probiotics. The simple and convenient meal-replacement formula can meet most of your nutritional requirements.
Pros
Certified USDA-organic
Non-GMO and dairy- and gluten-free
Allergen-friendly
Has a balanced amount of vitamins and minerals
Cons
May be slightly clumpy
After-taste may not be great
Boost your metabolism with this vegan protein powder from Ora Organic. It contains pea and rice protein and digestive enzymes to eliminate bloating and promote the complete absorption of nutrients. Each serving provides 22g of protein and 1.8g of fiber to promote optimal muscle function.
It is packed with 20 organic foods, providing a complete amino acid profile after exercise. As it has been tested for heavy metals, this powder is also suitable for pregnant women or nursing mothers. The flavor and smooth texture of chocolate allow you to effortlessly add this non-GMO, gluten-free, dairy-free, and soy-free powder to smoothies or other recipes.
Pros
Supports muscular development
Boosts energy
Prevents imbalance of blood pressure
Available in four different natural flavors
Cons
May have a slightly chalky texture
May have an aftertaste
Aloha's USDA organic protein powder uses coconut sugar instead of stevia to provide 18g of plant-based protein from peas, hemp, brown rice, and pumpkin seeds. It also contains five grams of dietary fiber, iron, and a medium-chain triglyceride source to offer you a quick energy boost. It is free of gluten, soy, dairy products, and stevia and is a perfect addition to smoothies, baked goods, or morning oatmeal. The formula comprises 12 whole-food ingredients with complete amino acids, electrolytes, and probiotic ingredients.
Pros
Does not leave any aftertaste
Excellent source of MCT oil
Helps in weight management
Ideal post-workout supplement
Cons
May be a tad grainy
May be slightly thick
Isopure's keto-friendly and plant-based protein powder provides 20g of protein from brown rice and organic peas, providing your body with essential amino acids. Each serving contains only 1.5g of fat and zero sugar, cholesterol, artificial colors, sweeteners, and flavors. The rich chocolate flavor allows you to add this low-carbohydrate powder to water or plant-based milk to get the daily required nutrition.
Pros
Blends well
Free of gluten, soy, and dairy
Doesn't cause bloating or cramping
Non-GMO
Cons
Consistency may be slightly frothy
Some may not like the taste of stevia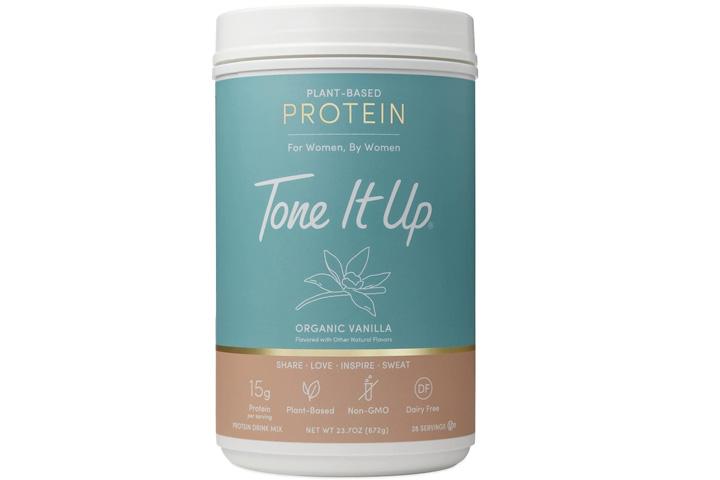 Who understands women's needs better than women? Designed by women for women, this plant-based protein powder is made from pumpkin seeds and pea protein and has a non-GMO formula that provides 15g of protein per serving to help you achieve your daily goals. The gluten- and dairy-free powder works as an energy booster before workout and helps with muscle recovery post-workout.
The minerals from pumpkin seeds can help promote the healthy functioning of the heart and kidneys. Mix it with water or nut milk to make a delicious smoothie or add it to bread and cakes.
Pros
Mixes well
Contains zero sugar
Boosts metabolism
Natural flavor
Cons
Nutiva organic plant protein powder combines the strength of hemp, pumpkin, sunflower, and peas. Each serving contains 21gm of protein, which can promote muscle recovery after exercise. This non-GMO blend uses ingredients procured from certified farmers, is a good source of vitamins from fruits and vegetables, and contains probiotics to promote good digestion. It is rich in nutrients and does not contain gluten, grains, soy, dairy products, and stevia. It has a smooth texture and can be mixed with water or fruits and vegetables to make a delicious smoothie.
Sunwarrior's vegan protein peptides contain various organic proteins, such as fermented pea protein, vitamin C, silica, green leafy vegetables, and sea buckthorn. The ingredients can promote natural collagen synthesis, skin elasticity, provide moisture retention, and fight free radicals.
The addition of hyaluronic acid and biotin enhances the body's ability to absorb calcium, thereby strengthening hair, skin, bones, and nails. This nutrient-rich powder is fortified with organic spirulina rich in iron and amino acids, which can heal and repair muscles while maintaining tissue strength.
The zero-sugar anti-aging formula provides 15gm of plant-based protein, free of gluten, soy, dairy products, and genetic modification.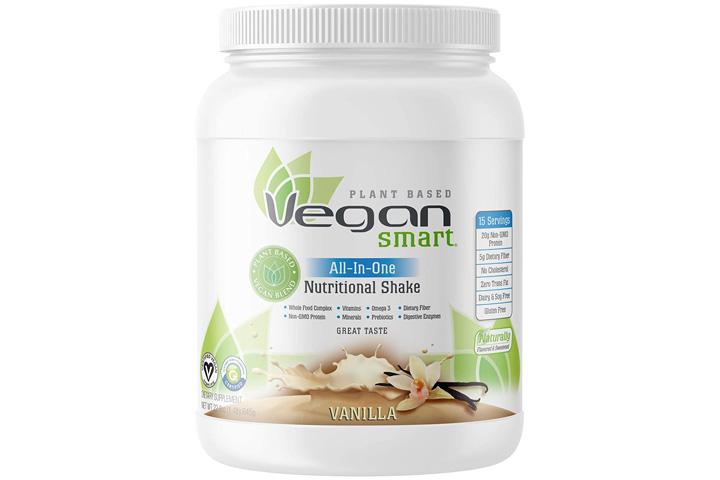 Vegansmart USDA organic protein powder is a blend of organic peas, pumpkin seeds, quinoa seeds, and plant protein from rice to provide 20g of protein with each serving. This protein powder provides you aminoacids to promote the synthesis of healthy tissues and muscles and contains 22 types of minerals and vitamins.
Each serving provides six grams of fiber, and the probiotics and digestive enzymes in it help absorb nutrients and promote good digestion. Fortified with 200mg of Omega-3, it promotes the healthy functioning of the brain and heart. It also includes nine kinds of colorful vegetables and fruits, providing antioxidants to achieve optimal health.
Pros
Non-GMO
Yummy taste
Diabetic-friendly
Hypoallergenic
Blends well with no clumps
Cons
May be slightly sweet
May have slightly thin consistency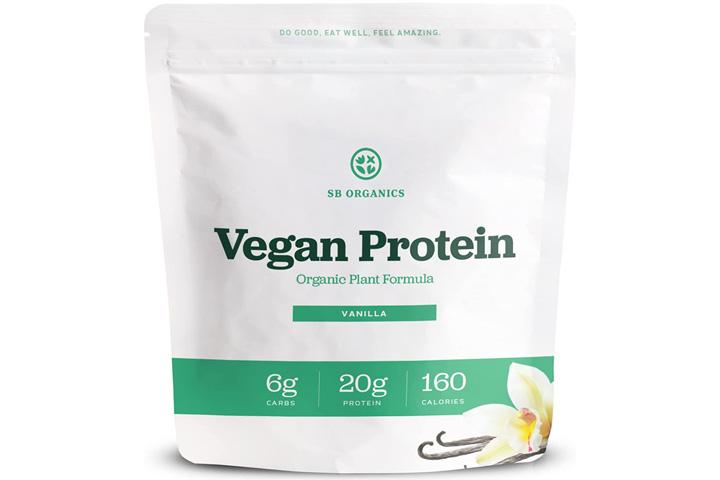 SB Organic's nutrient-rich vanilla vegan protein powder is rich in protein, vitamins, minerals, healthy fats, probiotics, and enzymes. The powder provides 21g of protein from pumpkin seeds, peas, quinoa, chia seeds, and flaxseeds and is suitable for nourishing your muscles for quick recovery after workouts. The carefully crafted vanilla flavor blend has low carbohydrate content and can stimulate your activities and add energy to your day.
This USDA-certified organic and kosher blend contains no gluten, dairy, and soy products and can be used as a supplement to meals.
Pros
Can be blended with shakes
Improves digestion
Blends well into a smooth mixture
Repairs body tissue
Cons
May have a slightly sweet taste
May be slightly grainy
This organic powder from Micro Ingredients provides 30gm of pea protein and is rich in essential amino acids, which promote muscle strength and are easy to digest. The single-source formula is low in fat and carbohydrates, helps control weight, and has vitamins to boost immunity. Pea protein can also support heart and kidney health and is easy for the digestive system. This non-GMO protein powder has passed USDA organic certification and contains no artificial sweeteners, colors, preservatives, gluten, dairy, and fillers.
Pros
Can be consumed during or between meals
Blends well with smoothies or shakes
Includes a scoop
BCCA-rich
Boosts immunity
Cons
Color of the powder may change slightly
May be slightly chalky
How To Choose The Right Vegan Protein Powder For Women?
When choosing a vegan protein powder, there are some key things to consider.
Protein content: Before consuming protein powders, it is crucial to understand the amount of protein you ingest from your daily diet. Check the amount of protein in each serving and see if it helps meet your daily requirement. Talk to a nutritionist to determine the right amount of protein you need to consume every day, based on your lifestyle.
Protein source: Choose a powder with various plant protein sources or a single source. It is also essential to check whether the source is certified as organic and non-GMO.
Sugars and sweeteners: You may want to consider powders containing natural sugars like stevia and monk fruits instead of artificial sweeteners that hinder your metabolism.
Flavors: Look for natural or neutral flavors so that you can add fresh fruits, yogurt, peanut butter, and other ingredients to make it interesting and palatable for you.
Complete protein powder: It should contain all nine essential amino acids that your body needs to form proteins that help muscle growth and recovery.
Fillers: Some protein powders may contain fillers that can add extra calories and carbohydrates. Check the powder's ingredients carefully to choose a pure formula.
Fiber: Look for protein powders with high fiber content so that it is easy to digest and helps your body absorb the vitamins and minerals in it.
Jenni Hackworth, Nutritionist, Sports Nutritionist, CPT, RTY200, Colorado-based fitness expert, says "The main thing to consider when choosing protein powder is the ingredients. Always choose those with recognizable ingredients. You do not want any artificial colors, flavors, or sweeteners."
Why Trust MomJunction?
Vibha Navarathna is a writer who loves recommending quality products that improve her reader's quality of life. She has compiled this list of the best vegan protein powder for women based on user reviews and data from reliable forums. Each product description includes relevant details, including the ingredients, sugar content, and allergen information. Vibha has also included a buying guide to help you choose the right vegan protein powder based on factors such as protein source, protein content, and fillers.
References:
Recommended Articles: