Safety is one of the essential features to consider if you plan to stay at home. To ensure your home is safe, you need the best video doorbell cameras. These cameras help in letting you see the visitors before you decide to open the door. They are also compatible with your smartphone devices, be it iOS or Android, which allow you to monitor the home when you are not at home. To help you choose a suitable video doorbell camera, we recommend you look at some of the doorbell cameras we have compiled for you. Check out this post to pick the one based on your requirements.
15 Best Video Doorbell Cameras
The Ring Video Doorbell Pro has exclusive features that allow you to answer the door from anywhere and monitor your house in 1080p HD video. You will get a mobile alert when someone arrives at your door, so you can see or hear from your phone, PC, or tablet. It has advanced motion detection features and notifies you whenever there is any movement at the door.
It has non-stop power and can connect to the existing wiring of the doorbell. Connect it with Alexa for a hands-free experience. The echo device will announce the visitor's arrival and offers an automatic live camera view if the device supports a screen too. This video offers a more detailed explanation of the product.
Eufy Security Video Doorbell offers a high definition 2560×1920 resolution making it ideal for day and night monitoring. It features military-grade AES 256-Bit data encryption that keeps your footage safe and private during transmission or storage. Also, the notifications are facial snapshots so you can check who is at the door.
With AI technology and a smart algorithm, the camera can detect face pattern and body shape. It will ensure you are alerted only when a human, not a cat, is at the door. You can pre-record up to three responses and select to interact and offer instructions when you get a notification. You may check this video for a better understanding of this product.
If you seek a doorbell that enables you to see the person completely, this Arlo Video Doorbell could be the right choice. It also has a night vision lens so that you can get a clear vision in dim-lit areas too. You can connect it to your existing doorbell wiring, with the recommended voltage range of 16V AC to 24V AC along with a 10V transformer.
You can speak to visitors with two-way audio or respond with pre-recorded messages. You will receive notifications whenever any movement is detected, and you will be able to view live streaming on your phone. The doorbell is weather-resistant and can withstand any climate. This video review will help you learn more about the product.
The XTU Video Doorbell Camera is Wi-Fi-enabled and features a built-in 6000mAH rechargeable battery. Its installation is completely wireless, uncomplicated, and keeps away any mess of tangled wires. Just download CloudEdge, a user-friendly app operation that helps you set up the device with ease.
This smart doorbell camera is equipped with infrared night vision and live view. You can watch your house in a 1080HD video and at a 166° wide view angle. It supports encrypted cloud storage and 32GB SD card storage. The camera has IP65 waterproof design and works rain or shine to give you uninterrupted footage.
Amcrest Video Doorbell Camera pro features a 140° extra-wide viewing angle to cover every corner. The security camera works on the doorbell's existing wiring and is attuned with electronic and mechanical digital chimes. The camera is equipped with the latest CMOS image sensor and lets you monitor your home in 1080P HD video at 30fps.
The PIR motion sensor helps you receive movement detection alerts regularly via push notification or email. You can receive the footage directly using Amcrest smart home app. Also, you will receive a one-year US warranty and lifetime technical support from Amcrest.
Castries WiFi Video Doorbell Camera supports multiple device connections. With your authorization, a family member can monitor your home's security. It features a two-way audio, 1080P HD camera with 166° wide-angle view, night vision, and smart PIR motion detection alarm. The built-in rechargeable battery is of 9000mAh, and its WiFi supports up to a 2.4GHz network.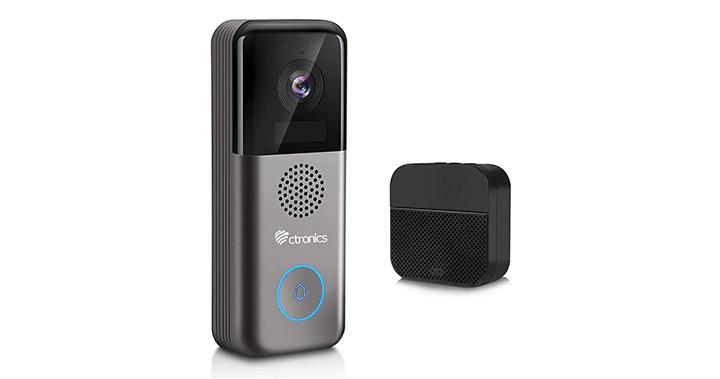 The Ctronics Video Doorbell is WiFi-enabled and works within a WiFi range of up to 100 feet. It is IP66 waterproof and comes with a high-quality lens. This device has an in-built speaker and microphone and provides two-way audio. You can control the doorbell camera through APP Cloudedge. In addition, you can speak via the APP when there are visitors at your door.
This device supports a 135° wide-angle view capturing clear images. The camera has 2k 3MP HD resolution that provides sharper images and videos. In addition, the camera is also capable of recording clearly at night with backlighting.
The Conico Video Doorbell Camera has the most advanced motion sensor with 1080HD technology, infrared night vision, and 166° wide view angle. It can detect the moving human activity and does not get duped by a stray cat or animal. It has a built-in 6700mAh rechargeable battery that can be used at a stretch for around two months.
When the battery hits its low level, the phone app sends a reminder. This WiFi smart doorbell camera has 32GB SD card storage and cloud storage too. Owing to its IP65 weatherproof design, it is suitable for any climatic condition.
Toucan Video Doorbell Camera is a smart wireless WiFi-enabled doorbell camera. It supports 2.4GHz WiFi only and can be installed without any mess of tangled wires. You can easily connect it to the Toucan app that detects movement. It offers a great picture quality during the day and night as it supports night vision function with 180° wide-angle and 1080P full HD vision. Other features include instant live feed, calling emergency services, siren alarm, pre-recorded messages, and instant notifications.
iDoo offers a doorbell camera that is sensitive to the slightest of movement. It provides three sensitivity options to choose from low, medium, and high. On any trigger, it immediately sends a push notification to your Android or iOS device. The camera supports multiple device connections.
By downloading the Renpho app, you can authorize others to monitor the screen. Military-grade data encryption ensures your footage is secured on transmission. It also features 1080P HD real-time two-way audio and micro SD 128GB storage.
Laview WiFi Video Doorbell Camera features the latest AI technology that detects human body and face patterns. It features a two-way audio function that enables you to converse with your visitor through the app when you are not at home.
It includes both Cloud storage and 32GB pre-installed SD card storage. The weatherproof camera can withstand seasonal changes and natural elements. The camera is equipped with infrared night vision that records activities up to 32ft at night.
Lefun Video Doorbell Camera features an advanced movement detection sensor within a ten-meter radius. This smart doorbell camera has two-way storage and two-way audio functions. It has a built-in 6700mAh rechargeable battery that can easily survive for four months when fully charged. It is easy to set up and operate.
Kamtron Video Doorbell Camera is a wireless device equipped with a built-in 6700mAh rechargeable battery. It supports only 2.4GHz WiFi. Sensitive PIR detection technology helps differentiate human movement from falling leaves and stray animals within a five-meter radius. It supports night vision sensors that secure your home both at night and in the day.
Lorex Doorbell Security Camera features 1080p HD resolution and 160° field view. It offers clear night vision up to 33ft. With this security camera, you can keep a check over your business or home from a remote location too. It has a 16GB micro SD card that provides ample storage space. You can monitor your home by installing the Lorex Home App on your iOS or Android device. Just scan your device's unique QR code to connect it to your phone.
Nooie Wireless Video Doorbell Camera uses a 2K resolution camera to offer you a crisp and crystal clear view. The video contains twice the pixels of a traditional 1080P camera that can capture every minute detail. It uses an advanced PIR sensor and Human Detection algorithm to get accurate alerts. It is easy to set up and easy to operate. You can mount in on any wall surface, and it requires no wiring or professional help.
How To Select The Right Doorbell Cameras?
Here are some features you should consider while buying a video doorbell camera.
Resolution: Consider a video doorbell camera that supports HD video between 720p and 1080p for clear footage. You may also find cameras featuring resolution higher than 2K.
Notifications: Pushing notifications and alerts to your phone are essential. Also, look for cameras with live streaming footage or reviewing a clip feature.
Storage options: It could be either SD card, cloud storage, or both. Most companies offer annual and monthly subscriptions, costing around $2.99/month to $12/month. Generally, a free storage trial is given, followed, which you can decide depending on your requirement.
Two-way audio: The ability to talk to your visitor when a notification is pushed your way through the app is essential. This feature comes in handy when you want to scare unwelcome visitors away.
Smart-home compatibility: Check the compatibility with Alexa or Google Assistant to check on your front door. Not all doorbells are equipped with this feature. Also, the company specifies how you can connect to the smart assistant and issue voice commands.
Video doorbell cameras serve the purpose of safeguarding your home, family, and property. They are easy to use and install and are integrated with smart features for convenience. Choose a doorbell camera based on where you live, the features you need to protect your family and home even when you are away. When in doubt, use our buying guide and check user reviews too.
Why Trust MomJunction?
Wedesto Chirhah is experienced in reviewing and shortlisting the best household and electronics products for his readers. He has listed some of the best video doorbell cameras after extensive research and comparing different products. The products featured in this list are compact, durable, and cost-effective and will be a useful addition to your home. Also included is a buying guide to help you pick the right one.

Recommended Articles: