Consider the following scenario. If your teenager's diet is similar to Tina's, you should consider adding the best multivitamins for teen girls and boys to their diet.
14-year old Tina comes home from school, heads straight to the refrigerator and takes soda. She then grabs a pack of chips from the kitchen shelf and sits down to watch TV. Her dinner is a tiny piece of chicken with mashed potatoes. She has a slice of cake after dinner. For breakfast, she has a protein bar and nothing else. Lunch is a homemade sandwich, or a burger at the fast food restaurant near the school, with chips (again).
Despite parents' attempts to provide healthy foods, their teenagers may not necessarily get nutrition from the food they eat. Instead, they get a lot of empty calories. When your teens' eating habits aren't giving them the right nourishment, you can rely on the best vitamins for teens to fill the gap.
Best Vitamins For Teenage Growth
Sometimes, your teenager may have to take supplements for specific vitamins to deal with a deficiency that can stunt his or her growth. If you are looking for the best vitamins for teenage girls and boys, here are a few options.
Note: Choose the supplement based on the particular deficiency your teenager has. Discuss with a doctor before deciding on the supplements.
Naturelo whole food multivitamin is made of vegan and natural ingredients. It contains vitamins A and C, calcium, among others to provide complete nutrition to teenagers. It is also gluten and soy-free. You may check out this video to learn more about this multivitamin.
Pros
Enhances the immune system
Boosts mood
Support brain, skin, and eye health
Non-GMO
Free of coloring agents
Cons
Some may not like the aftertaste
Pills may be large
If you've been missing out on your daily vitamin B12 intake, the Why Not Natural dietary supplement can help you take care of that. The 5000mcg sublingual supplement comprises methylcobalamin, a bioactive form of B12, and the organic cherry flavor makes it extremely easy to consume. The supplement is sugar-free, keto-friendly, and soy- and alcohol-free.
Pros
Extra strength
Vegan-friendly
Gluten- and GMO-free
Absorbs quickly
Comes with a graduated dropper to measure dosage
Cons
May not be easy to open and close
May have a slightly bitter aftertaste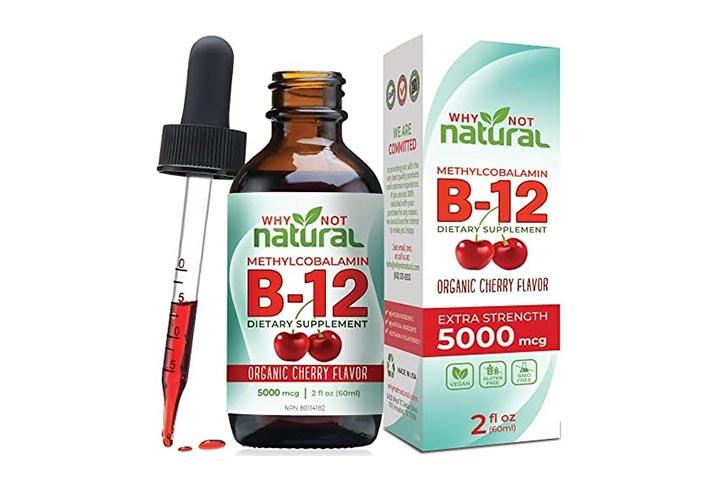 MegaFood brings you this product to deliver the missing vitamins and minerals in your teen's diet. It contains vitamins D, K, and calcium to strengthen the bones and teeth of growing teens and boost their overall energy level and mood. It's ideal if your teen often eats out.
Pros
Does not contain sesame
Rich in antioxidants
Rich in enzymes for wound recovery
Certified B Corp and Kosher
Cons
May have a medicinal taste
Contains soy
Your teenager needs enough calcium for developing healthy bones and teeth. The Nature Made Calcium 500mg + Vitamin D tablet contains calcium and vitamin D and is free of allergens or artificial ingredients.The inclusion of vitamin D in this tablet enhances the calcium absorption levels in the body.
Pros
US Pharmacopeiaverified
Reduces the risk of osteoporosis
Gluten-free
Contains natural plant ingredients
No added colors or preservatives
Cons
Some may not like the flavor
Pills may be large
Maximum Strength Vitamin D3 and K2 supplement by aSquared Nutrition helps in maintaining the optimum amount of vitamins D and K in your body. Vitamin D promotes bone strength, while K2 is essential for preventing blood clotting. These tablets are made of pure ingredients that ensure maximum absorption of the vitamins. The tablets are a great option for promoting cognitive functioning, brain health, bone health, and cardiovascular health. They also help in strengthening the immune system.
Pros
Meets recommended value for K2 for teens
Delicious cherry flavor
Non-GMO formula
Addresses vitamin D deficiency
Cons
Some may not like the sweet taste
Contains soy
Best Multivitamins For Teen Girls And Boys
If you are looking for multivitamins that can aid in your teen's physical and emotional development, and not deal with a deficiency, then here is a list of the best multivitamins for teenage .
The GNC Milestones Teen Multivitamin for Girls aged 12 to 17 aids in the development of healthy skin and boosts bone health and immunity. The tablets have extracts of fruits such as apple, blueberries, and cranberries, which leave a little after-taste. The GNC multivitamin for girls also gives your teen 5mg of collagen per serving, along with lutein, silica, and zeaxanthin for skin care.
Pros
Dairy-free
Distinct fruit flavor
Free of artificial flavors
Improves skin health
Helps boost the immune system
Cons
Pills may be large
Some may not like the taste
The GNC Milestones Teen Multivitamin For Boys is a supplement that aids in your son's overall development through the teenage years. These vitamins for teen boys also have potassium and chloride. Boys lose a lot of nutrients when they work out, play or perform a physical activity, and these multivitamins can restore that lost energy and nutrition.The tablets help in developing muscle, strengthening bones, maintaining healthy skin, and boosting immunity.
Pros
Supports healthy bones
Aids in overall energy supply
Enhances energy production
Boosts absorption of nutrients
Lasts up to two months
Cons
Some may not like the taste
Pills are large
Nature's Way Alive! Teen Gummy Multivitamin is specially made for teenage boys and provides 17 nutrients and minerals. These gummy tablets are sweet, delectable, and tart. The tablets boost immunity, eye health, and heart health. They are gluten-free and dairy-free too. Before buying it, have a look at this video for more details.
Pros
Antioxidant support
Peanut-free
Free of gluten
Dairy-free
Contains no gelatin
Cons
May be prone to melting
May have a chalky consistency

The Maxi Teen Supreme dietary supplement is a doctor-formulated multivitamin for girls. The powerful antioxidants present in the tablets cleanse the impurities in the body. This multivitamin has the added advantage of boosting growth in adolescence. The tablet helps with memory function, improves muscle health, and strengthens bones and organs. In addition, these tablets are infused with a digestive enzyme that enhances the absorption of the nutrients in the pill, thereby maximizing its benefits.
Pros
GMP-certified
Drug-free
Kosher-certified
No added flavors and preservatives
Cons
Pills may be large
May have a lingering taste
A yummy chewable multivitamin, the Solgar Kangavites Vitamin tablets are available in a sweet berry flavor. These tablets are suitable for kids as well as teens. A blend of multivitamins and minerals, the Solgar multivitamin tablets give your teens the recommend DV every day. Like other multivitamins, these are just dietary supplements and are best taken just before or after food. Teenagers can take one tab in the morning with breakfast, and the other in the evening for optimal results.
Nutritional values:
One serving (tablet) contains Energy – 5 calories, Carbohydrates – 1g, Sugars – less than 1g, Sugar alcohol – less than 1g.
Also contains Vitamins A, C, B complex, vitamin D, vitamin E, beta carotene, pantothenic acid, niacin amide, folic acid, biotin, calcium, magnesium, zinc, copper, chromium, selenium and iodine.
Also includes:
Fructose, sucrose, natural flavors, grape skin extract (color), xylitol, mannitol carrageenan, citric acid, malic acid, vegetable cellulose, microcrystalline cellulose, xanthan gum, vegetable magnesium stearate, vegetable stearic acid, silica and soy.
Why choose it:
While they contain soy extract, the Solgar multivitamins are free of dairy, gluten, yeast and artificial preservatives. Also, because the tablets are suitable for kids and teens, you can use them for both your teens and younger children, if any.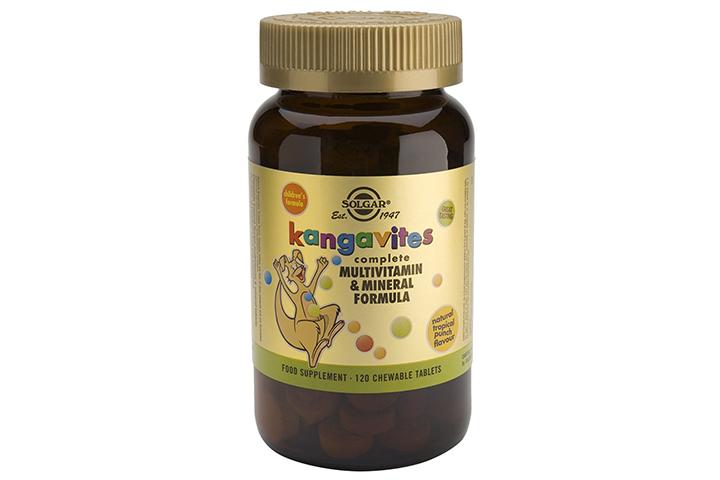 When your teenager's diet is not balanced, they won't get the nourishment they need for healthy growth. Carlson Labs Mini-multivitamin tablets can help you fill the nutrition gaps in your teen's diet. These tablets do not have iron and do not leave a bad after-taste. They come in a natural flavor, which means your teen can take it with food and may not even know about it.
Pros
Ideal for all age groups
Free of artificial preservatives
Provides at least half of DV minerals and vitamins
Sodium-free
Cons
May not have any flavors
May not be easy to swallow
The Country Life Daily Total One Maxi-Sorb Multivitamins contain the goodness of various minerals and vitamins that are important for your teen's overall growth. The multivitamin tablets are made of vegetarian ingredients and are available in an easily chewable form to prevent any risk of accidental choking.
Pros
Iron-free
Gluten- and dairy-free
Does not contain animal fat
Comes with special digestive blend for boosting metabolism
Does not contain any artificial colors or preservatives
Cons
Some may not like the smell
Has a lingering taste
Specially formulated for teen girls, the One A Day VitaCraves Gummies for girls are chewable multivitamins. These vitamins and minerals are essential for optimal growth of girls during their teen years.
Pros
Rich in Vitamin D for strong bones
Suitable for fussy teens
Delicious taste
Supports immune health
Cons
May be slightly hard to chew
May be prone to melting if not stored safely
One A Day Teen for Him are multivitamin gummies for teen boys. The gummies can help in boosting your teenager's immune system and in keeping him healthy enough to participate in sports and other activities. Have a look at this video to learn how the multivitamin works.
Pros
Easy to chew and swallow
Compact bottle
Free of soy and artificial sweeteners
Supports bone health and boosts immunity
Cons
Might be prone to melting
Some may not like the sweet taste
Rainbow Light Active Health Teen Multivitamin is a food-based mineral and vitamin supplement for teens. The multivitamin tablets promote healthy, clear skin and prevent acne or pimples. Also, teens taking these pills on a regular basis are likely to have stronger immunity and greater bone density. The tablets also include probiotics and enzymes that make them easily soluble in the system.
Pros
Free of dairy
Safe for teens with lactose intolerance
Easily digestible
Yeast-free
Cons
May contain additives
Some may not like the smell
Rainbow Light Brain & Focus Multivitamin contains potent B complex and supplies the DV of B vitamins that teens and adults need. These tablets are made from natural spirulina and vegetable juice extracts, and can be taken by you and your teen. They contain botanicals that support and promote healthy brain functioning. The tablets are easy to swallow and should be taken as recommended by your doctor.
Pros
Supports brain development
Stimulant-free
Helps in memory development
Helps fight acne and skin blemishes
Easy to chew
Cons
Some may not like the taste
Pills may be big
A complete package of vitamins and minerals that your child needs, the SmartyPants Kids Complete Gummy Vitamins are suitable for younger children as well as teenagers. The gummies contain vitamins D3, B12, and Omega 3 DHA, in addition to essential vitamins. While D3 promotes bone health, Omega 3 DHA boosts brain health, and B12 supports the brain and enhances focus and memory power.
Pros
Comes in tasty fruit flavors
Easy to chew
No synthetic flavors
Non-GMO
Cons
May be sugary
Taste may linger
If you are looking to buy jelly vitamins for your teenagers, consider the YumVs Complete Multivitamin and Mineral for Teens. Each jelly contains 15 essential minerals and vitamins for teens. They provide 100% DV of vitamin C and 1000mcg of biotin that teenagers need for healthy nails, skin, and hair. Each jelly also gives your teen 800IU of vitamin D.
Pros
Does not harm teeth
Contains naturally obtained pectin
Easy to chew
Natural fruit flavor
Cons
May be a bit soft
May have a chalky consistency
Need more power to keep your teen girl energetic and healthy? The Power Teen tablets for adolescents can help. The multivitamins come in a tasty wild berry flavor and have more than 20 essential vitamins and minerals for teens. The product also contains an exclusive feminine compound made from fenugreek, cranberry and yam extracts that promote breast and urinary tract health and balance the hormones.  The cranberry extracts and probiotics promote healthy, clear complexion as well.
Pros
Does not contain any artificial colors
Free of gluten and soy
Helps meet vitamin requirements
Dairy-free
Cons
May have a chalky consistency
Pills may be a tad big
RiteStart Kids & Teens supplements from 4Life contain over 20 minerals and vitamins that your child needs for optimal health. They help in building a healthy immune system and promote muscle, joint, bone, and skin health. The tablets also have B complex that is essential for brain health and come in two delicious flavors – sour apple and citrus cream.
Pros
Helps improve vision
Sweetener-free
Easy to chew
Supports overall health
Cons
Does your teen girl have brittle nails and dry skin and hair? This is just the multivitamin supplement she needs. These multivitamin gummies contain high potency vitamin C and E, which can be quickly absorbed. Regular use of these vitamins can result in healthy hair, skin, and nails in young girls.
Pros
GMO-free
Boosts metabolism
Aids in better weight management
Delicious flavor and healthy effects
Cons
Essential Vitamins For Teen Girls And Boys
Teens grow faster than younger children. Teenage is a period when growth spurts, and your teenager needs more nutrition than before. In addition to proteins, carbohydrate, and healthy fats, they also need certain essential nutrients that help them get through their adolescence smoothly.
Here is a list of good vitamins for teenagers for their healthy development.
Vitamin E and selenium assist in preventing acne inflammation in adolescents.
Vitamin B6 helps in breaking down the liver hormones, preventing acne, mood swings and sugar cravings in teenagers.
Vitamin B12 or Riboflavin supports the production of red blood cells in the body. In addition to that, it enables proper nerve cell functioning.
Vitamin C and D are among the most important vitamins for teenagers which provide bone health. Vitamin C helps in cartilage development and D in attaining maximum bone growth.
Vitamin A is necessary for healthy growth of the body. It is also essential for optimal vision and to build a strong immune system.
Do Teenagers Need Vitamin Supplements?
In an ideal scenario, adolescents get all the nutrients they need from the food they eat. But the fact is that parents cannot control their teen's diet all the time. Teens tend to eat more fast food than fruits and drink more soda than water. When your teenager is not getting enough nutrition from food, you may have to depend on vitamin supplements for nutrition.

6 Tips On Choosing The Right Teenage Vitamins:
The market is flooded with vitamin and mineral supplements. There are so many brands and varieties of vitamin supplements that you may not know which suits the most for your teen. The best vitamins supplements are those that aid in the healthy development of a person without altering their biology negatively. Here are a few things you should do when selecting vitamins for your teenagers.
Read the labels thoroughly to know what the ingredients are. The tablets or capsules may be nutrient-rich but may also contain certain ingredients that your child is allergic to.
Check the daily value of nutrients that one serving offers – you want to make sure that your teen gets 100% nutrition. Avoid supplements that provide more than 100% of the daily serving.
Always choose multivitamins unless the doctor has asked your teen to take specific vitamin supplements to cover any deficiencies.
Look for an approval seal of United States Pharmacopeia or USP, which indicates the quality of the product. If you live in a different country, look for a similar quality seal.
Calcium or magnesium pills do not offer 100% daily value (DV), as that would require making pills that are too big to swallow.
Avoid vitamins that have more than the tolerable amount of vitamin A for teens. Too much of the vitamin can cause dizziness, nausea, and even lead to coma, or death (1).
Supplements alone will not help the teen. Make sure they are having a balanced diet for the body to absorb the contents in the supplement.
If your teenager needs to take vitamin supplements, ask your doctor for recommendations.
Vitamin Deficiencies In Teens:
Teens need vitamins and minerals to grow into healthy and strong adults. Deficiency of even one of these essential minerals and vitamins can lead to several health problems. Replace the empty calories that fries, chips, and sodas give your teens with healthy food.
Why Trust MomJunction?
We have considered numerous websites and hundreds of user reviews to curate this list of essential multivitamin supplements for teenagers. We have ensured that these products are safe and meet the necessary criteria. Each item on the list has a detailed description of the nutritional value, ingredients, and factors indicating the need for each of these supplements. You can choose one your child needs based on the their requirement and the doctor's advice.
Recommended Articles: